IIT KGP En Plein Air Diary – Chapter VII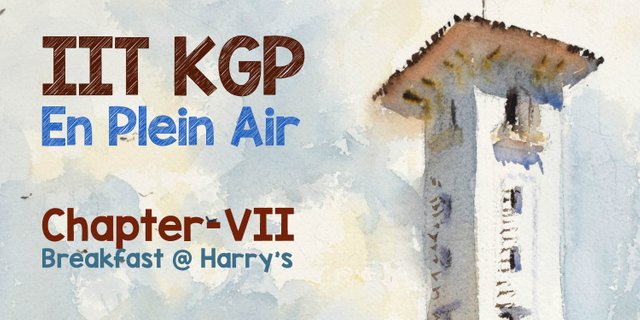 <br/
Sin and Redemption
29 July 2017, Day 6 of the shoot
After the Jnan Ghosh shoot we pushed on to Harrys' (now called Tikkas'). The footage of earlier shoot at Harry's had gotten deleted by mistake. Hence we were back today to shoot there again. No one really likes it when such accidents happen. I was also disappointed albeit momentarily. My first painting at Harry's had not gone off well. It was a little overworked and I was not happy with it at all. It kept troubling me until I heard the news about the footage. After the initial shock I felt a sense of calm putting my troubled mind to rest. A divine intervention had given me a second shot at Harry's, and a chance of redemption.
Also read the Prologue , Chapter I , Chapter II, Chapter III, Chapter IV,  Chapter V and Chapter VII of IITKGPEPA Diary!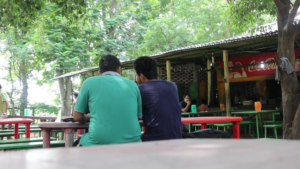 Conversations...
Before the shoot all of us did the customary breakfast at Harrys' of Dal Puri, Sabzi, Rasagolla and coffee. I have always enjoyed having breakfast at Harry's. In fact I don't know anyone who does not swear by it. A great combination of taste, flavour and texture; the breakfast tasted exactly the same as it used to taste twenty years back. But what makes the breakfast unique is the ambience. I am not sure if one can get to sit under the shade of a banyan tree with huge open spaces all around to have one's breakfast while listening to the chirping of birds (and occasional droppings) in the company of friends anywhere else other than Harry's.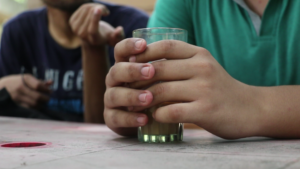 My precious...
Vegies/Eggies is the lifeline of student life after dark. Harrys' takes up this role during rest of the day. This is the chai adda of KGP. I have always loved this place. But during this visit to KGP this place made me realize how privileged I have been to spend a part of my life here in the lap of nature. While being at KGP we probably take the greenery for granted. But only when we go out of KGP to man-made concrete jungles we realize how fortunate we have been to have lived here. Dotted with old and ancient trees, the mini forests of KGP campus serve as a safe haven for many species of birds and reptiles. But with so much of construction work happening around the campus some of this natural heritage is under threat. And I hope the development work does not bring much damage to the natural ecosystem here.
*******************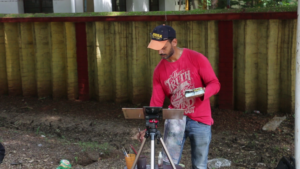 Painting in a 'C' curve
After a hearty Harrys' breakfast it was time to get back to the job. And to my pleasant surprise I had the company of one of the better-known artists in the campus to paint with. Gopinath is a final year student and a well known member of the art club at IIT KGP. It was very good to have him painting alongside- painting outdoors in a group always energises me and I was very happy to have Gopinath with me today.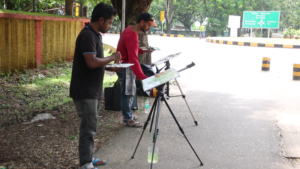 Company
Today was last day of the shoot and I can't help but wonder how things have panned out in the last eight days. It seemed game over even before the project began. It felt as if the universe did not approve of the scheme. But now it feels like things could not have gone better. Every place I made a painting of was done at the appropriate time and in the right settings and right frame of mind. I could not have got such a romantic wet scene of Nehru Museum had it not been for the rain. It was a difficult choice between my memories and the outer reality, but I am glad I decided to paint the former at Azad Hall. The timing of painting the main building probably brought out the emotionality in the painting. The accidental conversation at Vegies had settled my nerves and I ended up with a painting that surprised even me. The fading light on the first trial shoot at Kali Das' had made sure I painted the place at a later time when it had a great mood. I could not have gotten better light than what I had today morning at Jnan Ghosh. And finally it was Harrys' where I redeemed myself because of nothing less than a divine intervention.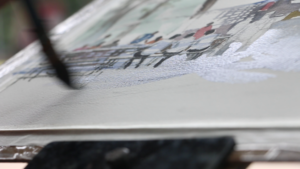 The painting came together with the shadow wash at the bottom
A cynic would probably dismiss it as coincidence, but not the romantic in me. During one of the shoots the director of the film had mentioned a quote about making documentaries.
"For fictional films the director is God but for a documentary, God is the director."
I can't speak for documentary films in general, but for me IITKGPEPA project has just illustrated this point.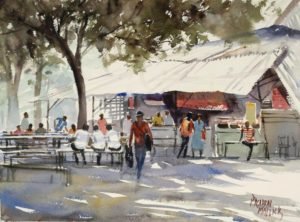 En Plein Air at Harrys'
Next Up - The Conclusion of IITKGP En Plein Air Project