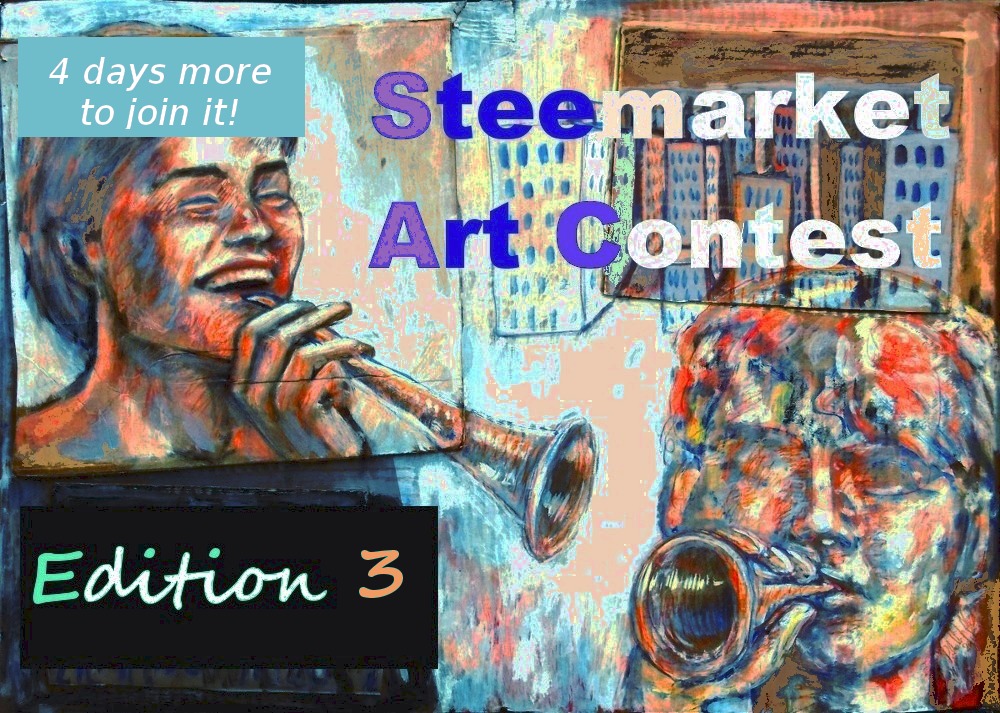 I postponed the deadline to submit artworks to this contest to Oct 1 Sunday.
There are just 9 artworks submitted so far, so I thought to make another call and give some more time to join.
Of course, the purpose of contests like this is not to make a ranking of artists, or to give away some dollars. Instead, what I tried to do in each of the contests I managed on Steemit (they have been at least 15 so far) is helping artists to know each other, to see the work of other artists, to communicate, to collaborate. I talked about it in the previous post of Steemarket Art Contest. And you can read  a very interesting discussion about that in the comments of that post.
Digression: something unexpected: I have been interviewed about Steem contests by @eroche. You can read it here
 🙆  🙆  🙆  🙆  🙆  🙆  🙆  🙆  🙆  🙆  🙆  🙆  🙆 
Here are again the rules of the 3rd S.A.C.
 In the past editions, SAC (Steemarket Art Contest) received really amazing submissions from the great community of artists on Steem: here are the artwork of #1 and #2. 
So, here it how it works:
- All artists on Steemit can submit their artworks from today to Sept 27, Wednesday, Oct 1 Sunday h 11pm GMT.
- Each artist can submit 1 artwork for each of the 3 categories of the Contest
- The categories are
Painting and Drawing (not digital)
Digital Art
To submit an artwork, each artist has to:
- make a post containing "SAC" (Steemarket Art Contest) in the title and#sac in the tag
- publish in the post a photograph of his submitted artwork/s (at least 1000px for the longest side)
- indicate category, title, size, date and technique of the submitted artworks.
- paste the link to his posts in the comments of this post.
Winners and Prizes: The winner of each category will be chosen by my wife @silviabeneforti and me. Winners will receive 10 Steems (or more, it depends on possible sponsors ;) ) and will be published in a promoted post.
Votes and comments to submitted artworks will be considered in choosing the winners
The results will be posted on Oct 3, Tuesday

* Please, share this post to other artists! *  
At Steemfest2 in Lisbon there will be a space for Art. I hope some new project of collaboration will come out of that.