I religiously follow Academy of Realist Art Boston's Facebook Page for years now, and from time to time, I add artists which works shock me in the most surprising and beautiful way. The main reason why I do this is because I want to know more about the artist's philosophies in life and in art. Knowing them in a more deeper level increases my admiration and respect, and in return, I get motivated to be someone as hard-working as the artists I am friends with online.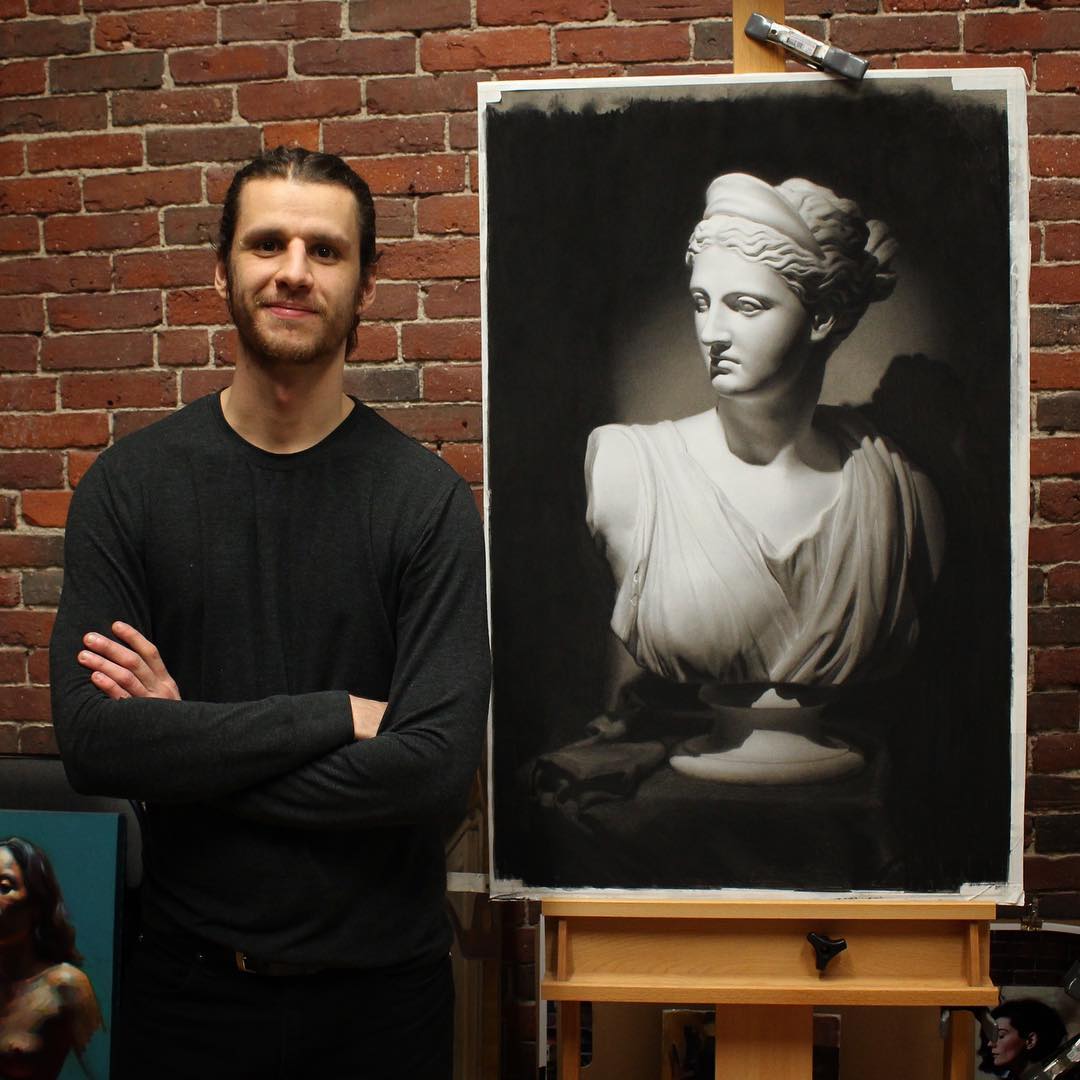 "Congrats to student @noahnro Noah Olsen for completing our largest cast drawing yet. We couldn't be prouder. Chalk and charcoal on his own toned paper. On to paint!! #araboston #academyofrealistart"Source: Academy of Realist Art Boston's Instagram
This is how I
met
Noah Olsen in one fateful day in early August. As usual, I was checking ARA Boston's page and saw his drawing among other student works in the Atelier, but his work spoke to me immensely. I added him right away and thankfully he accepted a stranger's invitation ― I'd like to believe that he saw that I am an artist as well. Giddy and ecstatic, I hurriedly checked his other works and was completely blown away by the young lad's way of delivering his thoughts that I, out of sheer excitement, sent him a direct message that said,
"Hi! I am currently reading your thoughts when drawing and I swear you should teach art in the near future. Do you have a blog? I think I'll learn a lot from you."
He was kind enough to reply to me with the same level of enthusiasm and I couldn't be more thankful to have met someone who's generosity helped me a in so many ways.
---






Hello! I 25 years old and I am studying art in the United States at the Academy of Realist Art in Boston Massachusetts. It is an atelier program, so if one isn't familiar with what that is, it means I do very studious, slow copies primarily from life to learn how to paint realistically. Most of my art recently has been my schoolwork, so they are primarily 100 hour figure drawings, copies of old master drawings and drawings of plaster casts that take about 200-300 hours.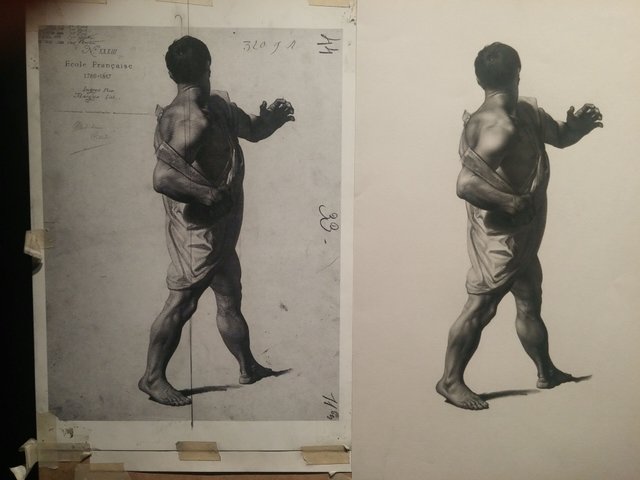 One of my most favorite old master copies done by Noah Olsen. (Source: Noah's Intagram)
Right now in my quick personal work I am really enjoying using red pencil and white chalk on toned paper. Basically anything with white chalk, because I love being able to apply something lighter than the paper--I like the feeling of illuminating the object with my tool rather than darkening everything else. I think I will like oil paint a lot once I get more experience with it, but drawing will always be my first love.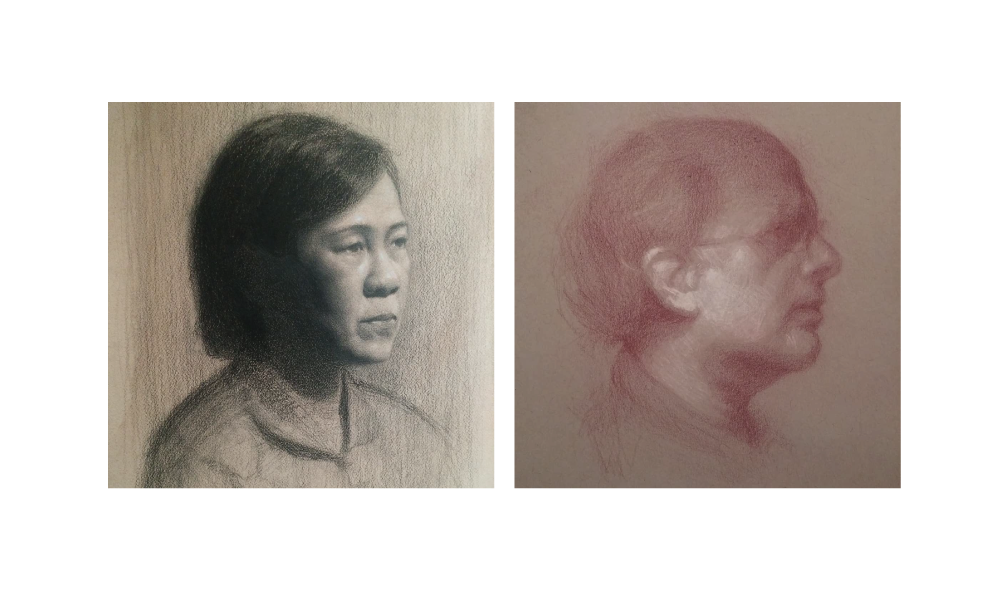 ---
As an artist myself, I have so many questions about how professionals keep up with their work and not get burnt out, because in all honesty, even though you love what you do with all your heart, there will come a time where you'll question your life decisions, so I asked Noah about the very cliche question most artists tend to question another artist they admire.




Like you suggested, paint, draw. Movement begets movement, and my ideas come from just putting hours into my sketchbook and in front of the canvas. But it is a challenge to get started every single day, and here are some of the methods I am currently using if I feel really incapable of getting moving.
First, just do it! Get in front of a current project or a fresh sheet of paper! Once I start drawing, sometimes the pain subsides. If that doesn't work, I might listen to music while I work. If I really need more motivation, sometimes I will watch boxing or mixed martial arts highlights, since I really like those sports and appreciate how much work the athletes put into their craft. That can get me out of a slump and energize me to work. Our minds are programed in a way that tries to convince us we are safer if we don't work towards our dreams. I have learned to recognize that programing and use any tool I have to simply start working, because the thoughts that don't want me to work can sound very believable if I listen to them.

If I need more artistic motivation, I look at art that has moved me in the past, and imagine myself creating it. It has helped me drag myself out of my depressed and anxious thoughts to be able to look at Nicolas Uribe's painting of his father or Lucian Freud's painting of Leigh Bowery from behind and think, "This painting really affects me, and I bet I have ideas I can explore and share through art too. I think I can make paintings that impact me and hopefully other people as powerfully as this painting impacts me." That is an exciting thought to me once I can find it. There is a sense of urgency, because these artists worked so hard to get where they are! If I put off drawing then I might not ever get to the level I want to with my art.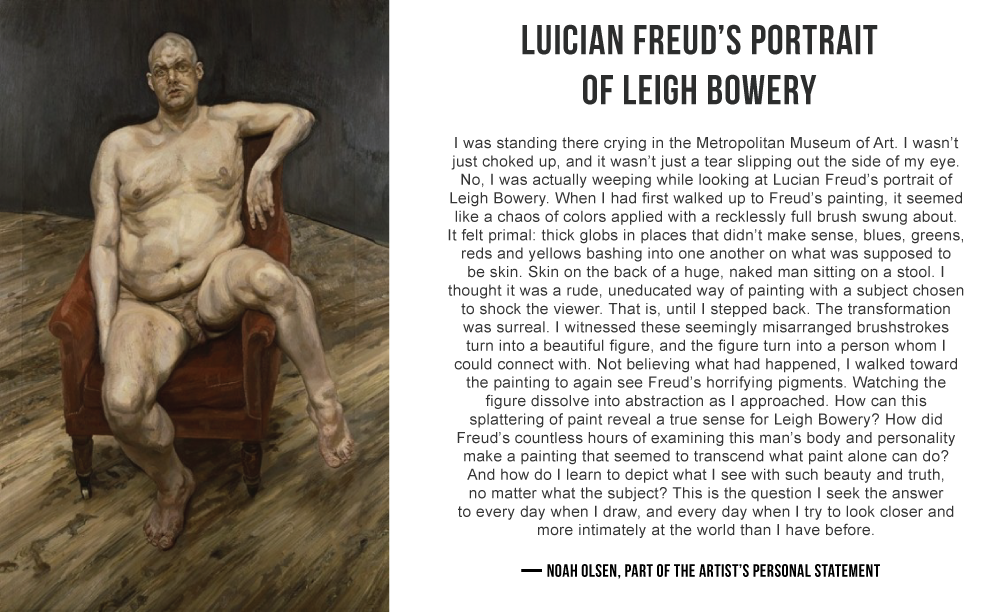 As far as coming up with ideas for a painting or a drawing, I think that it starts with asking myself, "What is important to me? What am I uniquely skilled at producing?" As an example, there is a painting I have been wanting to do about loneliness. It is a self portrait where I am sitting on a bed with very introverted and self-conscious body language, but my head is cropped off the canvas. My feet and hands will tell the story of my loneliness. The feeling of loneliness has been an important part of my life. Maybe it comes from losing my mother when I was a kid, or from being home-schooled and not having a lot of friends, or from my social anxiety. Regardless of the reason, I feel very connected to this feeling, and I think I have the perfect emotional skill set to paint what loneliness has felt like to me. I am the only person who can make this painting, because it is about something so close to me. Of course I am worried it won't translate well to a painting or that I will fail, but that is just part of the game.
Basically I think that I just try to find an idea that I am emotionally invested in, but to find that often takes a lot of sketching, reading, and living. This self-portrait idea came from a really hard night at a party where I didn't feel like I fit in so I just went back to my hotel room and sketched by myself while everyone celebrated in the next room over. I sketch when I feel really emotional, no matter what emotion. It makes for good art ideas as much as it makes for good music!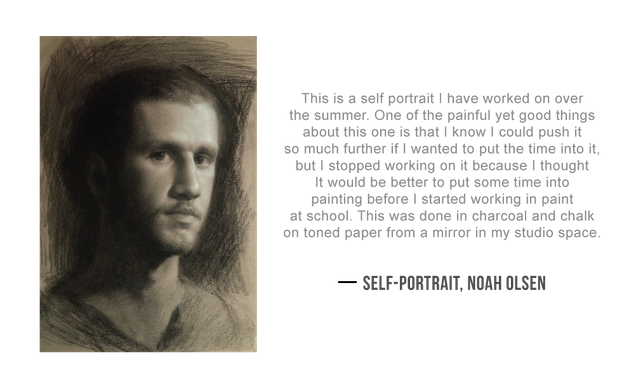 ---
Knowing my favorite artists' favorite artists is a must because then I'll be able to understand their works more. Most often than not, young artists who are not yet definite with their style tend to sprinkle a bit of ideas from people they look up to and that is very understandable. I asked Noah Olsen about his favorites and I was glad he mentioned Jordan Sokol because he is someone I look up to, too, and I couldn't agree more with the point mentioned regarding an artist's connection to another artist's work.





I might copy a Jordan Sokol portrait, because he is incredibly technically skilled at making a very naturalistic painting that still has a lot of interesting paint application and powerful emotion. Some of my favorite artists are Vincent Desiderio, Daniel Sprick, Anne Gale, Lucian Freud, Antonio Lopez Garcia, Velasquez, Antonio Mancini, Grzegorz Gwiazda...it is really hard for me to choose favorites, but those are just some of the artists on my mind right now. I could go into why I like each artist, but primarily I just respond to their paintings. It feels like a friendship; the relationship is based on commonalities and a good rapport more than a list of definable attributes. I have lost my enjoyment of art when I spent too much time thinking about why I should or shouldn't like particular paintings or artists, and I would rather just let myself enjoy art at a more basic level for now.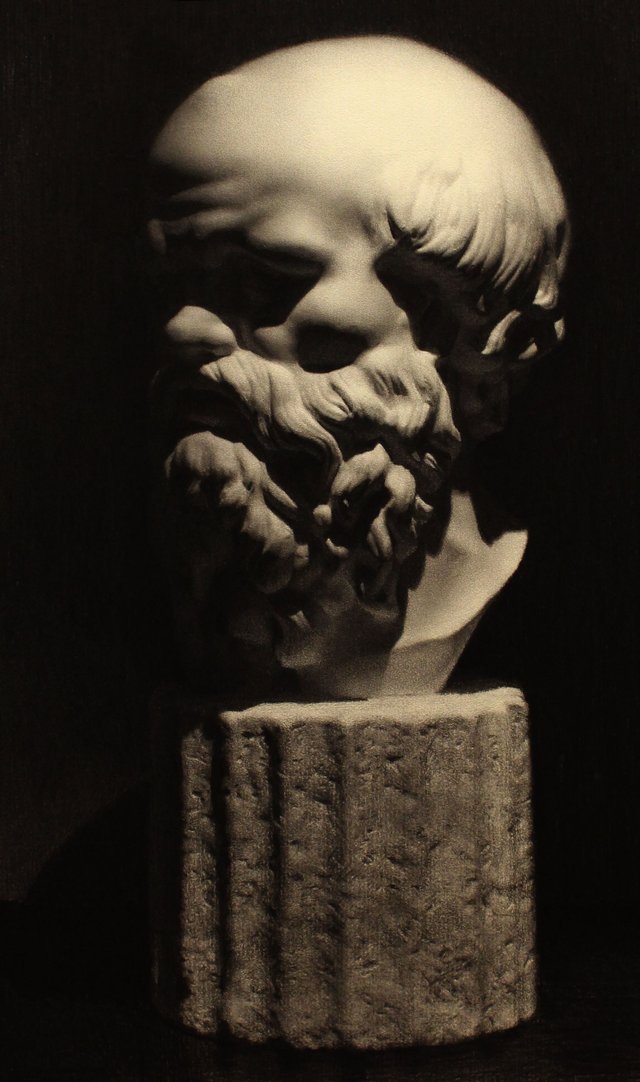 "My second cast drawing I completed at the Academy of Realist Art Boston. I learned a lot about light while drawing this one." Bust of Socrates. 18 x 26. Nitram charcoal on Roma. #atelier #charcoal #nitram #Socrates (Source: Noah Olsen's Instagram)
---
When you are financially unstable, it is somewhat easy to give up your dreams, specially when it comes to art, because of the stigma that artists starve and can barely finance themselves. And it only becomes hazy when you don't a concrete plan on how to achieve those dreams or at least take on the baby steps, but I believe with the right mentality and knowledge, anyone can pursue what they passionately love. Here is Noah Olsen's take about the issue.





I think that is actually a very complicated issue that I cannot supply one answer for. First, the art world right now is very confusing. Art for commission seems to be considered either "low art" or "illustration." But most artists throughout history made their profit off of commissioned pieces, not just creating whatever the artist felt they wanted to make. It was a trained craft and the artist supplied a product for their customer. So are artists starving because we have lost touch with our audience and how to make sure they want what we are creating? I am suggesting that maybe if an artist is scared of being a "starving artist," perhaps that artist needs to analyse if what they are trying to produce is something just they want to do or if it is something that other people will want to buy.
But if an artist doesn't care if they make money off of their art or not, and they want to make it for their own benefit, then isn't that process their payment? That artist's payment is the ability to work on their own art. If they receive financial stability through that as well, then that is wonderful! But sometimes Sargent painted portraits for money, not because it was an expression of his inner self. He did it so that he could work on murals and do plein air, which he felt had more meaning for him.

So, to sum up what I am saying...why is it a big deal if an artist can't make money on their art? If art is what they want to make, then they should give it a try. I think it is the artist's choice as to when they want to make art for business and when they want to pursue art for their own sake. I think both are wonderful, and I want to explore both. It is the ideal situation when a painting we make can feed our souls and our stomachs simultaneously!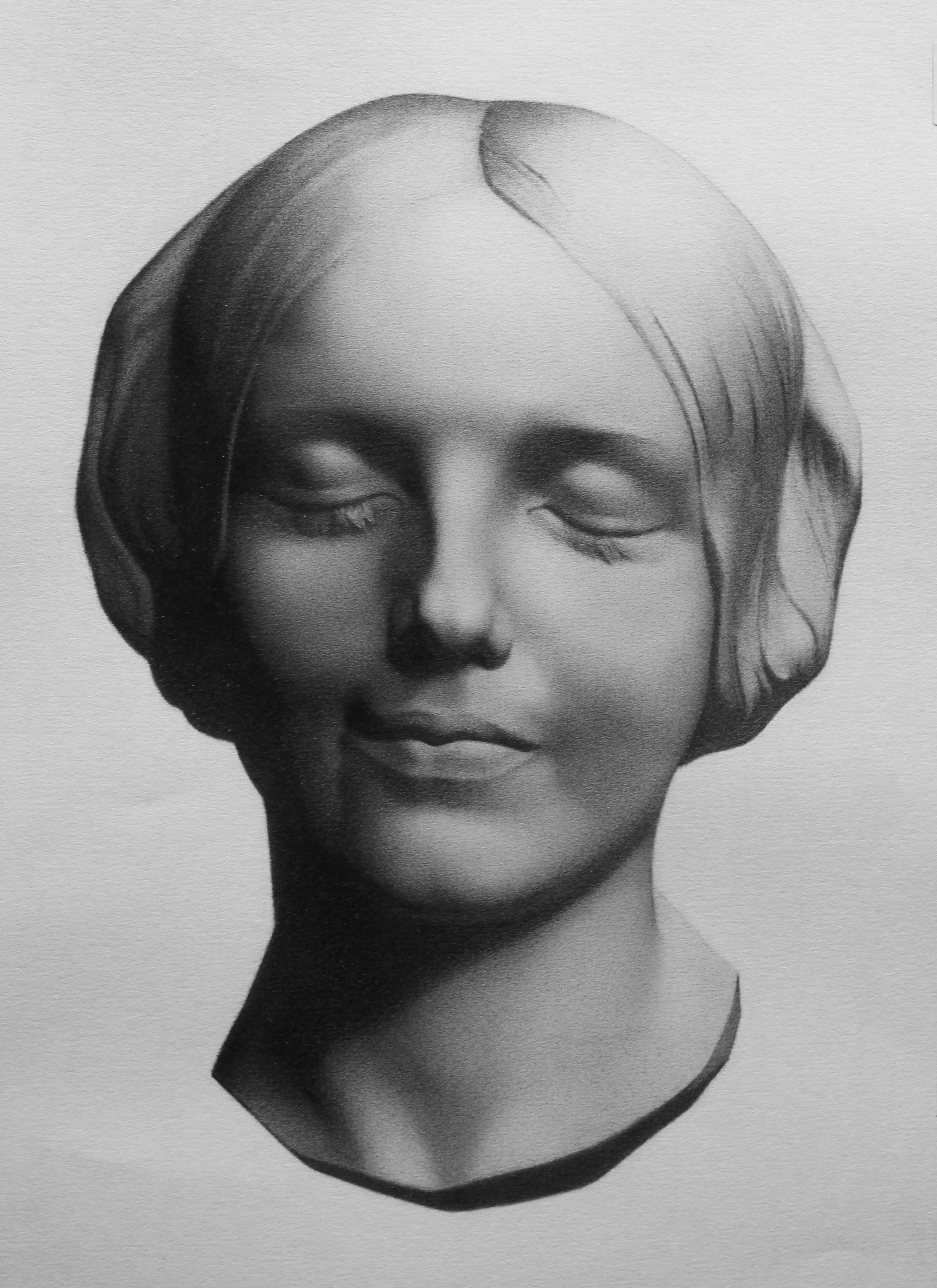 "This was my "2nd" Bargue master copy drawing I completed @araboston. It was the first one I brought to a full finish. I can see so many things that I should have pushed further in it and so many ways I could have made it read more three dimensionally. I suppose that is a good thing, because it means I have learned since then. I did this one in graphite." #atelier #araboston #academyofrealistart #academicdrawing #graphite (Source: Noah Olsen's Instagram)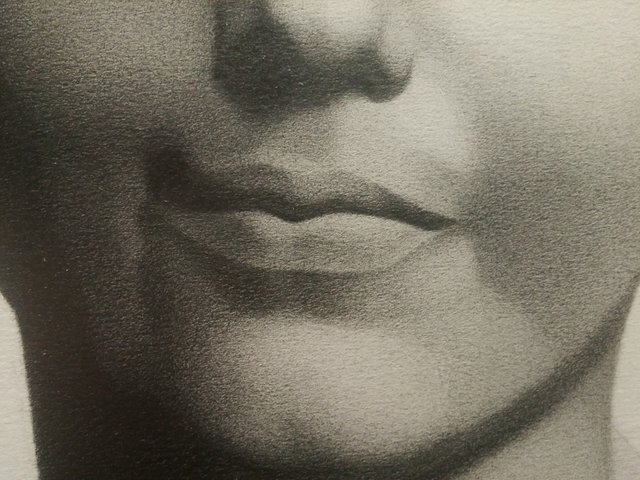 A close-up image of the Bargue copy.
---
And lastly, to close the interview, I asked the artist what is something he believes in that's rooted in his heart that pushes him to do art passionately; knowing that he is almost always at school learning and learning leaving last and arriving first before anyone else.






Yeah, I have a mantra I repeat to myself as I spend 60+ hour weeks at school just to keep going. "If I work harder and smarter than everybody else, I'll get good." Okay, maybe that is a little bit cocky, but sometimes it is hard to rationalize working on a cast drawing for 300 hours in any other way...
As for a philosophy, right now a lot of what I seek through art is meditation and prayer. Art gives me the opportunity to look at part of life and ask, "What am I observing?" To have an immeasurable amount of time to honestly seek out my best answer and try to place that answer on a canvas or a piece of paper is humbling. Life is so complex, and although I know I will always fall short of reproducing it, just the chance to study the world so intimately is a blessing to me. This applies to just the physical aspects of replicating an object in charcoal or paint, but also to reproducing concepts, emotions, thoughts, personalities, etc. My hope is that the way I see things and the effort I put into creating my work will strike a chord with other people and help them enjoy their day just a little bit more or have just a little bit of a new way to look at something.


---
That wraps up my interview with Noah Olsen.



Please note that all photographs are owned by the artist and posted with the artist's permission. And if you want to know more of the artist's work and his thoughts while making them I highly suggest that you check our Noah Olsen's social media accounts. I promise you that you won't regret it.
Let me share to you more of the artist's works!