modified honda pcx Thailand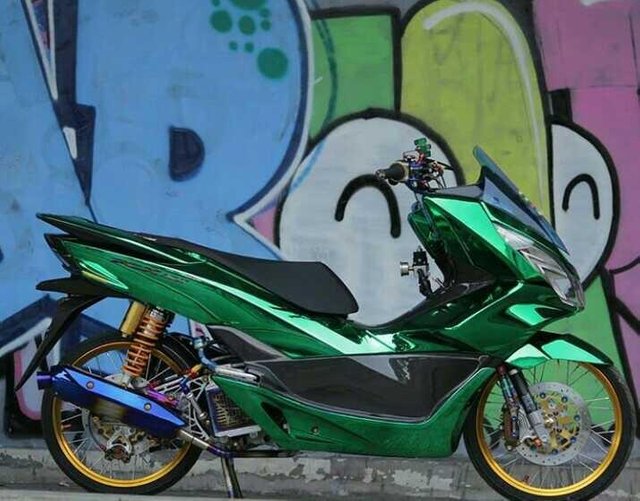 In Indonesia, the premium scooter Honda PCX 150 is minimal. No wonder if the owner often retain the look of luxury and elegance on the motor 150 cc engine.
But not for Hari Hendratmo owner PCX 150, 2016 which is being loved by his ride with the flow of Thailook. "The goal wants to be different with other PCX,
In order to be different and unique, the first thing to do is to change the body color into chrome candy greens. "The color is similar to PCX Thailand," he explained.
After affairs body finished, now a row Install typical motor Thailook Installation. Interestingly, not all direct pairs you know. There are also some components that are difficult to install.
For example the difficulty, when install the stabilizer handlebar Ohlins SDMX. Because it must make a holder to the chassis. Then there is also the time for the front disc of the ventilation and windshield to be installed after a message to Thailand. So with the Morad rim 17 incidents to be ordered for 2 months.
Create a curious, the cost of modifications and components outside the motor just run out Rp 20 million.
Modified Data Honda PCX 150 Thailand
Handlebars: it's salaya
Handles: Ariette
Stering dumper: Ohlins SDMX
Brake lever: original brembo
Master brake: original brembo
Hose Extension: Brembo RCS Black
Brake hoses: Swit
Disk: Brembo Rotor
Rims: Morad two tones
Front tire: IRC feeding my dust 45/90
Tires: IRC ate my dust 70/80
Shock Shock: Showa
Brake thighs: Japan
Standard side: titanium is salaya
Neck exhaust: titanium is salaya
Tameng exhaust: titanium
Bolt: titanium
Seats: complete set of Nathong Original Thailand
Raiser oil: CNC
Oil Hose: Earls
Pipe filter: Stainless Blue
Body: Chocolate candy
That's the Kira Thailand pcx modification that again hits in Indonesia