My 2018 - This is my hobby: More than a hobby; How Art brought light into my life at the darkest hour
I am new to the steemit community and this is one of my first entries for a competition. Thank you @anomadsoul for organising; encouraging people to engage on steemit by producing original and authentic contents.
What Is My Hobby?
I have always been creative and enjoyed making simple sketches. My background was more commercial; designing work for businesses and individuals. I have also setup and run other small businesses in Vietnam to satisfy my entrepreneurial side. But it's the freedom when I create work for myself using new materials that really excites me. How did this simple expression of creativity change my life? Keep on reading to find out!
How Art Came Into My Life In My Darkest Hour
I never thought of myself as an artist. My background was in graphic design and business.
In the last few years life threw me a lot of lemons at the same time, unfortunately, I was struggling with stress and depression to make any lemonade.
A few of my friends who are artists, encouraged me to explore my creative side by working with painting and sculpture. This was new to me as most of my experience with design involved computer based design packages.
If any of you have had depression, you will know that it is very difficult to motivate yourself to do anything apart from the essentials. The thought of using my limited energy to draw and paint was just not appealing. My friends still encouraged me and sometimes I would sketch something on paper with pencil as it's much quicker than using paint. This would please them and get them off my case for a bit.
The Girl With The Dog
One day a friend gave me a picture of his friend's daughter and her dog. As those of you who have seen my other posts will know, I am a great dog lover. For some reason, this innocent picture of this young lovely girl, looking so at ease and peaceful really touched me deeply. So when he asked me to paint this picture for him, I surprised myself and said "Yes".
I have never tried painting before, it was a challenge, but one that I wanted to take on. So on 1 Jan 2016, at the beginning of the new year, I got hold of some water colours and tried painting on the floor. It was difficult getting back into this area of my life as I hadn't drawn anything for the last 10 years.
The First Drop Of Paint
As I put my anxiety about the painting to one side and focused just on the first step, I felt a clarity and purpose I hadn't felt in a long time. With each brush stroke, I felt I was creating something. Like a nervous kiss on a first date, I slowly approached the paper and found joy everytime I added a little more detail.
My friend loved the end result and bought the painting, titled "Sleeping Child".
I was so grateful for the encouragement from my friend and to this day, I am very thankful for the inspiration he was able to provide. Sometimes we need a little push to move out of our comfort zone.
What Did I Do Next In 2016?
After my first step, the next few came much more easily. 2016 was a year full of art and creativity for me. So here you can see some examples of the type of art I created in 2016.
After painting "Sleeping Child" with water colors, my next two paintings were more in the surreal style with oil paints and acrylic paints; "No Mud No Lotus" and "Zen Master Thich Nhat Hanh". The second painting "No Mud No Lotus" was sold in a Charity Auction.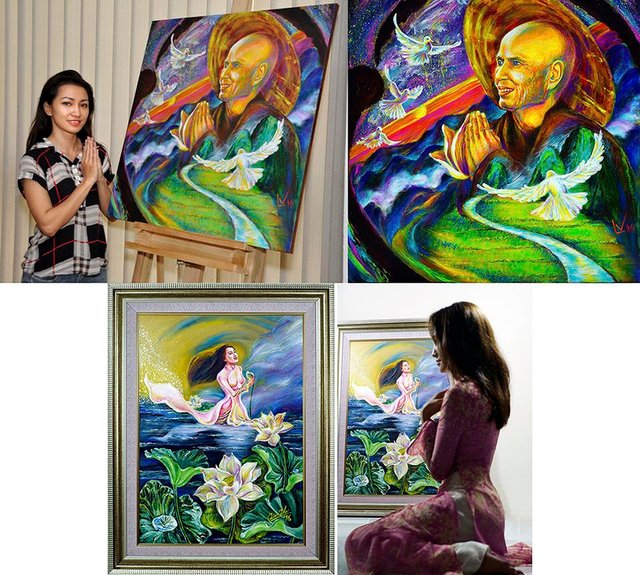 I tried my hand at scribble style portraits. For me it's not just scribbles, it's like flying with lines on paper or like practising drunken style kung fu.
My attempt at being a sculptor; I found sculptor to be more challenging as it required sketching the concepts, working with clay, understanding the structure technique to make your imagination become 3D, every angle of vision must be flawless.
Then I learn glazing and casting in a wood-fired kiln. Sometimes the results weren't exactly as I had hoped.
I tried using a palette knife to create some expressionism paintings. It's another interesting technique to discover and express my thought and emotions.
More Lemons In 2017
Life is not a fairy tale and in 2017, I had more personal challenges that added to my troubles. I tried to face these challenges as best I could, but they took away the small joys I had found, including my new passion for art. For the whole of 2017, I only drew a few scribble portraits.
Luckily for me, some of the seeds I planted on my art journey came to fruition. My sculptures "Born from Stone" and "The Persistence of Dali" were chosen for two art exhibitions at the Fine Arts Association and at the Fine Arts Museum in Ho Chi Minh city, Vietnam on August 2017. This gave me a great opportunity to meet and learn from many successful and established Vietnamese artists.
And my third painting of Zen Master Thich Nhat Hanh was sent to him for his 91st Birthday on 11 October 2017. This made me happier than I can express as I am a great admirer of Zen Master Thich Nhat Hanh and his teachings.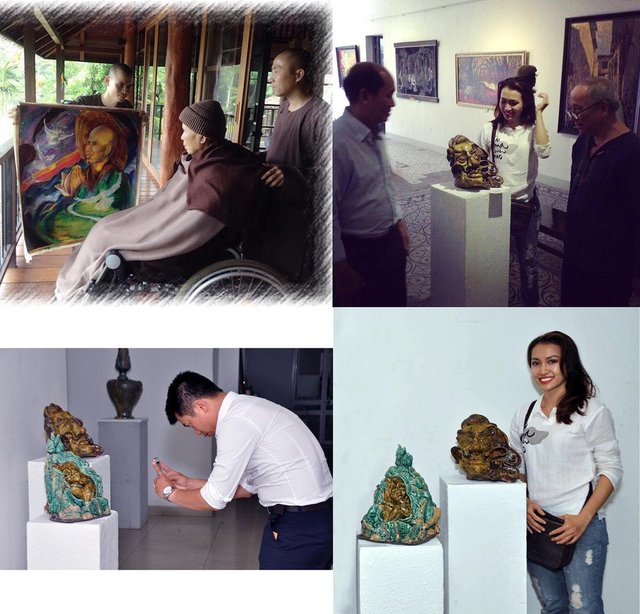 So in this darkest time, art came back into my life, bringing the fun and joy I had been missing all year. This inspired me once again to go back to art and make it a part of my life. It was art for arts sake!
Why Do I Feel So Passionate About Art?
My passion for art does not come from my ability to draw, paint or sculpt, nor does it make my stresses disappear, but it is soul food. It feeds a part of me that makes me feel alive.
I see art as a gift of life, a way for me to find joy in my darkest times, it remind me that there is still beauty in the world, even though there maybe be many challenges and stresses. It makes me feel that as bleak as things may seem, there is always light at the end of the tunnel. Like the promise of a rainbow after a storm.
Practising art become a part of my life, as did meditation. Both of these practices helped me get in touch with myself by making me feel more connected with my own passions and emotions.

(One of my little joys while painting: my colorful hand making universe effect)
I don't know if I will ever be a professional artist but I will continue my art journey till the end of my life. It is a way for me to appreciate the good things around me and show others the world through my eyes. It is something that I can't now imagine being without. This is why I chose the artist name of "Liv Vu", because life is about living and I want show the world my love and compassion for all the amazing things I see during my journey in life.
I am fortunate to have sold some of my early artworks -sketches, paintings and sculptures - which has allowed me to fund my hobby and improve my art work.
Finally, I discovered Steemit which has allowed me to share my artworks to art lovers and earn some income which has been an added and unexpected bonus.
Thank you for taking time to read my post. I hope you found it interesting and helpful. If you haven't done so already, you can follow @anomadsoul who inspired me to write this for their contest. What is your passion in life? I would love to hear from you.