Hello Steemit!)
A few weeks ago I visited with my friend the exhibition of the famous street artist Banksy, which is now in Moscow. I would like to say a few words about my impressions.
Early I heard a bit about Banksy, saw some his works on the Internet, but that is all that I knew about him.
In fact, I'm not a big fan of street art, but when street drawings have any meaning or undoubtedly decorate city walls - I definitely like it. Unfortunately, decent street art is rare today, especially in a provincial town.
The first thing that we were met in the exhibition hall was a screen with buttons on which it was possible to vote whether Banksy is a genius or a vandal. The majority of visitors voted for the genius of the British artist, my friend and I are no exception.
So, we went into the first hall.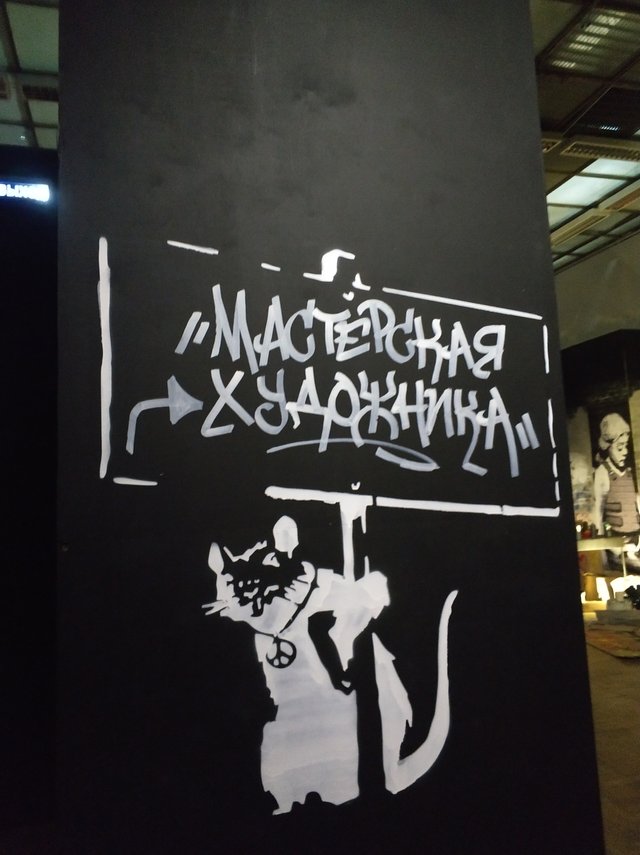 What is the workshop for the artist? A cozy workplace, where he, using his creative potential, creates art. For Banksy workshop is city streets, his canvases is city walls.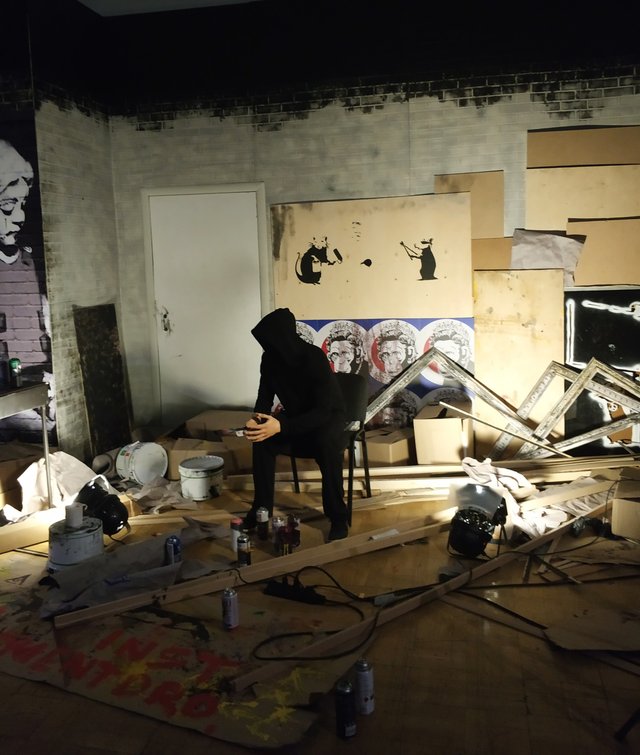 Do not think that street art in the sense of Banksy is some incomprehensible symbols and inscriptions that cover the fences and walls of almost any city. The artist often uses great masterpieces in his work. Here, for example, is the Mona Lisa in version from Banksy.
This is his version of the picture "A Girl with a Pearl Earring" on one of the city walls.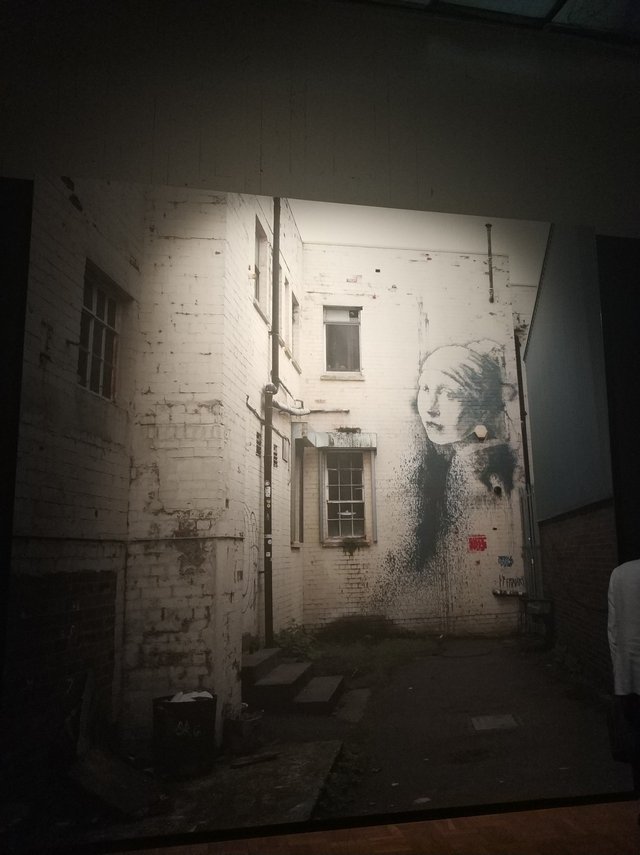 Many of Banksy's works give a message of protest. For example, a picture with a donut on the roof of a car guarded by police hints at us about ridicule of many influential people who walk the streets exclusively with flashing lights and accompanied. There are two versions of this picture, where one donut with pink icing, and on the other work - with chocolate, which hints at the skin color of the "power donut".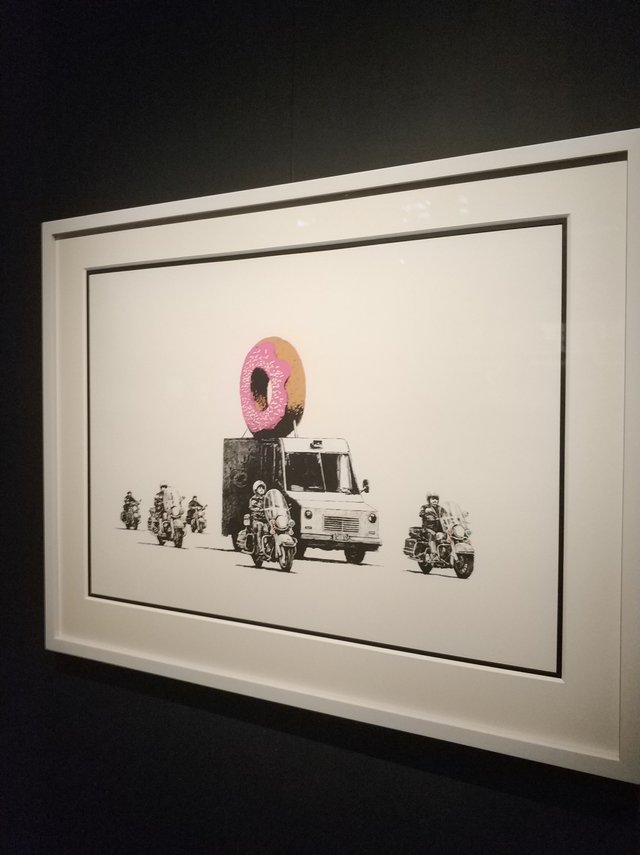 Many of Banksy's works are filled with a protest against the modern consumer foundations of society, when the need to buy something becomes almost the base on the Maslow pyramid.) Sometimes we really should get out of this cell of delusions: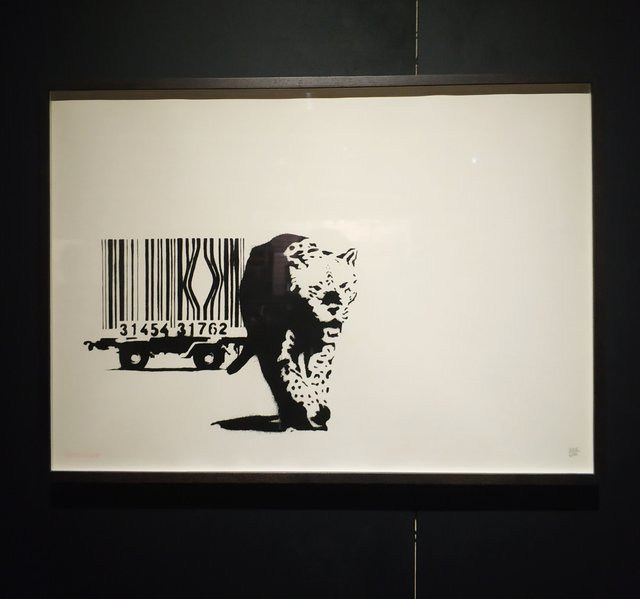 This is hunting for food in modern realities with transfer to a primitive society. The rate of consumption is so rapidly growing that the streets of our cities are practically overgrown with new and new shops, at every step, in every quarter, sometimes trampling the cultural values of the city.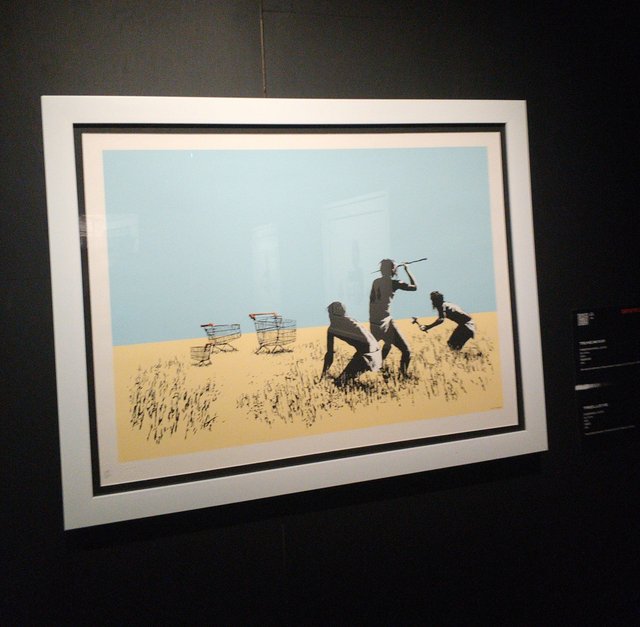 The street artist is not afraid to show irony against the authorities of his country. Just look at the portrait of Queen Elizabeth II in Banksy's view. The painting is called "Queen of the Apes".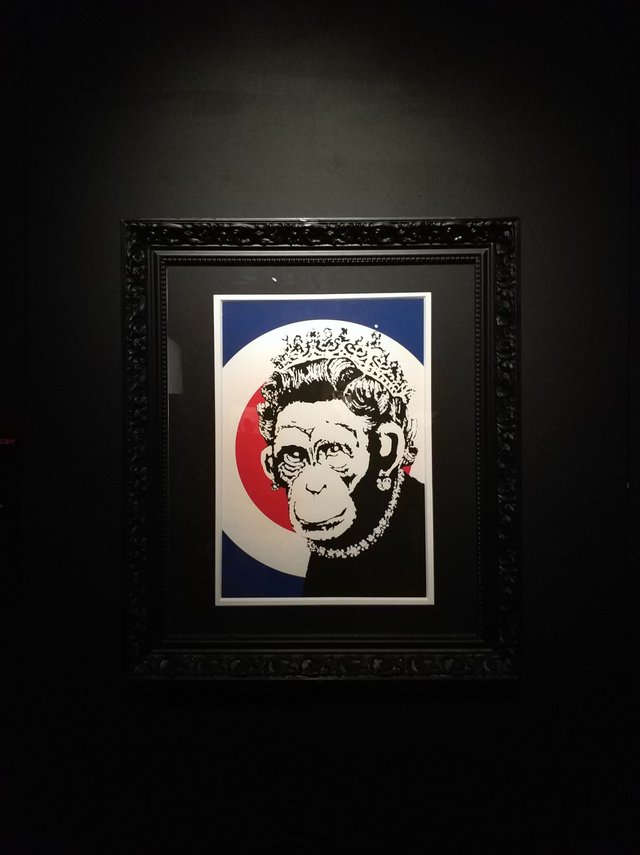 Portrait of Churchill, equated to the "grass strike". It is not surprising that the artist tries to maintain his anonymity, which allows avoiding persecution, because his work is really provocative.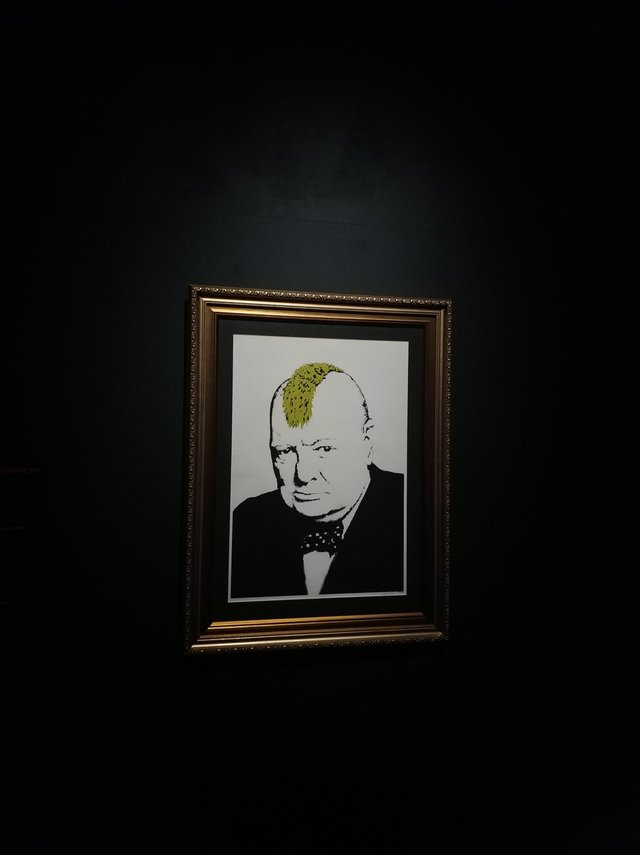 There were a lot of works Banksy on the topic of surveillance from the "big brother" at the exhibition. Involuntarily I remembered the novel "1984" of D. Orwell.
One of the halls was completely devoted to the topic of CCTV. There were even installed a real camera with a screen. If you look closely, you can see us on the upper and lower screens.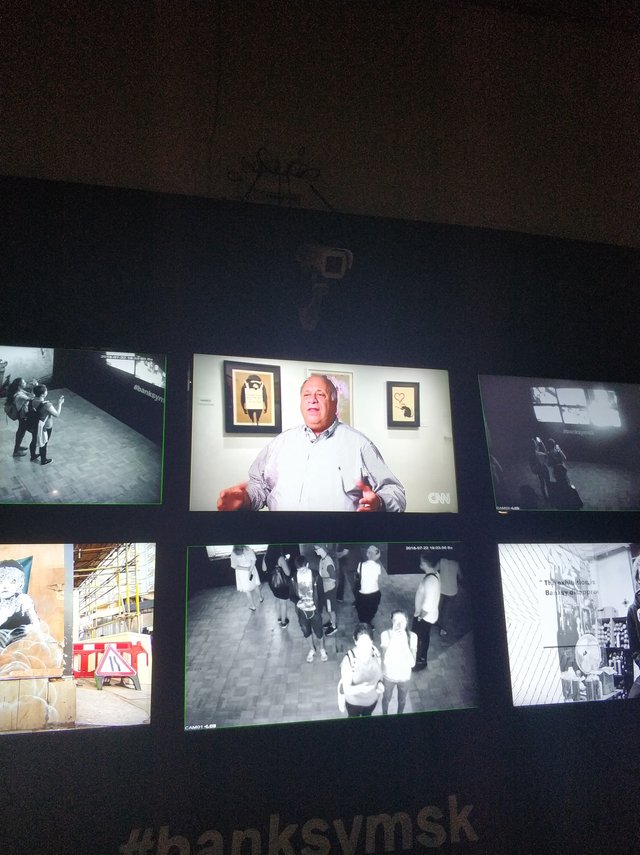 I liked one picture, which is called "The goal of the family." It is known that many were indignant over this work. There is a double meaning here, and everyone can understand the picture in their own way, like all other Banksy's works.
This is one of my favorite works of Banksy and, perhaps, its most famous, as it flooded the Internet along and across. I like it with an unrivaled combination of antagonistic messages - aggression and love at the same time. Firstly it seems – simple and nothing unusual, but the meaning of this picture makes everyone think.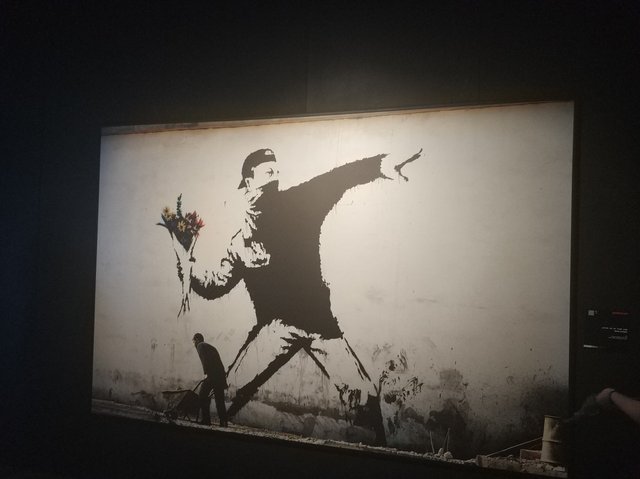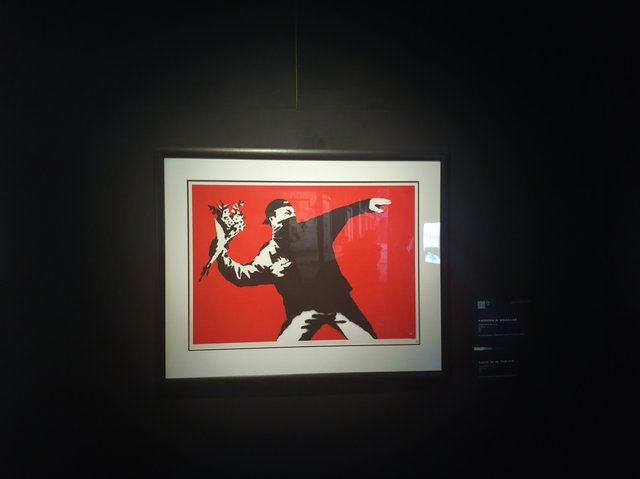 In this work you can see the sadness of modern realities, where human relations are steadily changing to online, ignoring live communication.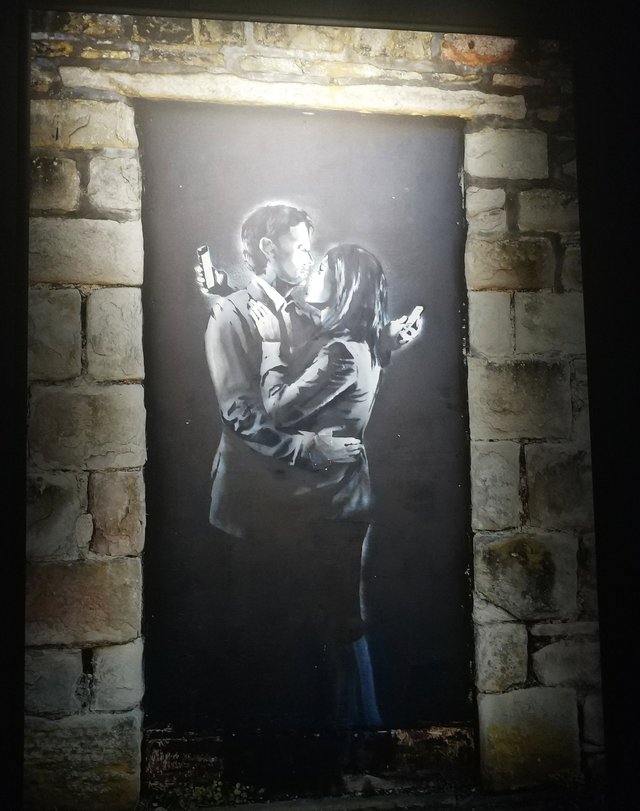 Many works of the artist were stolen with parts of city walls, and were sold on auctions for big money.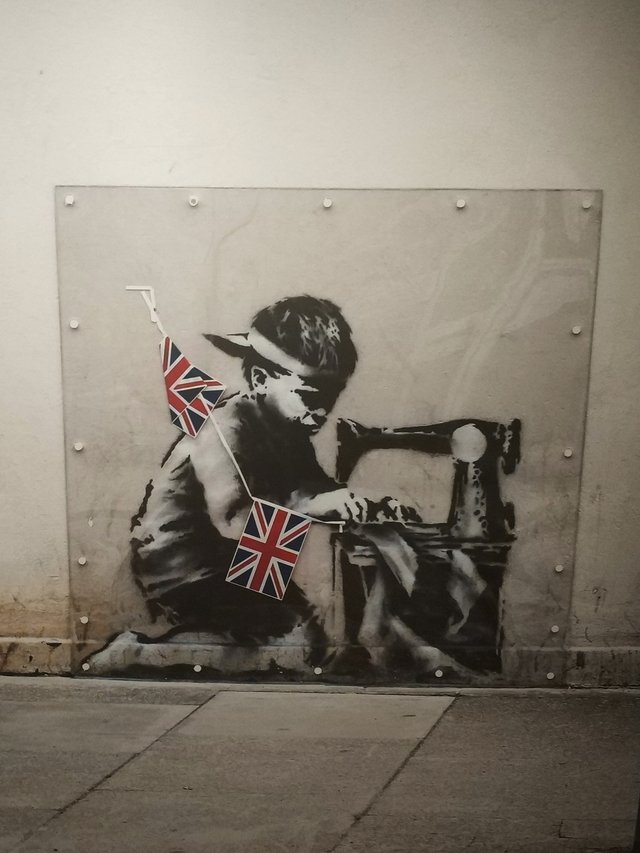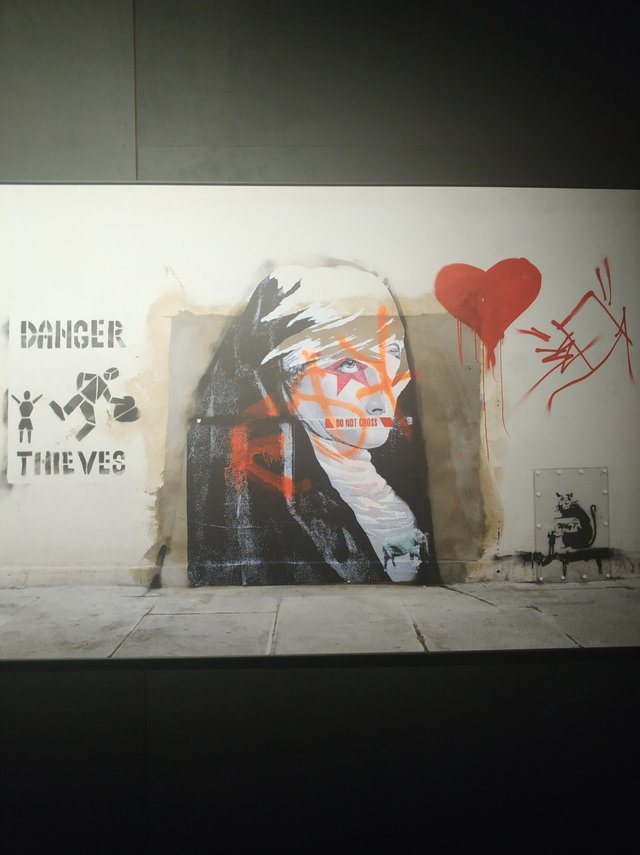 I liked the exhibition very much. I was so impressed with Banksy's works that after a while, when I needed to draw one art, I was inspired by his extraordinary creative spirit. This art I already spread here. Do you think it would look good as a street art somewhere in the city walls?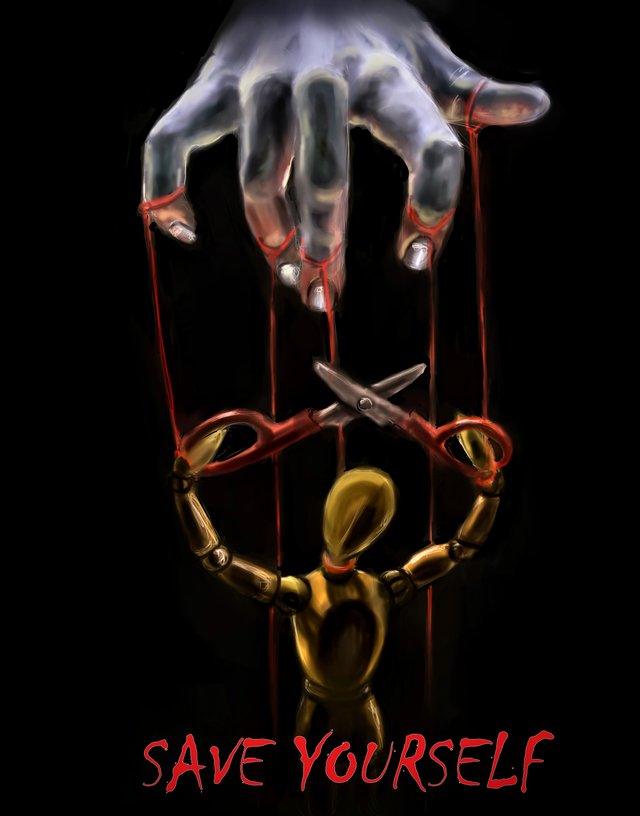 Thank you for your attention! If you like my post – please, subscribe).
I apologize if you find mistakes in my text. Unfortunately, my English is not perfect.