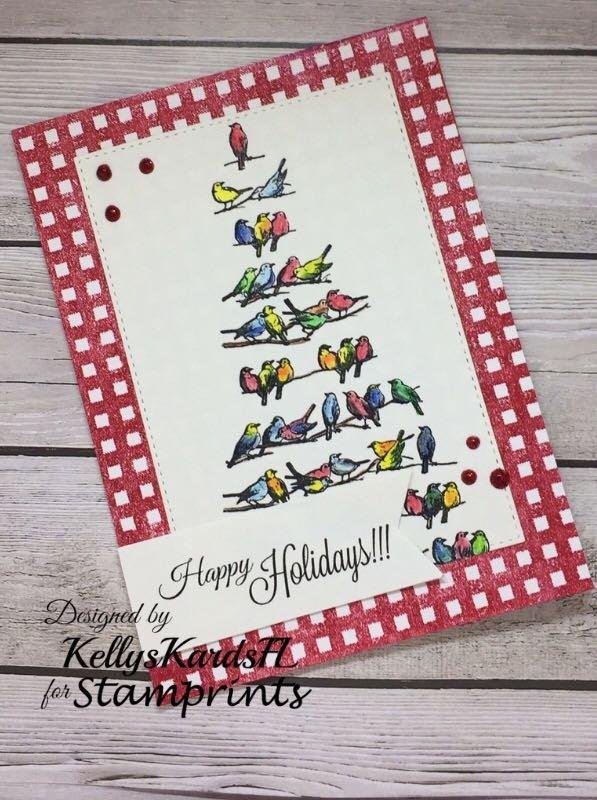 Well, it's December and hopefully you are in full "Christmas Mode". I wanted to get in the mood for Christmas so I used the Tree of Birds digital stamps from Stamprints to create this card for the design team.
I really love the simplicity of the birds forming a tree shape. I printed the images on white cardstock and cut it out using a stitched rectangle die before coloring it with colored pencils and I decided to create my own background paper by using an older Stampin up Gingham Check rubber stamp from my collection with SU Ruby Red ink. I cut the sentiment in the shape of a banner and I finished it by adding a little sparkle with some red Stickles.
Stamprints has a large variety of digital stamps and stamp sets that you can choose from. Please take a little time and visit Stamprints on Etsy and check out all of the lovely digital stamps that are available.
Etsy Shop: https://www.etsy.com/shop/Stamprints
Stamprints Blog: https://stamprints.wordpress.com
Instagram: https://www.instagram.com/stamprints/
I really love using digital images because you can print them in the size that fits your needs and you never have to worry about stamping mishaps or smeared images.
Have a good day and enjoy a great cup of coffee.
-Kelly
Blog: https://steemit.com/@kellyskardsfl
Facebook: https://www.facebook.com/kellyskardsfl/
Instagram: https://www.instagram.com/kellyskardsfl/
Pinterest: https://bit.ly/2np9Y0k
Twitter: https://twitter.com/kellyskardsfl
YouTube: KellysKardsFL
Design Team Member: Stamprints
Previous Team Member: Try Stampin On Tuesday and Nevermore Creations