Today I have the feeling that cultural institutions embrace technology in all possible means, just as it was their last chance to stay relevant and up-to-date with the audience. And it probably is.
Museums are providing their collections to Google to include in the Google Art project, theaters introducing 3-D glasses and large media content in their shows - ok, we've seen it.
But did you hear about museums introducing their own cryptocurrencies?
This is actually what did Guggenheim museum in their latest online exhibition Åzone Futures Market.
"Åzone Futures Market is a Guggenheim online exhibition that enables you to take a position on the future of a world increasingly shaped by emerging technologies." - that's how the museum describe themselves in this show.
First of all, I've heard different opinions, one being that this exhibition is not so much about the future of the society as it claims, but more about the future of the museum, trying to engage the IT and blockchain audience.
It is very possible to be true. And I don't have issues with that! To me it looks very well done and I've spent some time surfing on their website.
So I tried to understand what it's all about and how did they manage to squeeze in the cryptocurrency in their show.
And it's pretty nicely organized - after joining the Åzone, new users receive 10,000 cåin (coin), which is actually their seed money in this new cryptocurrency. It's claimed to be the currency of the future and as with Bitcoin or any other cryptocurrency, it's rate is determined autonomously.
What you do then with this currency is purchase stock and by your purchases you influence the direction of the futures market. You can go to the website and see what the future forecast is for today, based on the purchases of the cåin holders. To me it opened with a very optimistic forecast:
"The future is looking 100% more free than yesterday".
After reading this I stopped taking the exhibition too seriously:) Actually you should take it as a game, rather than any serious forecasting tool. It has no historical context, and looks pretty much as a curious social experiment.
You can become Influencer, Forecaster and Activist, and by your actions and posts drive the audience towards purchasing certain stock options. The name of these stocks are sometimes epic: "Bloodless war", "Interplanetary living", "Identity cloaking".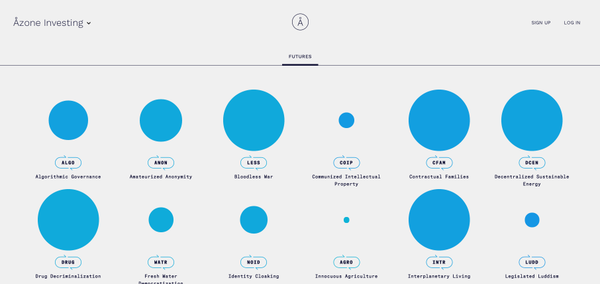 And still the museum claims a very serious mission:
"As our planet continues to reveal its limits, we need different systems for determining collective values to drive decisions about the future. Culture has always been a device for constructing meaning and finding common ground. Reorienting the traditional market toward cultural ends is an experimental strategy to test its capacity to transcend profit-driven speculation."
I'm not so sure of their planet-wide impact, but at least it's a curious game worth trying, isn't it?