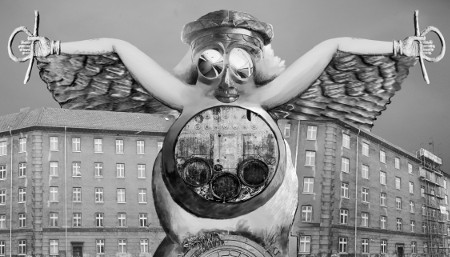 Yesterday I biked through the wealthy neighbourhood, Østerbro (also called Oyster Bronx) to buy a book at an antiquarian. It was an introduction to German literature in the first half of the twentieth century, a period I once researched thoroughly.
@shanibeer asked some questions about it and I suddenly felt like reading some of those old poems again. This morning I got to work on a Katharsisdrill artwork based on one of these poems.
It was written by Georg Heym and is called: Der Gott der Stadt
In simple, almost childish imagery, he renders the modern metropolis on top of which an old heathen God has renewed his act. If any of you have seen Fritz Lang's film Metropolis, it is sort of the same idea... sort of.
Here is the poem - in German.
              Der Gott der Stadt
     Auf einem Häuserblocke sitzt er breit.
     Die Winde lagern schwarz um seine Stirn.
     Er schaut voll Wut, wo fern in Einsamkeit
     die letzten Häuser in das Land verirr'n.
     Vom Abend glänzt der rote Bauch dem Baal,
     die grossen Städte knieen um ihn her.
     Der Kirchenglocken ungeheure Zahl
     wogt auf zu ihm aus schwarzer Türme Meer.
     Wie Koybanten-Tanz dröhnt die Musik
     der Millionen durch die Strassen laut.
     Der Schlote Rauch, die Wolken der Fabrik
     ziehn auf zu ihm, wie Duft von Weihrauch blaut.
     Das Wetter schwelt in seinen Augenbrauen.
     Der dunkle Abend wird in Nacht betäubt.
     Die Stürme flattern, die wie Geier schauen
     von seinem Haupthaar, das im Zorne sträubt.
     Er streckt ins Dunkle seine Fleischerfaust.
     Er schüttelt sie. Ein Meer von Feuer jagt
     durch eine Strasse. Und der Glutqualm braust
     und frisst sie auf, bis spät der Morgen tagt.
(here is a link to an English Translation) - thanks to @shortcut
@ocrdu said I should draw the chaos. here's a go at it.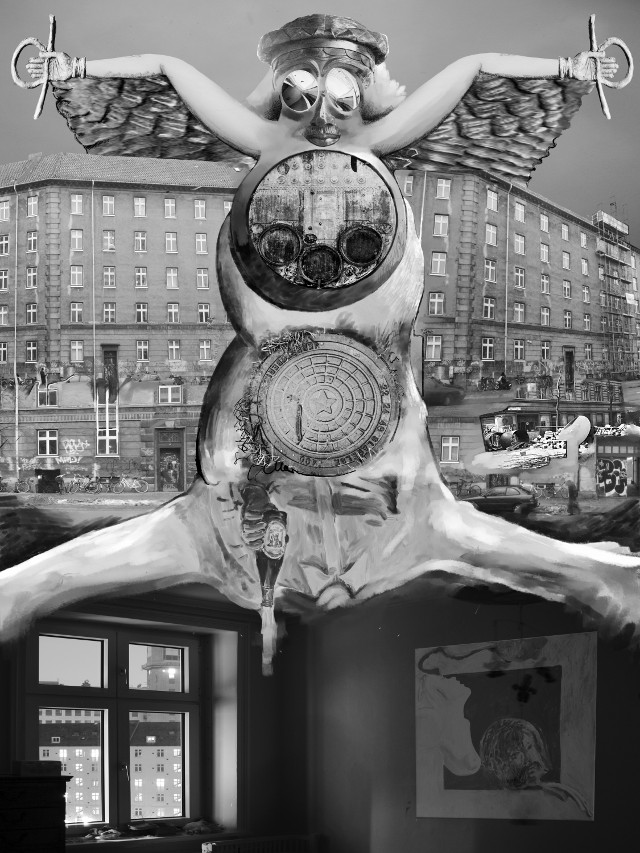 Der Gott der Stadt. High resolution version here.


This work is licensed under a
Attribute - Katharsisdrill - Site: https://www.datataffel.dk/u/katharsisdrill