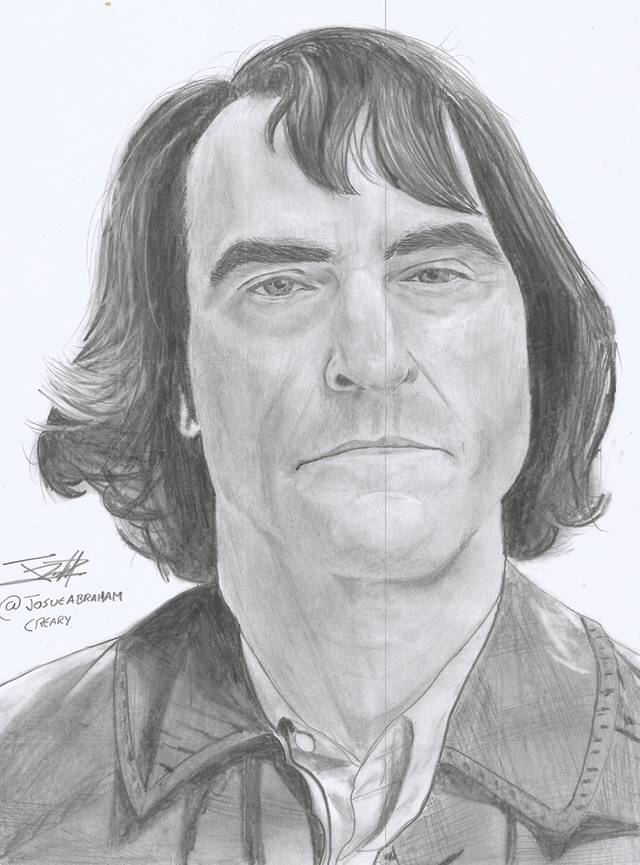 Arthur Fleck
¡Hola a todos! Espero que se encuentren ¡Excelente!, hoy vengo a dejar mi segundo post el cual como lograron ver en la imagen miniatura, es el retrato de Joaquin Phoenix en su interpretación de Arthur Fleck en la extraordinaria película "Joker". Principalmente les vengo a traer el paso a paso de la ejecución de este retrato y los materiales, que como verán no son nada del otro mundo.


Hi everyone! I hope you are Excellent!, Today I come to leave my second post which as you managed to see in the miniature image, is the portrait of Joaquin Phoenix in his interpretation of Arthur Fleck in the extraordinary film "Joker". Mainly I come to bring you the step by step of the execution of this portrait and the materials, which as you will see are nothing of the other world.

Los materiales- The materials
Utilice para este retrato:
Cartulina de 20x27 centímetros (no se ni cuanto pesaba, pues era parte de la cubierta de un trabajo viejo, solo le corte lo que tenía agujeros y listo)
Lápiz: 2H, HB, 2B y 6B
Portaminas con unas minas 0.5
Borrador simple
Algodón
Difumino hecho con una hoja. (si quieren saber cómo se hace me dicen y les explico)

Use for this portrait:
Cardboard of 20x27 centimeters (I don't know how much it weighed, because it was part of the cover of an old job, just cut what had holes and ready)
Pencil: 2H, HB, 2B and 6B
Mechanical pencil with 0.5 mines
Simple draft
Cotton
Blur made with a leaf. (If you want to know how it is done they tell me and I explain)

Lo primero que se realizó una cuadricula para definir bien la ubicación de cada parte del rostro
Y hago el boceto simple todo esto con el 2H.

The first thing that a grid was done to define well the location of each part of the face
And I make the simple sketch all this with 2H.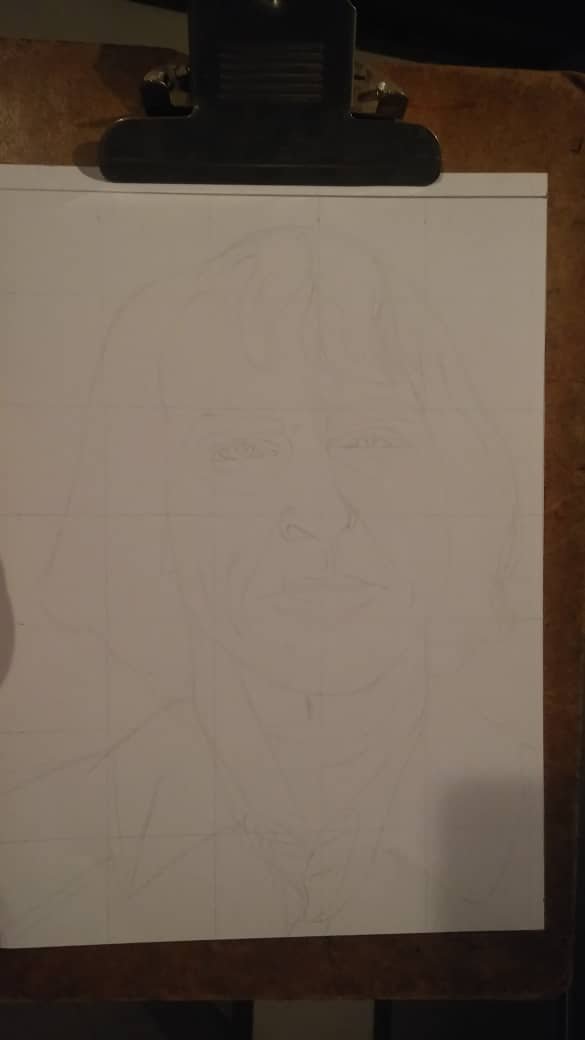 Lo seguido es borrar las cuadriculas y marcar suavemente el contorno del boceto con lápiz HB


The next thing is to erase the grids and gently mark the outline of the sketch with HB pencil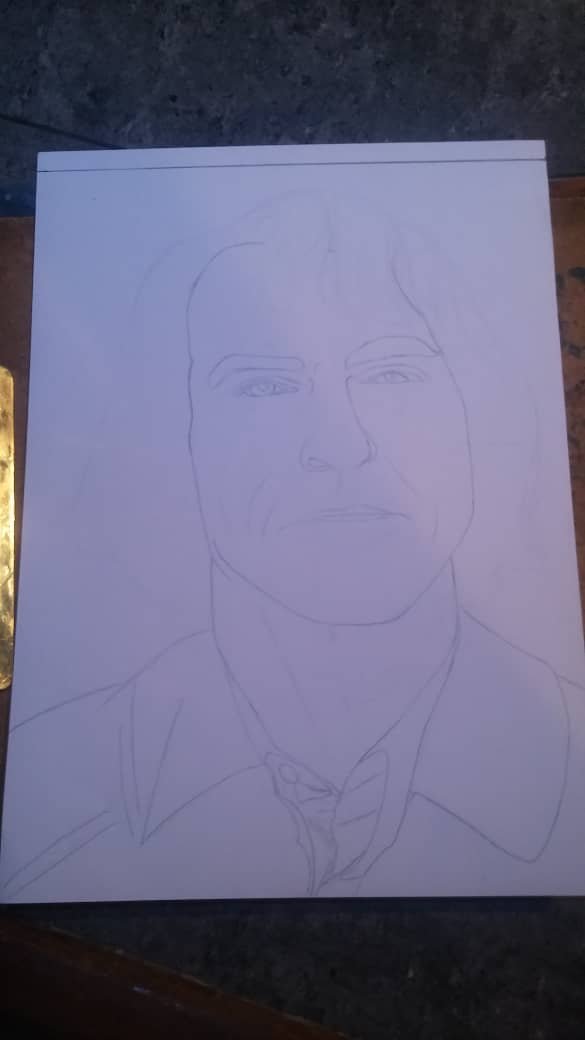 Seguimos haciendo la piel rellenando toda la cara y cuello con lápiz HB y difuminando con el algodón y se prosigue con la realización del ojo, cual se marca con el 2B para las partes más oscuras y con el portaminas para detalles mínimos, la ceja se realiza pelo a pelo con el lápiz 2B.

We continue to make the skin filling the entire face and neck with HB pencil and blurring with cotton and continuing with the realization of the eye, which is marked with 2B for the darkest parts and with the pencil for minimal details, the eyebrow is made hair by hair with the 2B pencil.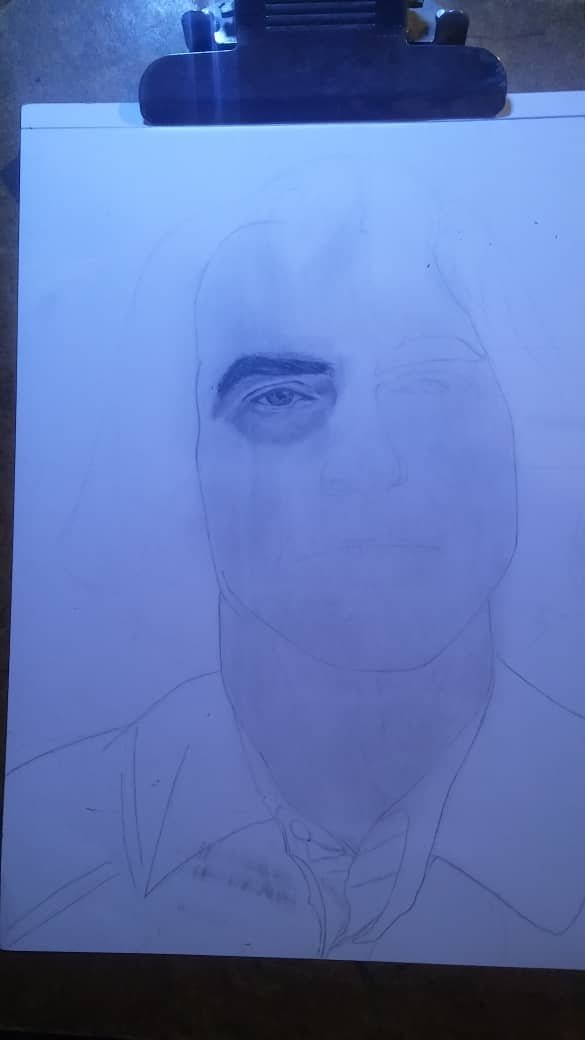 El otro ojo se realiza de la misma forma que el primero y vamos agregando más profundidad en la piel, agregando sombras con el mismo lápiz HB. La nariz se realizó con el lápiz 2B permitiendo agregar más profundidad al dibujo. El brillo de la nariz se sacó con cuidado con el borrador simple.

The other eye is done in the same way as the first and we are adding more depth in the skin, adding shadows with the same HB pencil. The nose was made with the 2B pencil allowing to add more depth to the drawing. The brightness of the nose was carefully removed with the simple eraser.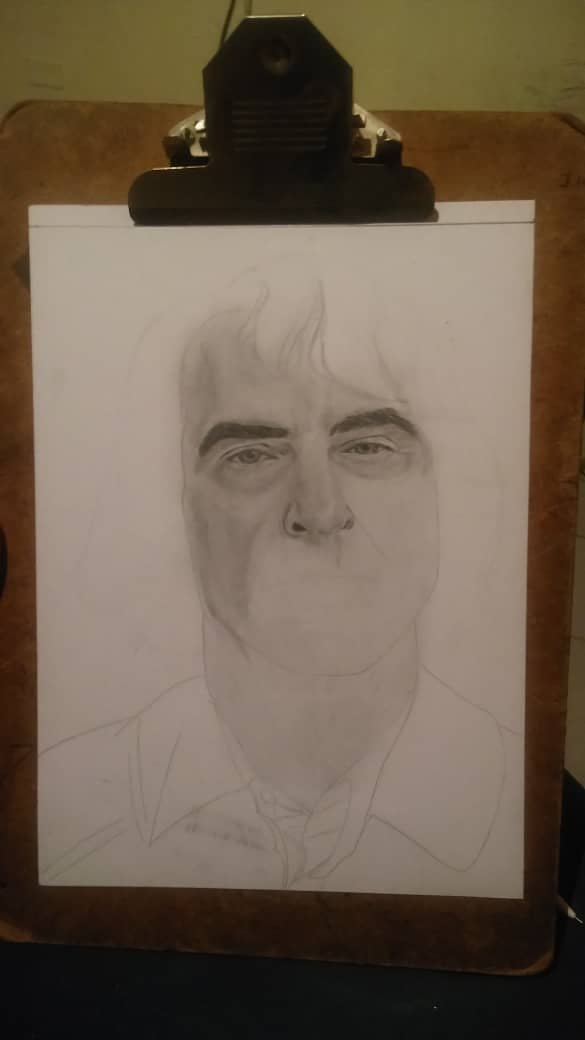 La boca fue lo siguiente y realmente fue un reto, pues no es recta y tenía que tener en cuenta la marca que tiene el actor en el labio superior. Los labios se hicieron con lápiz HB (haciendo más capas) y la línea de la abertura de la boca se hizo con el 2B.

The mouth was the following and it was really a challenge, because it is not straight and I had to take into account the brand that the actor has on the upper lip. The lips were made with HB pencil (making more layers) and the line of the mouth opening was made with 2B.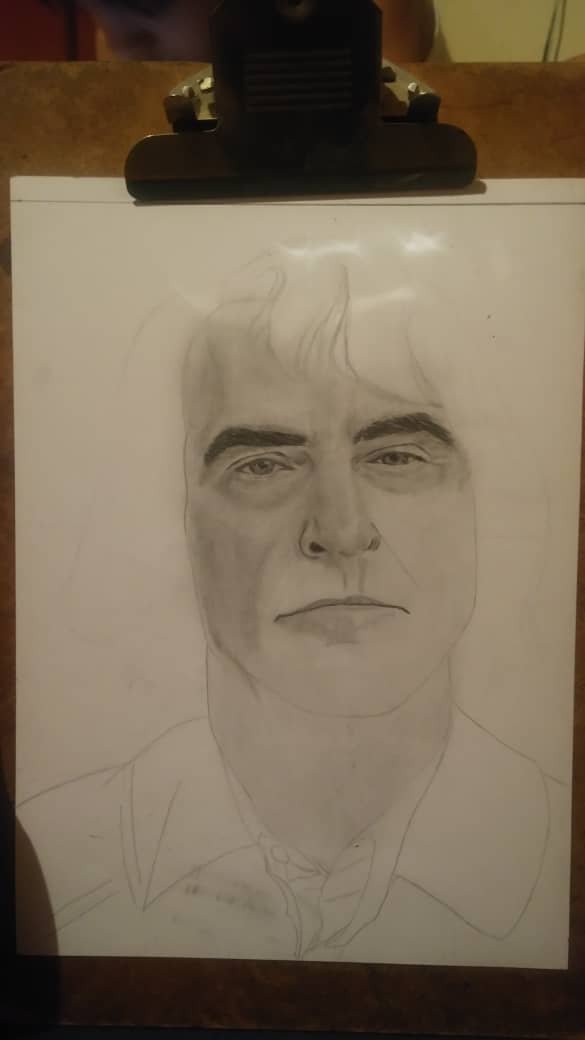 La barba y el resto de los detalles para el rostro los realice con el lápiz HB y la goma simple.

The beard and the rest of the details for the face are done with the HB pencil and the simple rubber.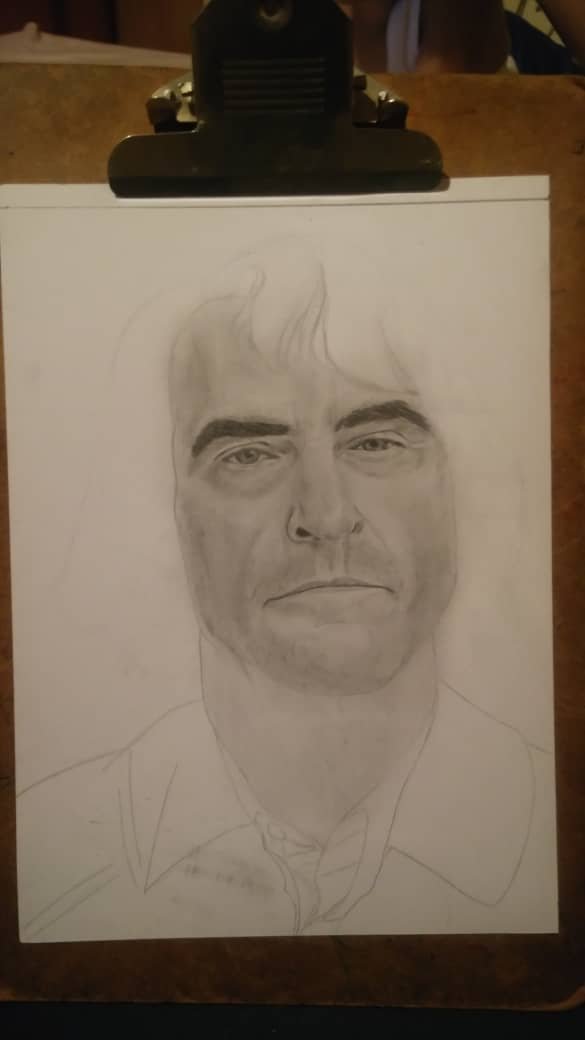 El cuello tiene la misma técnica que la piel, agregar capaz con el lapiz HB hasta lograr la sombra deseada.

The neck has the same technique as the skin, add capable with the HB pencil until the desired shadow is achieved.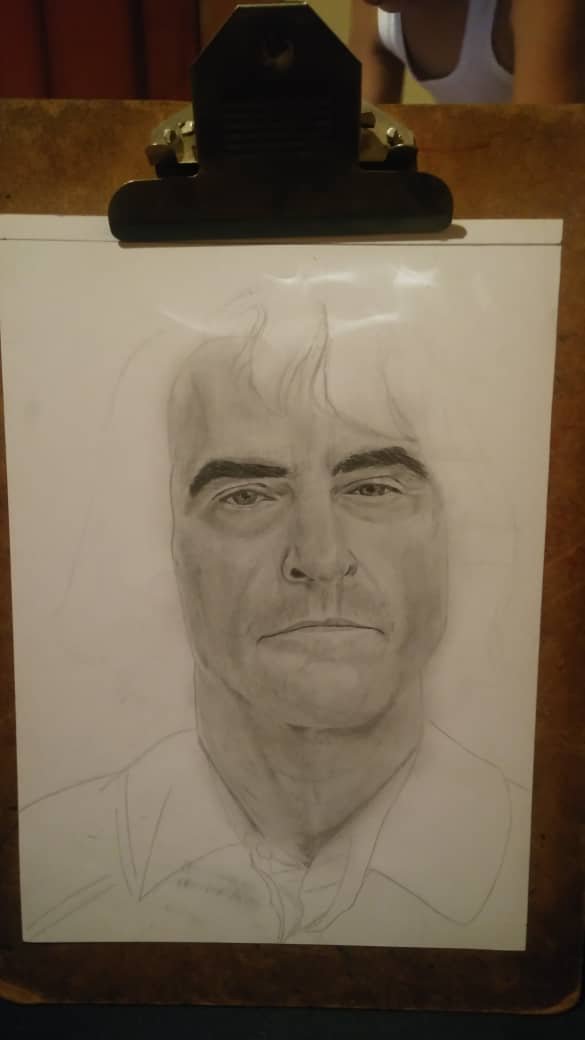 El cabello es un reto pues no soy experto y me las arregle con el lápiz 6B y 2B para agregar las 2 tonalidades que veía en su cabello. Además deje espacios en blanco que fui llenando con el portaminas pelo a pelo para dar esa sensación de desaliñado que tenía Arthur.

The hair is a challenge because I am not an expert and I managed with the 6B and 2B pencil to add the 2 shades I saw in his hair. In addition, I left blank spaces that I filled out with the hair-by-hair pencil holder to give that scruffy feeling that Arthur had.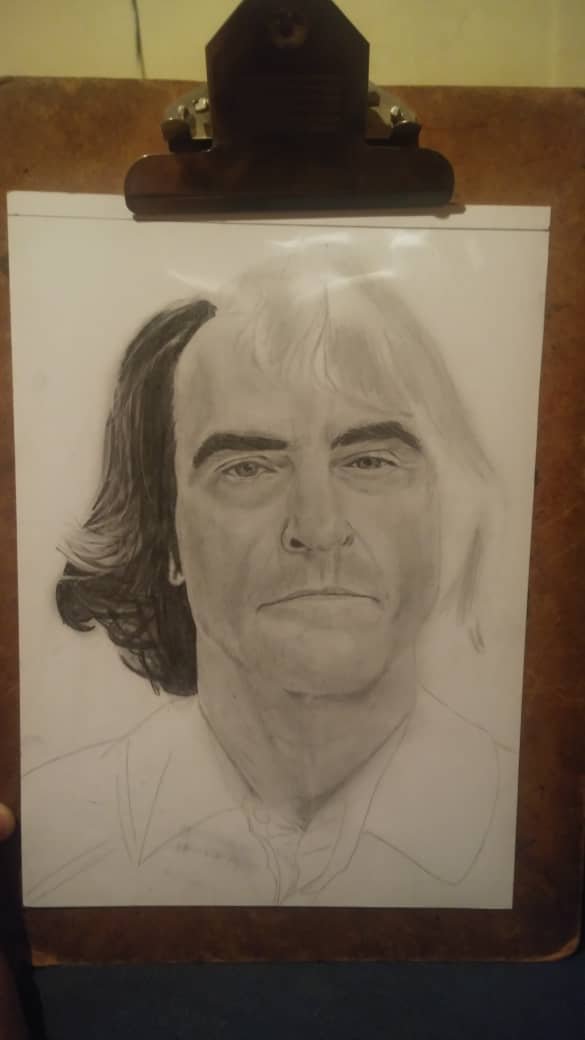 La ropa fue marcada con lápiz 6B para dar más profundidad y rellenada con lápiz 2B, dejando partes de la solapa solo con 6B por ser muy oscuras.

The clothes were marked with 6B pencil to give more depth and filled with 2B pencil, leaving parts of the flap only with 6B for being very dark.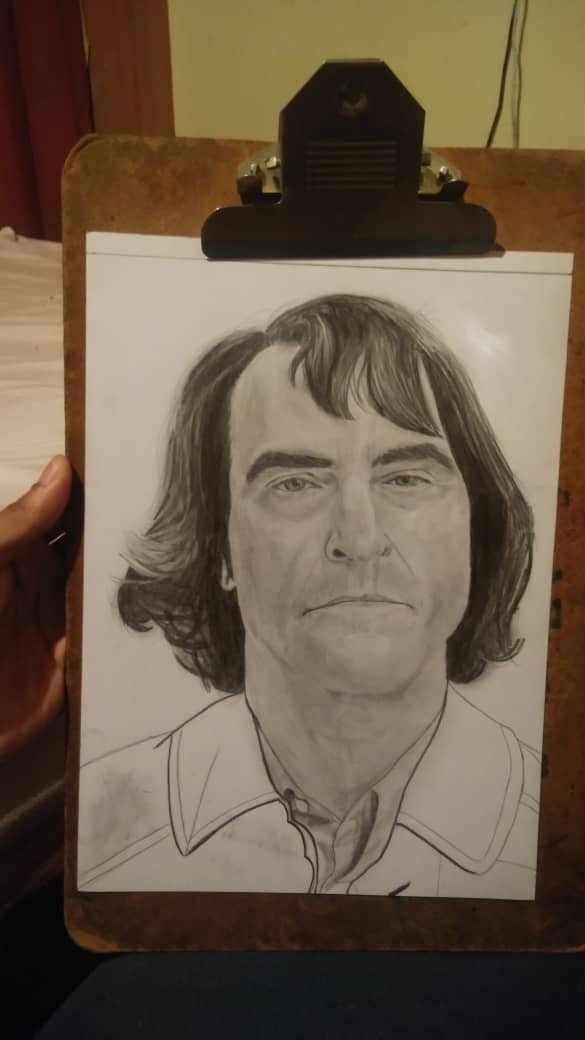 Y acá tenemos el retrato ¡terminado! Y el original para que puedan dar su opinión sobre el retrato!

And here we have the portrait finished! And the original so they can give their opinion on the portrait!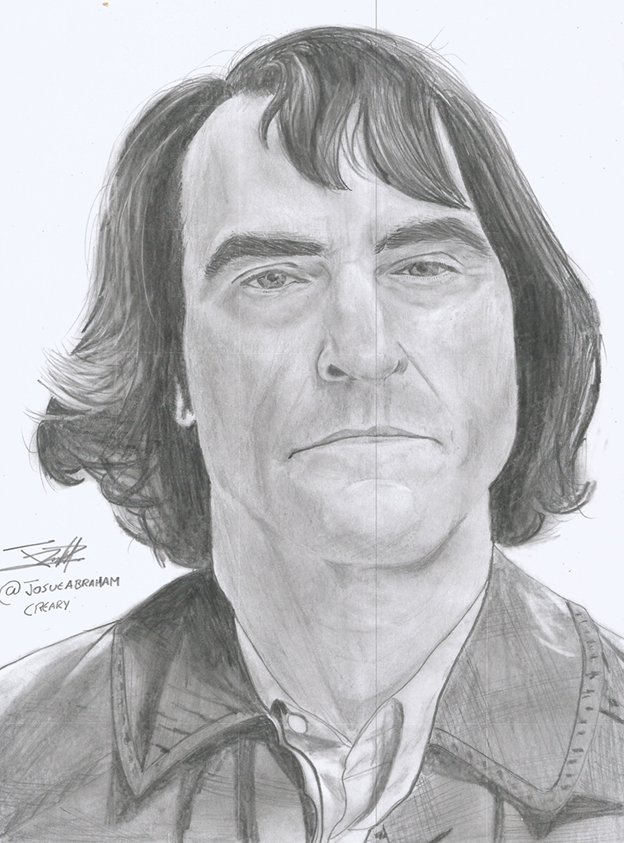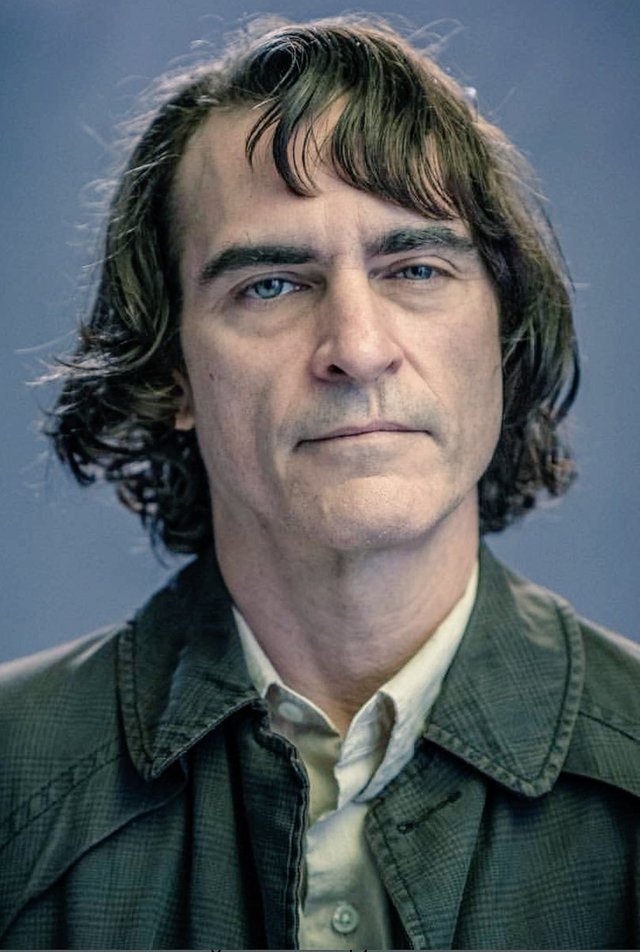 Gracias por visitarme y nos vemos en otro post
Recuerden comentar y votar si les gusto el dibujo!
El post esta hecho en español pero se traduce con google traductor con el fin de poder hacerme entender ante más personas.

Thank you for visiting me and see you in another post
Remember to comment and vote if you liked the drawing!
The post is made in Spanish but it is translated with google translator in order to make me understand before more people