"Rebotar es lo que los Tiggers hacen mejor"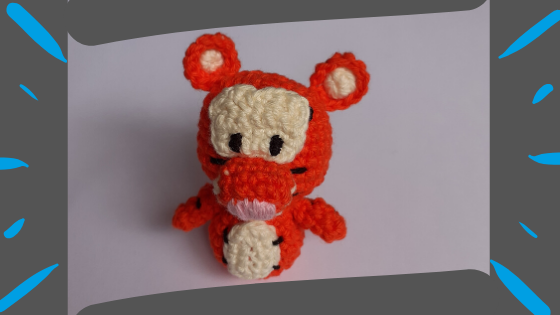 Cuando hablamos de Tigger sin duda saca una sonrisa a cualquiera. Quizá porque dice lo primero que se le viene a la mente sin tantos rodeos. Además desborda una espontaneidad y una seguridad interna haciendo que cualquiera quisiera ser su amigo. Esté en lo cierto o equivocado, Tigger ya dio un paso adelante (venga lo que venga, jaja).
When we talk about Tigger, he certainly brings a smile to anyone's face. Maybe because he says the first thing that comes to mind without so much fuss. He also overflows with a spontaneity and inner security that makes anyone want to be his friend. Whether he's right or wrong, Tigger has already taken a step forward (whatever comes).
Vamos por los materiales:
Hilo de algodón / cotton thread
crochet Nº2 / craft Nº2
aguja punta roma / blunt point needle
napa siliconada / siliconated nappa
hilo de bordar / embroidery thread
tijera / scissors
alfileres / pins
internet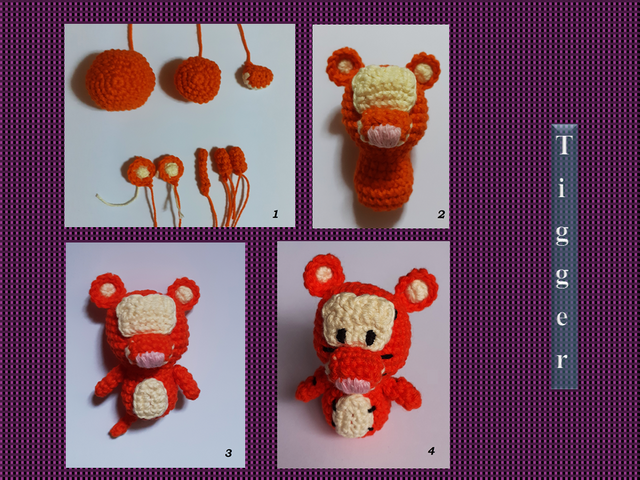 Al ser el cuarto personaje de la serie "Winnie the Pooh", es redundante pero seguí el video tutorial de Knitoys and craft (enlace al final). Debido a las manchitas y al hocico, este sería el amigurumi algo más complejo de los 4.
Comencé tejiendo las partes del personaje (figura 1). Una vez que tenemos las piezas listas, diagramar-unir con alfileres (no hay imagen porque eran demasiados alfileres en la cabeza). Cierto, la mayoría de los amigurumis que tejo inicio uniendo las piezas de la cabeza, esto para lograr orientar un centro (figura 2). Luego de unir las piezas (figura 3), bordar los ojos y con un hilo largo ponerle las manchitas negras (figura 4).
Being the fourth character in the series "Winnie the Pooh", it's redundant but I followed the Knitoys and craft video tutorial (link at the end). Due to the spots and the snout, this would be the most complex amigurumi of the 4.
I started knitting the parts of the character (figure 1). Once we have the pieces ready, diagram-joint with pins (no picture because there were too many pins in the head). Right, most of the amigurumis I weave start by joining the head pieces, this to achieve a center (figure 2). After joining the pieces (figure 3), embroider the eyes and with a long thread put the little black spots (figure 4).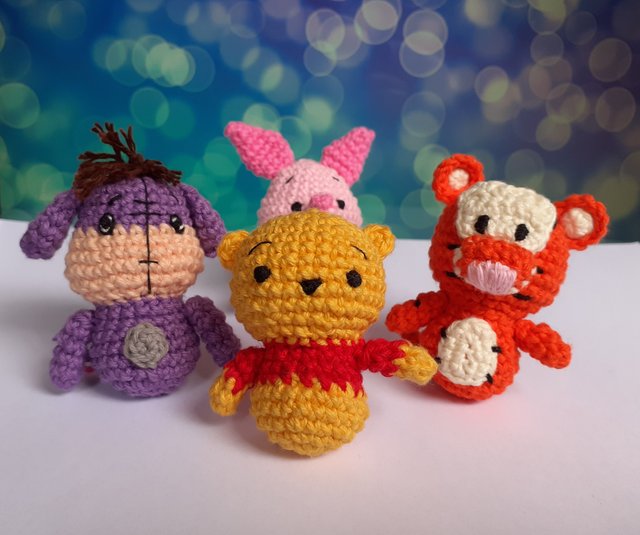 Aquí se aprecia la felicidad de Tigger al encontrarse junto a sus amigos. En el siguiente post detallaré más de esto.
Here you can see Tigger's happiness at being with his friends. In the next post I will detail more of this.
¡…Hasta la próxima!
See you next time!
  Dato curioso: El tejido de las orejas es de una forma curiosa.

Fuente de video:

►Encuéntranos en: