Arriving in the dark
Llegando en la Oscuridad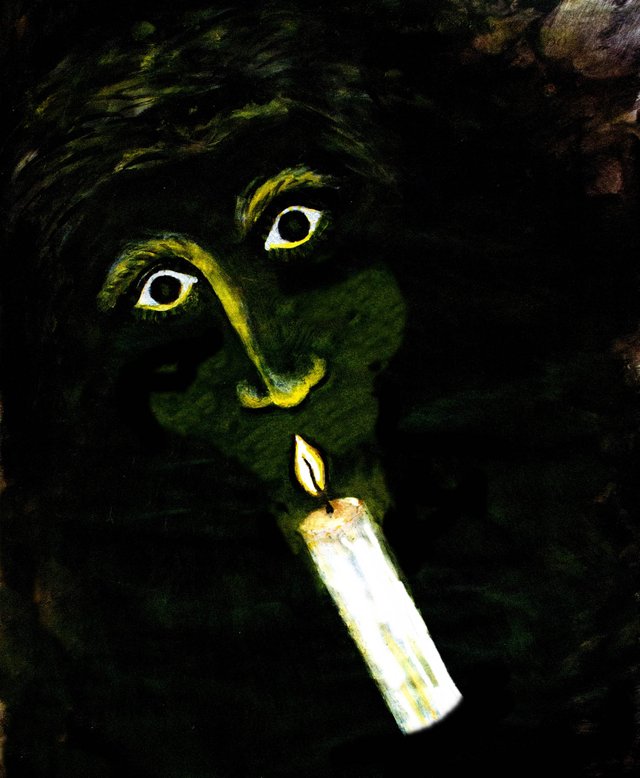 Saludos, como verán es mi primera publicación en Steemit, es un dibujo de mi autoría, no vayan a creer que es un autoretrato, sólo es un dibujo que representa a millones de personas que venimos pasando esta terrible situación de vivir en penumbras. Claro que la oscuridad no es el problema, lo realmente lamentable es que la falta de energía eléctrica va más allá de la oscuridad: nos limita o anula el acceso al agua potable, la compra de alimentos y otros servicios básicos.
Hace poco tuvimos, en dos oportunidades, más de 5 días sin el servicio de electricidad. En la actualidad entramos a una fase de racionamiento eléctrico muy desordenado y deficiente, donde la incertidumbre es cada vez mayor. Las causas....muchas, entre estas una lucha intestina por el poder económico de nuestro país, entre dos bandos políticos pacatos e ineptos que han mantenido a uno de los países más hermosos de este planeta (Venezuela) en una total descomposición económica y social sin precedentes. Han sido muchas las cosas difíciles que la población ha tenido que pasar, y ahora andamos a medio vivir, como sombras que rebuscan la sobrevivencia; unos comiéndose el cuento de "allá viene el lobo imperialista" otros "el capitán américa está llegando" y otros tantos no creemos en patrioteros ni en proyankeros, sino en nosotros mismos, en la ayuda mutua, en la solidaridad hacia el que tiene menos, en la alegría como antídoto para salir adelante como pueblo caribeño, en un país que merece ser salvado de estas pirañas.
Greetings, as you will see is my first publication in Steemit, is a drawing of my authorship, do not believe that it is a self-portrait, it is only a drawing that represents millions of people who have been going through this terrible situation of living in darkness. Of course, darkness is not the problem, what is really regrettable is that the lack of electricity goes beyond the darkness: it limits or annuls our access to drinking water, the purchase of food and other basic services.
We recently had, on two occasions, more than 5 days without electricity service. We are currently entering a phase of power rationing that is very messy and deficient, where uncertainty is increasing. The causes ... many, among these an internal struggle for the economic power of our country, between two inept political sides that have kept one of the most beautiful countries on this planet (Venezuela) in a total economic decomposition and unprecedented social. There have been many difficult things that the population has had to go through, and now we are half-living, like shadows that search for survival; some eating the story of "there comes the imperialist wolf" others "the American captain is coming" and many others do not believe in jingoism or pro-Yankees, but in ourselves, in mutual help, in solidarity towards those who have less, in joy as an antidote to move forward as a Caribbean people, in a country that deserves to be saved from these piranhas.