Under the rain with my umbrella as I was waiting for my taxi to go to the airport a couple of weeks ago, my prospect of having a sunny holiday in Visayas looked dim like the dawn. Arriving in Dumaguete City with the sun already out at 6 am was a big surprise! Suffice to say, my wardrobe wasn't what one call "appropriate", in my world a DISASTER. I was giggling as I rode my tricycle to take me to my hostel.
SUNNY it was the whole time in BAYAWAN, Negros Oriental!
There was a drizzle in the morning of the competitions but had stopped by the time everyone was up and the sun was so intense by the time we were done with the Painting Competition. As the plan was to announce all the winners after the Flat SKIMBOARDING Competition, everyone went straight to the beach.
Are we ready to do Skimboarding? Flat skimboarding.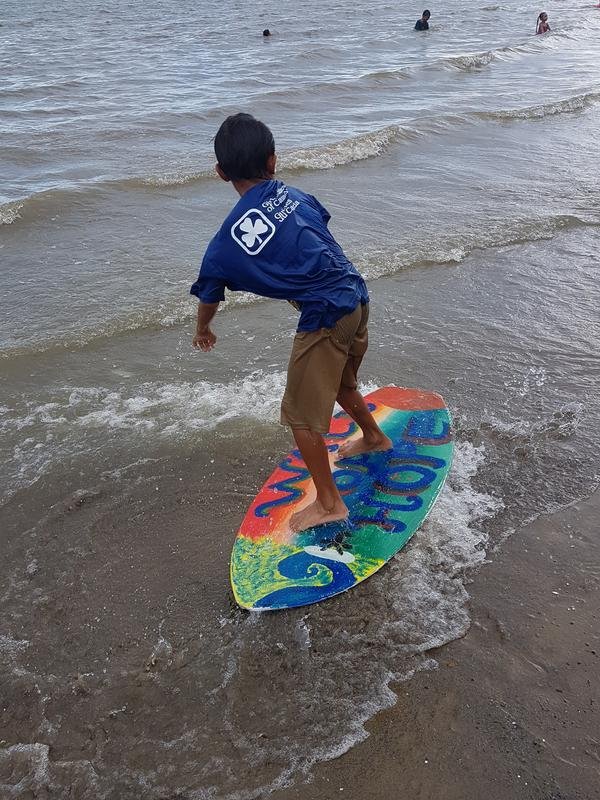 Tatay Dagsa was wishing for some waves the day before, I was wishing for a PERFECT weather, sunny but not so intense where it's still comfortable to be under the sun for everyone. I must say we got both of our wishes!
It's quite funny too to see the kids gagging to start the skimboarding competition and so were we. Once we reached the shore, their excitement were palpable. It's not even to win, but to just be a part of it.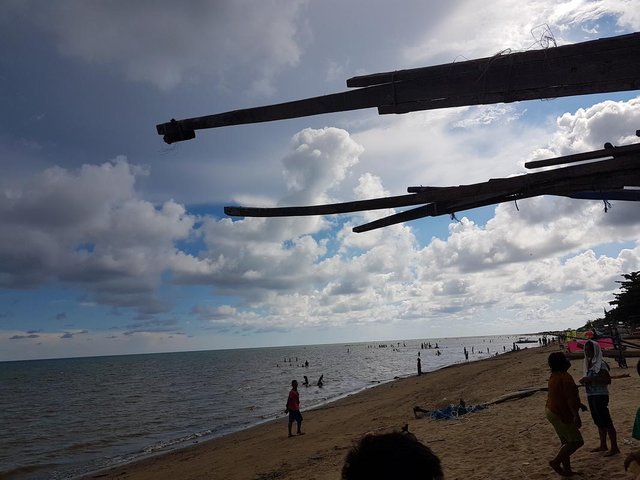 These shots were against the sun about 3 pm.
Flat Skimboarding competition in pictures: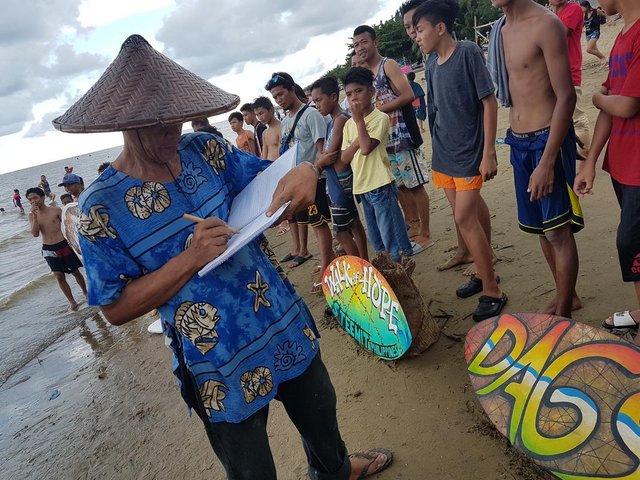 Tatay Dagsa with his list of registrants.
According to @flabbergast-art, it's the same kids who helped make those skimboards, well some of them. Although Tatay Dagsa's youngest didn't join, all of the kids were just from the neighbourhood.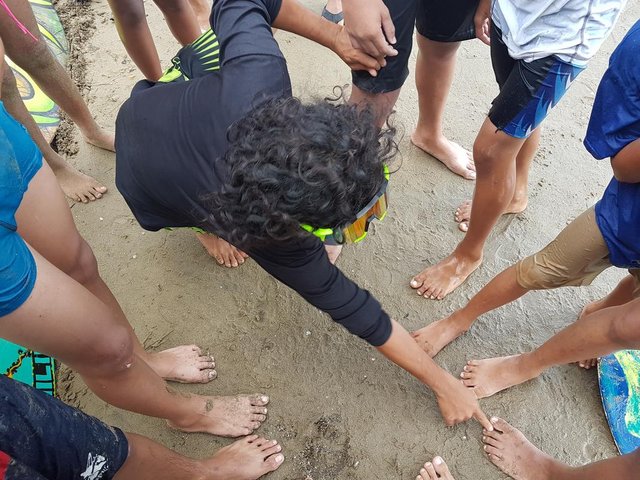 "Your shoes are very dirty, please come out!"
Mark, one of the creatives in Bayawan handled the technicalities. This was their style instead of doing draw lots for the kids to know their turns. Elimination was done after 2 tries for each kid, leaving 5 for the main round.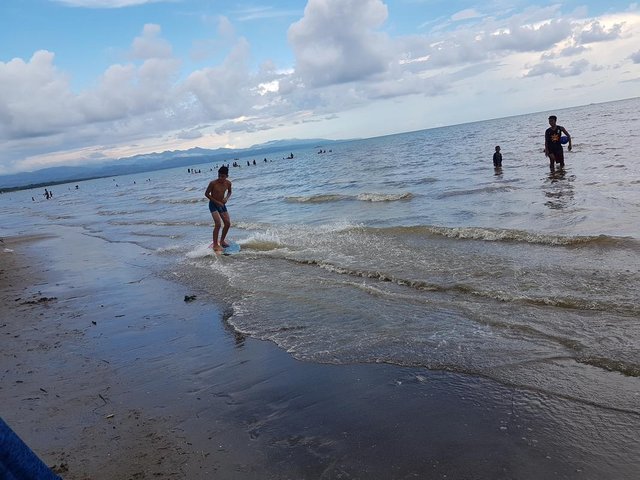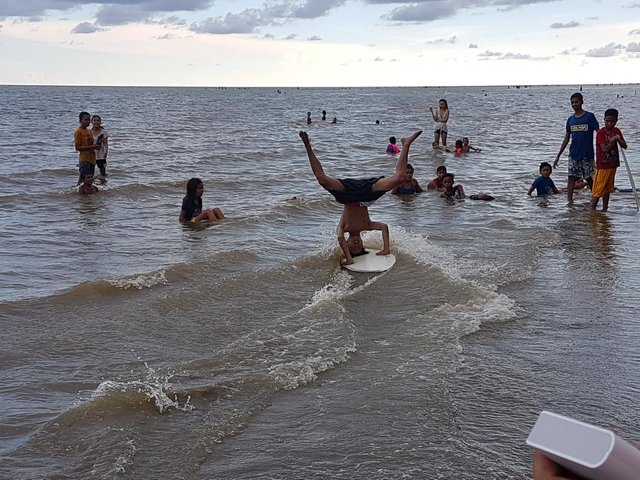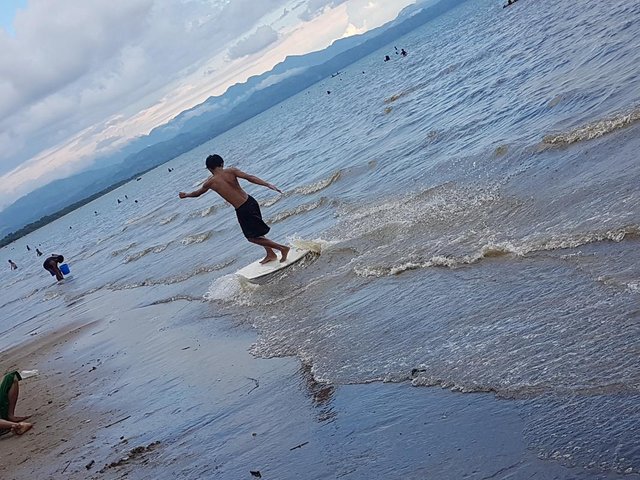 There were some videos taken but dtube right now is not very friendly.
@luisagalasao and I left in the middle of the competition as we needed a bit of daylight to reach Dumaguete. As kuya @flabbergast-art and handled the painting competition, the skimboarding was handled by the other creatives in Bayawan like Nicky Dumapit and kuya Mark.
As we were leaving, I sort of mention to kuya @flabbergast-art to do another Skimboard competition for their **Music and Arts Tour's despedida party. Perhaps our @walkofhope team can prepare for this SOON?
Painting Competition
Let's go back to our painting participants.
Aside from the @walkofhope banner done by @flabbergast-art, the rest of skimboards were painted by Tatay Dagsa and some kids.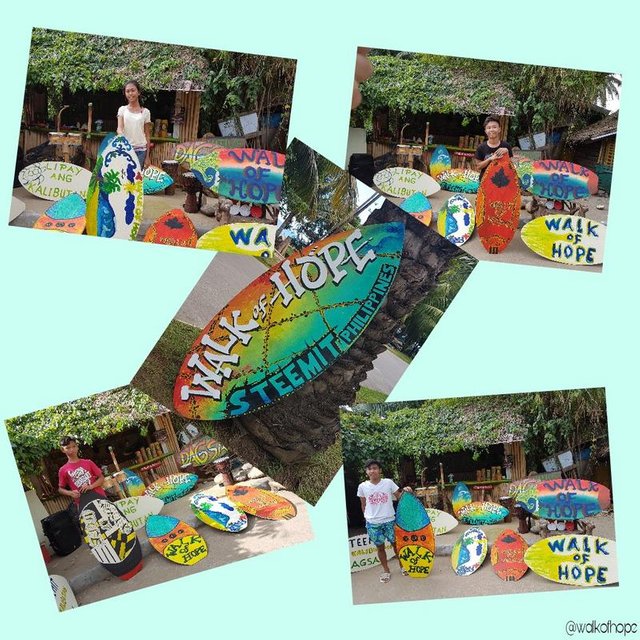 These were all the entries...
and the final winner,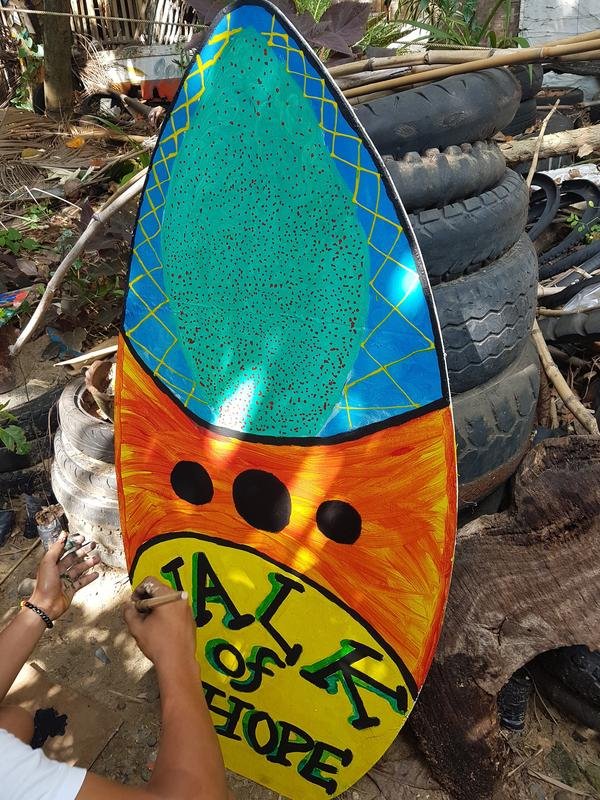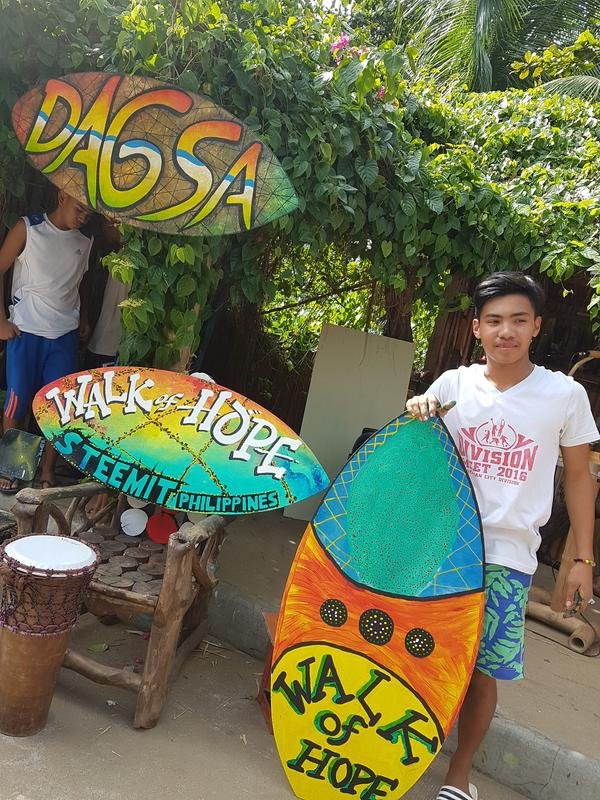 No doubt that this was the winner from the start. I had asked our @walkofhope team to vote for their favorite and this was chosen, even with @gillianpearce. As one of the judges, this too was my favorite.
This event was brought to us by STEEMIT PHILIPPINES and the @walkofhope team. For everyone who made this possible, the whole of BAYAWAN CITY is very grateful. As a representative of Steemit Philippines, I want to thank Tatay Dagsa's family and his friends and the whole of Bayawan City.
My stay in Bayawan City is incomparable to any place i've been to. And some of its' people in their simplicity have their own advocacies necessary on how we live and to the world. They have awakened and taking action together.
Only in Bayawan.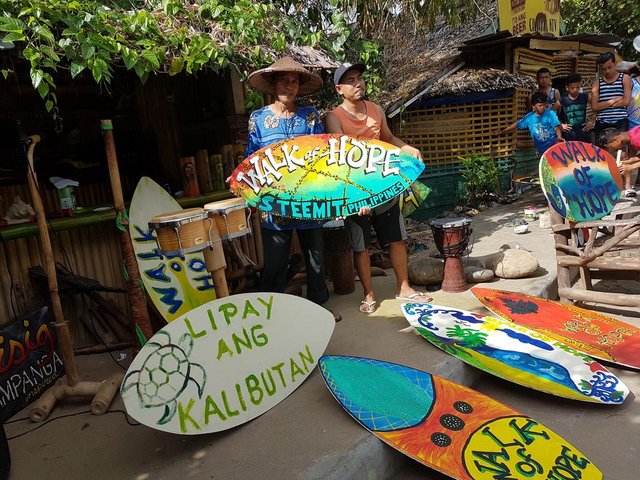 Tatay Dagsa and @flabbergast-art will soon start another JOURNEY, and together, they will be bringing HOPE to those who needs it.
All images are mine, taken with my Samsung Galasy S7.
Some of my previous posts for @walkofhope:
walk-of-hope-update-painting-on-skimboard-competition-in-bayawan-june-24th-2018
walk-of-hope-update-flat-skimboarding-and-painting-on-skimboard-tomorrow-sunday-in-bayawan-city-philippines
walk-of-hope-the-latest-update-from-bayawan-city-philippines