---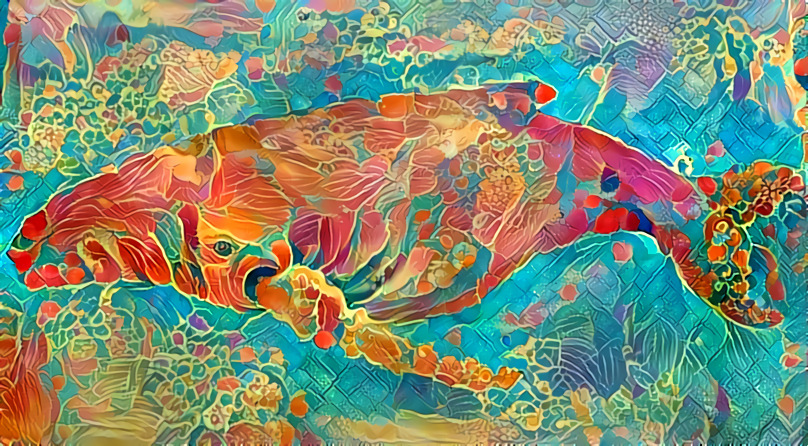 ---
Welcome Steemit!
Art is some really beautiful stuff, the most beautiful is that there are thousands of different options, what we can define as art. For me it was some important process to figure out, what kind of art i want to create and well, the answer was simple and untouchable. My vision is to create the future.
Kunst ist eine wirklich wundervolle Sache, das schönste an Ihr sind die unvorstellbar vielen unterschiedlichen Formen, in denen wir Ihr begegnen können. Für mich war es ein wichtiger Prozess zu definieren, welche Art von Kunst ich schaffen möchte. Die Antwort war einfach, ebenso wie ungreifbar. Meine Vision ist die Zukunft zu gestalten.
---
We talked about the finetuning of my work in the last posts, meanwhile i made some great steps forwards. Much time passed, since i promised you to show you some parts of the process. But there we are. Today i will give you a quick look into what i am doing. As most of you know we are working with neural networks and modern digital editing, to create surrealism and unique pieces of modern art.
Wir haben über das Finetuning meiner Arbeit in den letzten Posts bereits gesprochen. Mittlerweile habe ich bemerkenswerte Fortschritte erzielt, sodass ich immer zufriedener mit den Resultaten meines Experiments bin. Viel Zeit ist vergangen, seitdem ich versprochen habe euch einen Einblick in den Schaffungsprozess zu geben. Aber dort sind wir endlich. Heute gebe ich euch einen kleinen Eindruck von dem, was ich eigentlich mache. Wie viele von euch bereits wissen arbeite ich mit neuronalen Netzwerken und modernen digitalen Bildbearbeitungstechniken um surreale und vor allem einzigartige Kunstwerke zu schaffen, die nach Möglichkeit der Inbegriff von Modernität sind.
---
1. Vision & Motiv
Let's start and think about what we want to do. This time i have some vision from a colorful whale, that maybe fits to steemit. I'm not pretty sure about which colors will fit, this will depend on the motiv i choose, so i will wait with defining this.
The second step is to find some motiv, that fits to your idea. Since i like unusual photos and objects it took me a while to find some fitting stuff.
Beginnen wir also damit, was wir eigentlich machen wollen. Für diese Einführung habe ich mir überlegt einen Wal zu erschaffen, der möglicherweise ganz gut zu Steemit passt. Noch bin ich nicht sicher mit welchen Farben ich arbeiten möchte, dies werde ich von der Motivwahl abhängig machen.
Der zweite Schritt ist also die Suche nach dem Motiv, dass zu der Idee passt. Weil ich außergewöhnliche Fotos und Objekte/Motive mag, hat es eine Weile gedauert, bis ein passendes Motiv ausgewählt war.
---
I choose this one:
Ich habe mich für dieses entschieden: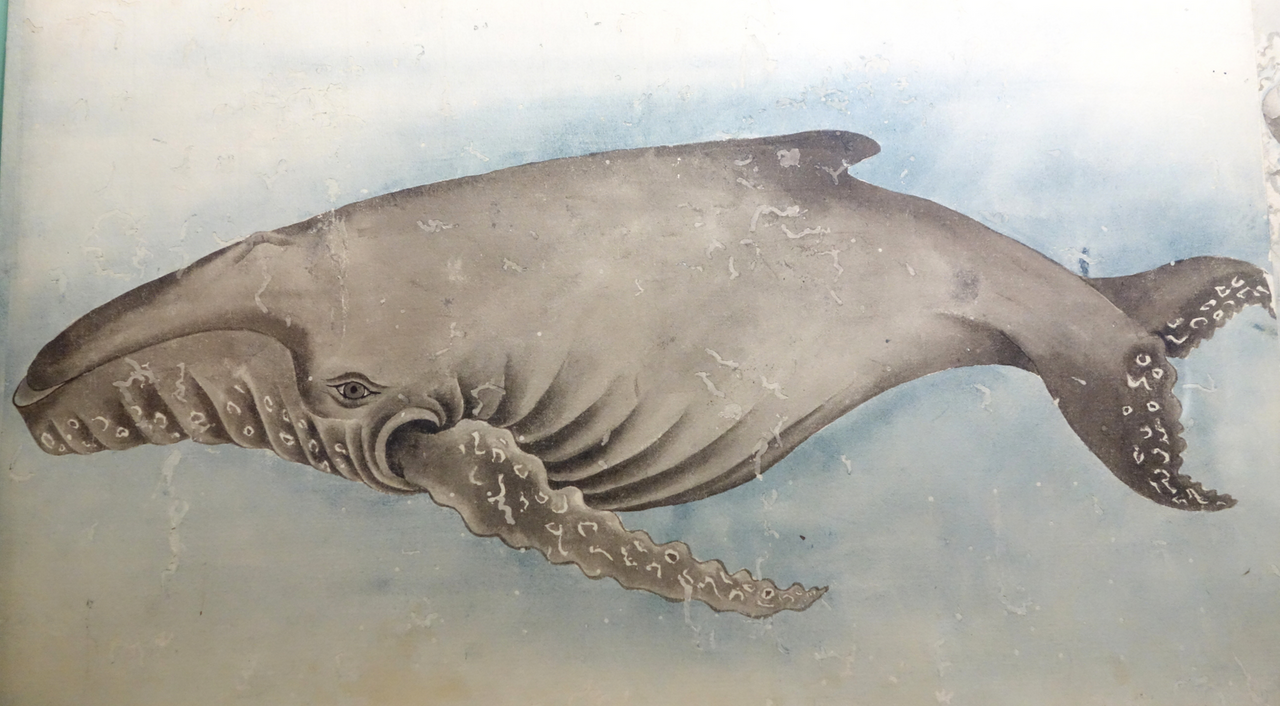 ---
2. Sketch Down
This step is not essential at all, but it helps to save lines and shapes or to redefine them. There is the possiblity to edit the object before sketching down. This depends on your vision about the result. It's just important to edit before sketching down, because of the difference, that will be created if you do it after.
Dieser Schritt ist nicht zwangsläufig von Nöten, hilft aber um Konturen zu bewahren oder aber bewusst zu verändern. Ggf. ist vor dem Downsketchen eine Veränderung des Motives mit Photoshop von Nöten. Je nachdem, welches Ergebnis man erzielen möchte. Wichtig ist nur, dass die Änderung vor dem Sketch Down stattfinden muss, da ansonsten (logisch) die Unterschiede der Bearbeitungsstufen zu sehr herausstechen.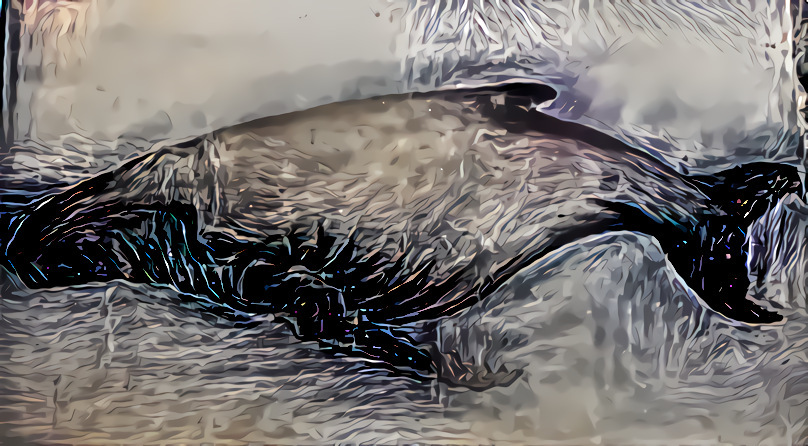 ---
It's not said that you need to sketch down to get good results with neural style/networks. But it will help you to finetune the result, if you have experienced a bit more with this stuff.
Es soll nicht gesagt werden, dass der Sketch Down benötigt wird, um gute Resultate mit dem Neural-Style zu erzielen. Es wird allerdings später helfen, wenn man spezielle Bereiche in einem Werk genauer bearbeiten möchte.
---
3. Structures
Well now i go and cut out the shapes from the sketch and insert it into the basis object. This is needed to get some better focus on the object. Otherwise you won't have a clear positioning.
After this easy step is completed i use the new picture (not the sketch down, the original with the outcutted whale put over) and combine it with some structure. Let's say we want to have some fine drawing.
Nun denn, nun schneiden wir das Motiv (den Wal) aus dem Sketch aus und fügen den ausgeschnittenen Teil passgenau in das Originalbild ein. Dies ermöglicht uns eine klare Positionierung von Objekt und Hintergrund, sodass der Algorithmus diese Konturen nicht einfach 'verwischt'.
Nachdem dieser Schritt abgeschlossen ist, wird das neu erzeugte Bild benutzt und mit einer Struktur kombiniert. Angenommen wir möchten feine Pinselstriche, beziehungsweise einen authentischen Touch.
---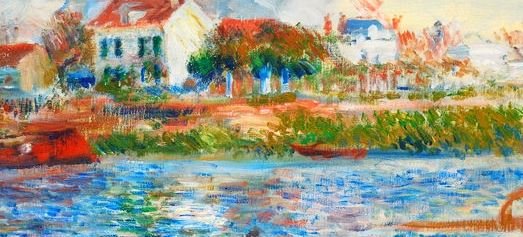 ---
The result after combining the structures into the picture:
---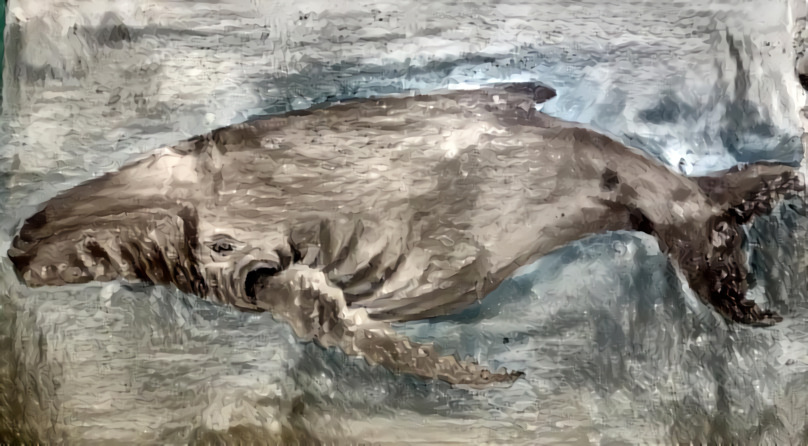 ---
Play with the AI
Well, now we have the base. The next step is to figure out which colors will fit with this structures. But don't fix yourself to much on the structures, you can redefine them i the next step. (A Bit)
And don't wonder if you try combinations, that look hororful in the result. I think it's pretty hard for us to understand how the AI works, and which parameters are defining the quality oft he result.
Nun, jetzt haben wir also die Basis. Der nächste Schritt ist herauszufinden, mit welchen Farben man den Strukturen näher rücken möchte. Fixiert euch aber nicht zu sehr auf die Strukturen, diese können im nächsten Schritt noch ein wenig angepasst werden.
Und wundert euch nicht, wenn ihr Kombinationen versucht, von denen ihr denkt, dass sie gute Ergebnisse hervorbringen. Viele davon werden schrecklich aussehen. Ich denke es ist einfach schwierig da die Parameter herauszufinden, die die Qualität des Endproduktes definieren.
Probieren geht über Studieren ist hier das Motto.
---
I choose this color patterns and i also redefined the structures by the following: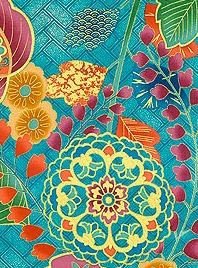 ---
The result is really colorful, as i wanted. Maybe it's a bit too much, but i have to say that i picked some really hard to handle object, since we want to have some shapes left at the end.
---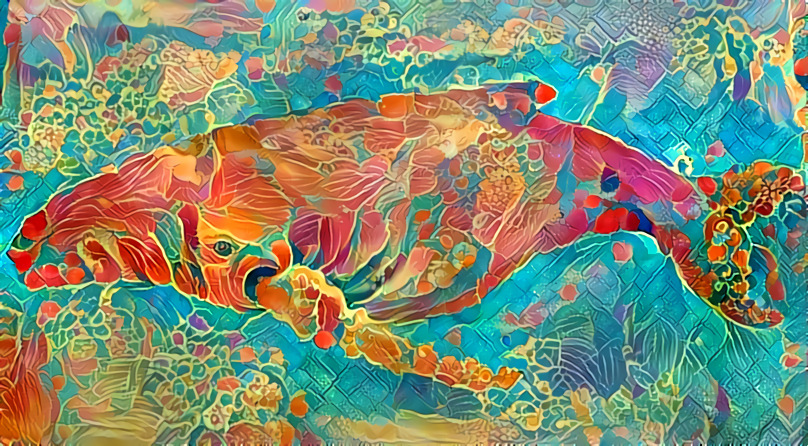 ---
I hope you enjoyed this quick post of mine. Give me your vote if you want to support my doing and do not forget to follow me!