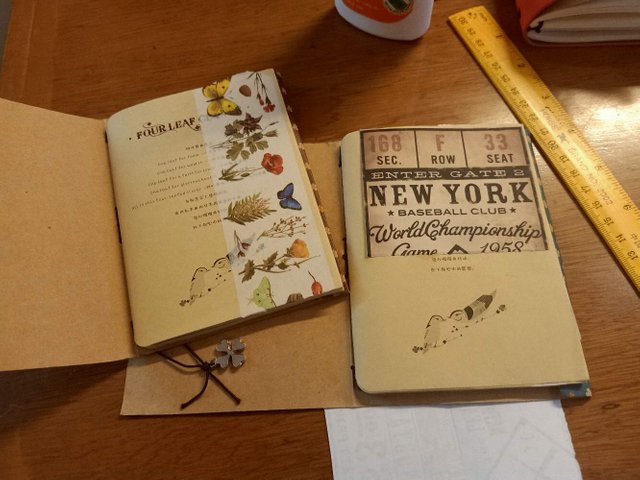 Hello everyone! How had you been?
I am back again not with a new set of stationeries but of a small art project. Since Athena's (my dear cousin who is 13 years younger than me) is fast approaching, I decided to make a personalized gift for her, a small journal.
Well, why a small journal by the way and not something else that I could just buy at the mall? Mainly because I know how much she loves to write down her thoughts. She had been collecting her journals which are by the way full of writings of her -- like literally writings. I also heard from her that she wants to receive something that is personalized. Hence, I decided to make her one.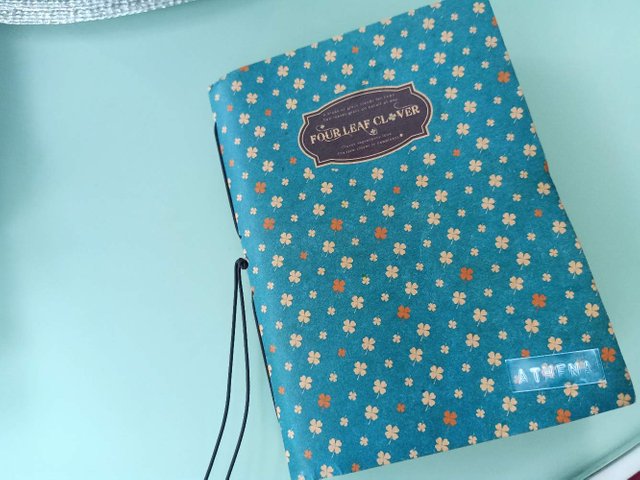 This Four Leaf Clover small kraft notebook was one of the things I bought at FullyBooked. I just love how handy it is and is great for travelling.
On the cover, I did not really add any design on it except that I put her name with an embossed tape that I made using my label maker.
Materials Used: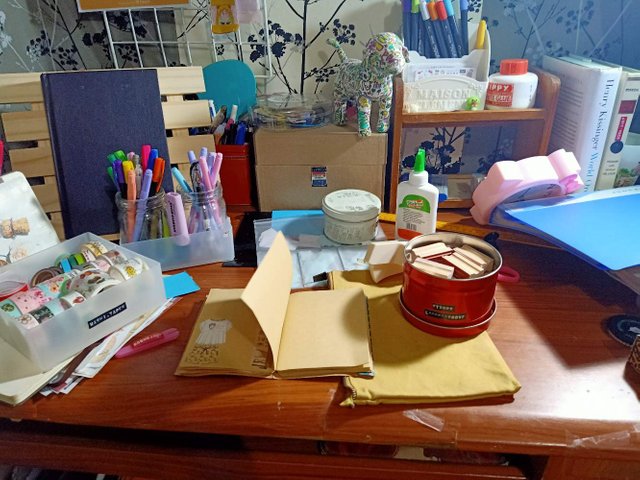 stamps
different washi tapes design
scissors
glue
vintage ephemera I downloaded at pinterest
sticker pages I downloaded also at pinterest
Those are the major things that I have with me that I used for this small art project. I know I could have bought a lot of stickers at different shops but then again it is more practical to print designs at home. Anyway, I would not be selling my produce but instead give it to special people such as Athena for example.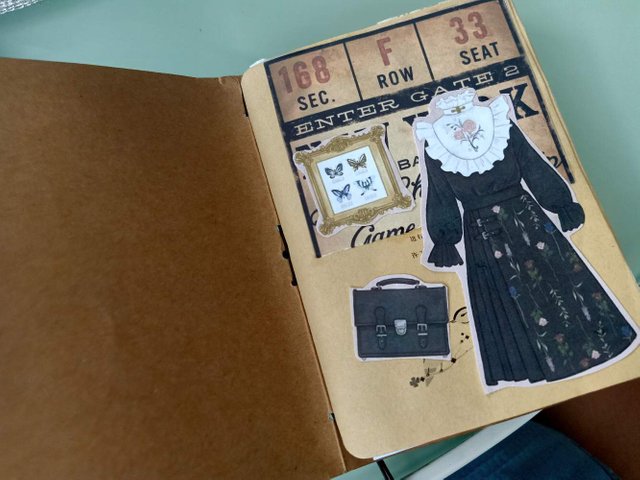 The major theme that you would notice as you keep reading is a girl's kawaii clothes theme. Athena, for one, is a fan of cute stuff.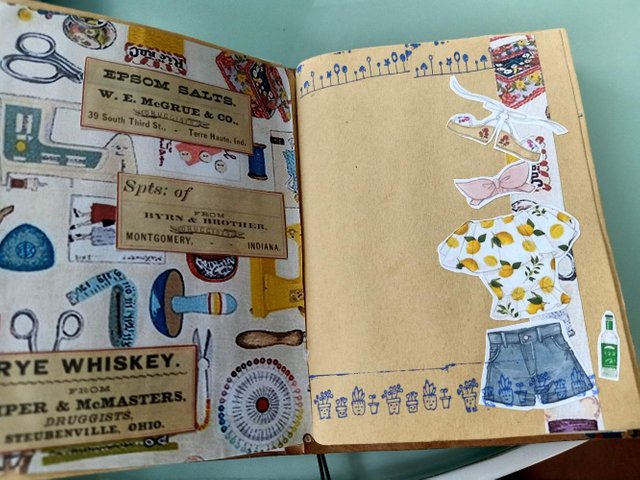 On this certain page, I used a printed vintage ephemera I found on pinterest and put some vintage label stickers that I also printed.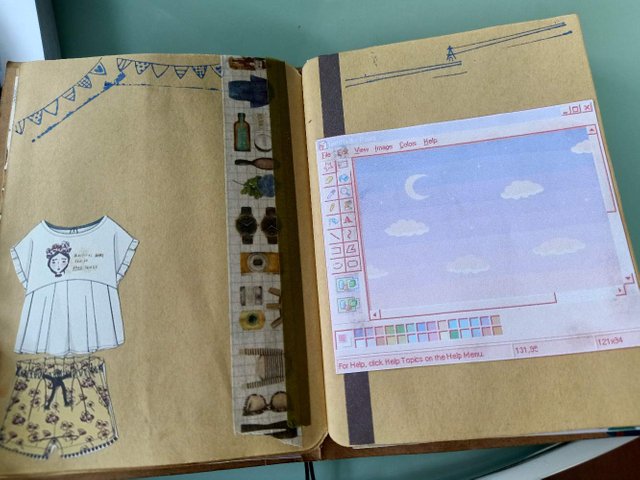 On the other hand, I used a fashion-themed washi tape and added a cute computer memo design as well. I actually printed a lot of memo designs at pinterest because they are just too cute.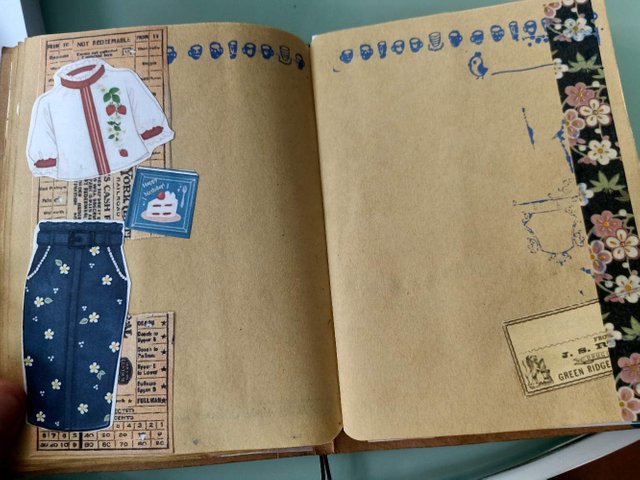 As you can observe, I also added stamps to put an effect.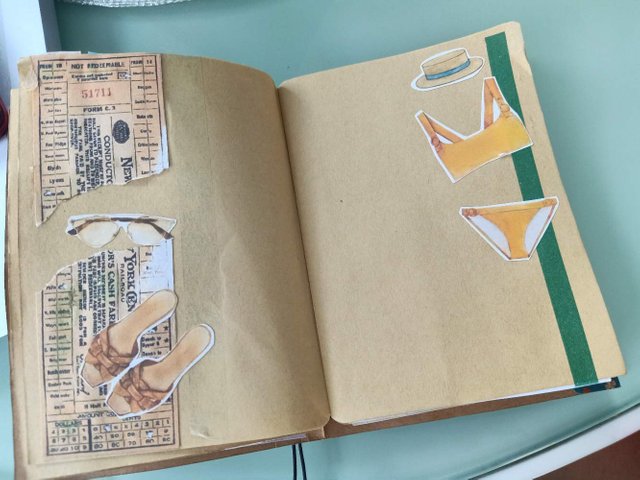 Some printed vintage tickets were also split into two using my hands to add a certain effect. I find it better than burning paper since burning paper for me is a hazardous act. I mean you know sometimes I become so careless, I am afraid I might burn the house because of a small art project.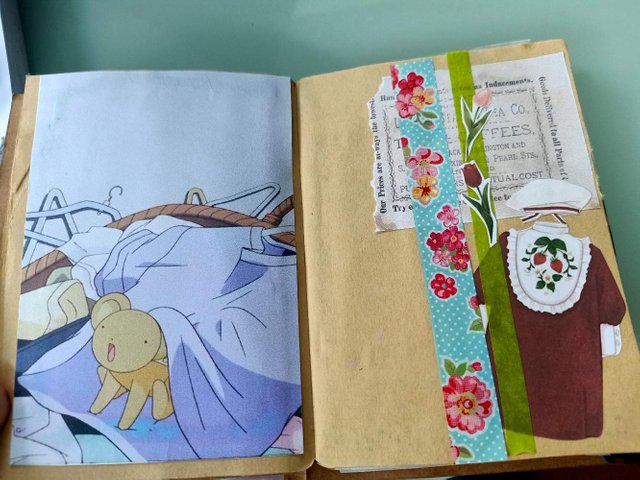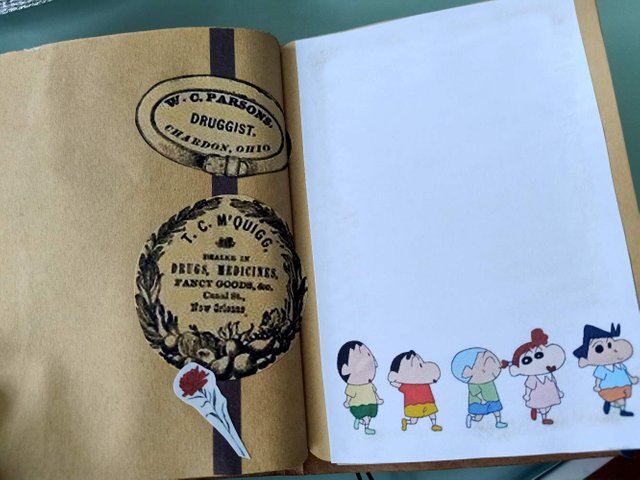 Cute printed designs of cartoons has also been added so that at least Athena has ab idea of the shows (particularly animes and cartoons) that had been aired before she was born.
I actually filled the journal with designs of the same thing but I would just share a couple of you as this blog post of mine might consume your of data.
I hope you enjoyed it.
Lots of love,
Johanna Gail
Although it will still be weeks before her birthday, I gave her the present in advance. To my surprise, she really loved it and kept it. She told me she'll put small photos of it and will serve as her "great memories album".
Oh! I really hope you'll have amazing years ahead of you dear.

Posted using Partiko Android