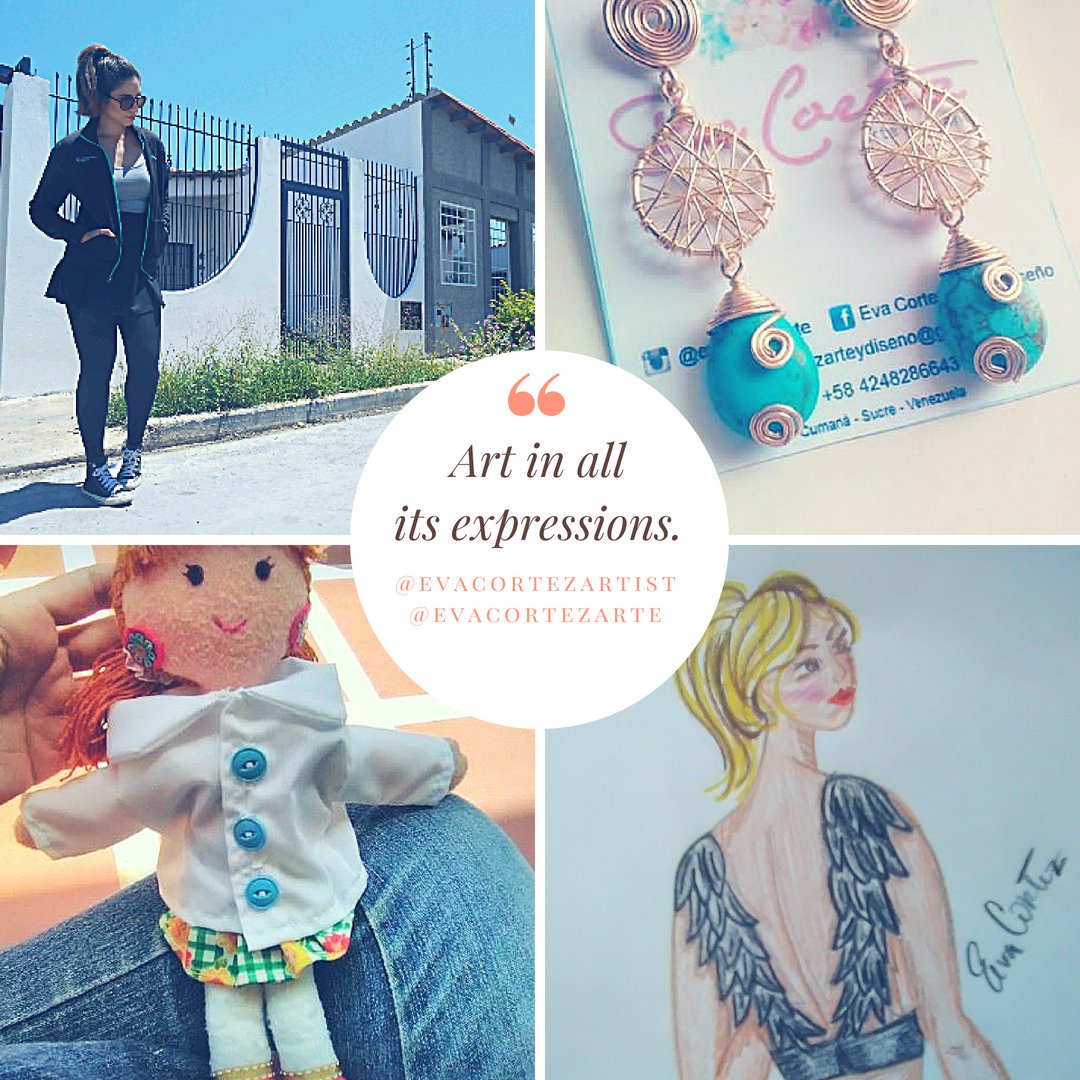 Hello everyone! My name is Eva, I am an artisan and an artist. Design accessories in wire, metal, fabrics and various colored materials.
I appreciate art in all its expressions. I develop in graphic design, freehand drawing, goldsmithing, macramé, photography and various crafts. Every day I learn something new.
Since I was a child I have been immersed in the world of art and crafts thanks to my parents, who always stimulated and cultivated that creative spirit in me, giving me great confidence, admiring my first doodles = D
applaud my fantastic ideas and raise my small-big projects = D
However, sometimes we stray from the path, we allow social conventions or the expectations of others towards us, to take us on paths that take us away from our essence, from what makes us really happy.
Currently, I have two university professions in computer science and administration, which I have exercised with great satisfaction; However, what really makes me happy is to be able to create beautiful pieces with my own hands; I feel a deep connection with the creative universe when I create a piece and a great joy and satisfaction when I finish it.
That is why, for a long time I decided to give myself to this activity completely. I decided to reconnect with my essence, with what fills my heart.
At the beginning it was not easy, many times you must go against those who believe that it is crazy to live from art; there is then when you must blindly and unconditionally believe in yourself, because being an artist is a profound act of faith in yourself, in your abilities, having the certainty that all work done with love yields its fruits sooner or later; it is a matter of perseverance, permanent learning until acquiring the skill and developing the talent.
"Who believes in himself is irremediably doomed to success" I read once and there is how true!
Today I live from my talent, from art. I can not believe they pay me to be happy, to do things that I enjoy.
Today I satisfy my own expectations, I firmly believe in my own ideas, in what I feel, I follow my intuition, I discover and explore new talents on a daily basis. I allow myself not to be perfect, to enjoy the successes and failures during the learning process (applies for life = D); It is satisfying to see something that initially seemed very difficult, finally it is done with great skill after practice and constant dedication.
This is me and this will be a small window to my world. I invite you to join me during this trip.
Welcome everyone.