"Ithaqa" Comic Book Update #85 Things Get Grimier + A Reflection On Themes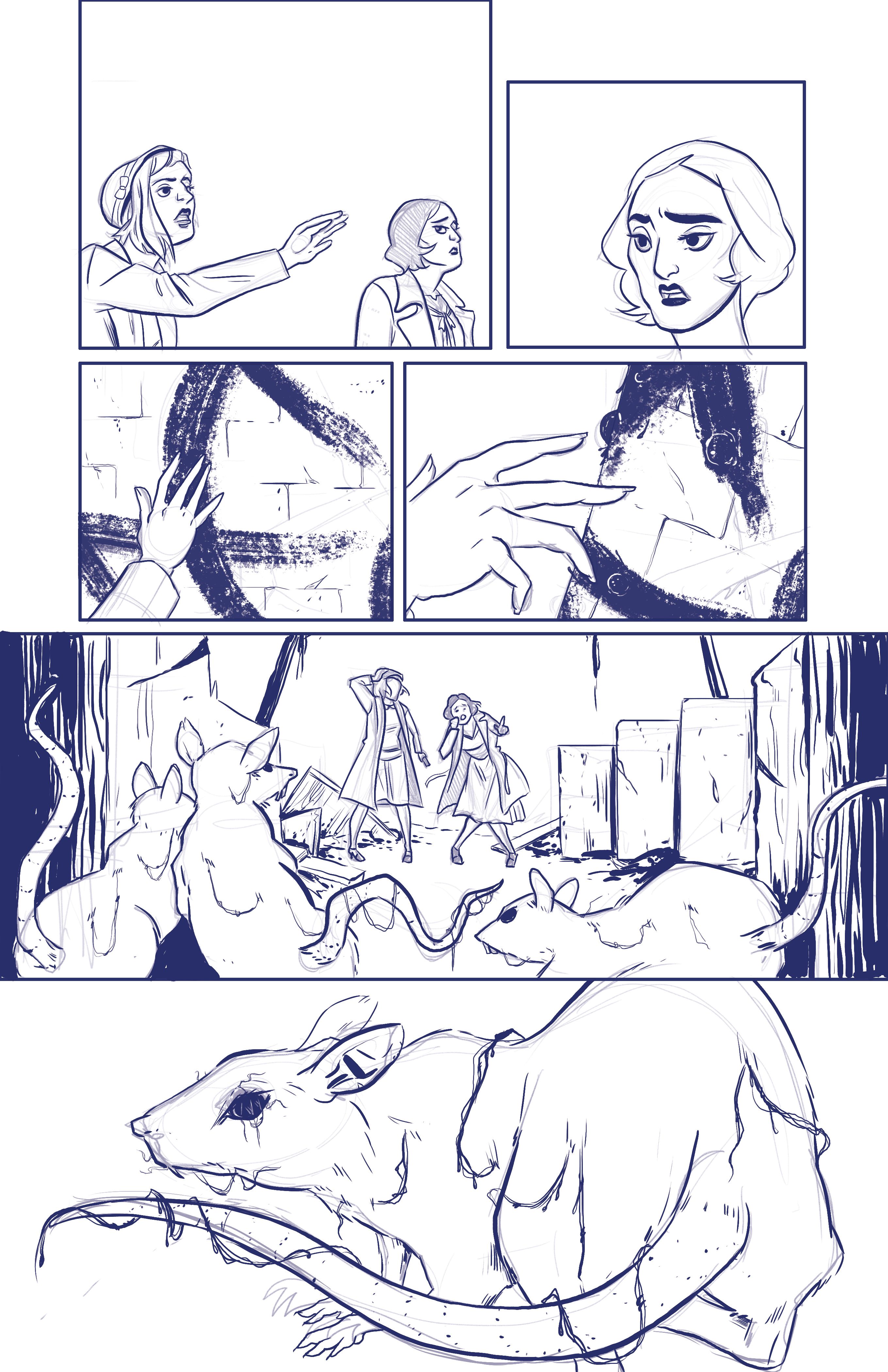 This whole church sequence is some of the best work that Theresa has put into the comic to date, but this page I believe deserves to be singled out. The texture of the painted symbol is fantastic, and Theresa really paid attention to the backgrounds on this page. The pews are rotting, the bricks are cracked, this page just oozes atmosphere.
You'll note that the rats have been modified as I mentioned in a previous post. There's something on them, and there's something IN them too, as will be very clear on the next page I upload.
Thematic And Light Plot Spoilers Below. Read At Your Own Risk
Strings are very important thematically to this series. They tie themselves not only to the magic of my Elder God, Iss-Nagish, but also to String Theory.
Lovecraft's best stories incorporate the cosmos, which lends them a weirdly sci-fi feel, even though the stories take place pre-ww2. I feel like my contribution to the Lovecraftian universe could be the inclusion of Quantum Physics and Multiverse Theory.
We as a society have adapted to the existential horrors that come with realizing how large the universe is, so we have to tread deeper into newer and more horrifying scientific theories if we want to illicit the same feelings Lovecraft became famous for.
How could a person have a soul, if there are an infinite slightly different versions of the same person spread out across the multiverse? Does life have any inherent meaning in the face of infinity?
While I on a personal level have some optimistic reflections around these questions, that doesn't mean I don't see the perfect potential these problems pose for existential horror. After all, the idea of a multiverse would have scared the shit out of Lovecraft, so I must be on the right track.
Theresa Chiechi's (The Artist @la-fumettista) website is here: http://www.theresachiechi.com/
Sign up for updates on our website: https://www.ithaqacomic.com/
FB: https://www.facebook.com/pg/IthaqaComic/about/?ref=page_internal
Twitter: @IthaqaComic
Instagram: https://www.instagram.com/ithaqacomic/.