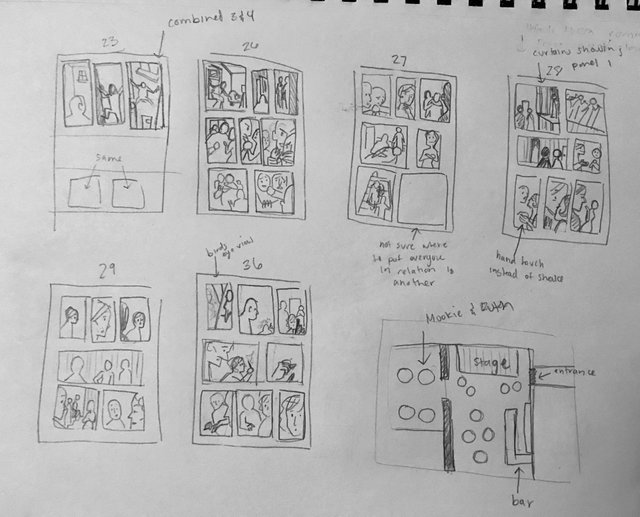 Issue 2 ramps up the action and intrigue faster with the addition of our new pages. Aside from giving us some creepy vibes in the insane asylum, we also get to see some of Harvey's military training in action, as well as a new scene from the perspective of the cultists.
I ended up humanizing the bad guys more than I expected to, allowing them to feel doubt about their leader and their God. I also manage to show that in a Lovecraftian universe, joining a cult just isn't the right move.
When you worship a God that is inherently Evil, it's not going to do you any favors just because you tell it you love it. Furthermore, when you follow people who worship that kind of deity, they're not going to treat you so well either!
In regards to the aforementioned printing woes, they ain't so bad (yet) but I may have some more work on my hands than my lazy ass wants. The template that print ninja had me set up doesn't perfectly jive with the bleed lines that Theresa established. I emailed about the pages in which the sizing was most egregious, and included examples of our pages with the bleed lines still visible.
I'm hoping they'll resize for me, otherwise I'll have to take some time to resize all 40+ pages -_-
You can read all of "Ithaqa" Issue 1 here on steemit!
https://steemit.com/art/@drwatson/full-issue-1-of-ithaqa-comic
If you have any friends or family who might be interested in a Lovecraftian horror comic, please send them to our website to sign up for some free pages! https://www.ithaqacomic.com/contact-us/
Additionally, If you're new to this comic I strongly recommend you check out our instagram, as I'm currently uploading pages every day.
Instagram: https://www.instagram.com/ithaqacomic/
Theresa Chiechi's (The Artist @la-fumettista) website is here: http://www.theresachiechi.com/
Lucas Gattoni's (The Letterer/Logo Designer) website is here: http://bit.ly/LG_Lettering
Sign up to buy the comic on our website: https://www.ithaqacomic.com/
FB: https://www.facebook.com/pg/IthaqaComic/about/?ref=page_internal
Twitter: @IthaqaComic