New Art Contest!! Celebrating the Colour RED!!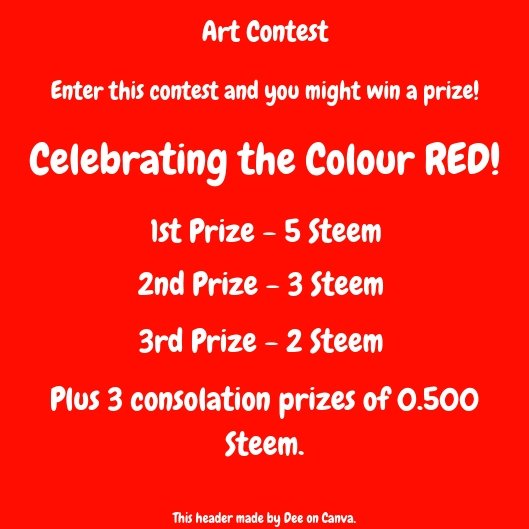 Hey Everyone!
If you love colours, this is the art contest for you.
Use your art and design skills to create an image celebrating the colour RED.
1st Prize - 5 Steem
2nd Prize - 3 Steem
3rd Prize - 2 Steem
Plus 3 consolation prizes of 0.500 Steem each.

My choices of winning entries will be designed with care, creativity and imagination.
You may enter as many times as you like.
I need entries from at least 10 different people for this contest.

The contest closes on Tuesday 28th May.

This is what you need to do:
• Make a post for each of your entries with the title 'Red Contest'.
• Leave links to your posts and pictures of your entries in the comments below so that I find them and I know you want to enter the contest.
I hope YOU will enter!

Other contests you might like to enter:

The Folk Art Colouring Contest #14
https://steemit.com/contest/@deemarshall/the-folk-art-colouring-contest-14

Have you entered Colourstorm, my colour guessing game? It only takes a few minutes to enter and you might win some Steem or SBD! Follow this link for details
https://steemit.com/art/@deemarshall/the-colourstorm-game-day-249

Follow this link for details of 'The Butterfly Colouring Contest #41:
https://steemit.com/butterflycolouring/@deemarshall/the-butterfly-colouring-contest-41