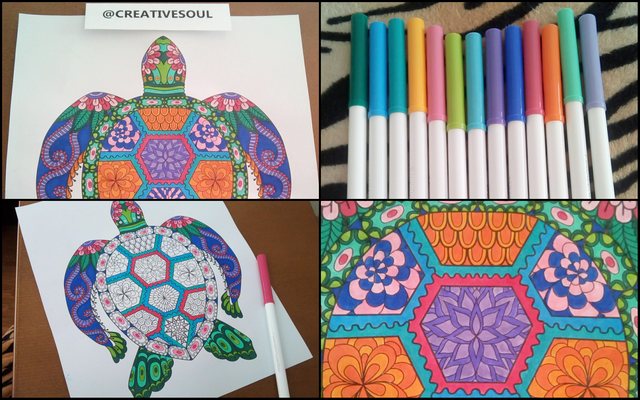 Since this page has a lot of tropical floral designs...I wanted the colors to be as vibrant and living as nature itself. Muted or more neutral shades wouldn't have suited such a lively pattern. I am pleased how the alternating shades of green turned out and how it looks like a folk art mosaic. For some reason the pattern on the shell reminds me of stamps...and paper mache or mod podge crafting. I just wish natural turtles were this interesting to look at!
PROCESS

I will need to play around with the camera settings on my phone...because once again many of the oh so vibrant colors aren't coming through in these images as they truly are. The colors surrounding the segments on the shell are actually very different shades...and don't blend in so much! Being an animal from the ocean...it was an obvious choice to incorporate as many shades of blue to represent that as much possible...along with pink and orange to give a sense of island life.
FINISHED PAGE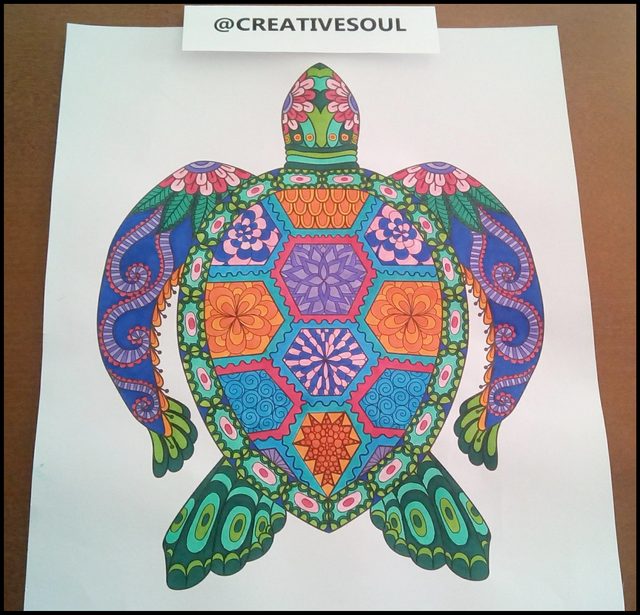 Instead of being some lifeless ornament and always being of the whimsical mindset...I pictured this beautiful creature swimming through shimmering crystal clear blue waters after having been painted by islanders in an annual festival to welcome summer. He would have to be pretty calm and relaxed turtle though! The idea would make a lovely little fable like story though.
RECENT POSTS