Fotografía Artística | Artistic photography || Cisne de Origami | Origami Swan (白鳥)
༄ 𝑪𝒊𝒔𝒏𝒆 𝒅𝒆 𝑶𝒓𝒊𝒈𝒂𝒎𝒊 | 𝑶𝒓𝒊𝒈𝒂𝒎𝒊 𝑺𝒘𝒂𝒏 ༄
𝑩𝒚 𝑱𝒐𝒆𝒍 𝑮𝒐𝒏𝒛𝒂𝒍𝒆𝒛 (𝑪𝒐𝒏𝒏𝒐𝒓 𝑹𝒖𝒔𝒔𝒐)
白鳥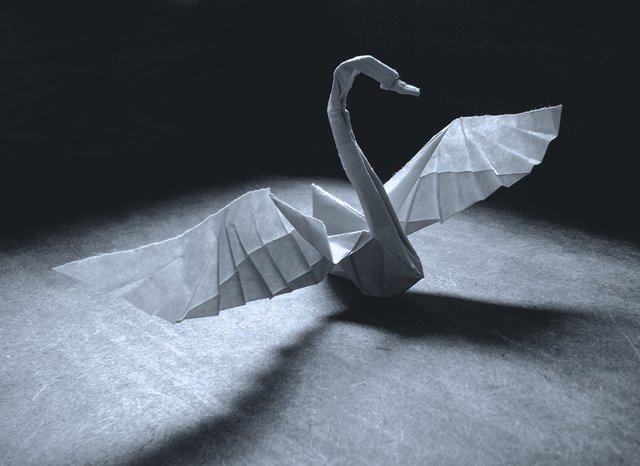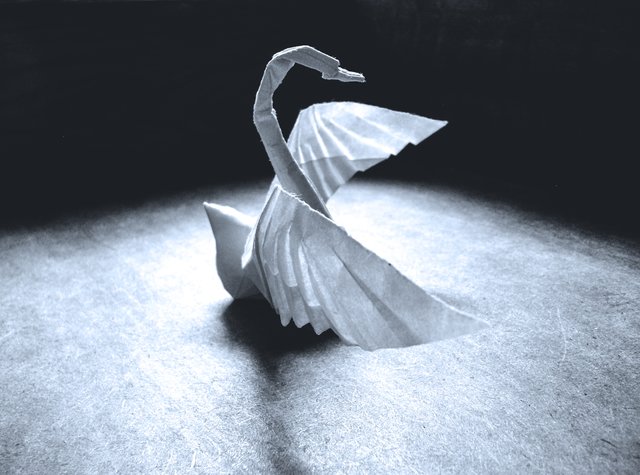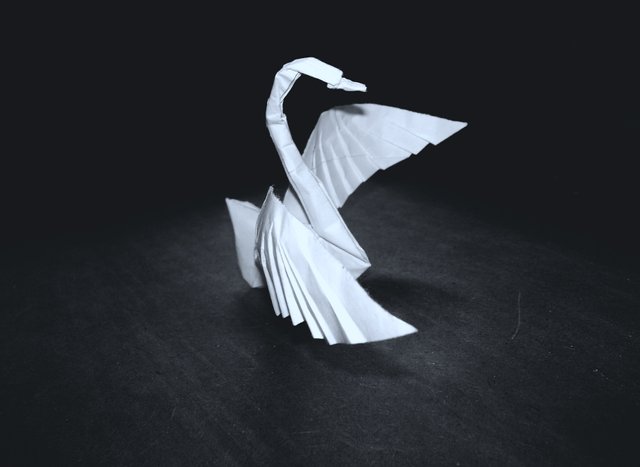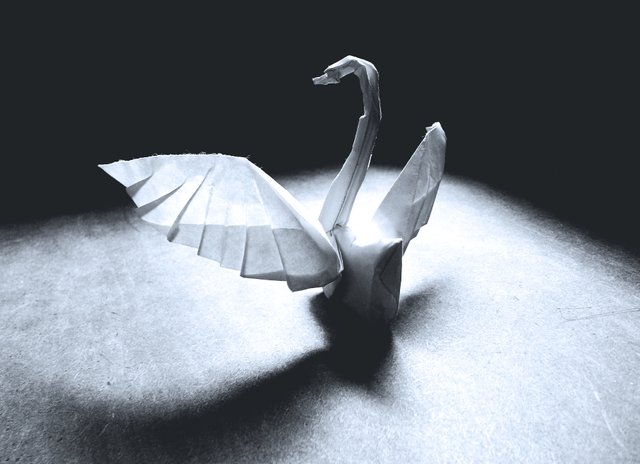 ◌ 𝑬𝒏 𝒄𝒖𝒂𝒏𝒕𝒐 𝒂𝒍 𝒑𝒓𝒐𝒄𝒆𝒔𝒐 𝒇𝒐𝒕𝒐𝒈𝒓á𝒇𝒊𝒄𝒐 ◌
◌ 𝑨𝒔 𝒇𝒐𝒓 𝒕𝒉𝒆 𝒑𝒉𝒐𝒕𝒐𝒈𝒓𝒂𝒑𝒉𝒊𝒄 𝒑𝒓𝒐𝒄𝒆𝒔𝒔 ◌
Uso como fondo el interior de un cajón de madera, a falta de un estudio fotográfico hay que improvisar... Cada fotografía tiene la iluminación natural de la luz del día, ubicada específicamente a contraluz, en la edición fotográfica con el programa Photoshop tomo ventaja del contraste que da el fondo escuro con la iluminación y la tonalidad blanca del papel, además de bajar un poco la aculturación, dando como resultado esta pequeña sesión de fotografías que son para mi un experimento mas que otra cosa.
I use as a background the interior of a wooden drawer, in the absence of a photo studio you have to improvise... Each photograph has the natural lighting of daylight, specifically located in the backlight, in the photographic edition with the Photoshop program I take advantage of the contrast that the dark background gives with the illumination and the white hue of the paper, in addition to lowering the acculturation a little, resulting in this small session of photographs that are for me an experiment more than anything else.
Nada mas que decir...
Nothing more to say...
Cámara | Camera
Kodak Easyshare Mini
●▬▬▬▬๑白鳥๑▬▬▬▬▬●
༄ 𝑬𝒍 𝑷𝒓𝒐𝒄𝒆𝒔𝒐 ༄
༄ 𝑻𝒉𝒆 𝑷𝒓𝒐𝒄𝒆𝒔𝒔 ༄
Este origami es una creación original de Hoang Tien Quyet, un origami relativamente sencillo pero de gran belleza y delicadeza.
La base de la que parte este origami totalmente plana tiene una estructura triangular que mide mide 30.5 cm de base y 22 cm de lado.
¿Quieres armar uno igual? Acá el diagrama del origami
This origami is an original creation of Hoang Tien Quyet, a relatively simple origami but of great beauty and delicacy.
The base from which this completely flat origami has a triangular structure that measures 30.5 cm of base and 22 cm of side.
Do you want to build an equal one? Here the origami diagram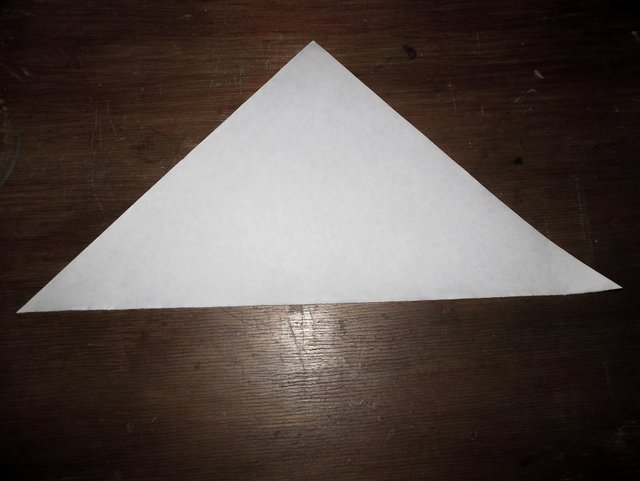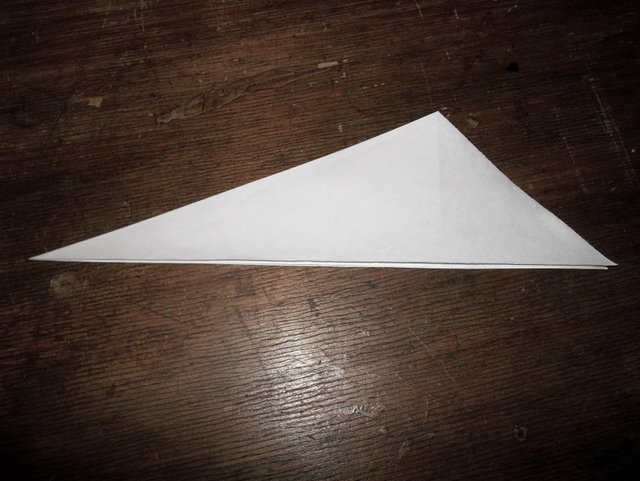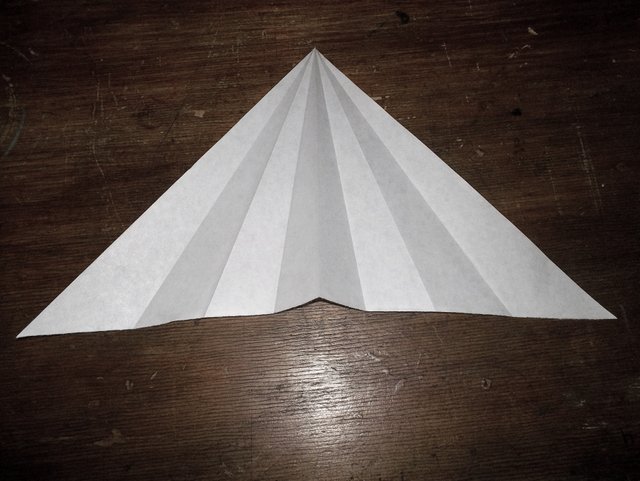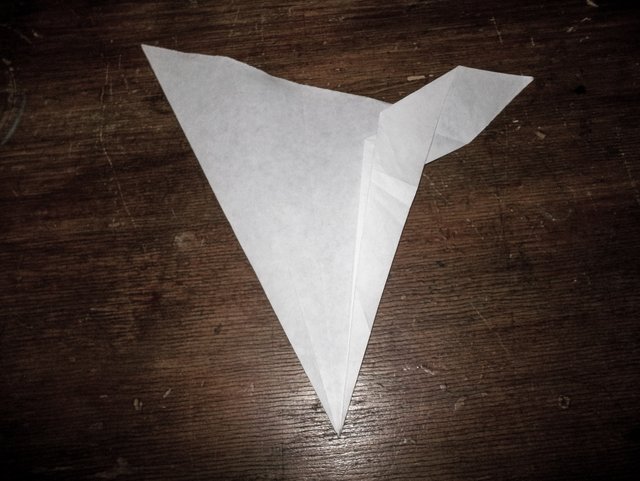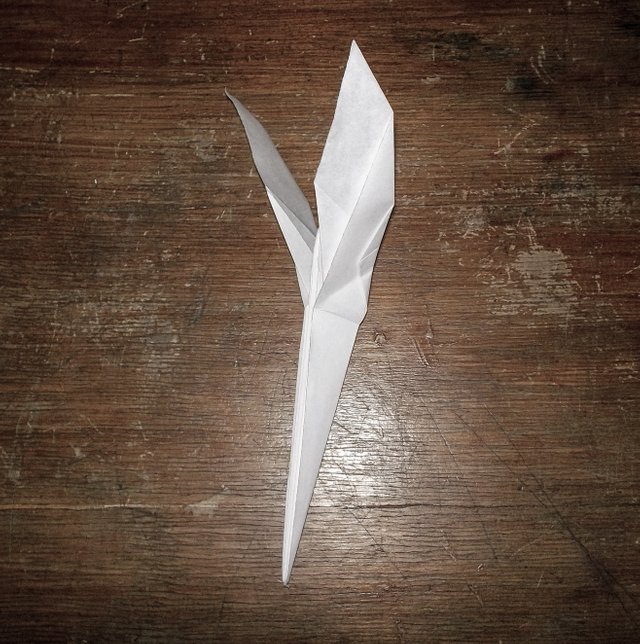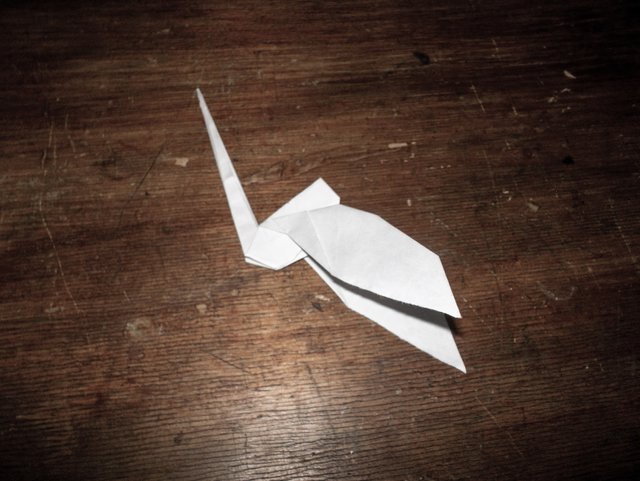 ●▬▬▬▬๑白鳥๑▬▬▬▬▬●
⚘
𝑵𝒐 𝒐𝒍𝒗𝒊𝒅𝒆𝒔 𝒄𝒐𝒎𝒑𝒂𝒓𝒕𝒊𝒓, 𝒅𝒆𝒋𝒂𝒓 𝒖𝒏 𝑼𝒑𝒗𝒐𝒕𝒆 𝒚 𝒔𝒆𝒈𝒖𝒊𝒓𝒎𝒆 𝒔𝒊 𝒒𝒖𝒊𝒆𝒓𝒆𝒔 𝒗𝒆𝒓 𝒎𝒂𝒔 𝒕𝒓𝒂𝒃𝒂𝒋𝒐𝒔 𝒂𝒔í.
𝑫𝒐𝒏'𝒕 𝒇𝒐𝒓𝒈𝒆𝒕 𝒕𝒐 𝒔𝒉𝒂𝒓𝒆, 𝒍𝒆𝒂𝒗𝒆 𝒂𝒏 𝑼𝒑𝒗𝒐𝒕𝒆 𝒂𝒏𝒅 𝒇𝒐𝒍𝒍𝒐𝒘 𝒎𝒆 𝒊𝒇 𝒚𝒐𝒖 𝒘𝒂𝒏𝒕 𝒕𝒐 𝒔𝒆𝒆 𝒎𝒐𝒓𝒆 𝒘𝒐𝒓𝒌𝒔 𝒍𝒊𝒌𝒆 𝒕𝒉𝒂𝒕.