** "Abstract art is not the creation of another reality but the true vision of reality" **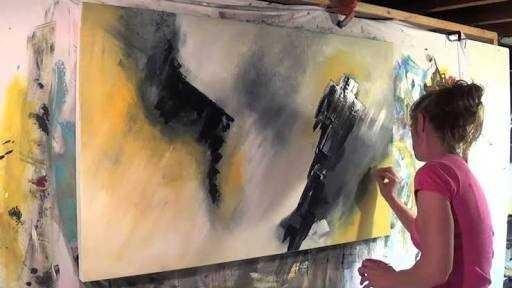 I believe that everyone has their own talents. Photography, Writing, Drawing and Painting. That talents are enough to impress someone. I am here to show you the works of Filipinos (Abstract Art) perhaps to impress you. But let me first talk about Abstract Art and all you need to know about it.
---
What is an Abstract Art?
Abstract art is an art style that breaks away from drawing art as it is represented in real life. Abstract art is about exploring form and color. This kind of art is unlimited when it comes to styles . This art may be hard to understand and confusing especially when the artists made it complicated. But every painting has a deep meaning, sometimes only the artists knows the meaning behind it. Maybe the artists doesn't want us to know the message.
History of Abstract Art
Abstract Expressionism developed in the United States after World War II. Abstract art came over from Europe as people fled from war-torn areas and came to America. In the mid-1940s, the American art movement started and included the likes of Jackson Pollock, Mark Rothko, Robert Motherwell, and Willem de Kooning. By the time, the art had spread all over the world. Thousands of people use this art everyday.
Characteristics of Abstract Art
It is a non-representational practice meaning that art movements that embrace abstraction departures from accurate representation – this departure can be slight, partial, or complete. It depends on what art movement we are talking about.
In geometric abstraction and lyrical abstraction, we can talk about total abstraction. Figurative art is characterized by partial abstraction. Even realistic art can have partial abstraction as well. But, all abstract arts makers use color, memory and visual sensation to show that reality is subjective – and that is probably the most important feature of abstract art. This subjective approach in contemporary art coincides with similar approaches in social sciences, particularly in philosophy
Styles of Abstract Art
As you can notice in Abstract Paintings. Styles are applied by artists. Why? Well, adding styles to our paintings makes it more interesting. Adding styles also makes the painting realistic.
**Surrealism **
-art form that combines unrelated images or events in a very strange and dreamlike way.
Example:
Max Ernst, The Elephant Celebes, 1921, Tate London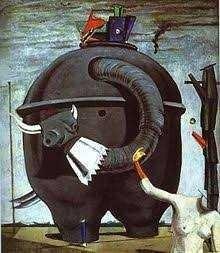 **Dadaism **
-a movement in art and literature based on deliberate irrationality and negation of traditional artistic values.
Example:
Cut with a Kitchen Knife Dada through the Last Weimar Beer Belly Cultural Epoch of Germany (1919)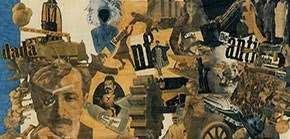 Cubism
-a style of art that stresses abstract structure at the expense of other pictorial elements especially by displaying several aspects of the same object simultaneously and by fragmenting the form of depicted objects.
Example:
Pablo Picasso, 1910, Girl with a Mandolin (Fanny Tellier)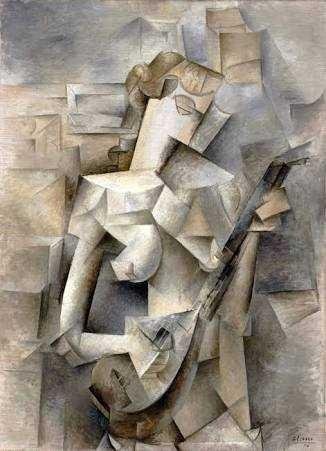 Fauvism
-a movement in painting typified by the work of Matisse and characterized by vivid colors, free treatment of form, and a resulting vibrant and decorative effect.
Example:
Mountains at Collioure (1905), André Derain.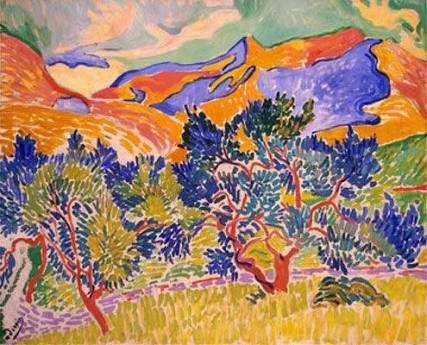 Pioneers of Abstract Art Artists and thier paintings.
These artists are the pioneers of abstract art. Which means they are the famous ones who are discovered through using Abstract Art. More likely, they are the most known artists in Abstract Art .
Willem de Kooning- Kooning was a Dutch artist who became a part of the New York City Abstract Expressionist movement. His most famous painting is Woman III which sold for over $137 million.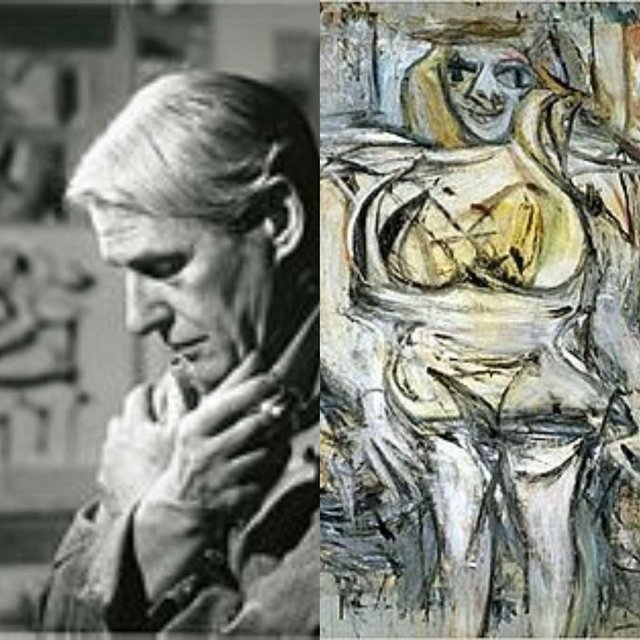 Franz Kline- Kline was an American painter mostly known for his black and white paintings. He was considered an Action Painter.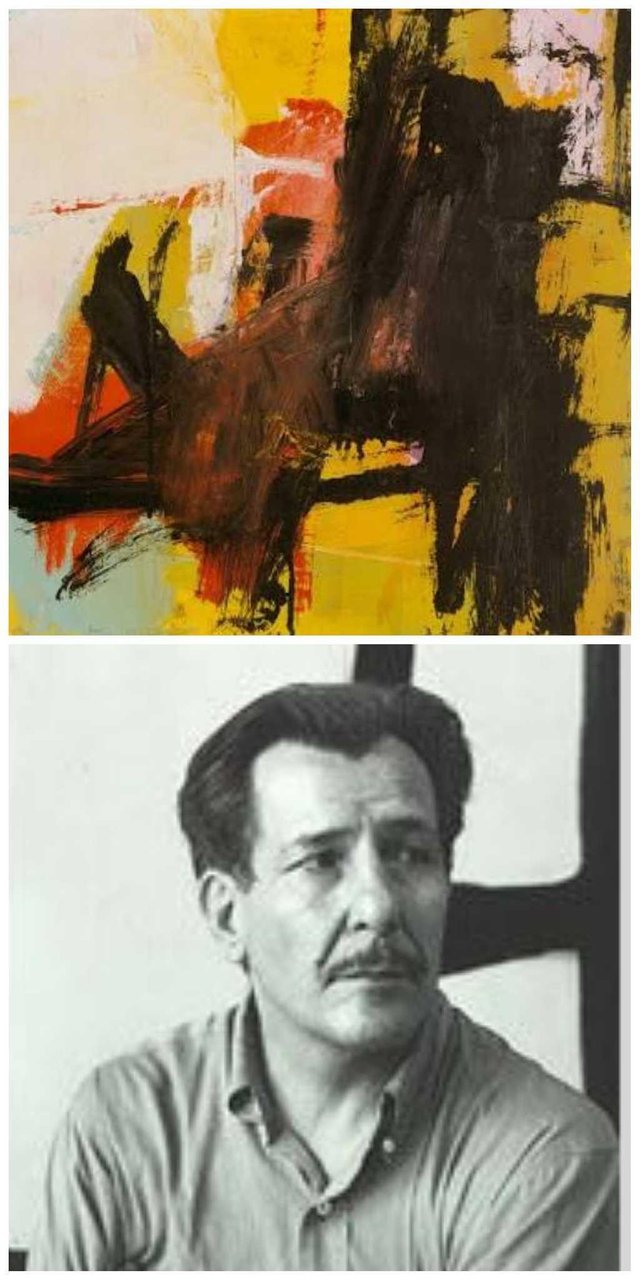 Wassily Kandinsky - Kandinsky is considered the father of abstract painting. In an effort to capture sound and emotion in art, he painted some of the first major abstract works.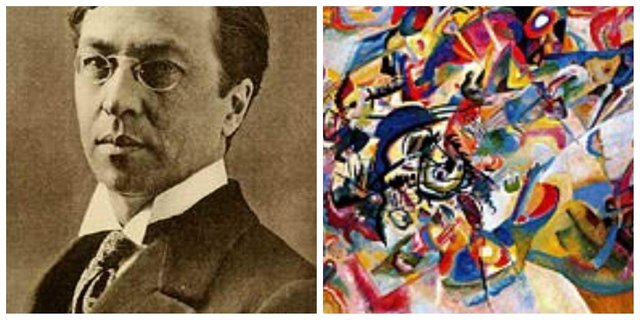 Piet Mondrian - Mondrian developed an Abstract painting style that involved straight lines and colored rectangles. He called this type of painting "The Style".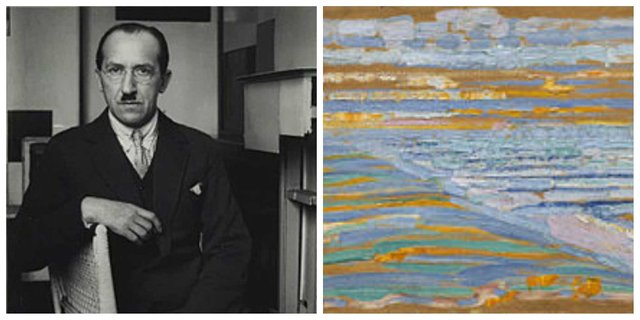 Jackson Pollock - Pollock created his paintings without using brush strokes in what would later be called Action Painting. He became famous for his large paintings made with dribbles and splashes of paint.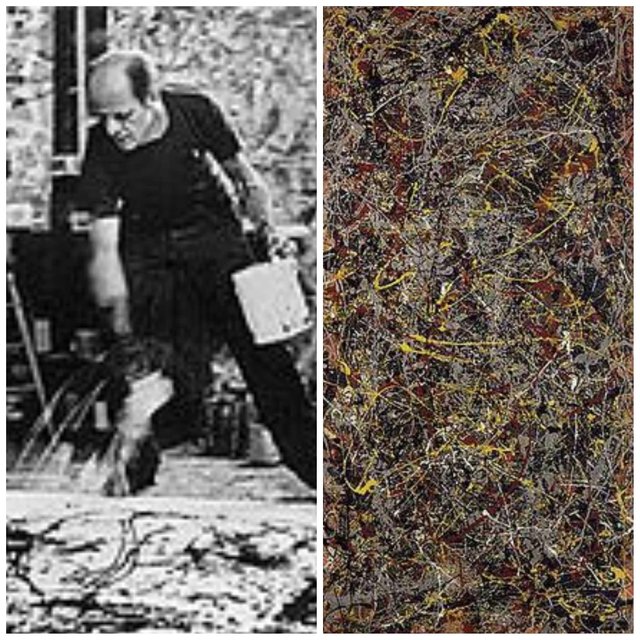 Mark Rothko - Rothko's paintings are known for their large vibrant blocks.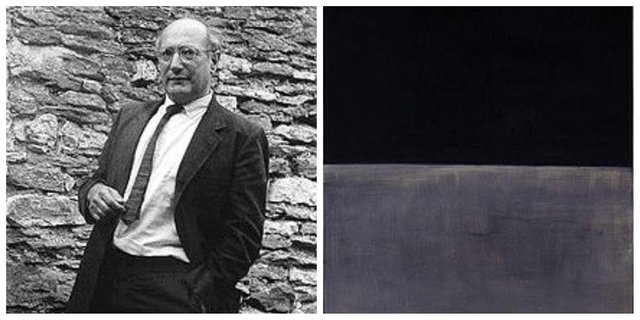 Other Famous Artists
These artists are famous because of their realistic and meaningful paintings. They are commonly heard when it comes to Art subject. As a highschool student, I once imatated these famous artists's paintings. I wont show my works here, but you can follow me and you can see my artworks soon.
Georges Seurat created abstract art with a technique called pointillism. Pointillism is using dots to create people and places.
A Sunday Afternoon on the Island of La Grande Jatte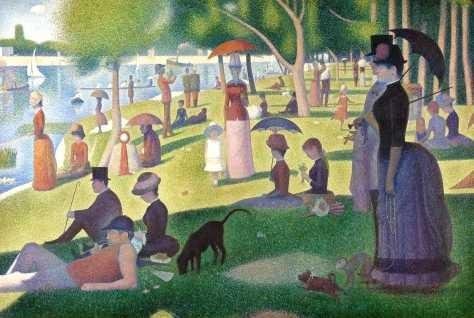 Vincent van Gogh, another French artist, is an example of Post-Impressionism. He focused more on color and light in his works, giving the impression of light dancing on the fields and meadows he drew.
The Starry Night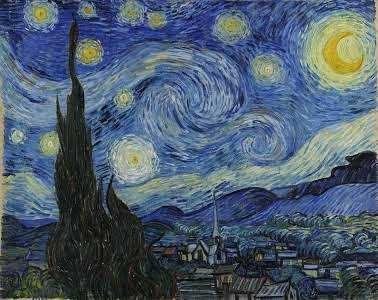 Pablo Picasso, a famous Spanish artist from the 20th Century, started his career painting representational pieces. In around 1910, he developed Cubism, which is the drawing of planes and angles that vaguely looked like the people he was drawing, but looked more like geometry.
First Steps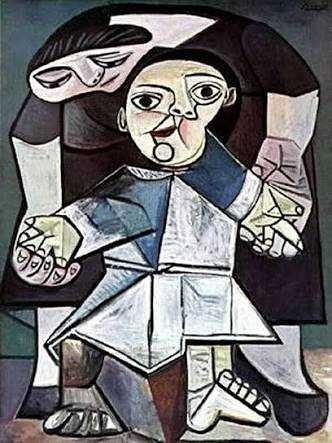 Man Ray was one of the famous Surrealist artists. Surrealism was a movement that included visual arts and writing that developed in the 1920s.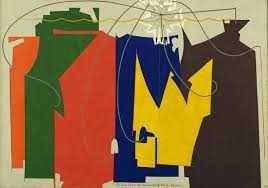 The Rope Dancers Accompanies Herself With Her Shadows
Interesting Facts about Abstract Art
Before World War II, Paris had been the center for most new modern art trends. After World War II, New York City emerged as a major center for artists.

A movement similar to Abstract Art was launched in the early 1900s in Italy called Futurism. One of Futurism's major artists was Giacomo Balla.

One of the most extreme styles of Abstract Art was called Suprematism. Russian Artist Kasimir Malevich painted in this style. One of his paintings was a white square painted on to a white background.

Famous Abstract artist William de Kooning arrived in America as a stowaway on a boat. He worked as a house painter for a while.
---
Now you already knew the important things about Abstract Art and already knew the few famous paintings. Let me now introduce to you the works of Filipinos.
First of all, I would like to state that I didn't stand a chance to list all the titles of the paintings because it was too many and I only captured several of it. Second, I am not sure who are the artists, maybe they are artists from cebu (Cebuanos) or artists from somewhere in the Philippines but I'm pretty sure that these works are made by Filipinos.
---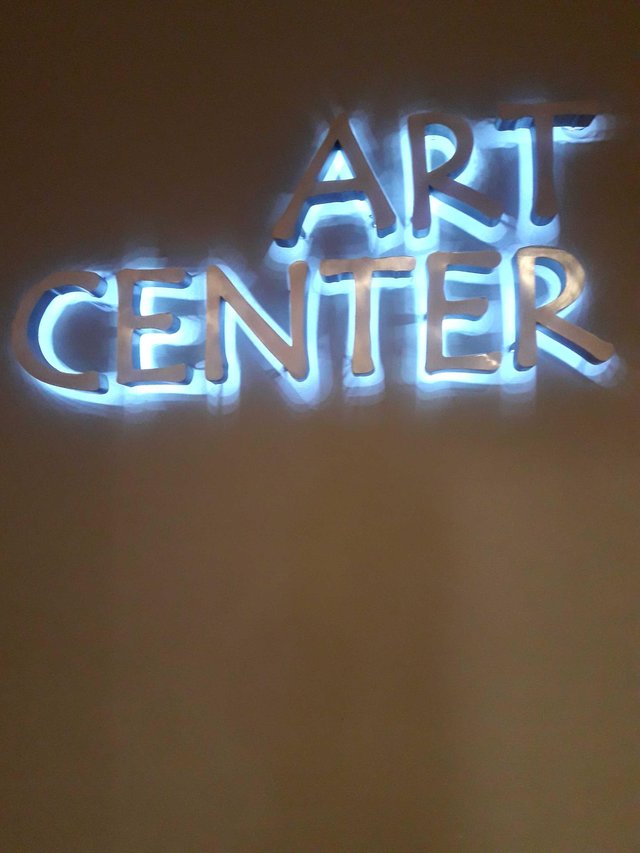 So last saturday, as I was walking around the Sm Cebu I noticed the 'Art Center'. It was open! Well, I was just shocked because I never saw the art center opened. I immediately went inside and I found out that it was an exhibit. Neo-Tribe exhibit featuring Abstract Art.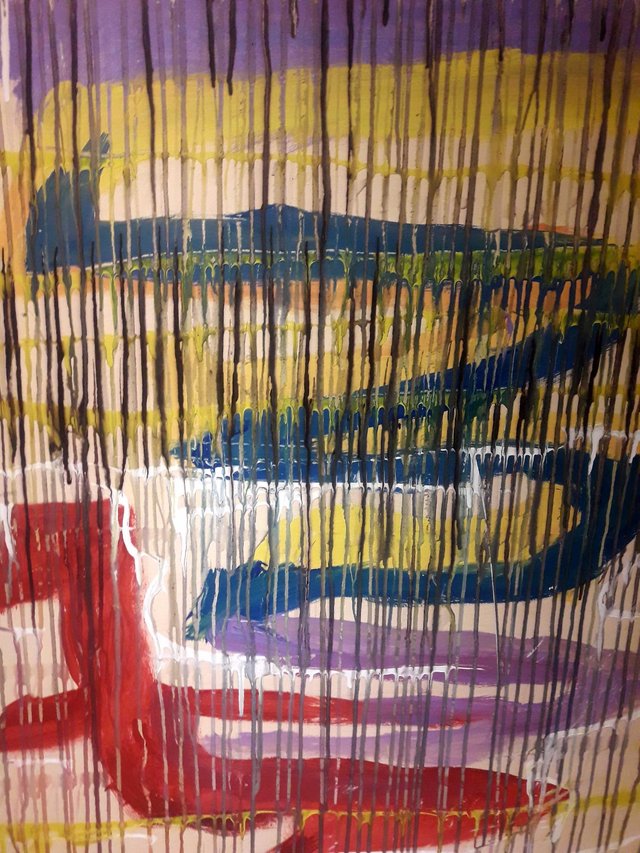 This was the main displayed painting placed in the center before getting inside the exhibit. Beside it, is the details about the art center.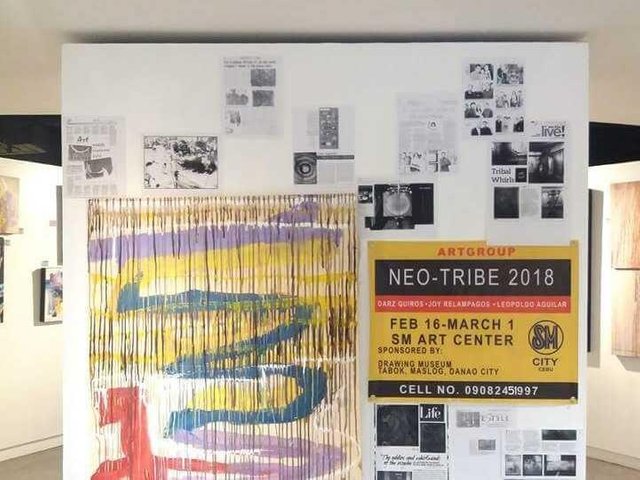 When you get inside you can see 20-30 displayed artworks. You can see colorful, interesting and confusing at the same time paintings. Big and small.
Be amazed my fellow Steemians as you are about to see the works of my fellow Filipinos.
Colorful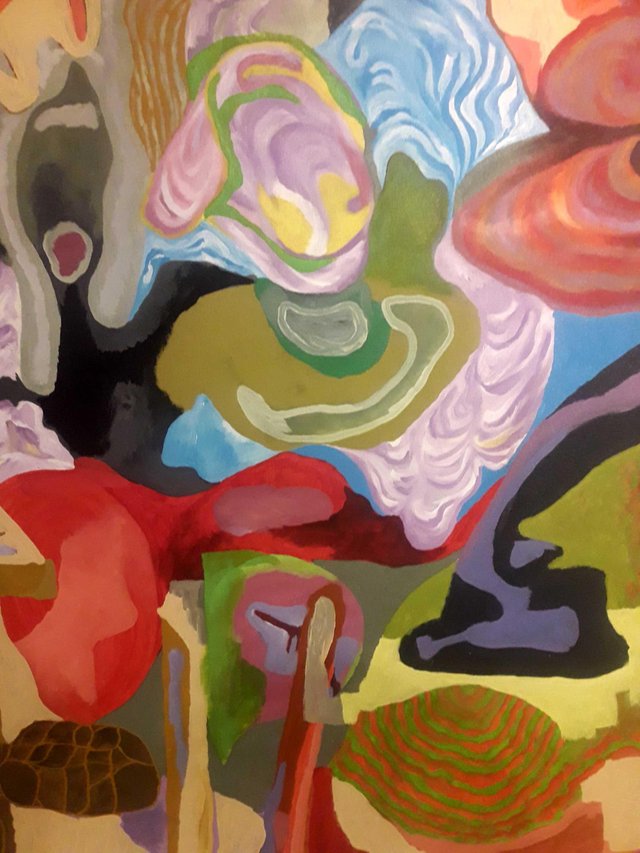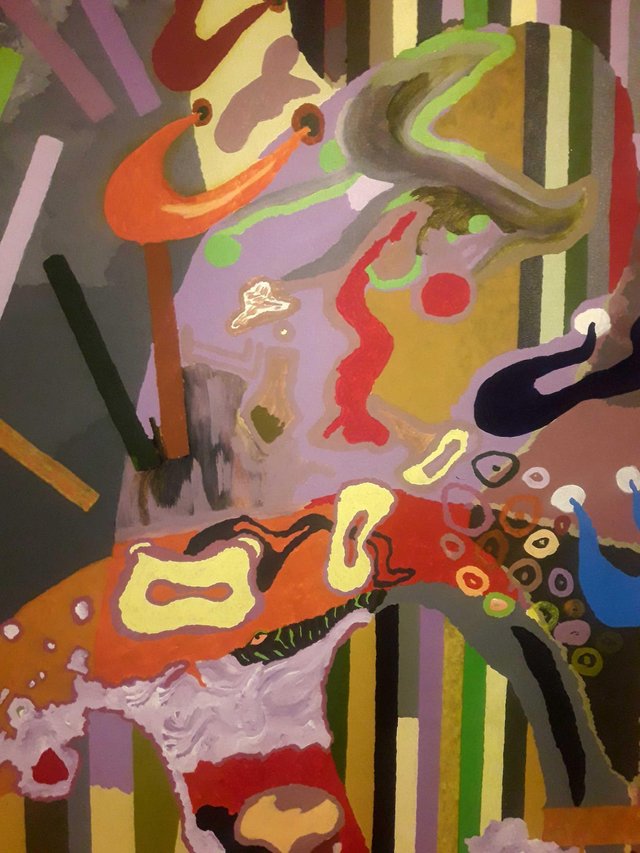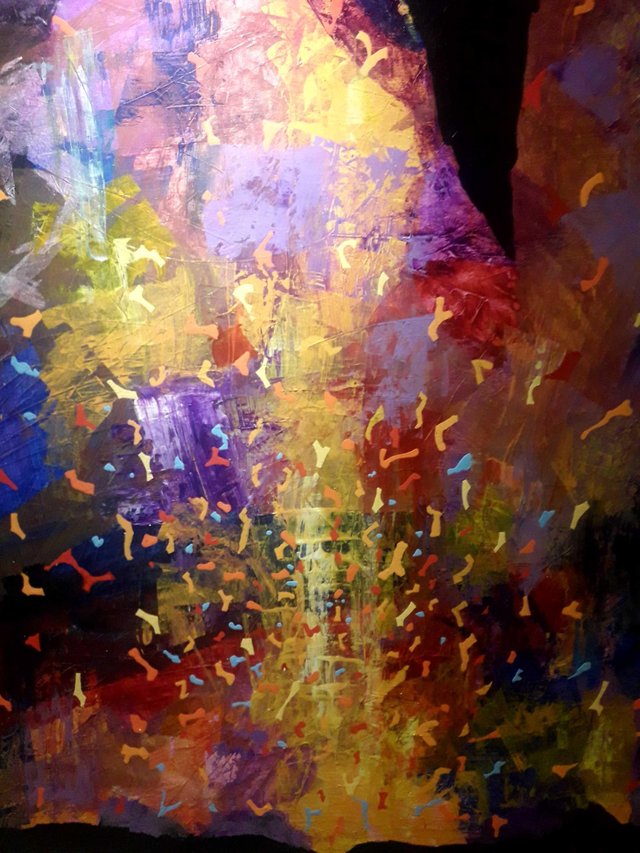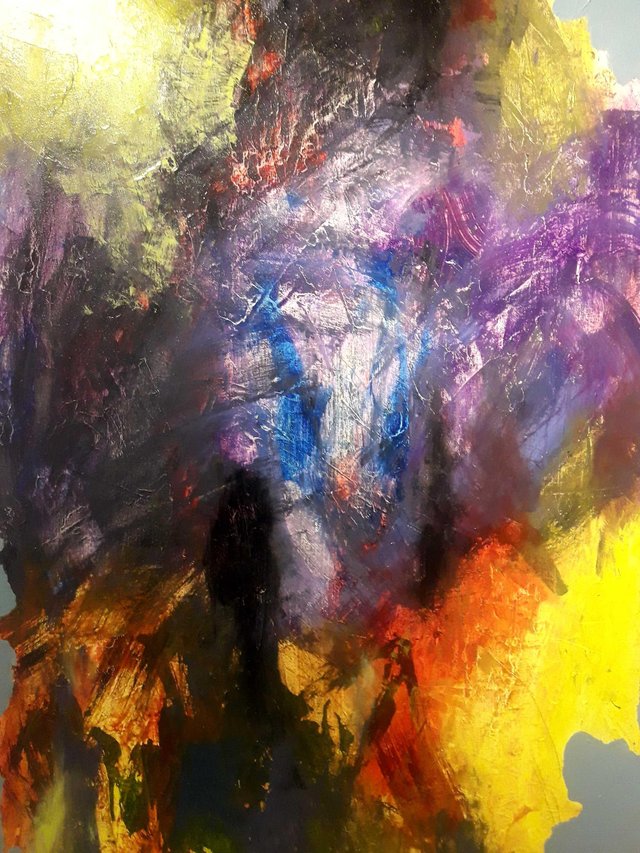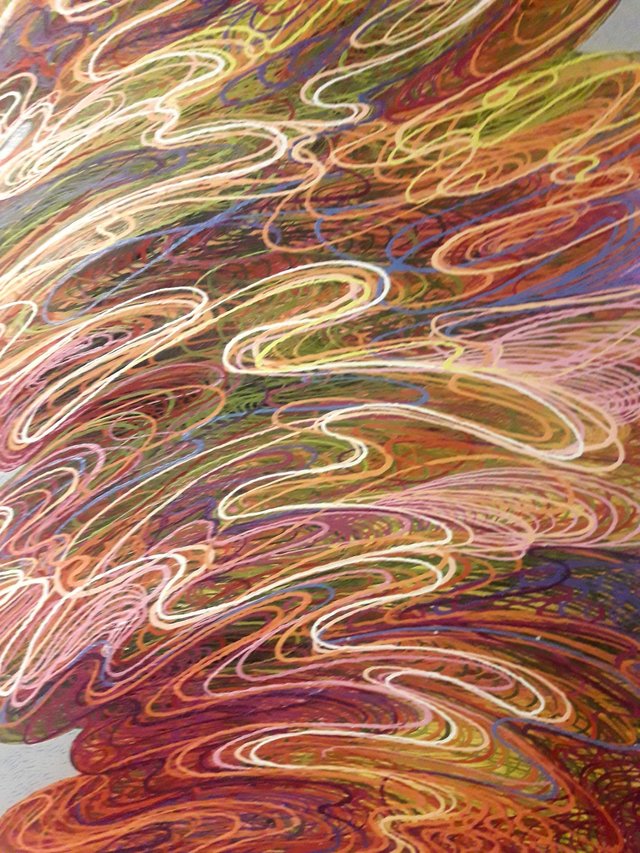 Magical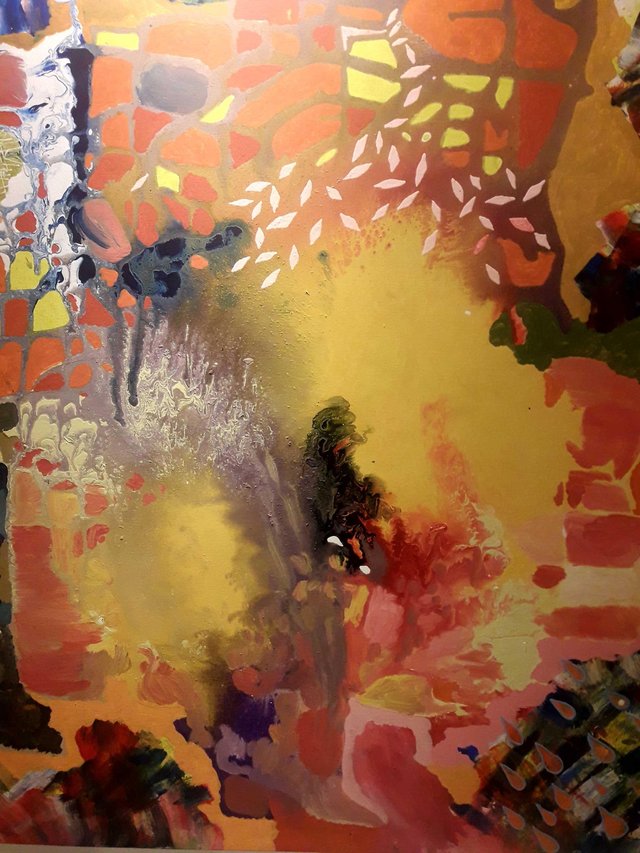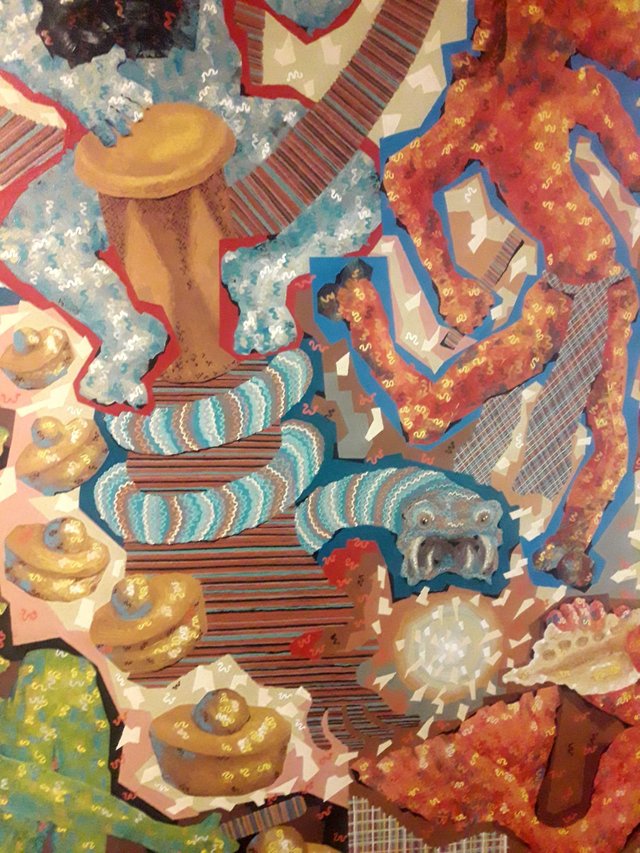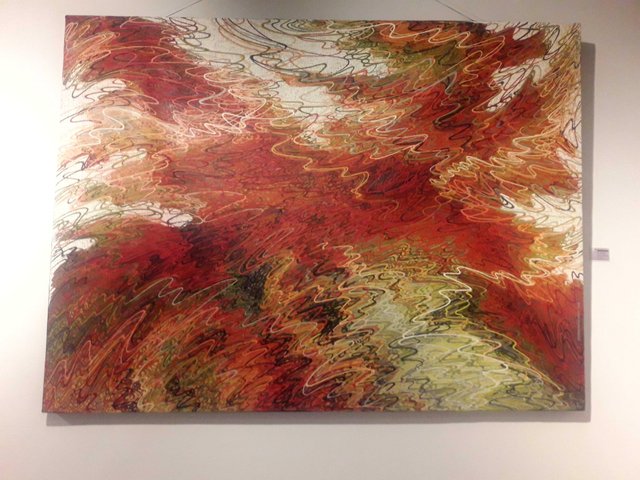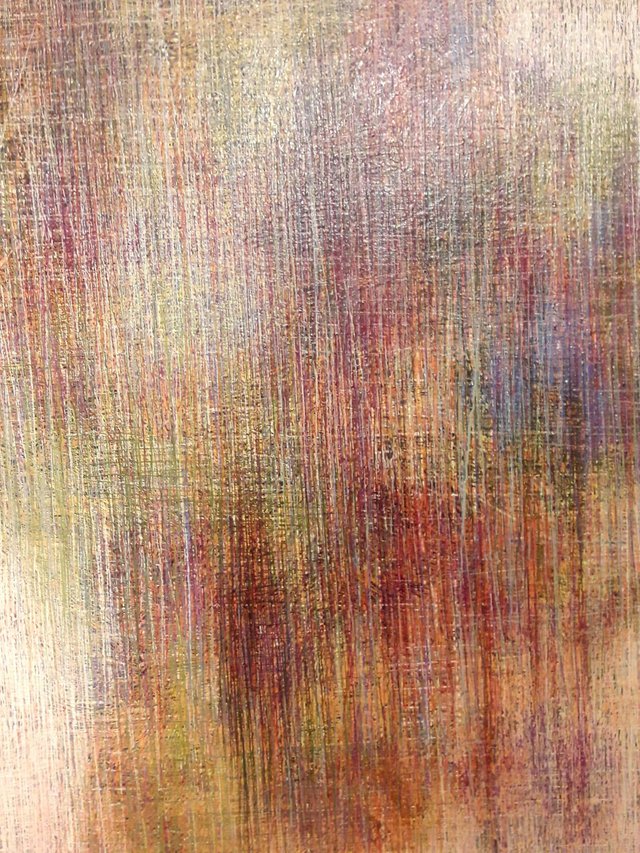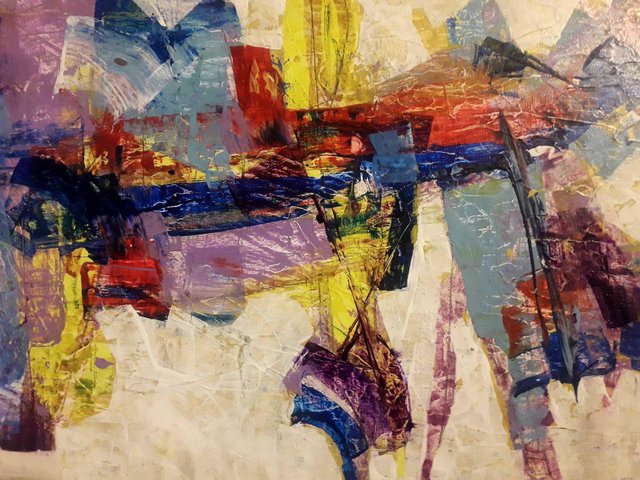 Simple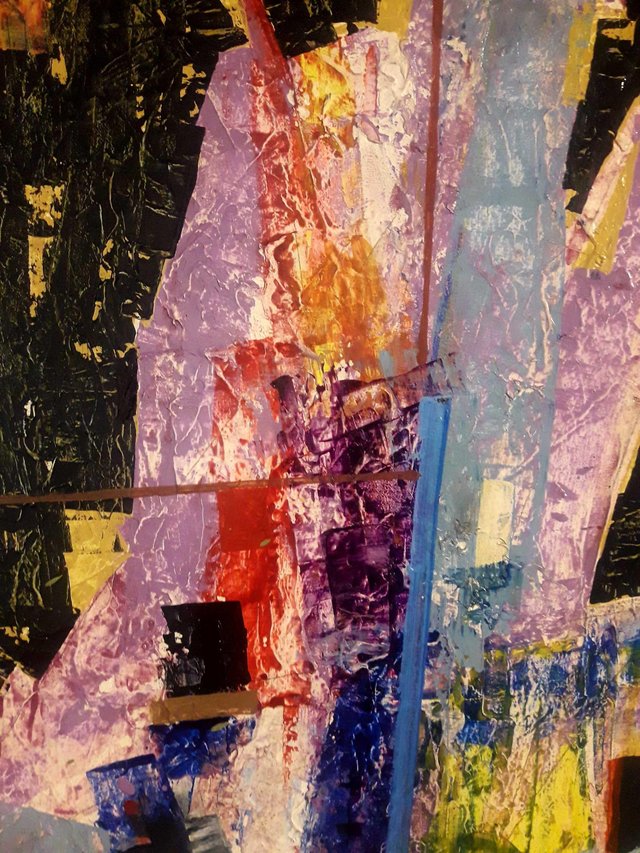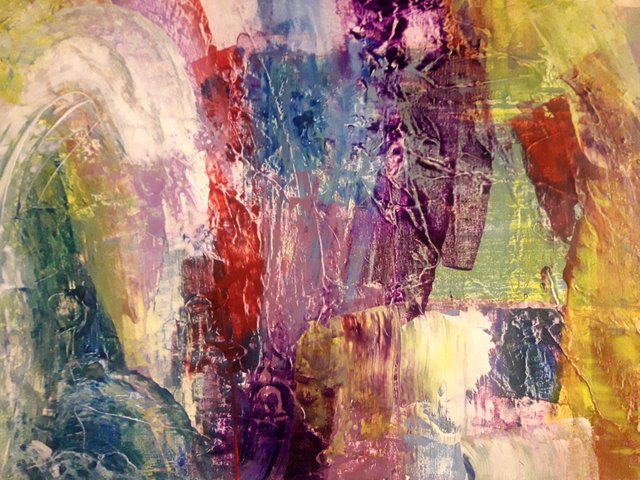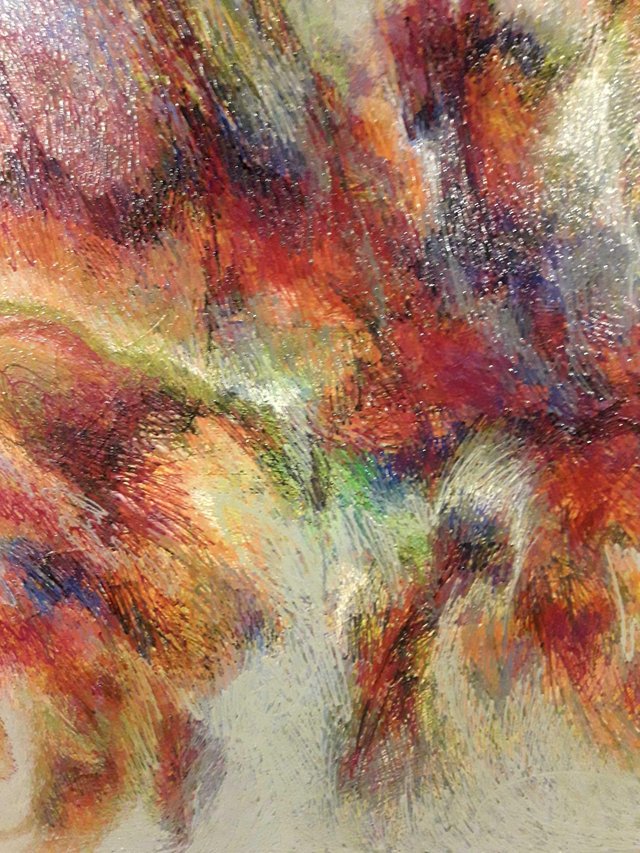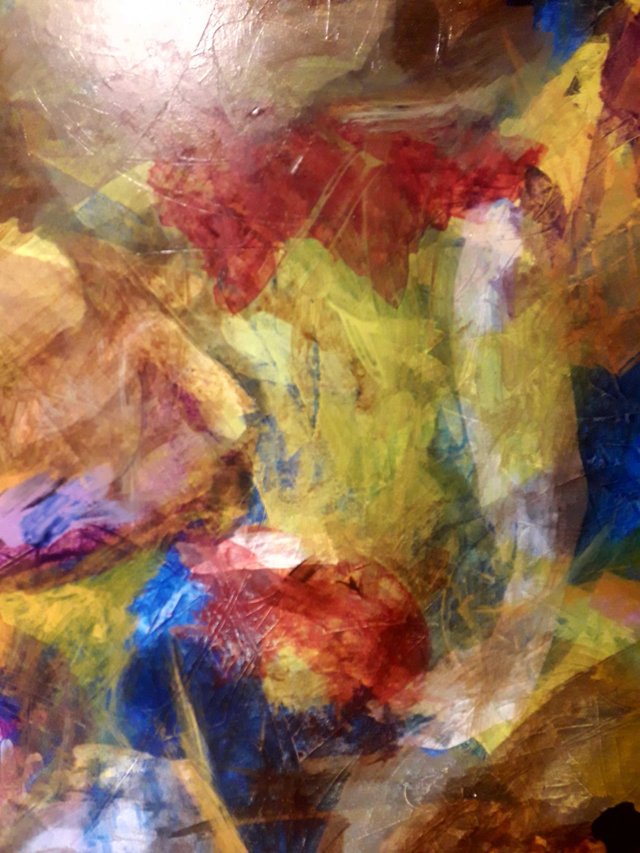 Amazing
'The Modern Artifact'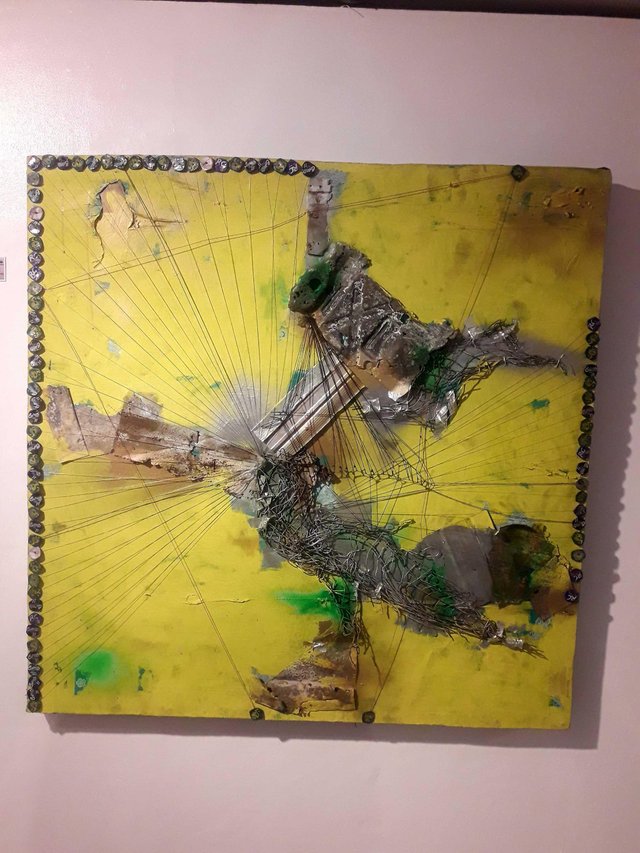 It's not a painting, It's an artwork perhaps an artwork that is meant to be an atifact. Well, the most interesting part is that the artifact was made from old things or more likely to be rusty metals. As you can see the artist used rusty bottle caps, nails, wires and other metals. It is an amazing Abstract work indeed.
Confusing
'Climate Change'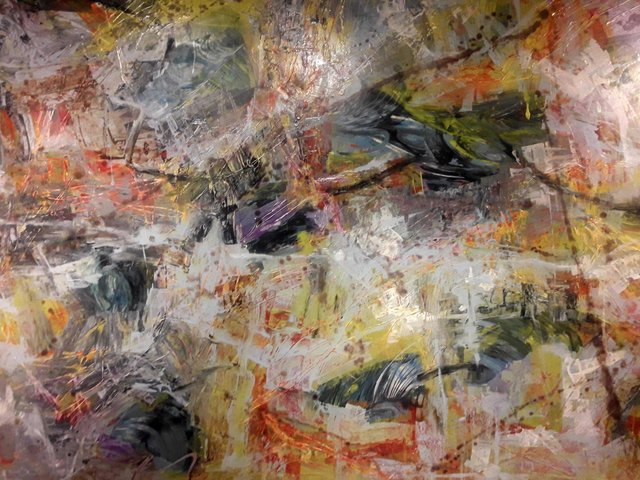 At my first sight, I was like 'What could this be'. Then i checked the name of the artwork and I was like 'Whaaaat?' I was confused about what is the message of the painting. The name of the artwork was 'Climate Change'. Maybe the artist made it like it was wrecked and ruined because he wanted to remind the people about the climate change. Or maybe the artists doesn't want us to know the message at all. Only the artist knows the message. Hmmm, but it makes sense doesn't it? Well, I am still confused.
---
After watching all the works and capturing some of it. Ofcourse I've got to have atleast one picture.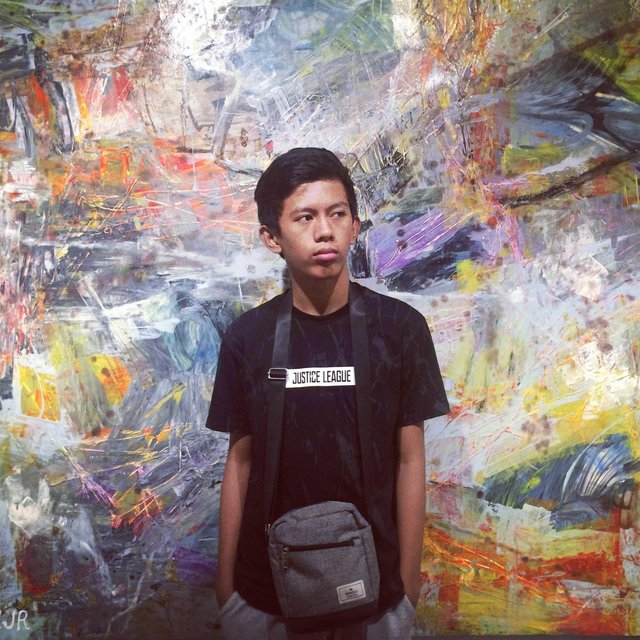 I am Abstract
I considered myself as an abstract work of art. I am to be judged for a thousands. I am an abstract work of God where he sent me here in the world for people to be loved, amazed and judged for. Just like an Abstract Art, I am difficult to understand, but only God and I know who I really am.
---
So have you enjoyed the blog? Have you learnt or knew something new? Was it wonderful? Are you impressed?
Let me know your thoughts below :).
They are all colorful, magical, and amazing. Don't be confuse on what is the real meaning behind every artwork, it is up to you on how you understand and appreciate the beauty in it.
My fellow steemians, you may show your abstract artworks below. I will be happy to see your works. I will share mine as well on the next blog.
** "Every work of God is an art" **
---
REFERENCES: