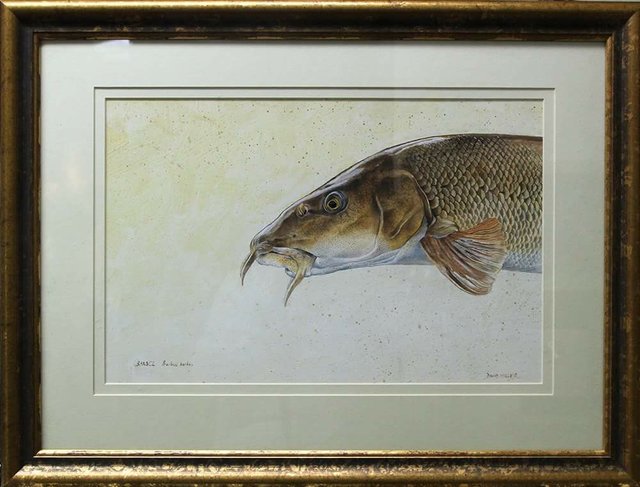 Barbel 'barry' Barbus
For many years I have wondered along our local river with a tub of bait and a fishing rod only to grow a passion for catching a barbel aka "Barry".
they swim together in shoals of up to 20-30 If not more on our local river and they fight like a steam train with awesome power that has you hanging of for dear life considering their size. the local weight is now close to 15lb and I myself held the local record for some years with a 13.5lb barbel.
It was only right that I would one day want to have some memory jerkers on my wall along with other fishing collectables. Every year we must buy a rod licence to fish the UK still waters and on those cards every year is a picture painted by a man called David Miller. He has become my all time favourite artist of nature with impressive skills and an incredible eye for detail.
I did some research and found him online through some of his web pages and we made contact. I had this commissioned by him and now it sits above my desk in my office.
you can see more of David Miller Art here, http://www.davidmillerart.co.uk/
Follow me @callmecrypto for more fishing related stories and accounts of my adventures.