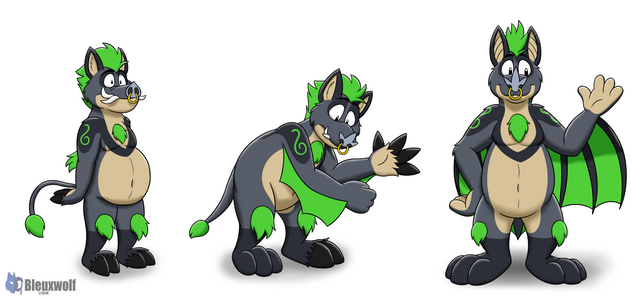 "Something weird happened. I don't know what it is, but I think I like the results."
This is a toony style full detail YCH (Your-Character-Here) commission for ForrestTheBoar on Twitter who won a little YCH auction I had put up on one of my other sites. He unexpectedly turned from a boar into a bat.
⚜ ⚜ ⚜ ⚜ ⚜ ⚜ ⚜ ⚜ ⚜ ⚜ ⚜ ⚜ ⚜ ⚜ ⚜ ⚜ ⚜ ⚜ ⚜ ⚜ ⚜ ⚜ ⚜ ⚜ ⚜ ⚜ ⚜ ⚜ ⚜ ⚜
Drawing Details
| ART PARAMETER | DETAIL |
| --- | --- |
| Art Medium | Digital: Krita |
| Art Tool | Wacom Cintiq 13 HD |
| Art Style | Toony |
| Level of Detail | Full Detail |
| Background Detail | N/A |
| Size | Full Body |
| Dimensions | Landscape: 4096 x 1920 |
| Date Completed | 2019-01-22 |
---
My Layer Layout
Foreground Folder

Lineart layer
Highlights layer
Backlights layer
Shadows layer
Color Folder

Detail Folder (Masked to Base Color layer.)

Quaternary Color layer
Tertiary Color layer
Secondary Color layer

Base/Primary Color layer

Shadows layer
Extra Sketch layer
Fine Sketch layer
Rough Sketch layer
Canvas Background layer (Neutral color like grey.)
---
Canvas Prep/Rough Sketch

Layers Used:

Canvas Background layer

Rough Sketch layer

I start off with the neutral colored background and the rough sketch of the potential character over it.

Note: The first few steps' imagines may look funny because again, this was a YCH, so it was presented as such like what is shown with the bottom image of this step. Though, some of the rough sketch lines are missing since I somehow wound up deleting them.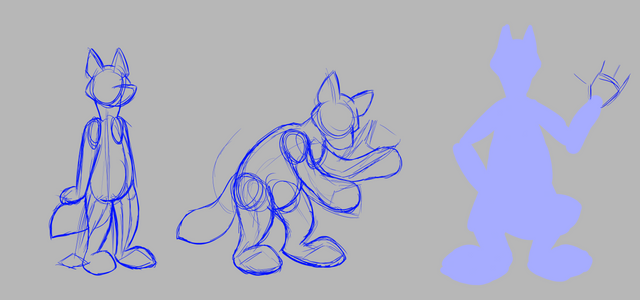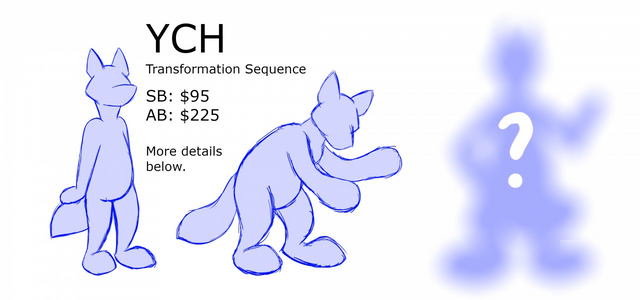 Fine Sketch

Layers Used:

Fine Sketch layer

Then after the winning client submitted his idea and details, I sketch in a finer sketch over the roughes.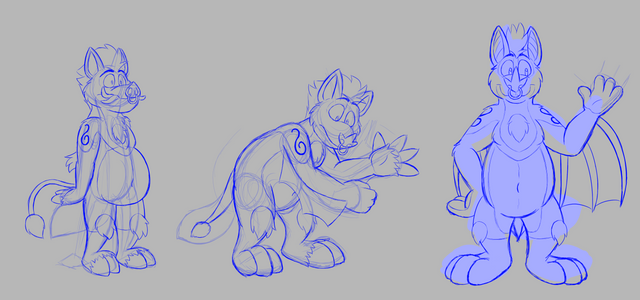 Lineart

Layers Used:

Foreground Folder -> Lineart layer

After the sketches, I lineart over the sketches.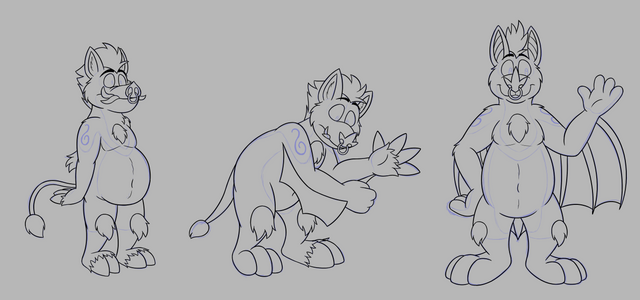 Base Color

Layers Used:

Foreground Folder -> Base/Primary Color layer

I used the contiguous "wizard" tool to select areas outside of the character's parameters, invert the selection, then fill with a neutral color. I always do it this way to avoid gaps in my base color had I just selected areas within the parameters.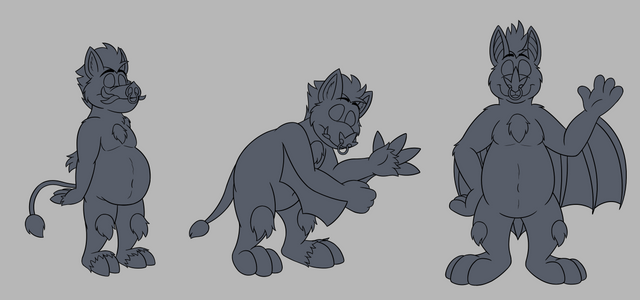 Detail Color

Layers Used:

Foreground Folder -> Color Folder -> Detail Folder -> (Folder's color layers)

Add in the character's other colors.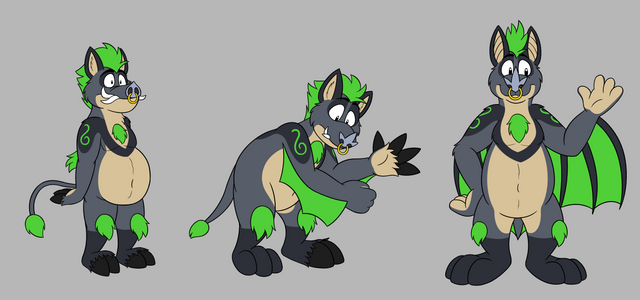 Shadows

Layers Used:

Foreground Folder -> Shadows layer (Layer Blending Mode: Grain Merge; Opacity: 50%)

Add in the shadows.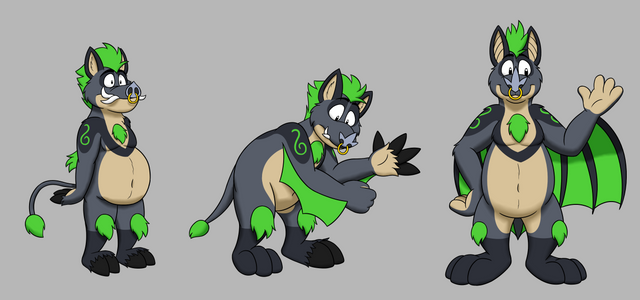 Highlights

Layers Used:

Foreground Folder -> Highlights layer (Opacity: 65%)

And add in the highlights.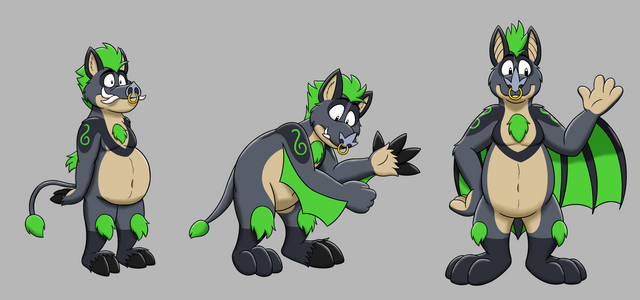 Background

Layers Used:

Canvas Background layer

Background Shadows layer

Then finally, whiten the canvas background and add a little shadow under the character.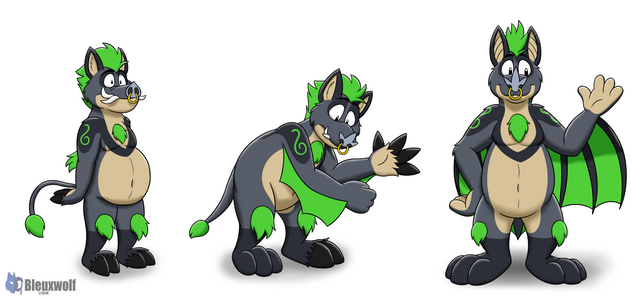 Then we are done!
---
Enjoy the transformation!
Forrest © Tw: ForrestTheBoar
Artwork by @bleuxwolf
⚜ ⚜ ⚜ ⚜ ⚜ ⚜ ⚜ ⚜ ⚜ ⚜ ⚜ ⚜ ⚜ ⚜ ⚜ ⚜ ⚜ ⚜ ⚜ ⚜ ⚜ ⚜ ⚜ ⚜ ⚜ ⚜ ⚜ ⚜ ⚜ ⚜

If you liked the content and found it helpful, an upvote and resteem will and always be greatly appreciated!
If you want to see more of these drawing and step-by-step tutorials, feel free to browse my channel and give me a follow to keep up to date with these my postings!
⚜ ⚜ ⚜ ⚜ ⚜ ⚜ ⚜ ⚜ ⚜ ⚜ ⚜ ⚜ ⚜ ⚜ ⚜ ⚜ ⚜ ⚜ ⚜ ⚜ ⚜ ⚜ ⚜ ⚜ ⚜ ⚜ ⚜ ⚜ ⚜ ⚜
Interested more more of my portfolio of works or interested in me drawing you a pic, feel free to also check out my personal portfolio/commission site. Arts by Bleux