Xcash Coin Round #1 Airdrop Registration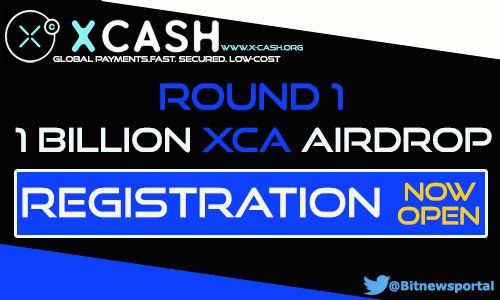 Join Xcash Coin Airdrop
https://freeairdrop.club/x-cash-coin-airdrop/
Hello Everyone! The momment everyone is waiting for is here, Airdrop Registration for round 1 XCA airdrop is now open.
1 Billion XCA Coins will be distributed to all approved airdrop participants for XCA Coin project. The registration will run from Aug 20 and the distribution will start early september 2018.
If you are not yet an XCASH Airdrop participants REGISTER NOW and take advatange of the instant 10,000 XCA Coins Registration Bounty rewards upon registration on the airdrop. This is a limited slots offer so grab this now before its too late. REGISTER YOUR XCASH AIRDROP ACCOUNT https://freeairdrop.club/x-cash-coin-airdrop
For all those users that already completed the airdrop account registration process you need to register your account for the ROUND 1 Airdrop.
First Login on your Airdrop Account Dashboard
Go to Airdrop Calendar
Look for the OPENED AUGUST Airdrop and CLICK REGISTER
A 3 simple steps that you need to keep in mind every month so you can receive the monthly XCA Airdrops.
If you have some issues or question don't hesistate to contact me on any Social Channel.
That's all for today! i hope you find this article useful and informative. Don't forget to LIKE, SHARE, Re-TWEET this article in different social media. Lets spread the word about XCASH and together as a community we can make a difference if we work together.
Thank you for Reading….
Important Project Links
Website
https://x-cash.org/
Join X-Cash Discord
https://discord.gg/wBA77yw
Download Wallet
https://x-cash.org/downloads
FOLLOW ME ON TWITTER!
https://twitter.com/BitNewsPortal
Disclaimer
This News Entry is a personal opinion and not directly from X-Cash developer team this is a community initiative news entry, for official news and updates check out #announcement channel via X-Cash Discord.