PRiVCY Coin Massive 750,000 PRiV Airdrop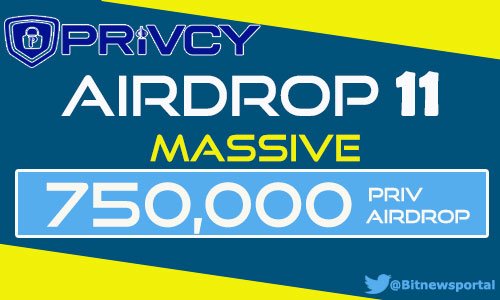 Join PRiVCY Airdrop
https://freeairdrop.club/privcy-coin-airdrop
Hello Everyone! Today i am very excited to feature this news since this is the most awaited airdrop week of all time in PRiVCY Community. This is the massive 750,000 PRiVCY Coin Airdrop.
Airdrop 11 was the most anticipated airdrop in PRiVCY Community not only this will be a massive airdrop but it is also the start of the new phase of airdrop distributions.
Airdrop 11 distribution model is a unique and never before seen in any airdrop project on the crypto market it combines fair & square distributions while rewarding the hodlers and investors at the same time. If you are a new airdrop participants you can still enjoy the weekly airdrop with lesser multiplier compare to pioneer members. But you can also enjoy the same benefits of pioneer airdrop participants by simply purchasing the required PRiVCY Coin Holdings in the live open market.
Airdrop 11 Distribution Method
If you hold 90%+ of your airdropped balance you will receive these multipliers based on how many PRiV you hold:
5000+ = 1.1x
3000-4999 = 0.9x
1000-2999 = 0.7x
100-999 = 0.5x
0-100 = 0.4x
If you hold less than 90% of your airdropped balance you will receive these multipliers based on how many PRiV you hold:
5000+ 0.5x
3000-4999 0.4x
1000-2999 0.3x
100-999 0.2x
0-100 0.1x
Newly registered members will receive multiplier based on their balance (min 0.4x)
This is by far the most fairer distribution ive seen in my whole airdrop career. Airdrop 11 is schedule @ August 18, 2018 and you still have more time to shop extra PRiVCY Coins to enjoy extra multiplier rewards from the investors club and also enjoy extra multiplier if you hold more than 5k PRiVCY Coins.
To all others that don't have 5k PRiVCY Coins, Don't despair since you will still share the bigger chunk with 0.90x Multiplier.
Keep Voting for PRiVCY on both Sonox show the community power of PRiVCY Coin. You can vote once every 24 hours
Vote now on SONOX https://sonox.io/
Don't Forget to Re-Tweet, Like and share the article in different Social Media Channel a simple task but will have a great impact on PRiVCY Crypto Awareness Campaign.
FOLLOW ME ON TWITTER!
https://twitter.com/BitNewsPortal
Disclaimer
This News Entry is a personal opinion and not directly from $PRIV developer team this is a community initiative news entry, for official news and updates check out #announcement channel via $PRIV Discord.