So I Had Fallen ..
Off of the painting wagon for a while. I lost some of my inspiration, drive and health in order to paint and create. I don't know if you caught my post yesterday.. We were out yesterday for a walk along the bay here in NJ. I spotted a beautiful spot to grab a memory of the day. Here at the edge of the bay, just along the grassy edge of land meeting water, where the blue sky was dancing just above it all.. I was subtlety reminded of our trips to the Caribbean. I was inspired in some weird way to create something.. something small at least. I decided that I would kick the long drought of not taking a moment or two to paint. I took that inspiration and put it too work and finished a small oil painting called 'Out On The Caribbean'. I hope you find some relaxation and enjoyment in it.. I know I did and as a bonus, it brought a smile to my face :-)
Here Is The Inspiration ..
Photo I took, side by side with the finished painting. It's not a replication of what I saw yesterday, but rather it has a few of the details and a lot of the memories of trips past, all mashed up.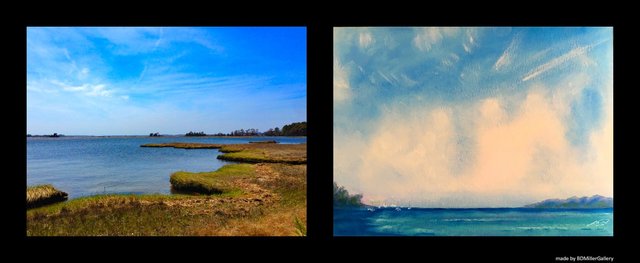 Photo and Painting by BDMiller
So How Did I Get Here..
I grabbed a small piece of water color paper, 7.5" Wide by 5.5" Tall, and began to apply paint. I don't know why I started with the color I did. I think i was wanting the painting to go in a different direction than it ended up.. haha. I then added small amounts of greens and blues, blending around the white of the paper, leaving a few areas empty for clouds. I slowly added shading with blue paint in order to give the idea of a few puffy billowing clouds. The type of clouds I am used to seeing off over the rich blue waters of the Caribbean sea.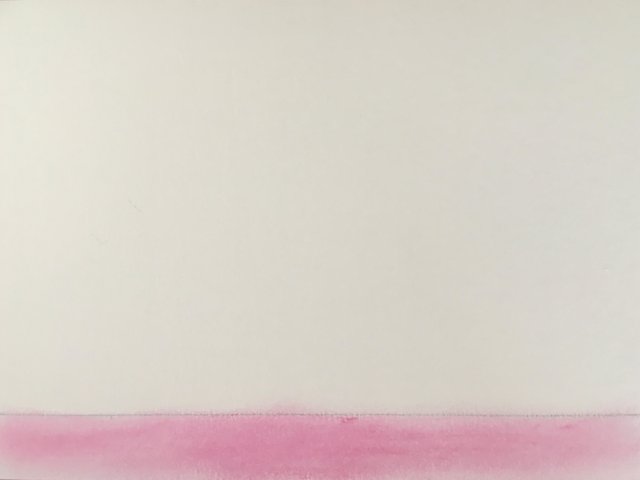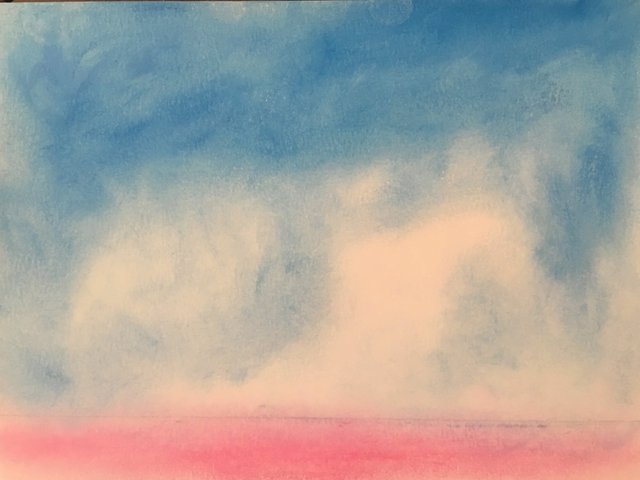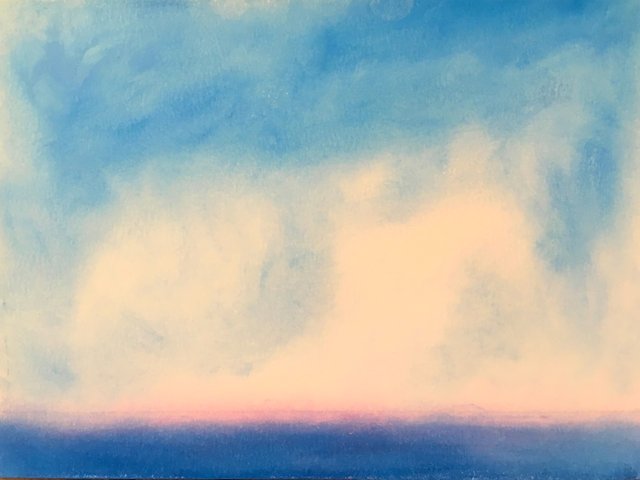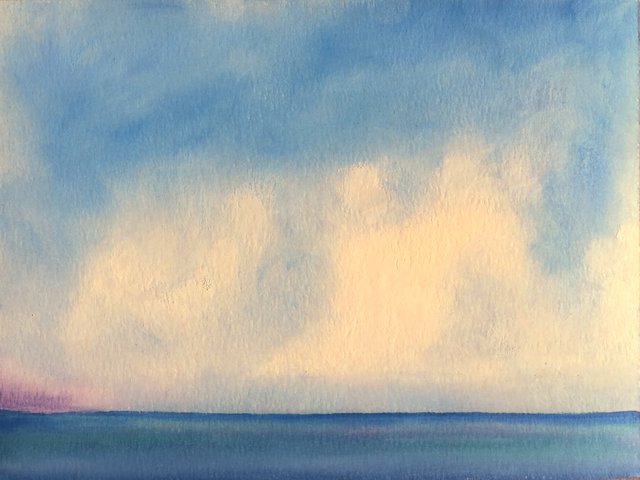 Eventually I Added Some ..
areas of land and trees. I wanted these areas to look slightly hazy due to there far off distance on the horizon and the fact that the humidity in these locations tends to blur things that are far off. In the final steps, I touched up the clouds and water with touches of bright white. I added a few wispy clouds, a few breaking waves, and a few sail boats sitting at the edge of the cove.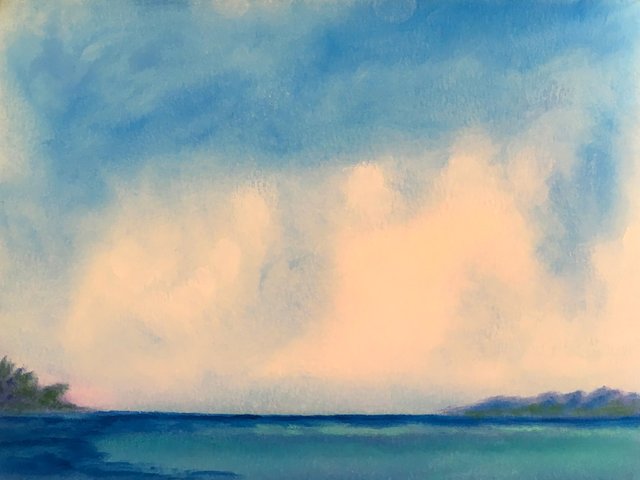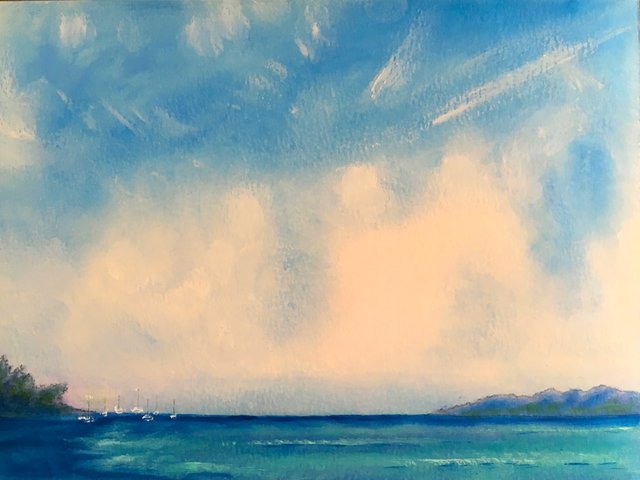 Here Is A Progress Shot ..
For better viewing and a quicker look at the whole process.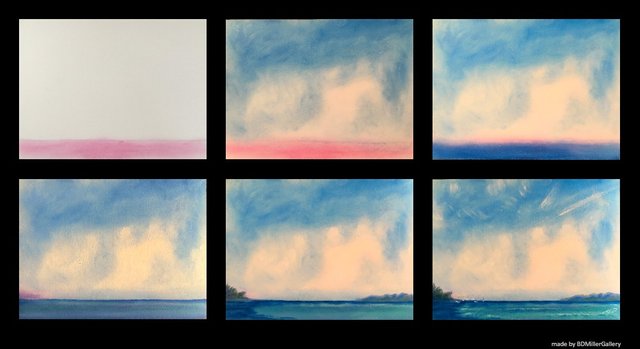 The Finished Painting .. 'Out On The Caribbean'
I am glad I found a little inspiration before the end of Autumn and before the depression of winters chill blows in. Even though it may be small, and it may have only taken about 2 hours to complete, it brought me some long lasting joy. All I can wish for is that it did the same for you!
Oh yea.. almost forgot.. I painted the whole thing with either my finger tip or the tip of my finger nail. If it looks like it.. then that;s why.. hehe. :-)
Thanks for checking it out! Have an awesome rest of your day!!!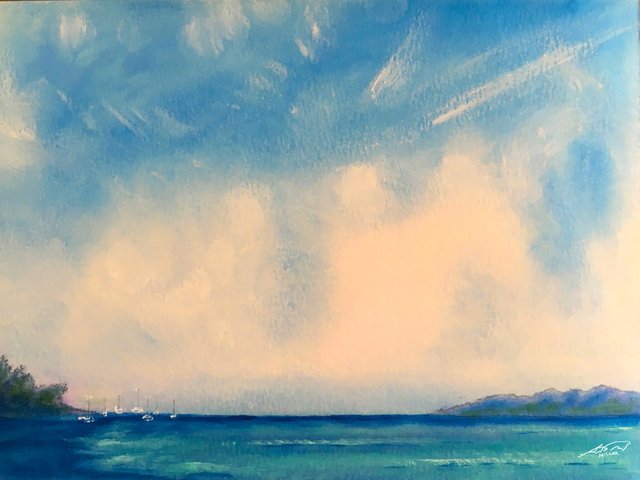 <~~~~~~~~~~~~~~~~~~~~~>
If Your Interested In Purchasing Any Of My Work:
They can be found for sale in
OR
My Etsy Store
If you don't see the piece in either shop, It may still be drying. Let me know and I can upload it as soon as possible to be available. Or you can always make me an offer (in SBD or STEEM) in the comments section of this post. If we agree on a price, I will then ship the painting to you. (shipping costs will be determined by your location).
Thank you for swinging by my blog and checking out the post. Have a great day!

All words, pictures and art pieces are the sole property of B D Miller Gallery, unless otherwise noted and credited, and are not to be reproduced or copied without the prior written consent of B D Miller Gallery.
---
About Me ~ The Artist
My art work incorporates a wide variety of subject matter, including landscape, seascape, cityscape, and still life images. My works are the product of a continuing process of exploration through which I seek to portray personal and visionary interpretations of my surroundings. My paintings are impressions of places and events from everyday life, an interpretation of my imagination, and personal responses to what I see and feel on a daily basis. More recently I have invested generous amounts of time into my landscape painting. I am surrounded by natural and man made beauty, which inherently presents itself in the tri-state area, and almost demands that I paint it.
Not everything is art. Art is not everything, but it comes close. Art is everywhere and all the time. Art makes you experience the beauty of the world, the people in it, and the places we call home. Art itself is so influential that it can tell stories, show feelings, and express passion or fury. Art exists in addition to language; expression of sensations and thoughts, revealing a way of thinking too subtle and delicate for words.
For me art requires love, honesty and perseverance. In return, it reveals some personal, non-analyzable, and creative untamed passion. For the public, art with its magnificent beauty, improves mood and health and builds better human beings and communities. It engages the intellect, softens the heart, strengthens the soul and frees the spirit.