Post-Modern Judaism Exhibition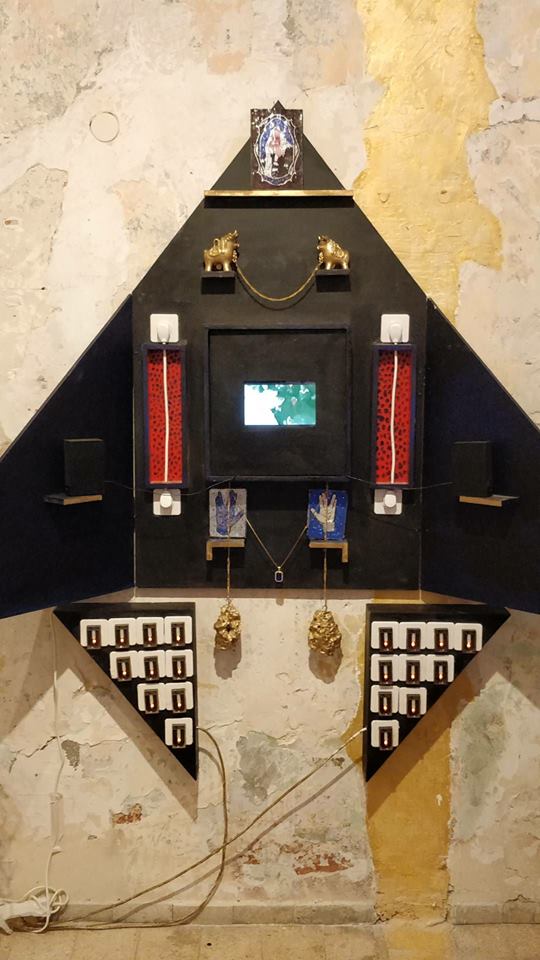 The following work is called "Arbiyer" A concept of Chabad Judaism in "Yiddish" - A Jewish language of Orthodoxy that resembles German, Jews in order to separate themselves from the outside world Created a language similar to German. To this day, some Orthodox people speak Yiddish and not Hebrew unless they deal with something related to sanctity.
Arbiyer means "Top"
This is a concept that says that when you fight the evil inclination you do not have to deal with it, you have to look at it from above and laugh, you can see above a picture of the "Rebbe" who sang the melody "Arbiyer" if "Chabad"
And a picture of the appearance of a NASA rocket as a gesture to the contemporary movement that emerges from Chabad and is integrated with modernization, all wrapped up in the features of the Golden Calf.
A distinctly Jewish trait of materialism that contradicts spirituality.
What drives this missile up(GAS) is the "Yahrzeit Candle"
This whole thing is reminiscent of Merkabah mysticism, one of the greatest visions of one of the greatest prophets in the Jewish people - Yehezkel.
All of this shows that the spirit and material actually bring about something that is holy, you can not distinguish between them.

This is called talismans, superstitions believe these things bring luck.
This shows that without a little faith that there are things that do not depend on us but on other things, it is key to fighting the evil desires that man has.