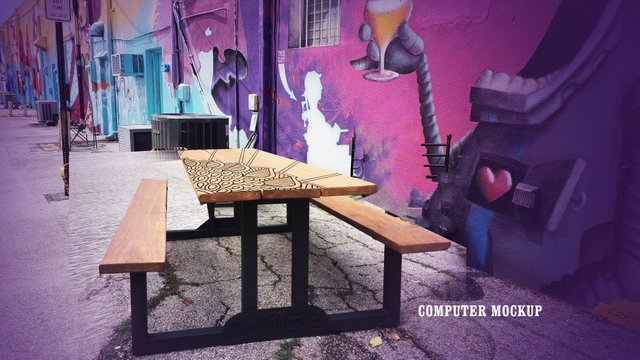 Working on the next art-related community project with my nonprofit Kelsey Cares. You can read more about the project below and as always all rewards collected on this post will go towards the project (or contributed via transfer, just clarify in the memo).
So, the outdoor seating area at The Brewhouse Gallery is looking a little rough. We are looking to breathe new life into our beloved back alley seating area before it starts to look even more like something from Trailer Park Boys. Keeping true to supporting the arts and our community this sparked an idea!
We will be launching our community picnic table project! Each table will be handcrafted by our good friend and fellow artist Hutches Welding. These will be individually built with custom metal framing made to last and stand up to all the outdoor elements without having to be replaced. To finish it off, we will have our local artists finish them off by doing some sort of doodle on top of the finished product.
It is proven that community seating helps encourage conversation, friendships, and reinforces community ties. With this, we will be donating 1 picnic table for every $1500 we are able to raise over our initial $3000 goal. The first two picnic tables will be permanently installed behind The Brewhouse Gallery and each additional table will be put in a public place within our surrounding communities for all to enjoy.
Please contribute what you can to make this project happen and we have some special perks as well. For every $250 contribution you will receive your name physically written on the table and the right to claim that seat any time you visit us (limit of 12). Maybe you want one of these bad ass tables for yourself? A $1500 donation will get you one of your own or you can choose to donate that table somewhere in your name.
All contributions will be allocated through our nonprofit Kelsey Cares. Our mission is Funding art, theater, music, film, and cultural development through community outreach by providing subsidies for productions, events, artists and musicians to carry out their mission.
Please help share this fundraiser with your network!
Thank you for reading and please consider upvoting this post, following me, and leaving a comment. If you're looking to go the extra mile in helping me on my journey, also please consider a re–steem so I am able to reach your audience. The steemit community means the world to me and I look forward to posting daily content with all of you.
As my account grows, it is becoming more difficult to reply to every comment. Your feedback is greatly appreciated and I will do my best to respond. I can guarantee I at least read every comment given. I am dedicated to spending a full-time effort on this platform. Any reproduction of my work without written consent is strictly prohibited. Please remember the best way to grow our community is by producing outstanding original content of your own to share with all of us.