¡Hello stemians! How is this day? Receive a cordial invitation to read this publication. Today I am pleased to present my entry to the @ art-venture contest, sponsored by stef1. I come with an idea that will surely lead you to reflection. At present, the great problem of waste in the great ocean continues to be managed. Many activists constantly talk about the repercussions that our lifestyle will have or have on the planet. Commenting that our seas have been becoming an immense deposit of non-degradable waste, labeled by us civilians as: Garbage.
THE TRUE PREDATOR OF THE SEA. (ORIGINAL DRAWING IN WATERCOLOR).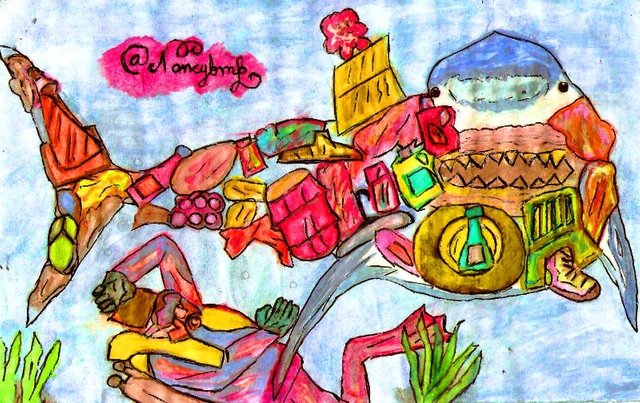 Illustration done by @nancybmp

The story does not end there, this garbage has become the number 1 killer of traditional marine diversity and ridiculing so-called natural predators. It has generated countless deaths of aquatic animals. For being trapped in the rubble, being prone to death for having ingested them, for suffocation or for many deadly injuries. ¡It is really a shame!
Without forgetting that in the middle of so much dirt, tourism is affected. Perhaps on your next vacation ... ¿Would you like to experience diving and notice that the marine ecosystem is deteriorating more and more? Then you will be able to observe the next generations ...

Among the materials used, we have:
- Graphite pencil.
- Sheet of the machine.
- Pencil sharpener
- draft
- Watercolor
- Pen
- Express myself through the drawing.
- Affinity for fun.

ENJOY WITH ME THE DEVELOPMENT OF EACH STEP. PRIMARY TO ACHIEVE SO CREATIVE ARTISTIC WORK ¡LET'S GO, DON'T HAVE A PENALTY! ;)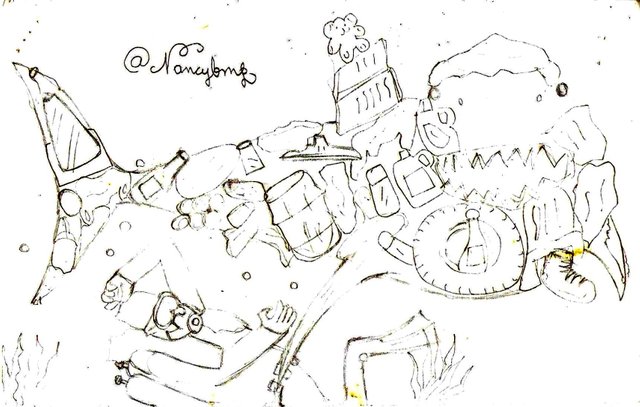 Illustration done by @nancybmp

IN STAGE 1; Taking a black pen, I begin to make the structure that is based on containers of different sizes and domestic uses. It took me a long time to choose where I would place them, that each object had concordance with the figure of the shark and avoid altering it.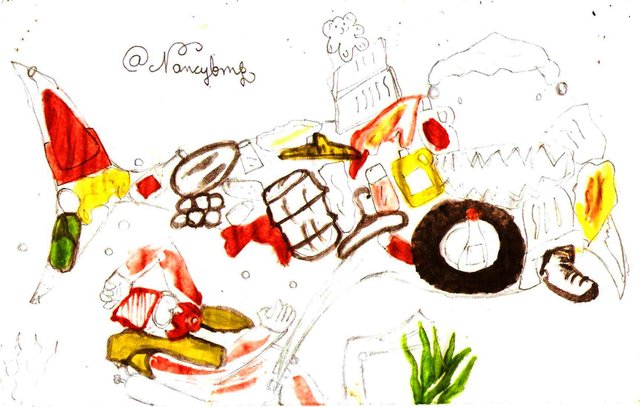 Illustration done by @nancybmp

STAGE 2; Watching documentaries on the subject comes the duty of making objects, such as rubbers, plastic bags, glasses, footwear, cans, bottles, bottles and a host of things that as a society we discard over the years.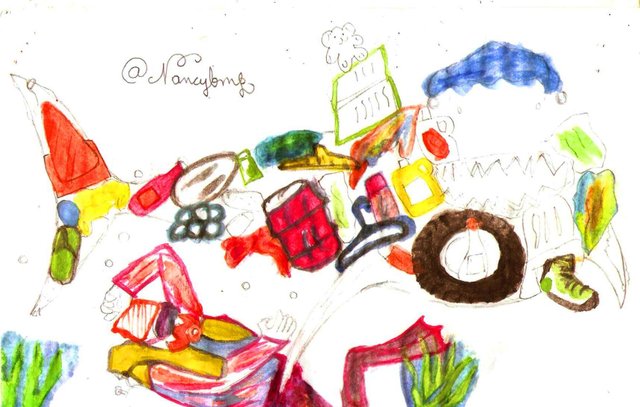 Illustration done by @nancybmp

STAGE 3; Do not forget the diver ... who is wanting to take shelter by having "so scary threat very close to him". He knows that nothing good can be obtained by being within walking distance of that, because it represents a danger to his health. I do this sartically, because we as a society produce these consumer goods, work and pay to acquire them. After fulfilling their useful life, the famous "waste" we want them to be far from us and we end up allowing them to stop anywhere.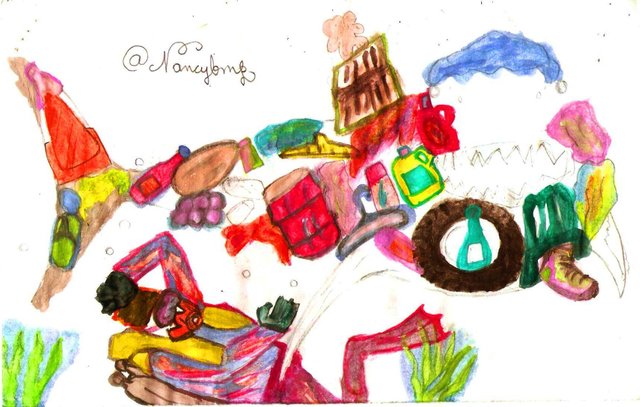 Illustration done by @nancybmp

STAGE 4; I keep drawing constantly every object attached to the great shark ... Using very striking shades. Pleasant to look at. ¡Step by step I am doing it!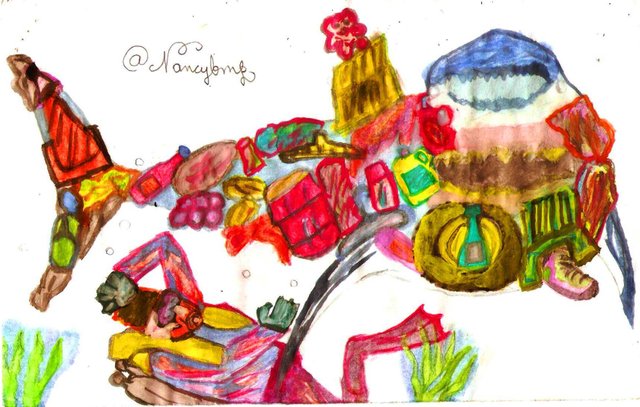 Illustration done by @nancybmp

STAGE 5; Drawn in watercolor each object, you can appreciate the aspect that the shark is taking. What do you think? It is frightening to think that one day we could meet such a scene.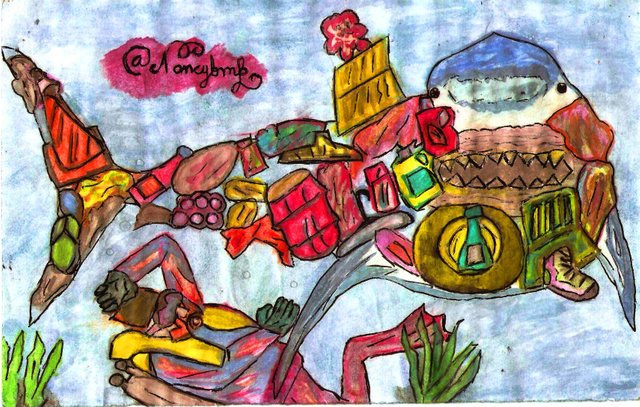 Illustration done by @nancybmp

STAGE 6;What would the sea be without the depth of it. Obviously color a deep sea with the characteristic blue. Finally, to give more enhancement to watercolor drawing, I proceeded to use the pen again. ¿They like me? I know so ;)
PHOTOGRAPHY WITH THE DRAWING COMPLETED.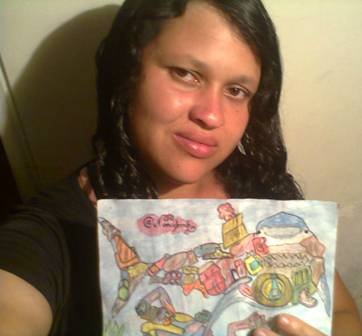 ¡Thank you very much for the support of these communities to the variety of artists on this platform!
Copyright @nancybmp - All rights reserved
MY PURPOSE IS TO ENJOY MY POST!
THANKS FOR YOUR SUPPORT!
DO NOT FORGET TO FOLLOW ME AND VOTE ME!
A HUG! @nancybmp