Good afternoon, stemiat! Have a good day. Hopefully you guys being well and happily early this afternoon. So, I just start my day with go to take some breakfast at MacDonald Serdang Raya which nearby my girlfriend's workplace.
Just come visit my old workplace by the way because I gonna start new work at somewhere in the mall, Cheras, KL. But, right now I want to tell some about new progress in McDonald's application and System ordering by ourself. Right now can use on that machine ordering. Impressive move by MacDonalds Malaysia btw. Hahaha!!
So, you open the MacDonald Application then choose ****Deals****, select any set you want to reseem for some big discount. But I can't show you because the application got restrict for not allow you to screenshot that code for multiple redeem. Example interface inside of application below here. Nice and smooth for right now.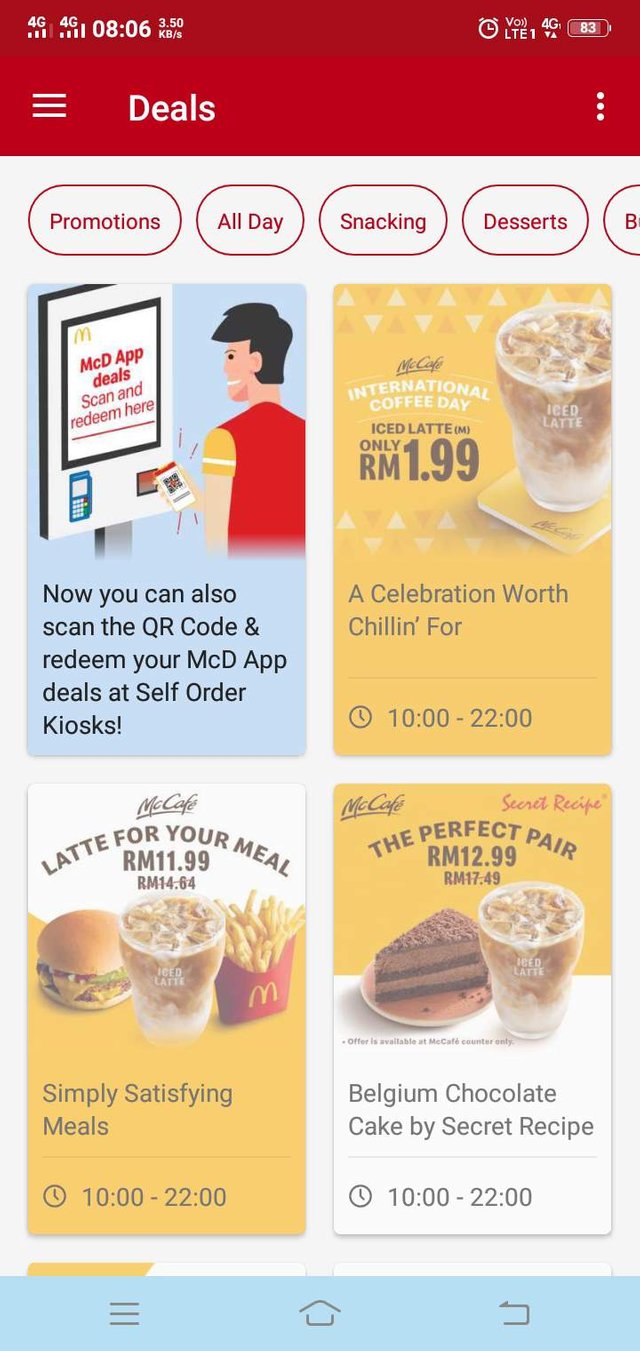 Interface of applications MacDonald's Malaysia.
With this application you can redeem any kind of set of meals with big discount almost 40%-60% of their normal price. Just imaging that you want buy one set of fried chicken cost you almost RM20. But with this promotion you can get more set of fried chicken with fries & drink (coke, 100plus or Sprite) + ice cream (sundae chocolate or strawberry topping) which cost you almost RM13-RM15 only but actually price will cause almost RM21-RM23.
With new implemented of kiosk in McDonald's is always bring term of simple ordering for what you wanna to choose for dine in or take out to home. But, the first of all you need redeem that promotion inside application then scan or manually put the code.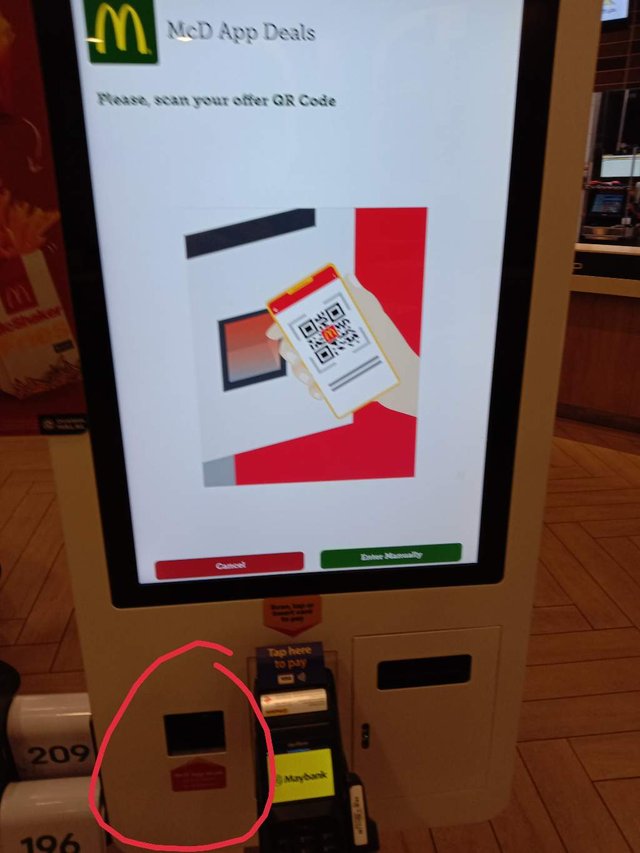 1.0 The machine asking scan code (red circle) or put manually the code (green button)
After you scan or put the code, the screen will show up like below on. It will describe the what promotion you redeem inside the application like picture 2.0. Like me, I redeem breakfast promotion, Sausage & Scrambled Egg Sadwich & small hot coffee the price around RM6.15 without SST 6% on picture 2.1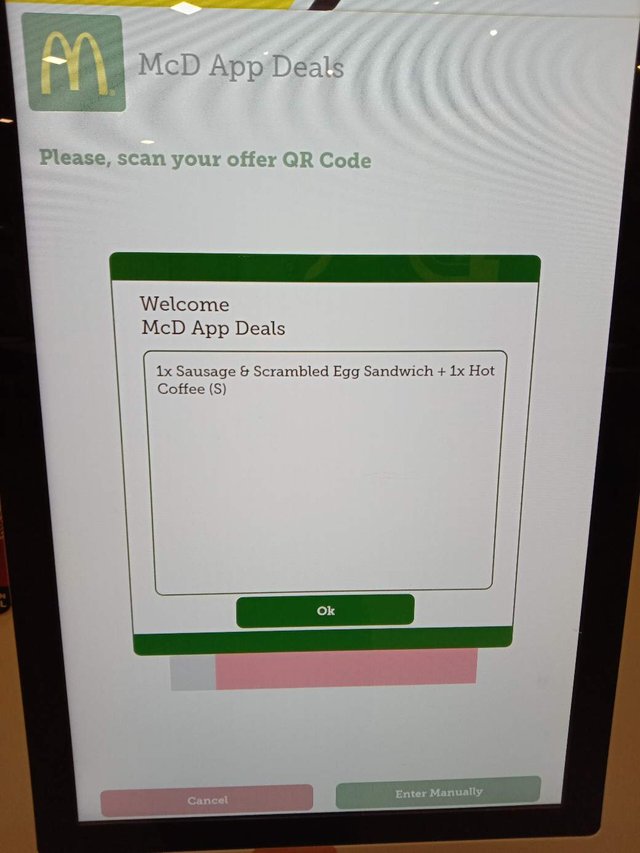 2.0 The details about promotion you redeem via McD App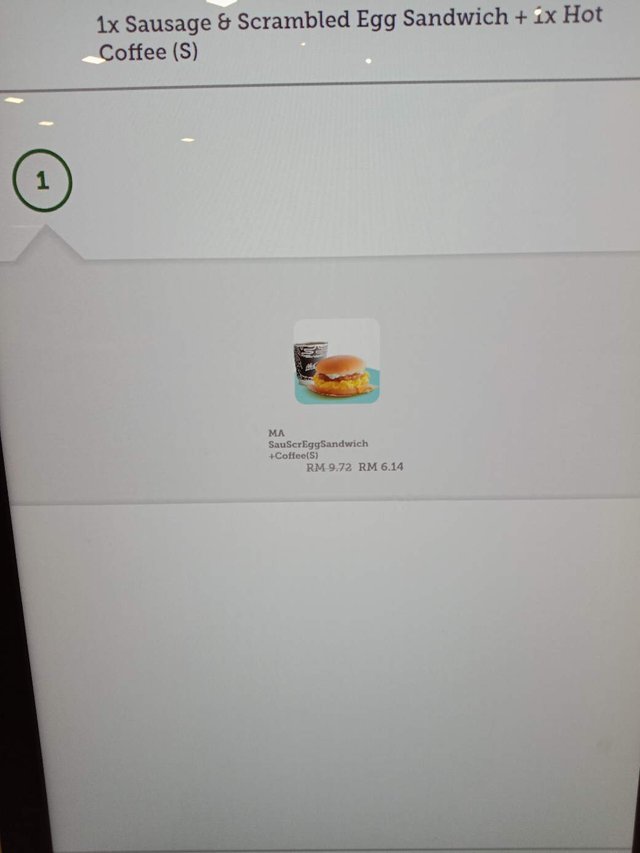 2.1 Here show the normal price already discount almost 30%++
That time I got hot food and coffee cause' no many customer dine in that time around 8 AM. So I feel lucky and enjoyable with my breakfast. So enjoy it!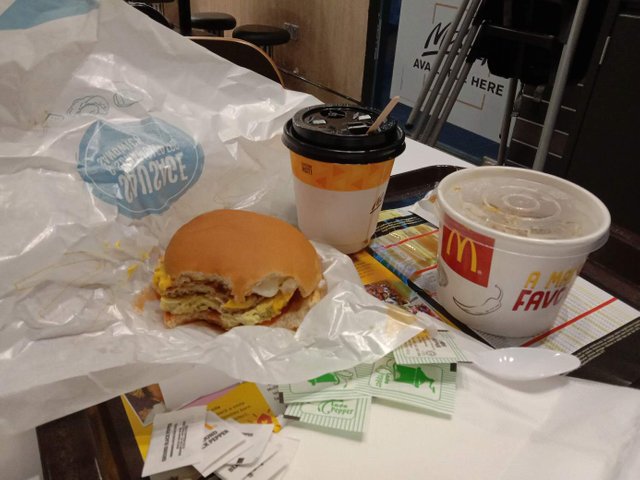 I forget thar I add-ons small porridge because I want eat some soup but the choice only got porridge in McD 🤣
Enjoy my post and cheer up! ❤
Posted using Partiko Android