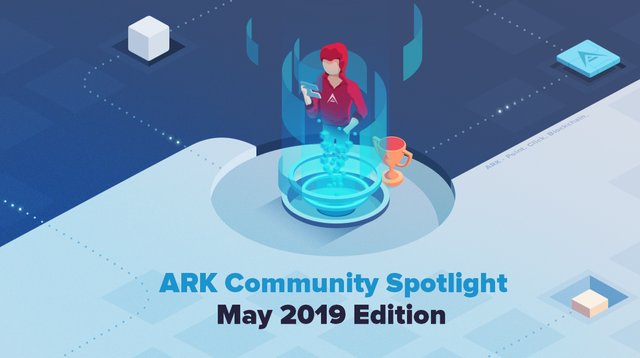 May is a wrap! We at ARK are proud of our determined and bright community, and
our monthly Community Spotlight newsletter will keep you apprised regarding
notable community activities. Let's dive into just some of the ways the ARK
community shined in May 2019.
---
ARK Deployer Community Contest
On May 28, ARK Deployer was premiered to the world! Now, people can use an
effortless graphical user interface coupled with battle-tested guides and
procedures to design, customize, and launch a standalone blockchain, even if
they haven't worked with blockchains before. This video should get you up to
speed:
In the community, Reddit user **'ka-ant' **graciously decided to run a contest
for deploying a blockchain for a creative purpose. The deadline to deploy and
report is June 30, 2019. The prize? 1000 ARK! Check rules and details
here.
Win 1000 ARK! See details here:
Ka-ant's Community Deployer Contest
Rules
FEATURED COMMITS
As they say, the best things happen with help. That's why ARK runs monthly
bounty programs for coders who contribute to our codebase on the ARK Ecosystem
GitHub. Independent programmers can work side
by side with our international team and make the ARK toolkit even more powerful
and stable. ARK is awarded to GitHub participants by way of the ARK GitHub
Bounty Program. Learn more about the bounty program
here.
The community Spotlight Newsletter only includes three featured commits, but
you can see all the hard work of our GitHub participants at
blog.ark.io!
Delegate 'dated' implemented an 'export wallets' feature. This creates a
list file of wallet addresses and lays the groundwork for a 'mass import'
feature of wallet addresses if you for example wish to move your desktop wallet
activities to a new machine.
Delegate 'dated' also performed a lot of chores regarding the vendor field.
The vendor field is a text field that allows memos, code, or instructions to be
injected into an ARK transaction, and plays a role in ARK SmartBridge
technology. Recently, the vendor field length has been increased to 255 bytes.
Github member 'danielstc' updated and improved Italian translations for the
ARK Desktop Wallet. Molto bene!
Multiple coders are contributing to the ARK toolkit 24/7, and you can too — it's
fun, rewarding, and you can earn ARK as well!
This guide will show you how to get started with coding for
ARK.
If you don't know how to code, but you have ideas to improve ARK open source
projects, use this video to help you let developers know.
TEAM IN THE COMMUNITY
The ARK team has been sighted in the real world in May. Here are just some of
the activities:
In late April, a large portion of the ARK Team made their way to Paris, France
to hold a General Assembly of the ARK business entity, listen to presentations,
and meet with various arms of the French government. ARK is incorporated in
France as an SCIC, the first of its kind for crypto in the country. In May, the
ARK Adventure video premiered detailing ARK's activities. Check it out below:
Also in May, ARK traveled to New York City to attend the Magical Crypto
Conference, attend Consensus NYC, and give a special presentation on ARK. You
will learn more about this soon as there will be a separate blog post with a
new ARK Adventure video, photos, and breakdowns. For now, check out our
Consensus presentation here:
On May 8th, the second Developer Roundtable meeting occurred, where ARK CTO
Kristjan Košič communicates with the community, fields questions, and gives
updates. Check out the full meeting here:
---
GET INVOLVED
Watch this video on how to get involved with ARK, all skills welcome.
ARK COMMUNITY COMMITTEE

The ARK Community Committee creates and deploys community resources through
anonymous and sponsored ARK donations.
The ACC's first completed project is
ArkTimeline.com. ArkTimeline now supports URL query
string, to create links leading to custom
views!
Delegate 'Rising Sun' assists ArkTimeline maintenance by providing some ARK
each month to the maintenance team.
The ACC completed and released its second project
ArkThoughts.com. This ARK resource has information
on 30 ARK concepts and over 60,000 words from community members like you. It is
the result of the 30 Days of ARK Campaign that ran in December 2018, sponsored
by Delegate **'Jarunik.' **Here's the launch
article.
In May, I began working with a community member to improve our whitepaper at
whitepaper.ark.io. When those revisions are
complete, we'll be holding what we're calling the Whitepaper Crunch Contest,
where participants will answer basic questions about the new ARK Whitepaper to
win Arkmoon commemorative coins courtesy of Delegates Arkmoon and Jarunik,
Ledger Nano S devices from ARK.io, and more. Stay tuned!
I have also recently seen some results from the ACC Dev Team and their efforts
to overhaul ArkStickers.com with a facelift and live ARK Pay integration. Looks
great so far! It will be live soon.
To join the ACC, locate me on Discord.ARK.io which by
the way, just increased its powers
significantly
with new bots, features, and feeds, courtesy of CMO Travis Walker's oversight.
ACC Projects are funded after the fact and pay is not guaranteed (fun is,
though).
---
ARK COMMUNITY FUND

If you have an idea for an ARK project, large or small, and you are looking for
funding, consider submitting a proposal to the ARK Community Fund for review.
The ARK Community Fund started as a community initiative, and the elected board
reviews ideas and projects that enhance ARK. Their website is
ArkCommunity.Fund.
---
The opportunities that ARK Ecosystem provides are ever growing, and there are
many ways you can get in on the action. To reach me, you can contact me on the
ARK Slack or
Discord: @ Justin (doubled1c3).
Looking forward to June!
---
Follow us on social media ( Twitter | Facebook | Reddit | YouTube), join our community ( Slack | Discord ) and stay tuned to our blog on Medium.