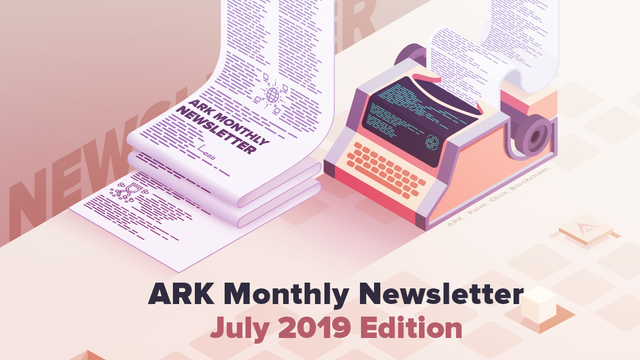 July is in the box! The ARK Team is pleased to bring you the return of the monthly newsletter, now packed with more highlights, activities, achievements, and unique content. Let's take a look at what the team has been up to during the past month.
JULY REMARKS
"ARK has produced major releases across the board in July. Our new website is well celebrated within our community and beyond. The new site received a lot of fresh eyes on our project, with our global Alexa ranking improving by over 40% and within the US, ranking improved by over 100%. We also released Core v2.5, deprecating once and for all the V1 API and gaining performance improvements throughout the Core. Desktop, Mobile, and Paper Wallets were incremented in July. Towards the end of the month, we unveiled a new project, nOS, which is building on ARK Core. It was also impossible not to notice the large volley of plugins and resources released by our community this month, which I find fantastic."
Justin Renken, ARK.io Senior Brand Manager
JULY'S TOP TWEET
https://twitter.com/ArkEcosystem/status/1156102744698175488?s=20
***ArkTimeline.com*** is a community resource built and maintained by the ARK Community Committee. The entire history of all ARK achievements and accomplishments are available there, and they are both sortable and filterable. Here's a quick rundown for July:
JULY FRANCE ACTIVITIES
ARK.io is incorporated as an SCIC in France, giving ARK a leg up when interfacing with the legacy financial system. This SCIC is the first of its kind for crypto in France.
On July 2nd, ARK CEO Francois-Xavier Thoorens appeared in an interview with CryptoBeadles, discussing his history with crypto and how ARK started. The interview received over 20,000 views.
On July 3rd, FX Thoorens participated in a meetup orchestrated by Sof'bar, a gathering of French Bitcoin enthusiasts for the purposes of discussion and networking.

On July 8th, FX attended the France Digitale Summer Party. The France Digitale association brings together French digital entrepreneurs and investors.

On July 10th and 11th, FX attended the Pact for Impact Conference in Paris. This summit hosted government delegations, international organizations, local authorities, and actors committed to fostering a social and inclusive economy.
In mid-July, FX was in attendance for the ARK Leadership Summit in Utrecht, Netherlands (more information below).
JULY ADVENTURES
Some members of the ARK team assembled in Utrecht, Netherlands for a Leadership Summit. We heard presentations by special guests and further solidified the development strategy for the next six months. Our activities are summarized in this month's adventure video. If you missed it, check it out below:
JULY AMAs
Ask-Me-Anythings were conducted during June featuring ARK team members answering questions by the community on Slack.ARK.io. Here's the list:
JULY DEVELOPER ROUNDTABLE
The ARK Developer Roundtable is a monthly, open attendance video call, conducted by ARK.io Chief Technical Officer (CTO), Kristjan Košič. These calls allow a unique opportunity to present information to the community and gain valuable insight from community developers. Here's July's meeting:
JULY DEVELOPMENT REPORT
The ARK Monthly Development Report covers all pull requests (opened, closed, merged) as well as all issues opened and closed in every ARK Ecosystem public repository, the number of contributors during that month, the number of new stargazers, and total lines of GitHub code added or deleted. Check July's report here.
JULY PODCASTS
The ***ARK Crypto Podcast*** releases weekly episodes all about ARK, featuring interviews, monologues, tutorials, reports, presentations, and more. The show aims for a 30-minute runtime and releases new episodes every Friday. Subscribe on iTunes, Google Play, Sticher, Soundcloud, Spotify, Castbox, and more. Check out the episodes released this month:
https://soundcloud.com/thearkcryptopodcast/ark-crypto-podcast-043-devnet-bounty-campaign-launching-a-node-from-start-to-finish
https://soundcloud.com/thearkcryptopodcast/ark-crypto-podcast-044-back-to-basics-ark-faq-episode
https://soundcloud.com/thearkcryptopodcast/ark-crypto-podcast-045-interview-with-delegate-mak
https://soundcloud.com/thearkcryptopodcast/ark-crypto-podcast-046-introducing-nos-building-on-ark-core
WHAT'S NEXT
The following month for ARK will focus heavily on advancing Core v2.6 closer towards release. This is arguably the biggest Core iteration to date, and it will contain big functionality additions for developers. Registrations, multipayments, delegate resignation, and hash time lock contracts are just some of the added features in the pipe for 2.6. Check **Roadmap.ARK.io **for status updates. ARK will also be releasing more information on some programs that will benefit developers and grow the ecosystem.
GET INVOLVED
Here's a quick list of what your first steps might be to get involved with ARK:
Looking forward to August!
Read our new 2019 whitepaper, follow us on social media (Twitter|Facebook | Reddit ), join our community ( Slack | Discord ) and stay tuned to our blog on Medium and on Steemit.