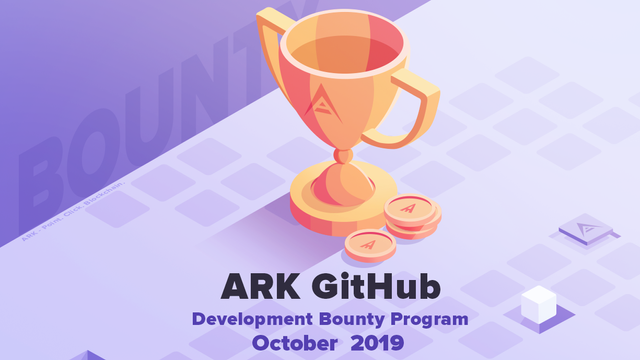 Octobers' GitHub Development Bounty Program has concluded, in this blog we will go over all of the winners. It was a very busy month with a lot of community development, for that we want to thank each and every one of you. This program runs nonstop throughout the year, so it is never too late to join in.
Recently we updated our bounty structure, where we have doubled the tier rewards and also added a bit of competition to the program. We are also running a special Core v2.6 bounty that can net you up to $100 just for reporting issues, to learn more read this blog post.
Thanks to all of the developers for their continued contributions! Be sure to spread the word about our bounty program to help us get more developers involved and contributing to the ARK Ecosystem, not only improving the codebase but also giving developers a way to learn and earn.
Don't know what this is about and want to get involved?
Please have a read at https://ark.io/bounties and also look at other bigger Tier 0 projects at https://ark.io/projects.
Here are the participants and contributors of the October 2019 GitHub development bounty program!
dated — $880 USD+20% BONUS ($176 USD) = Total: $1,056 USD
Number of pull requests: 59
ciband — $240 USD+10% BONUS ($24 USD) = Total: $264 USD
Number of pull requests: 12
Lemii — $220 USD+5% BONUS ($11 USD) = Total: $231 USD
Number of pull requests: 7
alessiodf — $200 USD
Number of pull requests: 7
Other Contributors
Special thanks to other contributors who also helped in October with pull-requests, improving documentation, fixing typos and other fixes! We are extremely happy to see our vibrant and enthusiastic community involved in the path we are walking together!
NayiemWillems
Number of pull requests: 1
moazzamak
Number of pull requests: 1
biolypl
Number of pull requests: 1
Are there any other development bounties going on?
Yes! There is also the community-run ACF (ARK Community Fund) — read more here: **http://arkcommunity.fund/**
Earn ARK Tokens for Testing
Want to earn ARK by testing out the newest Core v2.6? With our Core v2.6 bounty, you can get involved with the public testing in exchange for rewards.
**Earn up to $100** in ARK tokens for each issue you report related to Core v2.6 and all the new transaction types. But wait there's more, reporting issues could net you a spot on the **Leaderboard**, for a chance to receive an additional bonus reward of up to $1,000.
Start **reporting issues here** or join our #Devnet channel on the **ARK Slack** for more help. Get testing now to start earning!
Read our new 2019 whitepaper, Follow us on social media ( Twitter|Facebook | Reddit ), join our community ( Slack | Discord ) and stay tuned to our blog on Medium and on Steemit.