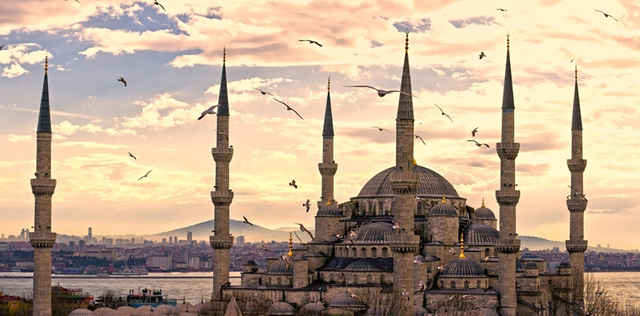 source
Architect Sinan is one of the few historical personalities that people have reached consensus on the genius.
Lived in the most glamorous period of the Ottoman Empire, he had built 84 mosques, 52 little mosques, 57 madrasahs, 7 schools, 22 tombs, 7 aqueducts, 8 bridges, 20 caravanserais, 35 mansions and palaces, 48 hammams, in the period of three different sultans.
It was effective to have lived for 98 years to give so many works. He was born in 1490, died in 1588. Architect Sinan was named genius who spoke with stone and was considered the peak of classical architecture of the Ottoman Empire.
Sinan who was born in the village of Ağırnas in Kayseri Province, became a soldier during the period of Yavuz Sultan Selim, and participated in the Iranian and Egyptian expeditions of Yavuz Sultan Selim.
One time army architecture could not make the desired bridge on a stream, he asked permission to make it, and he built a structure beyond the bridge. So much so that the commander would even consider leaving a unit behind to protect the bridge.
In 1533, during the Iranian campaign of the magnificent Sultan Suleiman, he gained great reputation by making three galleys in two weeks to go to the opposite shore on Van lake.
When Mihrimah Sultan, the daughter of Suleiman the Magnificent, have been seventeen, two people wanted to marry her. One of those who want to marry the girl was the governor of Diyarbakir Rustam Pasha and the other was Architect Sinan. The Sultan allowed his daughter to marry Rustam Pasha.
Sinan built the Mosque of Mihrimah Sultan at the request of Sultan Suleyman.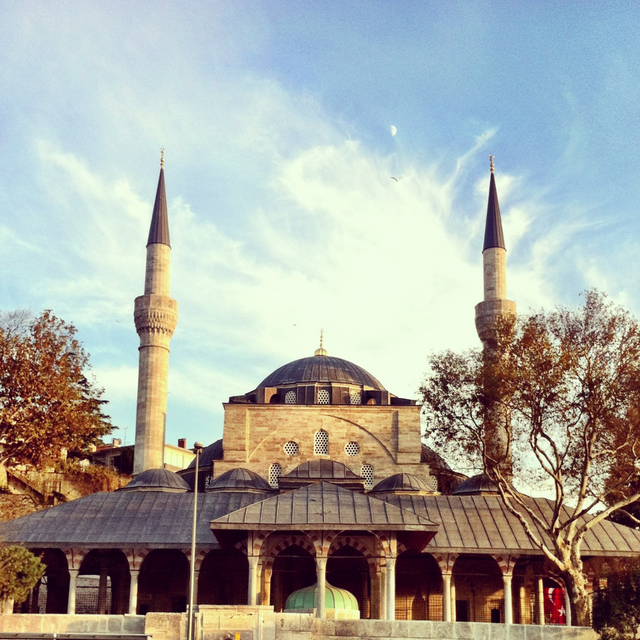 source
It is rumored that Sinan was inspired by Mihrimah Sultan, whose name means moon and sun, in the interior design of mosque.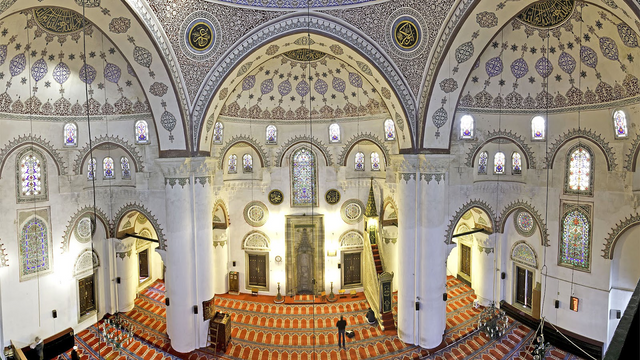 Years later, at the request of Mihrimah Sultan, Architect Sinan built a second mosque for her in Edirnekapi. Thanks to its numerous windows, it is said that the inner of the mosque reflects the light spirit of Mihrimah Sultan, who was a philanthropist person.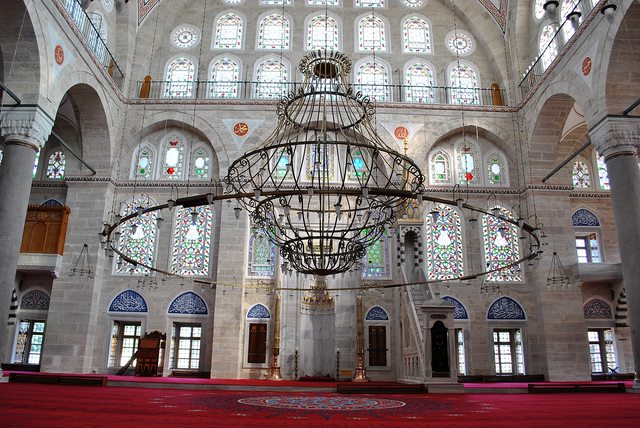 source
One of the most important features of Sinan architecture is the fact that the main dome was built by supporting semi-domes in mosques. This feature is clearly seen in the Istanbul Şehzade complex, which he called apprenticeship of my work and built between 1543 and 1548.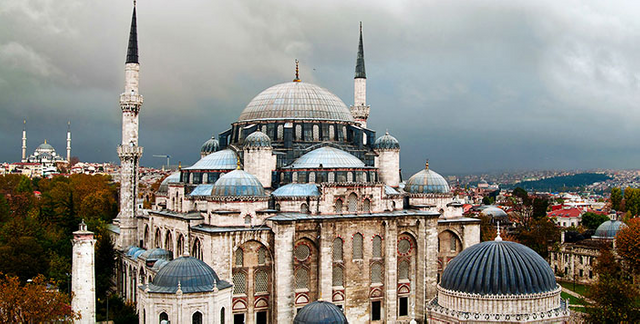 source
Sinan was a very good engineer. Before building the mosque of Suleymaniye, he made the foundation excavation and put heavy rocks on the ground for the soil to settle and waited for 5 years.
Mimar Sinan built arches in the underground to keep the air pleasant in the Süleymaniye Mosque. On these arches and channels located in the middle of the base of the mosque, wooden doors were placed and continuous air sand was provided from below. Thus, the air of the mosque is intended to be clean and cool in summer and warm in winter.
One of the important features of his architecture is the use of symbols in every work he does. For example, the number of domes used was based on the sequence of Ottoman sultans.
It is rumored that he drank narghile in the mosque while he was building the Süleymaniye Mosque and he used the sound of the narghile to adjust the acoustics of the mosque.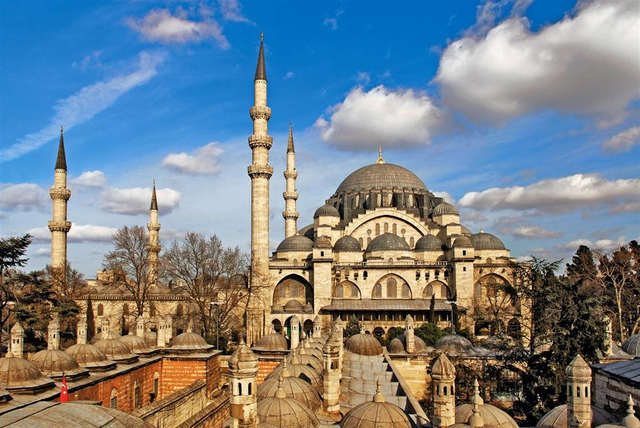 Source
Besides the mosques, he has built mansions, bridges, and waterways. One of the works shown below is Topkapı Revan Pavilion.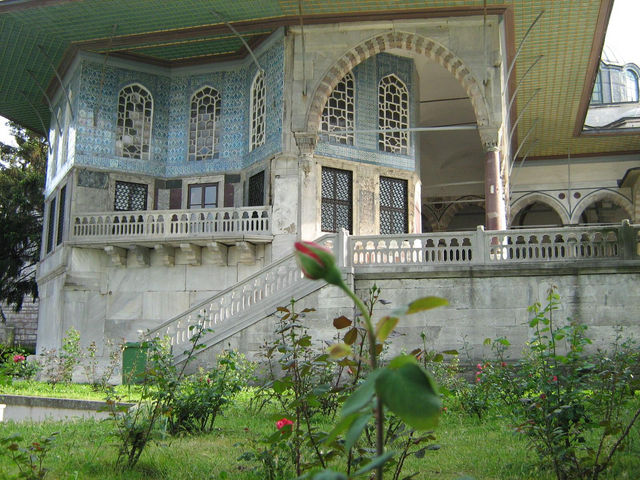 [source] http://www.topkapisarayi.gov.tr/tr/content/revan-k%C3%B6%C5%9Fk%C3%BC)
Mimar Sinan was in his 90s when he completed the Selimiye mosque, which he called his mastership work. It is said that he built the mosque in Edirne instead of Istanbul because of his respect for the Hagia Sophia and its architecture, which was built 1000 years ago. The dome width of Hagia Sophia and Selimiye is almost the same, the dome height of Hagia Sophia is 55.60 meters and Selimiye's is 42.25 meters.
The minaret in Selimiye Mosque has been reached with three different stairs starting from the same height and turning over each other.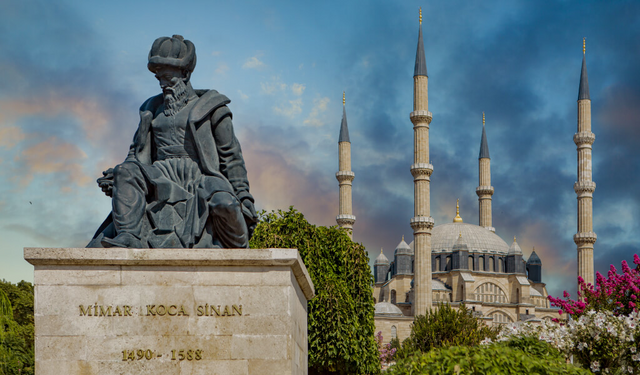 source
Architect Sinan placed 32 large windows on the dome and hundreds of small windows on the walls to illuminate this huge structure. The mosque is perfectly illuminated thanks to its masterfully planned positions and the interior decorations of wood, mother-of-pearl and, tile, which are as fascinating as the architectural techniques of the mosque.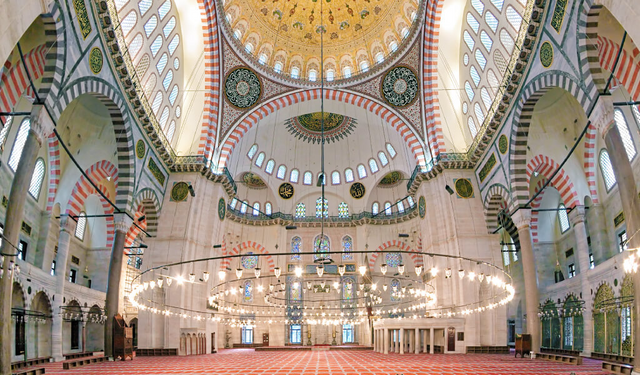 source
Selimiye mosque was included in the UNESCO World Cultural Heritage List in 2011.
Sinan worked with many students throughout his long life. The student of Sinan, Sedefkar Mehmet Ağa built the Sultanahmet Mosque and Isa Muhammed Efendi built Tac Mahal.
The contribution of Architect Sinan, who has also repaired the Hagia Sophia, in the creation of the identity of Istanbul, is great.


source
Thanks for reading.

Mimar Sinan dehası ve büyüklüğü konusunda görüş birliğine varılan az sayıdaki tarihsel kişilikten biridir.
Osmanlı İmparatorluğu'nun en şaşalı döneminde yaşamış, üç ayrı padişah döneminde 84 cami, 52 mescit, 57 medrese, 7 okul ve darülkurra, 22 türbe, 7 su yolu kemeri, 8 köprü, 20 kervansaray, 35 köşk ve saray, 48 hamam olmak üzere 350'yi aşkın yapı gerçekleştirmiştir.
Bunca fazla eser verebilmesinde 98 yıl yaşamış olması etkili olmuştur. 1490 yılında doğmuş, 1588 yılında ölmüştür. Mimar Sinan taşla konuşan deha olarak isimlendirilmiş, Osmanlı İmparatorluğu klasik mimarisinin zirvesi olarak kabul edilmiştir.
Kayseri ilinin Ağırnas köyünde doğan Mimar Sinan Yavuz Sultan Selim döneminde yeniçeri olmuş ve Yavuz Sultan Selim'in İran ve Mısır seferlerine katılmıştır.
Bir sefer sirasinda ordu mimarinin bir akarsu üzerinde istenen köprüyü yapamaması üzerine, yapmak için izin istemis, ortaya köprüden öte bir yapı çıkarmıştır. Öyle ki sefer komutani, köprüyü koruması için arkada bir birlik bırakmayi bile düşünmüştür.
1533 yılında Kanuni Sultan Süleyman'ın İran Seferi sırasında Van Gölü'nde karşı sahile gitmek için iki haftada üç adet kadırga yapıp donatarak büyük itibar kazanmıştır.
Kanuni Sultan Süleyman'ın kızı Mihrimah Sultan on yedisine bastığında, iki kişi onunla evlenmek ister. Kızla evlenmek isteyenlerin biri Diyarbakır valisi Rüstem Paşa diğeriyse Mimar Sinan'dır. Padişah kızını Rüstem Paşa'ya verir.
Sinan Üsküdar'da, Kanuni Sultan Süleyman'ın isteğiyle Mihrimah Sultan Camii'ni yapar. Camiyi yaparken, eserine sanki "etekleri yerleri süpüren bir kadının" dış çizgilerini verir.
Sinan'ın caminin iç tasarımında da ismi ay ve güneş anlamına gelen Mihrimah Sultan'dan esinlendiği rivayet edilir.
Mimar Sinan yıllar sonra bu kez Mihrimah Sultan'ın isteğiyle Edirnekapı'da onun için ikinci bir cami yapar. Çok sayıda penceresi sayesinde caminin içinin hayırsever bir insan olan Mihrimah Sultan'ın aydınlık ruhunu yansıttığı söylenir.
Sinan'ın en önemli özelliklerinden biri camilerde ana kubbeyi yarim kubbelerle destekleyerek inşa ettirmiş olmasidir. Çıraklık eserim olarak nitelediği ve 1543-1548 yılları arasında inşa ettirdiği İstanbul Şehzade Külliyesi'nde bu özellik açıkça görülmektedir.
Mimarlığının yanı sıra çok iyi bir mühendistir. Süleymaniye Camisini inşa etmeden önce temel kazısını yapıp toprağın oturması için zemine ağır kayalar yığarak 5 sene bekletmiştir.
Mimar Sinan, Süleymaniye Camisinin içinde devamlı olarak hoş ve güzel hava bulundurmak için yeraltında yollar kazdırmış ve kemerler yaptırmıştır. Caminin tabanının orta kısmında yer alan bu yollar üzerine tahtadan kapaklar konularak aşağıdan sürekli hava kımı gelmesi sağlanmıştır. Böylece caminin havasının temiz ve aynı zamanda yaz aylarında serin, kış aylarında ise sıcak olması amaçlanmıştır.
Mimarlığının önemli özelliklerinden biri de yaptığı her eserde simgeler kullanmaktır. Örneğin kullandığı kubbe sayılarında padişahın kaçıncı Osmanlı padişahı olduğunu baz alırdı.
Süleymaniye camiini yaparken camide nargile içdiği, nargilenin fokurtularından yararlanarak caminin akustiğini ayarladığı rivayet edilir.
Mimar Sinan, Yavuz Sultan Selim, Kanuni Sultan Süleyman ve II. Selim'in padişahlıkları döneminde yaşamış, 50 yıla yakın bir süre baş mimar olarak görev yapmıştır. Camilerin yanı sıra köşkler, köprüler, su yolları yaptırmıştır. Aşağıda eserlerinden biri olan Topkapı Revan Köşkü yer alıyor.
Mimar Sinan ustalık eserim olarak isimlendirdiği Selimiye camiini tamamladığında 90'lı yaşlarındaydı. Kendisinden 1000 yıl önce yapılmış olan Ayasofya'ya ve mimarlarına saygısından dolayı camiyi İstanbul yerine Edirne'de yaptırdığı söylenir. Ayasofya ile Selimiye'nin kubbe genişliği hemen hemen aynıdır, Ayasofya'nın kubbe yüksekliği 55.60 metre, Selimiye'ninkiyse 42.25 metredir.
Selimiye Camii'nde yaptığı minarenin üç şerefesine aynı yükseklikten başlayıp birbirinin üzerinden dönerek çıkan üç ayrı merdivenle ulaşılmasını günümüz mimarları bile zihinlerinde güç canlanlandırmaktadırlar.
Mimar Sinan bu dev yapıyı aydınlatmak için kubbeye 32 adet büyük pencere ve duvarlara yüzlerce küçük pencere yerleştirmiştir. Pencerelerin ustalıkla planlanmış konumları sayesinde cami mükemmel şekilde aydınlatılır ve caminin en az mimari teknikleri kadar büyüleyici olan ahşap, sedef, mermer ve çini iç süslemeleri de keyifle seyredilir.
Selimiye Camisi 2011 yılında Unesco Dünya Kültür Mirası listesine dahil olmuştur.
Sinan uzun yaşamı boyunca çok sayıda öğrenci yetirtirmiştir. Sultanahmet Camii'ni inşa eden Sedefkar Mehmet Ağa ve Tac Mahal'i inşa eden İsa muhammed Efendi Mimar Sinan'ın öğrencileridir.
İstanbul'un bugünkü kimliğini kazanmasında Ayasofya müzesini de onarmış olan Mimar Sinan'ın katkısı büyüktür.
Işıklar içinde uyusun.