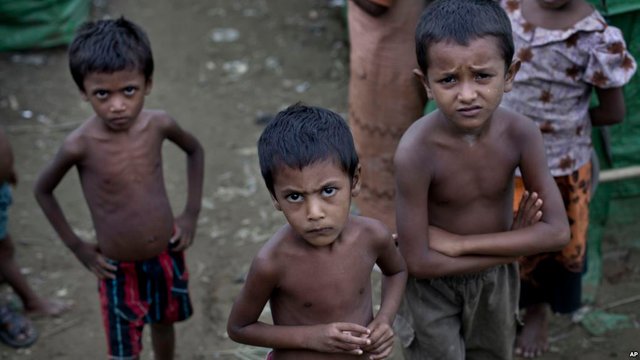 <br/
By Rohingya Vision TV Correspondents | 22th June 2018
Buthidaung:
Remaining Rohingya children are lingering with food scarcity, malnutrition and denial of health care, since the deadly clearance operation hit Arakan (Rakhine) State in late 2017.
Children under the age of five are suffering from severe malnutrition and health issues, due to scarcity of food and cutting off access to healthcare, from both government and non-government services.  
Rohingya boys stand in Burashiddafara (U Shey Kya) village outside Maungdaw in Arakan (Rakhine) state, Myanmar in 2016. Image: Reuters
 
Since the violent state-sponsored clearance operation hit Arakan (Rakhine) State last year, remaining Rohingya in village tracks of Maungdaw and northern Buthidaung Township are under immense restrictions by government authorities.
In those village tracks, Rohingya are hardly allowed to earn some livelihood and are starving on daily basis.
Due to heavy restriction of movement and livelihood activities, situation became unbearable for the remaining Rohingya.
Moreover, children and elderly are at major risk of losing their lives, due to lack of immediate healthcare and travel restriction.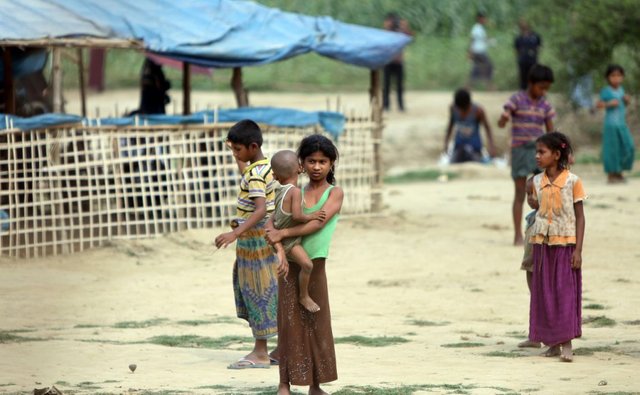 Rohingya children who fled from their towns after the violence in the state of Arakan (Rakhine), are seen behind a fence on the border line outside Maungdaw, Myanmar March 31, 2018. Image:Reuters
 
In addition, healthcare centers under NGO's like ACF, MSF, etc have also been shut down since the massacre erupted on Rohingya last year.
This monsoon have added to the ongoing human-made catastrophe and have left the lives of the children at greater risk.
Cutting off access to health care is a rooted genocidal tool since decades, where many thousands of Rohingya have lost their lives, which could be saved.
 
Watch Exclusive Documentary on Deprivation of Healthcare:
http://www.rvisiontv.com/deprivation-of-healthcare-in-arakan-rohingya-genocide/
To send reports and feedback, please email editor@rvisiontv.com

---
Posted from my blog with SteemPress : http://www.rvisiontv.com/rohingya-children-lingers-with-food-healthcare-scarcity/
---