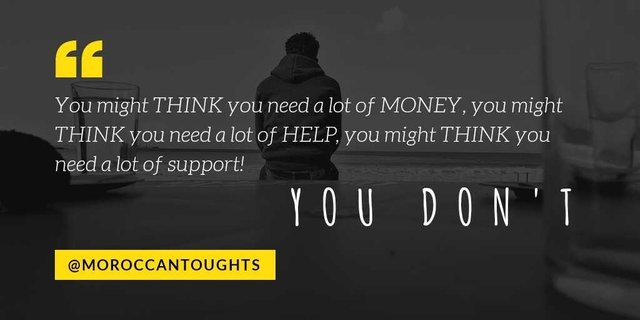 ---
Hello All Dear Steemit Friends,
---
Hi guys, I'm talking to you, you are 18-24 years old, what's more important is, I want to understand how big your dreams are, and more importantly, what are you doing about them? A lot of you think big , Dream big , but try to act big , try to act small instead , so "dream big, act small", let me explain :
Small acting means breaking down that big target into very very small achievable goals.
what are you gonna do today !?

What will you do?

What are you gonna do tomorrow?
Acting small means what is in your power to do , what is within your control to do! Don't depend on anyone, do not rely on anything, do not think that someone will sign money in your lap! Because that's not gonna happen.
Dream big. ... Act small ... Start doing ... Start acting ... Start speeding ... Start working ... And only then you will achieve your big goals 👌
---
---
مرحبا يا جماعة ، انا أتحدث اليكم ، انتم الذين تبلغ أعماركم بين 18-24 ، الأمر الأكثر أهمية هو ، أريد أن أفهم مدى كبر احلامكم، و الأهم من ذلك، ما الذي تفعلونه بشأنها؟ الكثير منكم يفكر بأشياء كبيرة و يحلم بأمور كبيرة ،و لكن يحاول أن يتصرف بشكل كبير ، جرب أن تتصرف بشكل صغير بدلا من ذلك ، إذن "أحلم كبيرا و تصرف صغيرا" ، دعوني أوضح:
التصرف الصغير يعني تحطيم ذلك الهدف الكبير إلى أهداف صغيرة جدا قابلة للتحقيق.
ما الذي ستفعله اليوم!؟
ما الذي ستفعله غذا !؟
ما الذي ستفعله بعد غد !؟
التصرف الصغير يعني ما الذي بوسعك القيام به ، ما هو في حدود سيطرتك للقيام به ! لا تعتمد على أي أحد، لا تعتمد على أي شيء، لا تعتقد بأن شخصا ما سيوقع أموالا في حضنك! لأن ذلك لن يحدث.
** أحلم كبيرا. ..تصرف صغيرا ... ابدأ الفعل ... ابدأ التصرف ... ابدأ الإسراع... ابدأ العمل ...و فقط حينها ستحقق أهدافك الكبيرة 👌 **
---
Thanks For Reading My Post
---
Follow and Vote for Witnesses to Support the overall development of Steemit and Steem Blockchain.
---
---
If you have any questions, please do not hesitate to post them in our comments or our discord channel.