Aqarchain is a decentralized real estate investment platform that will facilitate investing in the real estate sector more easily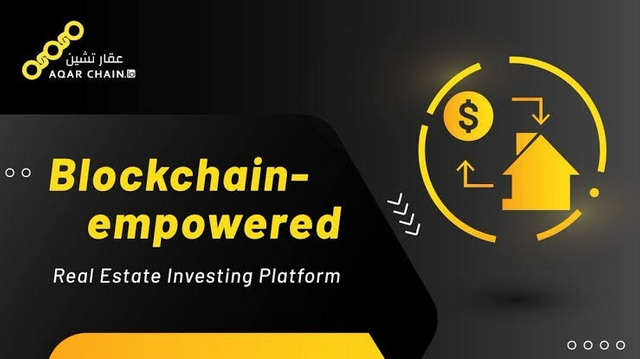 Blockchain technology can be applied in various sectors globally. For example, in the Real Estate sector, blockchain technology is very helpful in creating a decentralized ecosystem that makes it easier for investors to invest in the Real Estate sector. Blockchain technology can make investments in the Real Estate sector as young as investing in the stock market. With this, the Real Estate sector can develop in the future. This is the solution offered by Aqarchain, an investment platform that makes it easy for people to invest in the global real estate sector. The solutions offered by Aqarchain make it easy for people to own real estate properties in the form of fractional ownership. In this way, users globally can invest in potential properties more affordable and easier.
And to ensure that the user's investment is completely safe, all properties listed on Aqarchain have gone through an evaluation stage consisting of several processes before being launched on the launchpad platform. This method is considered effective because this evaluation process will eliminate properties that have the potential to scam or have no future.
Real Estates:
Real Estate is one of the best options that can be chosen as an investment option at this time, the scheme is quite easy to understand and very diverse so that it is everyone's favorite, starting from renting out or buying and selling the property itself. Compared to Gold Real estate offers greater potential with a more stable value and its value continues to increase every time with a significant difference compared to Gold, Real estate offers a reliable income flow option but even so compared to gold has a greater drawback, Real owners Estates need to go through various complicated regulatory processes and taxes that are quite confusing if you don't understand, large maintenance costs can actually make you lose if not managed properly, the required capital is also quite large considering property prices are very high compared to Gold, So overall Real Estate will be effective if managed by experienced investors/developers with large capital.
What is Aqar Chain?
Aqarchain is a blockchain-powered real estate investing platform whose aim is to create a decentralized ecosystem where investment in real estate is as easy as investing in shares on the stock market. Aqarchain is a technology-driven platform that enables digitized real estate solutions to provide users with exceptional strongest security and safety measures.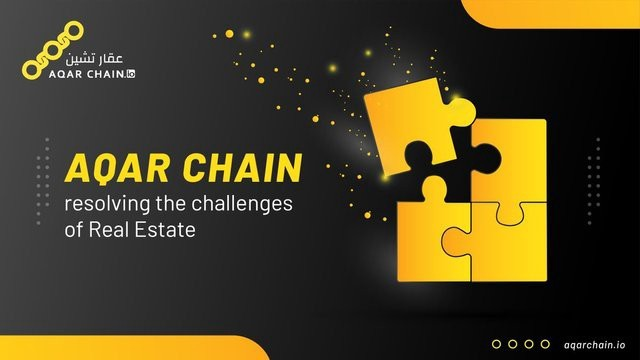 Features of Aqarchain :
Aqarchain is a decentralized real estate investment platform that will facilitate investment in the real estate sector more easily. The features offered by Aqarchain enable users to be able to invest in the real estate sector as easy as investing in stocks in the stock market. A solution like this will make it easier for users to invest with smaller capital in potential properties. But that's not all, there are several other features of Aqarchain: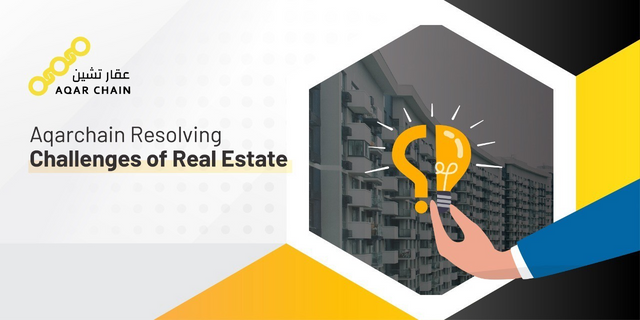 Decentralized Listing of Deals: prior to listing on Aqarchain, properties will go through an evaluation stage and will be voted on by the governance to determine whether they can be listed or not.

Property On-Boarding: Aqarchain team will evaluate properties before listing them on the Launchpad platform. This is to ensure that the properties listed are of really high quality.

Property Listing Metrics: Aqarchain has its own parameters to be able to calculate the value per share, gross yield, and ROI of the properties to be listed.

NFT Fractionalization: to be able to secure all fractional ownership of property properties, Aqarchain uses the NFT protocol to be able to secure digital assets in blockchain technology. Later the fractional ownership will be stored forever in the user's digital wallet.

Property Share: users can buy property shares using cryptocurrencies such as BTC, ETH, BNB, and other cryptocurrencies easily and securely.
AQR Token Utility :
AQR token is staked on the Aqarchain platform to earn rewards
AQR Token will be used to buy a property through USDT.
An AQR/USDT pool will be available for the property purchase.
The sellers of the property benefit by getting less volatile.
AQR token is a fundraising instrument for early participants.
AQR Token will be used as a reward.
Tokonomics
Token Name: AQAR Token
Token Symbol: AQR
Blockchain: Tezos
Token Supply: 100 million Tokens
Token Price: $0.45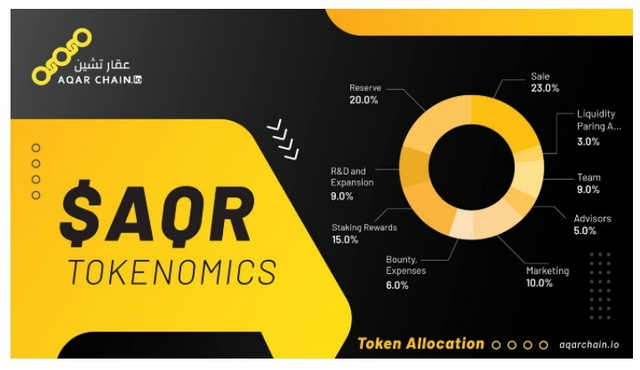 Roadmap :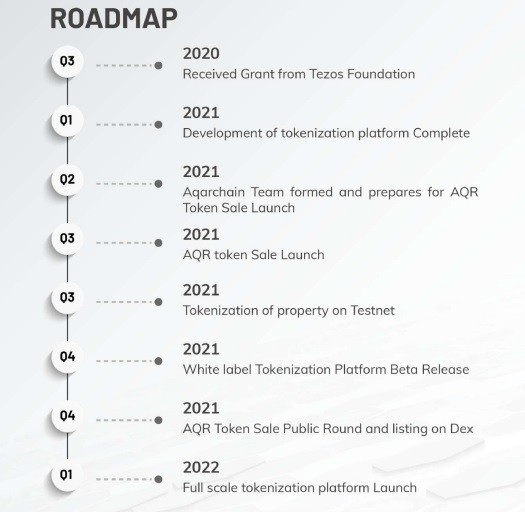 Team :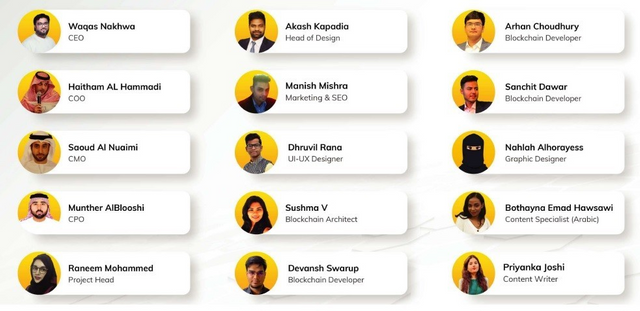 Conclusion :
Aqarchain has gainfully embraced blockchain development that gets customer assets and characters through best in class cryptography so every trade in the blockchain structure can't be changed. With the Aqar Chain's blockchain-based advancement, land associations needn't waste time with an outcast to affirm trades. Right when you pick Aqarchain, you are most likely going to manage an enormous number of tasks including asset ownership, return portions, issue of tokens to monetary supporters, spread of advantages, and a couple of various limits including token trades, check, trading, and exchange.
#aqarchain #blockchain #realestate #tezos #crypto #tokenization
For More Information Please Kindly Visit The Links Below:
Username: ciung_lee
Profile : https://bitcointalk.org/index.php?action=profile;u=2712533
ETH Wallet Address : 0xbbf45879ACDe58E653BdF0422e873Ebf03aDc491