Well, I'm supposed to be starting on this appreciation post, except I'm not in a very appreciate mood just right now. See, there is someone outside who's making noise. Like a lot of noise. I think they're cutting tree branches or something and the only thing keeping me from going outside and in turn cutting their respective heads is this post. Oh right, and jail time. I do not want to do jail time, basically because there are a lot of cool concerts in the near future. And that would be a loss.
So, I shall crank up any music I can find and get on with it.
Right, now that's done with, let me explain. Yesterday, @galenkp came up with this wonderful initiative called appreciation. Funny little concept and I'm not sure how much it will catch on in today's self-obsessed world, but still, I figured we could give it a try.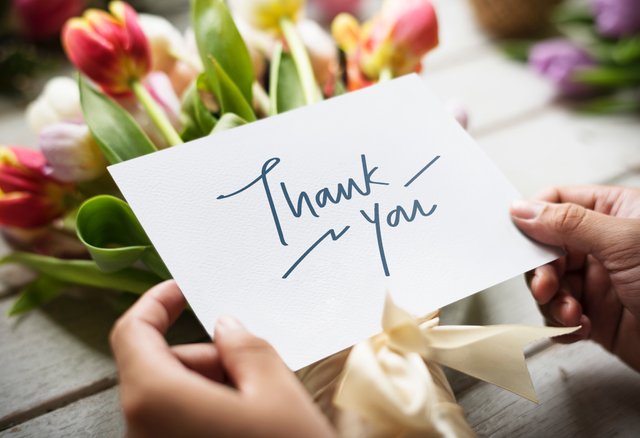 Photo by rawpixel on Unsplash
The idea is this, you take a person you appreciate and you're happy they exist and all that and you write a post about it. Ideally, a Steemian and you tag them, so they see it and they know you appreciate them and then maybe, they do it too and so on. I mean, sure you could just go appreciate a friend or family or whatever but seriously, there isn't one Steemian you appreciate on the whole platform? What kinda dick are you?
Okay no, still not very appreciative. Moving on.
So, @galenkp mentioned my name and now, I kinda have to do the same. Nah, just kidding, he'd be on here even if he hadn't said good things about me. Now, that's one of the things I appreciate about you, Galen, you say nice things about me. That and you're a smart dude who thinks for himself and seems to understand what's important in life. Which doesn't really happen much in today's world.
Ever since I read your motto thing (remember, you used to sign your posts with that?) about designing your ideal life and most importantly, not living by default, I knew you'd be someone I'd get along with.
But you know that already, you know we think the same in many respects, otherwise we wouldn't be friends. I appreciate the fun conversations we have and the fact you like stranger-gazing as much as I do. Well, by this I mean I like that you also are a keen observed of people which prompts some truly interesting posts and conversations.
You're one of the (very) few people I actually like. And that should tell you something.
Right, who else do I like around here?
@celestal – there's a fun guy, another Steemian I appreciate. Mainly because you seem to be thinking outside the box, like myself. You're honest and I like that you're not following any sort of traditional path and sort of doing your own thing. That's rare in today's beige, boring society, also.
You're one of the few Steemians I read constantly. I mean actually read, not just vote by default or whatever.
@teodora whom I am so glad I met at SF last year, even though we didn't get to spend that much time together. Interestingly, SF was this gateway for many Steemians to meet 'cause like you got introduced at SF and even though there wasn't some instant connection or whatever, you got talking later and found you had so much in common and they were really wonderful people. Well, that's what it was like with @teodora. I see in you a kindred spirit and I love that, like @celestal, you're doing your own thing. I like that you travel a lot and you seem to be a person with a great love for the world around. You're funny and smart and I love reading your posts/watching your videos. You're often this quiet person, in the sense that you don't much like to stand out. That's the feeling I get, anyways. And you give and support this community, even though the community isn't always as supportive as it should be. And that shows a lot of generosity. Keep doing what you're doing, you're an awesome Steemian and I'm glad to know you.
@tarazkp definitely up there because when I was really very small on this platform (as opposed to now, when I am practically a whale), he did this wonderful thing and delegated me 100SP, so I could break the 500SP mark and get a slider of my own, so I wouldn't wear all my VP out. And he does that for a lot of people, not saying anything about it, you know, quietly supporting the community. And I just love that. It's something I'll be eternally grateful for. And besides, you're a really awesome human being who works (too) hard. I've always loved your photography and your thought pieces and I'm really glad you're around here.
@ericvancewalton You are by far my favorite writer on this platform, but I've told you that already time and again. Beside the fact that you seem like a truly awesome person in real life, you're also a kind encourager of the community. I'm always happy to see one of your posts in my feed, because I know it's going to be interesting and probably very well written. You have interesting ideas in your head, which isn't something I say very often and I'm truly happy to have met you.
Right, obviously, I appreciate my mom @ladyrebecca for many different reasons, but I'm not going to write them all here because she would probably kill me.
Anyway, last person I want to give a shoutout to in this appreciation post is @richq11, who was one of the first people I encountered on Steem and I liked him immediately. He is kind and clever and creative and a true gentleman. You are a very dedicated man, which is clear through your writing. From the posts about family, to the ones about abuse and politics, to the fiction, I always love reading you and I am really happy to see you're writing so much. You so kindly traded me a copy of The Night Gods (which I loved, by the way) in return for a copy of Grimmest Things and that was such a sweet gesture. I'm really enjoying reading this new story as well. [Seriously, people, go check it out!]. And I'm really happy you're on here and that I know you.
You were right, @galenkp, this was a good idea. It's a great feeling telling people how much their existence means to you and how happy you are they're around. Sometimes, knowing there is a person who appreciates what you're doing can change the way you view things completely.
Everyone, feel free to do this challenge yourselves. It's a really great feeling, beside giving you a good thing to write about. And remember, the more people tagged (and the more resteems @galenkp's post gets) the more people are going to share in this wonderful feeling.
P.S.: Notice how much difference in attitude a set of headphones does for a girl.
Thanks for reading,