Hi guys, I am Ravi from New Delhi the capital of India. I always love to know about gadgets and technology related stuff. This is my first post on steemit. Hope this post might help some of you who are planning to buy an iPhone X or just want to know more about it. Moving forward I will mention some of the key points in between this article which can help you making the right decision. Also, I won't be talking about hardware specifications because every year with a new launch we see improved hardware and performance. I am sharing photos taken by me in this post.
Day before yesterday, I had a visit to an apple store near my home just because I wanted to look at the hype creating phone all over the world yes you might have got its name right that's an iphone X or rather I should say iPhone 10. First question : Where is the iphone 9? So most of you might already know that apple had released its first iPhone 10 years back that's why they have named this special iphone as iPhone 10 or in roman number system iPhone X and thus they have released it in parallel along with iPhone 8. Hope we would see iPhone 9 by next year.
Coming back to my visit to an apple store. As soon as I entered the store I was spell bounded by looking at this one beautiful device kept at the front middle desk running an animation, placed tilted appropriately at a clean white desk.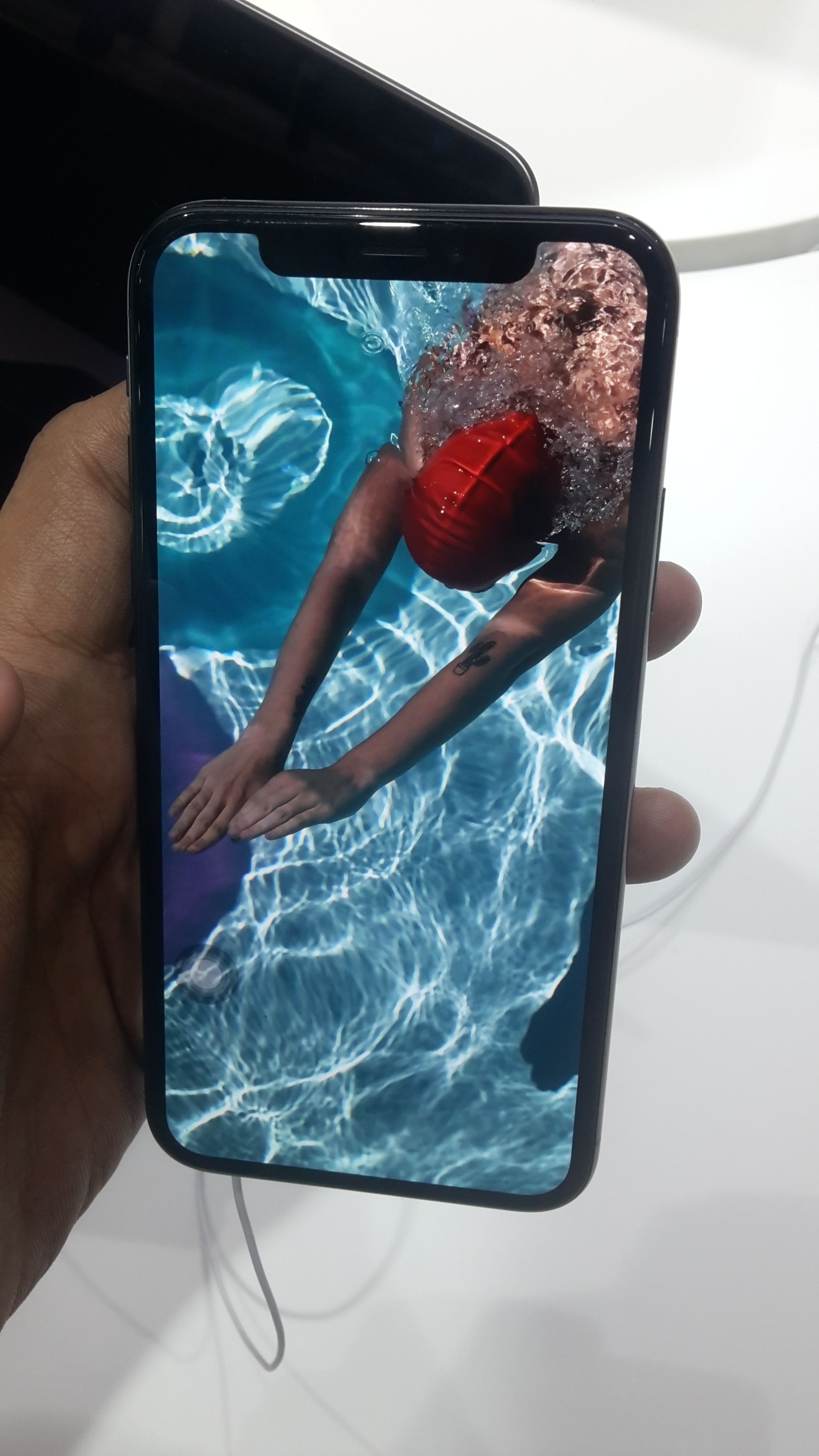 'Oh my God' is it the device in real which I was following on the Internet from past couple of weeks. 'Wow' was the first word which was running all over my mind as I removed that iPhone X from its dock and held it firmly in my hand. First thing which anyone would easily notice is its beautiful full screen bezel-less front display with only a small portion reserved on top for camera and other sensors. I started playing with it along with observing its behavior and reactions to my input via its interface.
'Full screen Display' : Like I mentioned above iPhone X's first noticeable thing is it's 5.8" display which is greatly placed
in this compact sized device. I never liked keeping big phones in my pocket so these bezel-less revolution can help people like me who doesn't like to hold big sized devices and also doesn't want to loose big screen entertainment.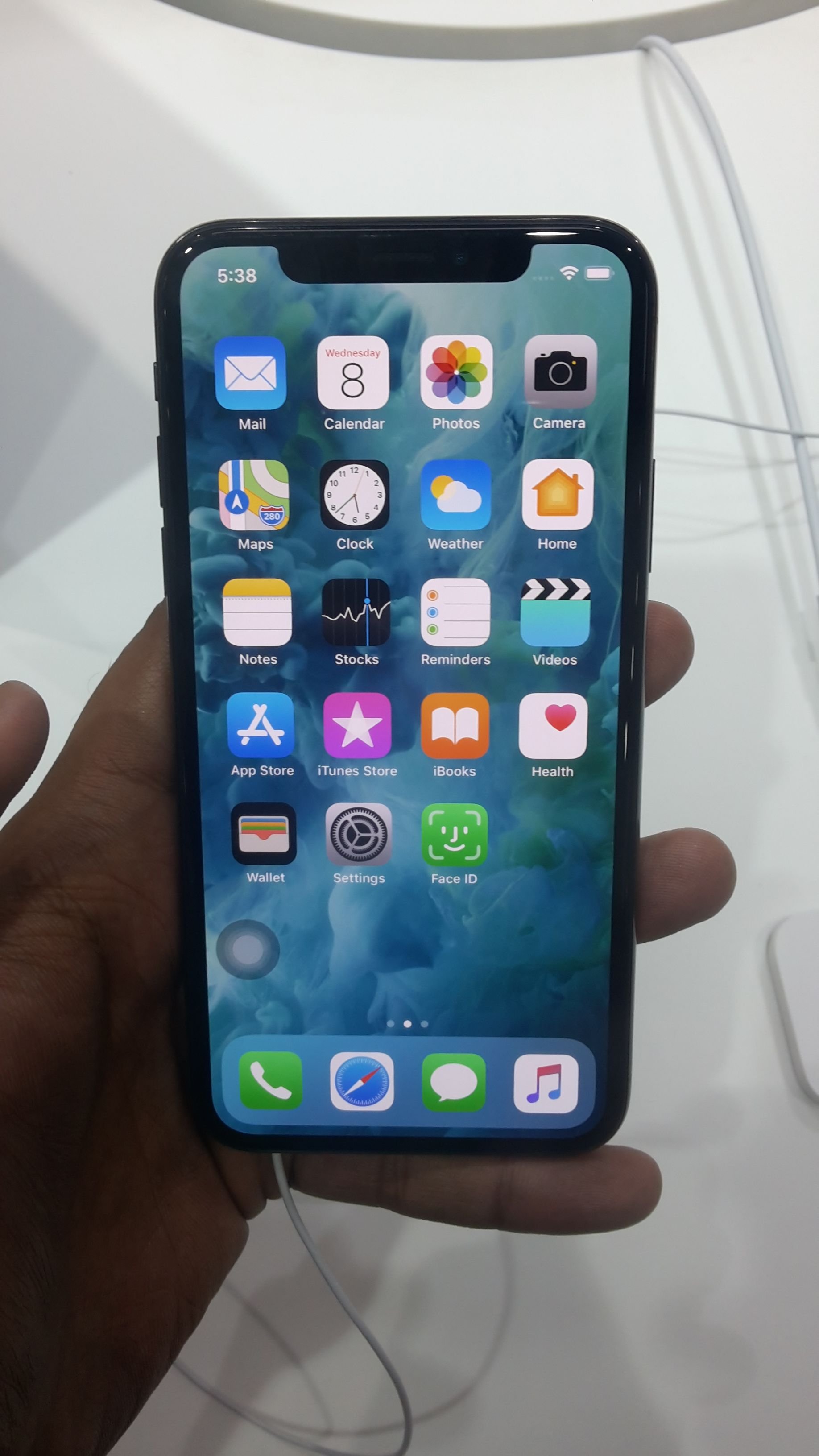 Though it has a great design but somewhere I felt its design to be copied or I should say inspired from 'essential phone' by creator of android Andy Rubin. As essential phone also has a small portion cut from display at the top for camera positioning in its bezel-less display. Essential phone is a little boxy while iPhone X has round edges.
My assumptions before seeing iPhone X was absolutely correct. Best part about this phone is the UI which creates an amazing user experience
'Gestures' : User would have a seamless experience by interacting with this phone on daily basis. Because of the gesture support. You does not need to keep pressing home button as there is no home button / touch id to close your app or come back to the home screen all you need to do is simply swipe from the bottom of the screen to upside and you are good to close any running app by closing I mean that you would come back to home screen and that app will be running in the background until you kill that.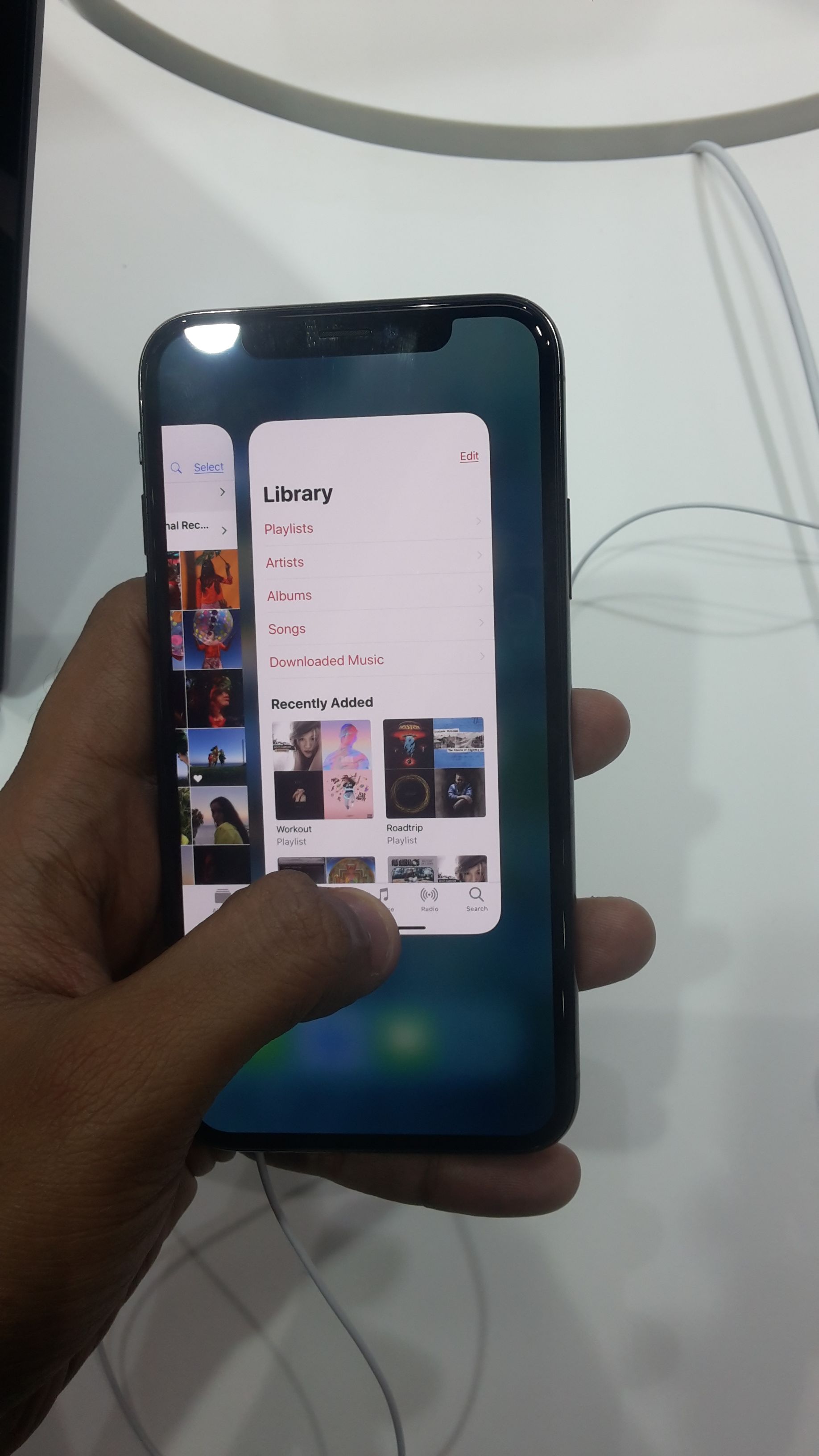 So by removing touch Id button at the front apple introduced gesture support which is not innovating. Why I am saying that because if you know about the dead - 'BlackBerry OS 10' you would feel the same. I had a Blackberry Z10 Limited Edition which I had ]for more than two years and it was an awesome phone I had ever used with truly innovative user experience gestures support and BlackBerry Hub. But BB OS10 could not survive the mobile industry due to less availability of apps and support from big development houses. But in contrast apple is now fully ready with gesture support and have all the amazing apps, developer support with it.
'No - Touch Id' : I can't understand why apple is so straight forward in making changes(removing things out of it's devices). Last year with the launch of macbook pro 2016 they removed all the input ports and introduced only Type-c port to their Macbook pro series. Similarly, this year they removed touch Id from iPhone X and introduced face-id. I am not saying that they have not done innovation in facial tracking area by providing touch id but why there was a need of removing touch id. '2 > 1' Apple could have provide a touch id sensor along with new face id by placing it at the back of the device if the full screen display was not allowing them to put it at front. But apple would not do that because they want to be them.
This year we have also seen some other great launches one of my personal favorite is Galaxy Note 8 by none other than Samsung. Note 8 is my one pick if you are looking to an alternative of iPhone X. I always liked their additional one key feature 'S-pen' my personal favorite as I love scribbling and taking notes. That is not just a stylus but its a digitizer which is being recognized by its pressure sensitive display . Note 8 screen is having more than four thousand pressure sensitive points which enables you to write in natural hand writing with spen. Secondly samsung has done great in eye-tracking recognition. You can unlock your phone by your eyes.
'Glass at the back' : Apple provided glass body this time in its devices so that they can be charge wireless please note that you need to buy wireless charger separately. But due to this I felt a major drawback which is heating issue. At the apple store when I was interacting with the X, I start feeling 'the heat' after only playing 2 pre-loaded videos. Thanks to the good looking glass at the back.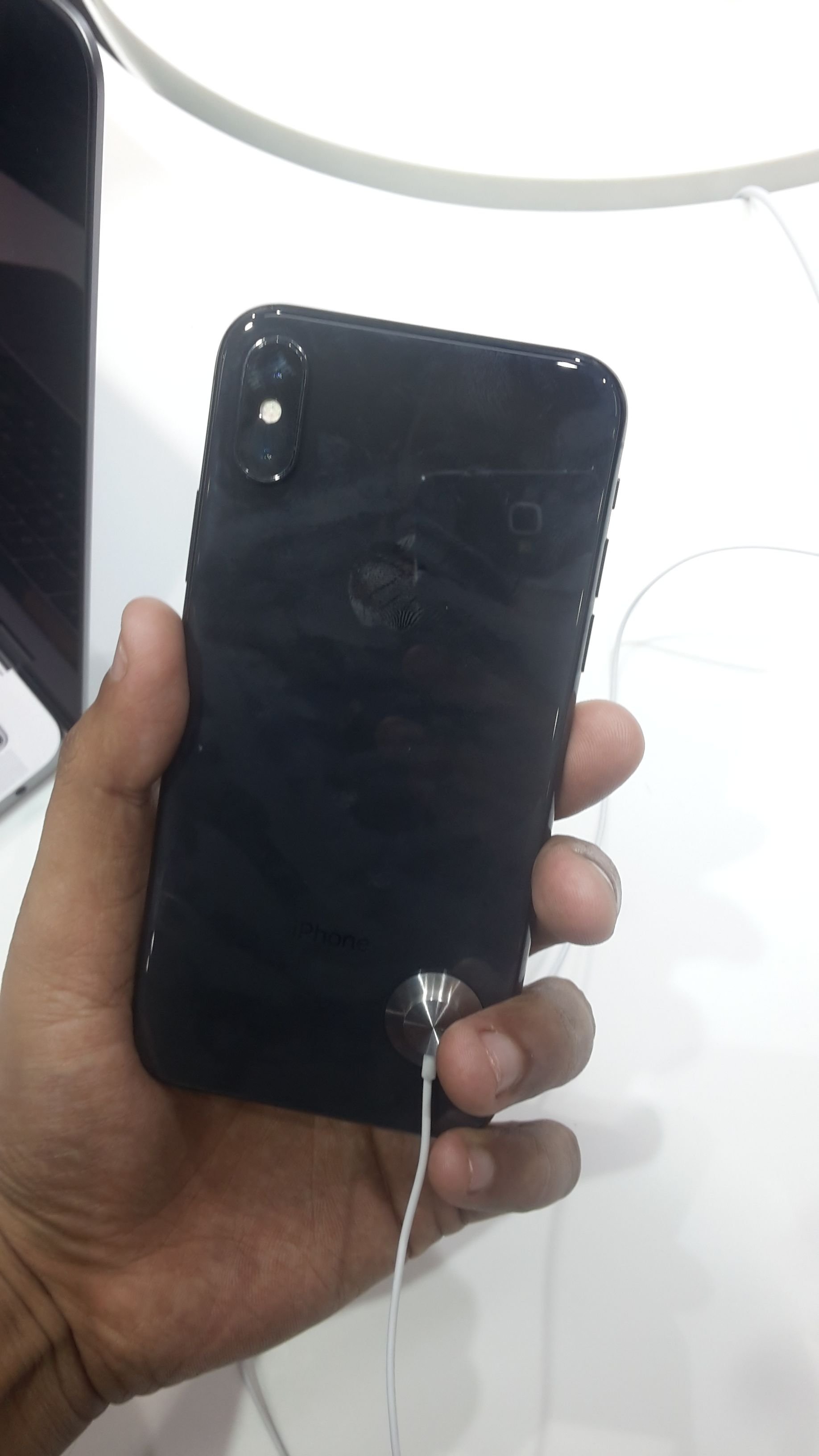 One question which comes in my mind is 'Why so late apple?' when other industry players are already giving wireless charging support from years why apple is so late in wireless charging. This year Samsung provided wireless charger in the box with their Note 8 launch offer in some countries. In India they have provided one time free screen replacement offer too. I don't want to imagine what a screen replacement would cost an iPhone X user. Surely, it would burn a big hole in their pocket.
'No Type-C' : Come on apple . World is moving to unify things even last year you have boldly replaced all the Macbook pro's input port to type-c then what happened to you this time. Big question is 'Why there is no Type-C' in iphone X or in any other iPhone why you still use your proprietary lightning port.
There is one more quick feature which I liked is Live-emoji which is based on face tracking it tracks your facial expressions and simultaneously records that into live emoji messages, one particular feature for female users.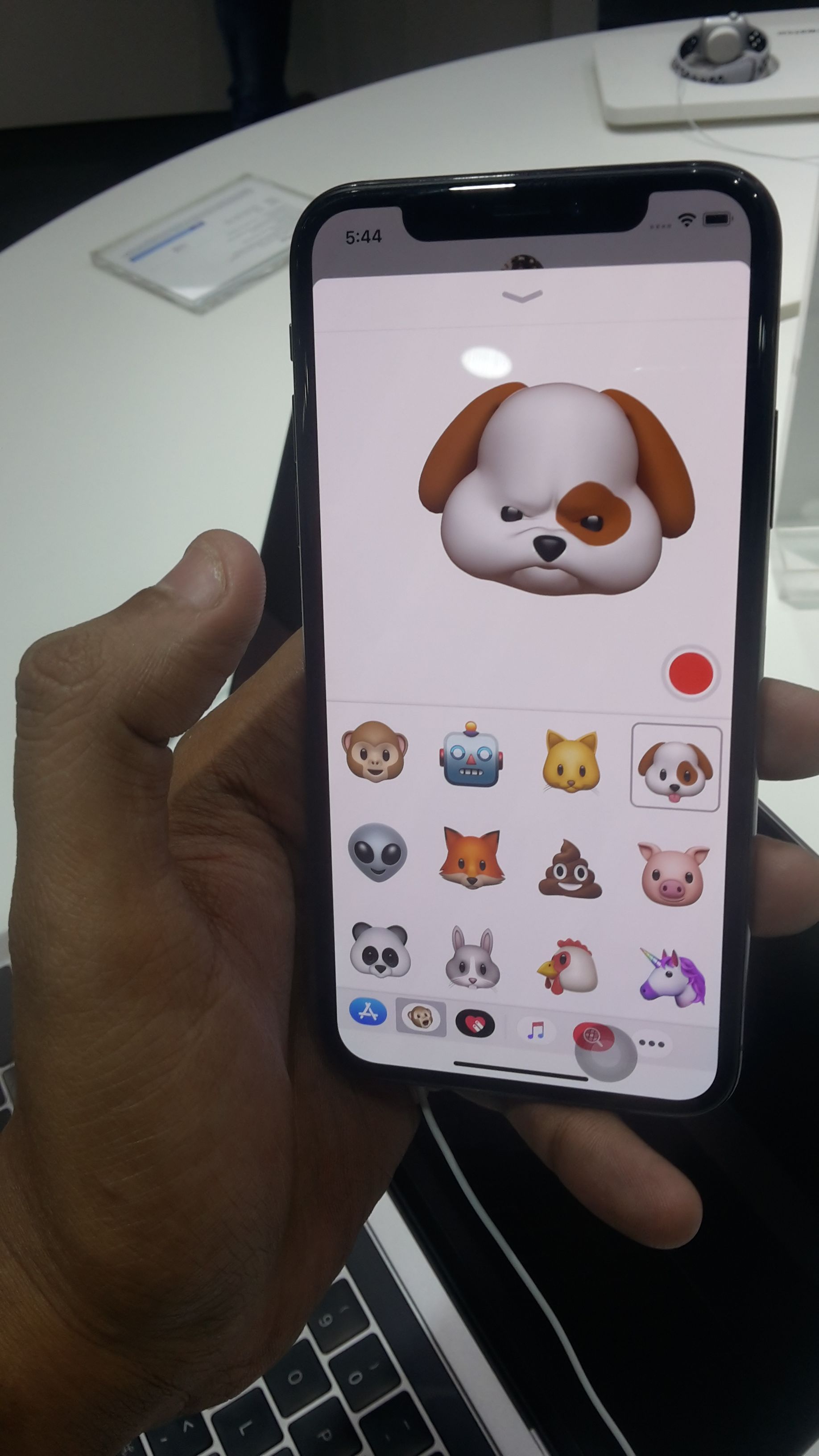 I made an angry face and look in the image that emoji was making same face nice work apple. Hope to see similar feature in other devices soon. Hope android developers are listening.
I would not talk about its hefty price and camera because they are both at it's high. I never owned an iPhone yup-you have read it right I never had one because I would love to have a Macbook pro as my first apple device and hope steemit might help me getting it one day then once I buy it after that I would love to buy an iPhone.
Quick Pros:
Experience
Display
Live Emojis
Camera
Quick Cons:
No Touch Id
No Type C
Heating
Price
So summarizing this post if you want to have an amazing experience and your have some extra money to put on this liability go ahead my friend the iPhone X won't disappoint you.
PS: this post is based on my personal opinion and feelings. You have your own thinking power apply it and make the right decision.
Please support by your upvote and share your opinion in comments. Thanks.
Follow me @me4tech