Hey guys, happy Saturday! Anyone looking for some quick and easy desserts for the ...
... 4th? These little tarts are perfect and you can get all festive with all the red white and blue berries.
-Easy Vanilla Cream Custard Berry Tarts (Vegan)-
Celebrate all the feels of warmth and sunshine with these simple little vanilla cream tarts with plenty of fresh berries.
Ingredients
Graham Cracker Crust:
1 3/4 cups graham cracker or vanilla cookie crumbs finely ground *see note finely ground *see note (I used graham crackers from this recipe
1/3 cup sugar
6 tablespoons vegan "butter" melted
1 teaspoon vanilla extract.
Vanilla Cream Custard:
1 1/2 cups plant-based milk
1/2 cup sugar
1/4 teaspoon salt
1/4 cup cornstarch
1 cup coconut cream *see note
1 1/2 teapoons vanilla extract
fresh berries or fruits
vegan whipped cream optional
-Instructions-
Graham Cracker Crust:
Preheat oven to 350 defrees F (180 C) and grease a 9-inch or 4 (2-cup) ramekins (I used the 2, 2-cup, and 1, 4-cup, rounds from this Pyrex set). Combine the graham cracker crumbs, sugar, vanilla, and melted butter in a medium mixing bowl and stir to combine. Press into your greased pan(s) and use the bottom of a cup or just your fingers to shape it about 1 inch up the sides. Bake for 10-12 minutes until beginning to brown. Remove and set aside to cool completely while you prepare the custard.
Vanilla Cream Custard:
Whisk sugar, salt, and milk in a large mixing bowl. Slowly whisk in cornstarch until very smooth.
Pour mixture into a saucepan and bring to a boil, stirring constantly, over medium heat until the first bubble pops and splutters. Turn off heat and continue stirring rapidly as it will start to get really thick, then remove from heat and stir in coconut cream and vanilla. If lumps have formed pour pudding through a sieve into a clean bowl or if your pudding is smooth you can skip the sieve. Pour the mixture into prepared crusts and cover with plastic wrap directly on top to prevent it from forming a film.
Place in refrigerator to chill for at least 2 hours. (If your in a rush you can put in the freezer for about an hour to chill it faster.) Serve them topped with fresh berries, fruit, and maybe some whipped cream!
_Recipe Notes-
If you are vegan and prefer to not make your own graham crackers you can replace the crumbs in this recipe with a number of lightly sweet cookies or crackers from the store. I think Nabisco makes grahams without honey but Speculoos and Biscoff Speculoos cookies, animal crackers, cinnamon teddy grahams, and Girl Scout's Thanks-a-lots are all vegan. Double check to make sure though.

[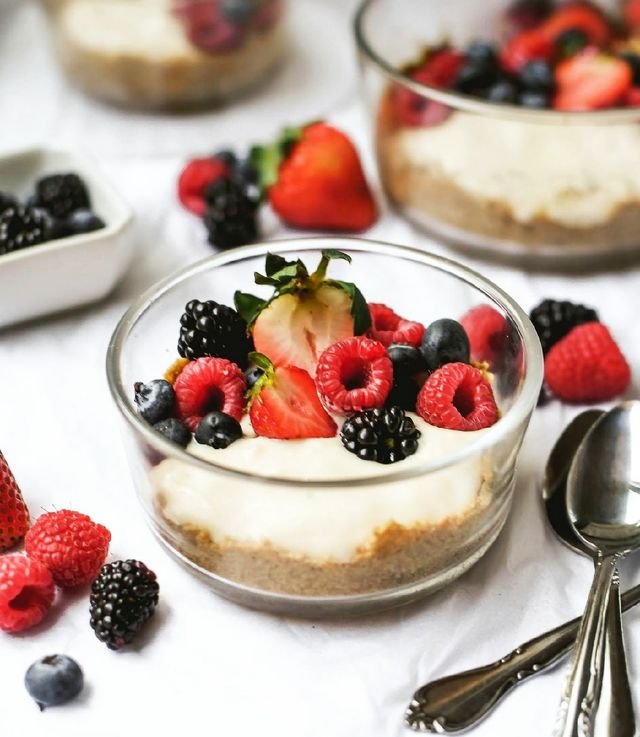 ](https://appics.com/referenced.html?ref=steemit.com&type=image&id=26603&url=https://s3.eu-central-1.amazonaws.com/backend-alpha-kw-8/3b209125f5473b88be2e3302e26e4201-640&caption=Hey%20guys,%20happy%20Saturday!%20Anyone%20looking%20for%20some%20quick%20and%20easy%20desserts%20for%20the%204th?%20These%20little%20tarts%20are%20perfect%20and%20you%20can%20get%20all%20festive%20with%20all%20the%20red%20white%20and%20blue%20berries.%0A%0A%0A-Easy%20Vanilla%20Cream%20Custard%20Berry%20Tarts%20(Vegan)-%0ACelebrate%20all%20the%20feels%20of%20warmth%20and%20sunshine%20with%20these%20simple%20little%20vanilla%20cream%20tarts%20with%20plenty%20of%20fresh%20berries.%0AIngredients%0AGraham%20Cracker%20Crust:%0A1%203/4%20cups%20graham%20cracker%20or%20vanilla%20cookie%20crumbs%20finely%20ground%20see%20note%20finely%20ground%20see%20note%20(I%20used%20graham%20crackers%20from%20this%20recipe%0A1/3%20cup%20sugar%0A6%20tablespoons%20vegan%20%22butter%22%20melted%0A1%20teaspoon%20vanilla%20extract.%0AVanilla%20Cream%20Custard:%0A1%201/2%20cups%20plant-based%20milk%0A1/2%20cup%20sugar%0A1/4%20teaspoon%20salt%0A1/4%20cup%20cornstarch%0A1%20cup%20coconut%20cream%20see%20note%0A1%201/2%20teapoons%20vanilla%20extract%0Afresh%20berries%20or%20fruits%0Avegan%20whipped%20cream%20optional%0A%0A%0A%0A-Instructions-%0AGraham%20Cracker%20Crust:%0APreheat%20oven%20to%20350%20defrees%20F%20(180%20C)%20and%20grease%20a%209-inch%20or%204%20(2-cup)%20ramekins%20(I%20used%20the%202,%202-cup,%20and%201,%204-cup,%20rounds%20from%20this%20Pyrex%20set).%20Combine%20the%20graham%20cracker%20crumbs,%20sugar,%20vanilla,%20and%20melted%20butter%20in%20a%20medium%20mixing%20bowl%20and%20stir%20to%20combine.%20Press%20into%20your%20greased%20pan(s)%20and%20use%20the%20bottom%20of%20a%20cup%20or%20just%20your%20fingers%20to%20shape%20it%20about%201%20inch%20up%20the%20sides.%20Bake%20for%2010-12%20minutes%20until%20beginning%20to%20brown.%20Remove%20and%20set%20aside%20to%20cool%20completely%20while%20you%20prepare%20the%20custard.%0AVanilla%20Cream%20Custard:%0AWhisk%20sugar,%20salt,%20and%20milk%20in%20a%20large%20mixing%20bowl.%20Slowly%20whisk%20in%20cornstarch%20until%20very%20smooth.%0APour%20mixture%20into%20a%20saucepan%20and%20bring%20to%20a%20boil,%20stirring%20constantly,%20over%20medium%20heat%20until%20the%20first%20bubble%20pops%20and%20splutters.%20Turn%20off%20heat%20and%20continue%20stirring%20rapidly%20as%20it%20will%20start%20to%20get%20really%20thick,%20then%20remove%20from%20heat%20and%20stir%20in%20coconut%20cream%20and%20vanilla.%20If%20lumps%20have%20formed%20pour%20pudding%20through%20a%20sieve%20into%20a%20clean%20bowl%20or%20if%20your%20pudding%20is%20smooth%20you%20can%20skip%20the%20sieve.%20Pour%20the%20mixture%20into%20prepared%20crusts%20and%20cover%20with%20plastic%20wrap%20directly%20on%20top%20to%20prevent%20it%20from%20forming%20a%20film.%0APlace%20in%20refrigerator%20to%20chill%20for%20at%20least%202%20hours.%20(If%20your%20in%20a%20rush%20you%20can%20put%20in%20the%20freezer%20for%20about%20an%20hour%20to%20chill%20it%20faster.)%20Serve%20them%20topped%20with%20fresh%20berries,%20fruit,%20and%20maybe%20some%20whipped%20cream!%0A%0A%0A_Recipe%20Notes-%0AIf%20you%20are%20vegan%20and%20prefer%20to%20not%20make%20your%20own%20graham%20crackers%20you%20can%20replace%20the%20crumbs%20in%20this%20recipe%20with%20a%20number%20of%20lightly%20sweet%20cookies%20or%20crackers%20from%20the%20store.%20I%20think%20Nabisco%20makes%20grahams%20without%20honey%20but%20Speculoos%20and%20Biscoff%20Speculoos%20cookies,%20animal%20crackers,%20cinnamon%20teddy%20grahams,%20and%20Girl%20Scout's%20Thanks-a-lots%20are%20all%20vegan.%20Double%20check%20to%20make%20sure%20though.&category=food&hashtags=photography+food+life+lifestyle&author=gringalicious&profileImageUrl=https://s3.eu-central-1.amazonaws.com/backend-alpha-kw-8/profileImages/868-1546662941439-640&permlink=alpha-kw-8-appics-im-26603)

[

](https://appics.com/referenced.html?ref=steemit.com&type=image&id=26603&url=https://s3.eu-central-1.amazonaws.com/backend-alpha-kw-8/3b209125f5473b88be2e3302e26e4201-640&caption=Hey%20guys,%20happy%20Saturday!%20Anyone%20looking%20for%20some%20quick%20and%20easy%20desserts%20for%20the%204th?%20These%20little%20tarts%20are%20perfect%20and%20you%20can%20get%20all%20festive%20with%20all%20the%20red%20white%20and%20blue%20berries.%0A%0A%0A-Easy%20Vanilla%20Cream%20Custard%20Berry%20Tarts%20(Vegan)-%0ACelebrate%20all%20the%20feels%20of%20warmth%20and%20sunshine%20with%20these%20simple%20little%20vanilla%20cream%20tarts%20with%20plenty%20of%20fresh%20berries.%0AIngredients%0AGraham%20Cracker%20Crust:%0A1%203/4%20cups%20graham%20cracker%20or%20vanilla%20cookie%20crumbs%20finely%20ground%20see%20note%20finely%20ground%20see%20note%20(I%20used%20graham%20crackers%20from%20this%20recipe%0A1/3%20cup%20sugar%0A6%20tablespoons%20vegan%20%22butter%22%20melted%0A1%20teaspoon%20vanilla%20extract.%0AVanilla%20Cream%20Custard:%0A1%201/2%20cups%20plant-based%20milk%0A1/2%20cup%20sugar%0A1/4%20teaspoon%20salt%0A1/4%20cup%20cornstarch%0A1%20cup%20coconut%20cream%20see%20note%0A1%201/2%20teapoons%20vanilla%20extract%0Afresh%20berries%20or%20fruits%0Avegan%20whipped%20cream%20optional%0A%0A%0A%0A-Instructions-%0AGraham%20Cracker%20Crust:%0APreheat%20oven%20to%20350%20defrees%20F%20(180%20C)%20and%20grease%20a%209-inch%20or%204%20(2-cup)%20ramekins%20(I%20used%20the%202,%202-cup,%20and%201,%204-cup,%20rounds%20from%20this%20Pyrex%20set).%20Combine%20the%20graham%20cracker%20crumbs,%20sugar,%20vanilla,%20and%20melted%20butter%20in%20a%20medium%20mixing%20bowl%20and%20stir%20to%20combine.%20Press%20into%20your%20greased%20pan(s)%20and%20use%20the%20bottom%20of%20a%20cup%20or%20just%20your%20fingers%20to%20shape%20it%20about%201%20inch%20up%20the%20sides.%20Bake%20for%2010-12%20minutes%20until%20beginning%20to%20brown.%20Remove%20and%20set%20aside%20to%20cool%20completely%20while%20you%20prepare%20the%20custard.%0AVanilla%20Cream%20Custard:%0AWhisk%20sugar,%20salt,%20and%20milk%20in%20a%20large%20mixing%20bowl.%20Slowly%20whisk%20in%20cornstarch%20until%20very%20smooth.%0APour%20mixture%20into%20a%20saucepan%20and%20bring%20to%20a%20boil,%20stirring%20constantly,%20over%20medium%20heat%20until%20the%20first%20bubble%20pops%20and%20splutters.%20Turn%20off%20heat%20and%20continue%20stirring%20rapidly%20as%20it%20will%20start%20to%20get%20really%20thick,%20then%20remove%20from%20heat%20and%20stir%20in%20coconut%20cream%20and%20vanilla.%20If%20lumps%20have%20formed%20pour%20pudding%20through%20a%20sieve%20into%20a%20clean%20bowl%20or%20if%20your%20pudding%20is%20smooth%20you%20can%20skip%20the%20sieve.%20Pour%20the%20mixture%20into%20prepared%20crusts%20and%20cover%20with%20plastic%20wrap%20directly%20on%20top%20to%20prevent%20it%20from%20forming%20a%20film.%0APlace%20in%20refrigerator%20to%20chill%20for%20at%20least%202%20hours.%20(If%20your%20in%20a%20rush%20you%20can%20put%20in%20the%20freezer%20for%20about%20an%20hour%20to%20chill%20it%20faster.)%20Serve%20them%20topped%20with%20fresh%20berries,%20fruit,%20and%20maybe%20some%20whipped%20cream!%0A%0A%0A_Recipe%20Notes-%0A*If%20you%20are%20vegan%20and%20prefer%20to%20not%20make%20your%20own%20graham%20crackers%20you%20can%20replace%20the%20crumbs%20in%20this%20recipe%20with%20a%20number%20of%20lightly%20sweet%20cookies%20or%20crackers%20from%20the%20store.%20I%20think%20Nabisco%20makes%20grahams%20without%20honey%20but%20Speculoos%20and%20Biscoff%20Speculoos%20cookies,%20animal%20crackers,%20cinnamon%20teddy%20grahams,%20and%20Girl%20Scout's%20Thanks-a-lots%20are%20all%20vegan.%20Double%20check%20to%20make%20sure%20though.&category=food&hashtags=photography+food+life+lifestyle&author=gringalicious&profileImageUrl=https://s3.eu-central-1.amazonaws.com/backend-alpha-kw-8/profileImages/868-1546662941439-640&permlink=alpha-kw-8-appics-im-26603)