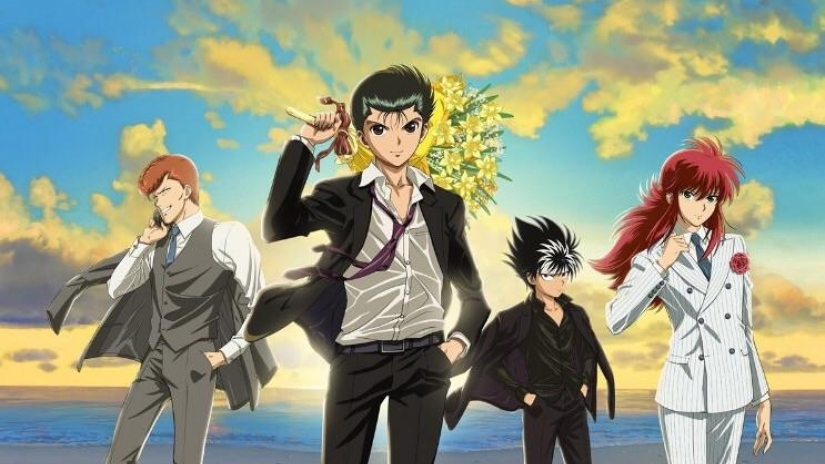 Source
INTRODUCTION
Full Disclosure. I am no longer a hardcore anime fan. It's one of the few things I just sort of grew out of through the years, consider me an "old-taku" if you may. And it's not that I don't find anime awesome anymore, truth be told it still is, but there's just something so vividly engrossing about the old days of anime. Casing point - Yu Yu Hakusho one of the best selling manga series (more than 50 million copies sold in Japan alone) and considered one of the best Shonen anime of all time. Ladies and gents, nerds, otaku and old-taku alike join me, as we walked through memory lane and re-discover what I think is the quintessential 90's shonen anime and find out exactly what made this anime both so great and influential. To those who have no idea what Yu Yu Hakusho is I suggest for you guys to stop reading and bench watch the anime right now, as there will be spoilers ahead.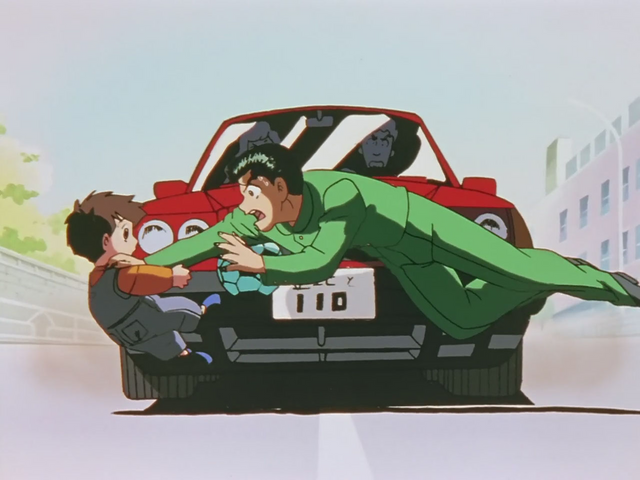 Source
THE PLOT
Yusuke Urameshi a 14-year-old good looking, average, athletic, not in any way a demon descendant, delinquent, is hit by a car and in an attempt to save a young boy. He died. Yusuke, I mean... not the boy. Upon his death, he meets Botan the grim reaper (well, she's more of this ditzy blue haired broom-riding witch, but come on just go with it, It's anime) which in turn introduced him to the spirit world. He would soon be revived (Twice) and start his life as a spirit detective and go on an epic adventure of demons, rouge detectives, and swearing... well if you watched the English dub that is.
THE ARCS (Spoilers Ahead)


Source
Spirit Detective Saga - Yusuke dies, gets revived, becomes a spirit detective, handled a few cases, hanged out with his not at all tsundere best friend Kuwabara, meets both Hiei and Kurama, enters a tournament, gets trained by old woman Genkai, fights 4 Chinese mythological creatures, saves Yukina (A girl that can cry pearls, which turns out is Hiei's sister but is suppose to be a secret) and kills the Toguro brothers... or did he!?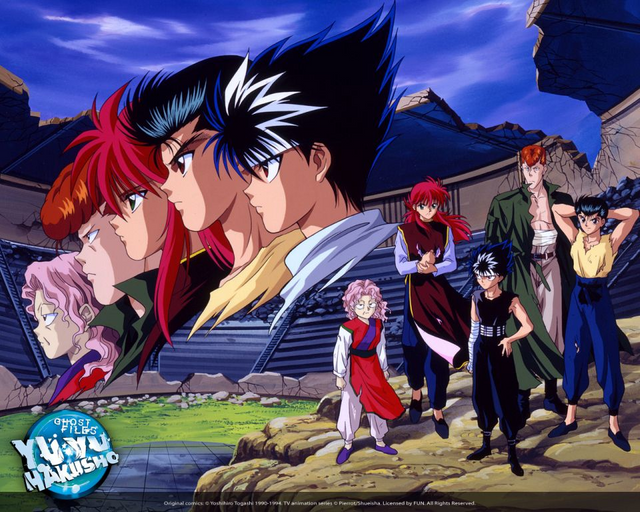 Source
Dark Tournament Saga - Yusuke finds out that the Toguro brothers are in fact alive and stronger than ever before. Yusuke along with his not at all tsundere best friend Kuwabara, Kurama, Hiei and a mysteriously hooded figure who dresses like Genkai (Spoilers its Genkai) enters a tournament. Genkai dies, Yusuke's team meets the Toguro brothers at the finals, Younger Toguro pulls off a Nappa and kills Older Toguro... or did he!? Younger Toguro kills Kuwabara, Younger Toguro goes Super Saiyan Man-Tree and kills himself, Genkai is revived, Yusuke's team wins the tournament and lives happily ever after... or do they!?


Source
Chapter Black Saga - It turns out Older Toguro is still alive and is stronger than ever before, a plan is brewing that could change the human world as we know it. Yusuke gets kidnapped by three students who are clearly the antagonist of this saga, maybe. Kuwabara, Yosuke's not at all tsundere best friend along with Hiei and Kurama comes to the rescue. It turns out the three students are not the real antagonists, maybe (no really they aren't). They were in fact hired by Genkai to prepare the group of the real threat. Enter Sensui a rouge spirit detective and his plan to eradicate the Saiyans... I mean Humans. Sensui recruits a kid with gaming powers, a kid with water powers, a doctor, a human homing device, gluttony from full metal alchemist and Itsuki (what? I'm not gonna make a gay joke out of this it's 2018 for God's sake). Together they plan to open up the gate that separates the human world from the demon world. Long story short Yusuke's team defeats all of them. Kurama ended up defeating Gluttony, which it turns out is actually Older Toguro, by planting a Super Saiyan Man-Tree. Yusuke dies (again) ends up getting revived (again) and defeats Sensui by going Super Saiyan Three. Everybody lives happily ever after... or do they?


Source
Three Kings Saga - Everyone that died stayed dead and no one is stronger than ever before. Meanwhile, in the demon world, the 3 rulers Raizen the vegan, Mokuro the zero-suit Samus cosplayer, and Yomi the guy with the million ears are making their move. A war is about to start and Raizen is about to die of starvation. Raizen which it turns out is Yusuke's great great great great grandad recruits Yusuke (Yusuke pulled off a Naruto before Naruto pulled off a Yusuke), Yomi Recruits Kurama and Mokuro recruits Hiei. And Kuwabara? What about Kuwabara? Raizen dies, and Yusuke's proposed to have a tournament instead of going to all-out war... (sigh) About 6000 demons enters the tournament. Everyone that matters loses. No really, the winner of the tournament is a demon called Enki one of Raizens former compatriots. Everyone hangs out on the beach and lives happily ever after. Also, Genkai is either dying or already dead.... or is she? (yes... yes she is)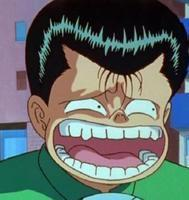 Source
THE REVIEW
Okay, so maybe I skipped a couple of details and it may seem that the anime is nothing more than an endless barrage of tournaments and DBZ references, but hear me out. On the surface, Yu Yu Hakusho may look and sound like your average run-of-the-mill shonen slug fest but in reality, it's so much more than that.
The Phasing and World Building- Yu Yu Hakusho is a perfect example of how a show can smoothly and intelligently transition from arc to arc. Yoshihiro Togashi (Writer of Yu Yu Hakusho and Hunter x Hunter) has a knack for introducing a concept early on and then incorporating it much later in a story very effectively. A perfect example would be Sensui's appearance. It was hinted early on that there were other spirit detectives prior to Yusuke, little that we know one of the said detectives would be the main antagonist for the 3rd arc. Instead of just making things up on the fly, Togashi would always make sure that the events of the prior arcs would somehow influence the next one. Nowadays it's hard to find an anime that actually builds upon the world it created as masterfully as Yu Yu Hakusho did.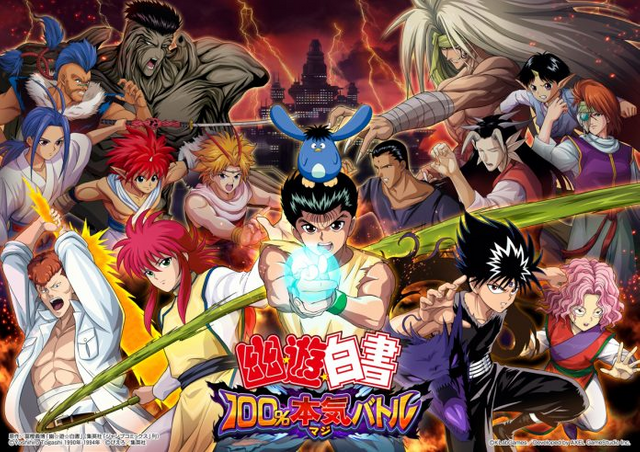 Source
The Themes - Yu Yu Hakusho actually has a lot of philosophical commentaries through its run. It often explores the facet of true humanity and what it truly means to be strong. Instead of having a clear-cut definition of good and evil, it actually treads more on the blurred lines of what is right and what is wrong. Every main villain in this anime is not just evil for evil sakes. Their motivations are not just justifiable they are downright relatable. Toguro was a distraught master who could not cope with the murder of his students. Sensui's morals came into question when he realizes the humans he was sworn to protect was capable of doing more heinous acts than the demons he was killing. Even Yusuke the main protagonist isn't exactly what you would describe as a good person. Every person introduced in this anime is not simply defined by established anime tropes, they are in fact defined by their own ideology and how they interact with the world. You know... like actual people.
The Fight Scenes - There's just something so strangely psychedelic about the fight scenes in Yu Yu Hakusho and I mean that in a good way. Noriyuki Abe (Main Director of not only Yu Yu Hakusho but also of Frame of Recca, Bleach and Recently, Boruto: The Next Generation) kind of has this weird fascination of mixing intense and strangely colored backgrounds with unique and often creative framing and movement. This makes almost every single fight in Yu Yu Hakusho both feel familiar and yet different at the same time. Don't believe me? watch the clip below.
Source
The English Dub - I grew up watching the Tagalog dub in all its glory. Spirit gun was called Ray-Gun, Yusuke's name was Eugene, Genkai's was Master Jeremiah and the show itself was called "Ghost Fighter" instead of" Yu Yu Hakusho," and as much as I had fun with that dub, I've never truly appreciated the dialogue in the series until I heard the English dub. The casting is spot on (Chris Sabat as Kuwabara especially is a ton of fun) and almost every delivery is done to perfection. Don't quote me on this but I think the translators really took its liberty with the script that was provided. The English dub is both endearing and hilarious in all the right places, really if you haven't watched the English dub, do yourself a favor and do so. It's a blast.
The Music and Sound Effects - Let's throw nostalgia behind and be just for a bit. Is the music for this anime really that good? Oh God Yes! I mean really, come on. Not just the opening and closing themes, even the background music are all memorable. Plus, most of the time the placement of said music is almost always spot on, whether it be to hype up a fight or to emphasize the more tender moments of the anime. I can't lie I just really love the music in this. Still not convince? Check out the cover of smile bomb below by LeeandLie maybe that would work.
Source
The Characters - Among anything else in the whole series, the real bread and butter are the characters. So much so that I feel that one paragraph would not be enough to justify it. So here's what I'm going to do, part 2 would be a complete rundown of every major protagonist, major antagonist, minor characters and other notable characters in the series.
CLOSING REMARKS
So until then, thank you very much for reading and I hoped you enjoy.
Please make sure to upvote and resteem!

Also feel free to comment below on your opinions, suggestions, and questions.

Is there a particular anime and/or show that you want me to cover?

Let's have a discussion below and you to can help influence my content!

THANKS! PEACE OUT!