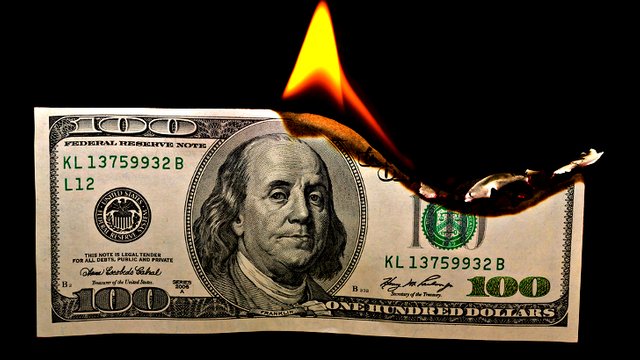 Once it's been ensured that most wealth is being held inside the digital banking system, the dystopian nature of this future becomes quite clear. These aspects include:
(Note: this cashless economy would not be one that relies on a decentralized cryptocurrency, but rather a centralized digital fiat currency)
Dependence on the system
Under the current system, a high percentage of individuals are dependent on the government for either aide, employment, or both. In a cashless economy, this would be even more prevalent. It also is likely that government would discourage self-reliant behavior, and would encourage individuals to live in megacities.
Due process
In a cashless economy, you are guilty until proven innocent. Your bank account could easily be entirely confiscated, simply because the government suspects you broke a law. There would be little or no recourse in such a situation, and it would be an effective way for the government to break the spirits of dissidents.
Laws restricting purchases and the amount of wealth you can own
Government could easily enact laws regarding what you can and cannot purchase, as well as how much you can purchase. They could prohibit food or ammo stockpiling, or any other purchase they deem illegal. They also could limit how much you could keep in your bank account, and could limit how much you could transfer to another individual.
Negative interest rates
Perhaps one of the most frustrating aspects of a cashless society, would be negative interest rates. Rather than accruing interest on your money in the bank, you'd pay the bank to hold your money. Not only would the bank profit from this action, but it would discourage hoarding, and would encourage more consumption by consumers. This would have a short term stimulus effect on the economy, but low savings would be detrimental to the economy as a whole.
Bail-ins
If you thought the bank bailouts were corrupt, bail-ins will frustrate you even more. If a bank is at risk of insolvency, they can simply skim a small percentage off the top of each account, while simultaneously funneling money to the elite executives. In a cashless economy, there is little you can do to prevent this.
Taxes would be arbitrary
Imagine, getting paid every other Friday, and guessing how much the government would tax your paycheck. In a cashless economy, taxes could easily be adjusted, and there would be nothing you could do about it. Sales taxes, property taxes, and more, could also be controlled through this system.
A cashless society benefits the elite
Whether through taxes, bail-ins, or negative interest rates, the 99.9% suffer, while the .1% benefit. Think the current system is good for the elite? A cashless society is an ideal society for bankers, central bankers, and government as a whole.
Grid down
A digital economy would be highly prone to solar flares, EMPs, or other disruptions of the electrical grid. Humanity would suffer far more from such an event if a cashless economy was instituted, though it would give them a chance to start anew.
Image source: http://medyascope.medyascopetv.netdna-cdn.com/wp-content/uploads/2017/01/Dolar_11. jpg (with edits by me)