Anarchists so often hear the same ridiculous questions/arguments from statists: "but without government, who will ______?" That blank is filled with all sorts of things, from building roads to delivering mail to educating children.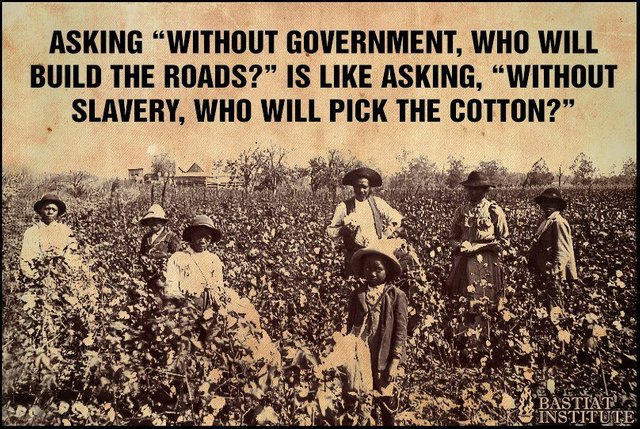 Image Source
With a little rational thought and some moral consistency, these questions clearly dissolve into non-issues. Most of the things the "government" currently claims responsibility for are already done by private corporations, with government simply being the ones stealing money to pay for it. Even if that weren't the case right now, it is obvious that if we can accomplish something in spite of bureaucracy, nepotism, and violence, then we can certainly do an even better job through voluntary interaction.
The Inverse
What I've found quite interesting is how often anarchists, even extremely intelligent ones, use this same faulty reasoning in reverse. If authoritarians do, have, or tried some technique/tool/model at one point or another, then it's automatically wrong and violent. This is the exact same non-logic as the statist is using; somehow assuming that if government can do/has done it, then that means it could never be done without the violence of government.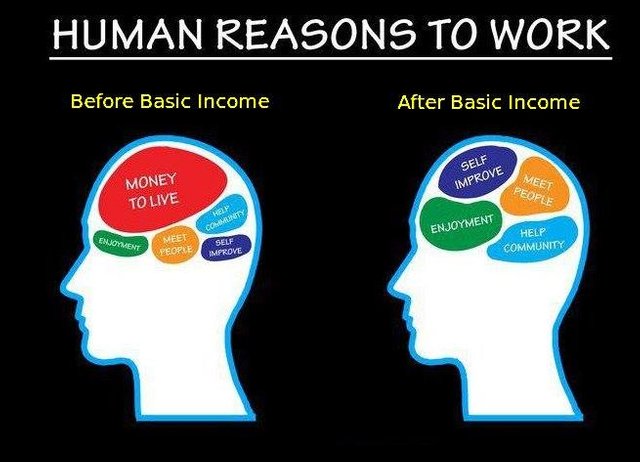 Image Source
For example, let's look at the concept of UBI (Universal Basic Income). Obviously, in the current world there are multiple nation-state governments who have implemented UBI systems, using violence as their tool. Does that mean that UBI cannot be put into place except by state violence? I would say that it certainly does not, and many would agree:
This same approach of looking at the objective tool/technology and removing it from the state paradigm, then seeing how we can accomplish it, can be applied to many, many things: universal healthcare, dispute resolution, limitation of corporate/pooled-capital power, meeting the needs of every human on the planet.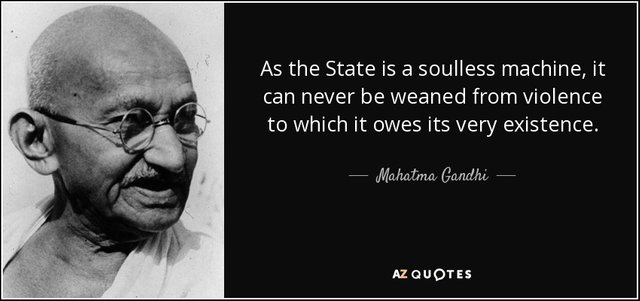 Image Source
Remember, it's the authoritarian part that's the problem
I'm sure you've heard this, perfectly mirrored, conversation at some point, and it seems to shine some light on the underlying issue that I'm addressing here. Anarchists who prefer a more competition-based economic model (capitalism) are quick to defend their model and remind attackers that what we've seen in the world isn't actually capitalism, but "crony capitalism" or corporatism (read: authoritarian capitalism). From the other side of the aisle, anarchists who prefer a more cooperative economic model (generally mutualists & syndicalists) get attacked as communists & socialists, and have to explain how communism (classless, stateless, moneyless society) was never attempted, and that the socialism we've seen historically has been authoritarian socialism.
Though this same defense is used by both sides, neither of them is (generally) willing to acknowledge the other's statement, and both often miss the point that the economic model is MUCH less important than the use of violence/authority to accomplish those goals.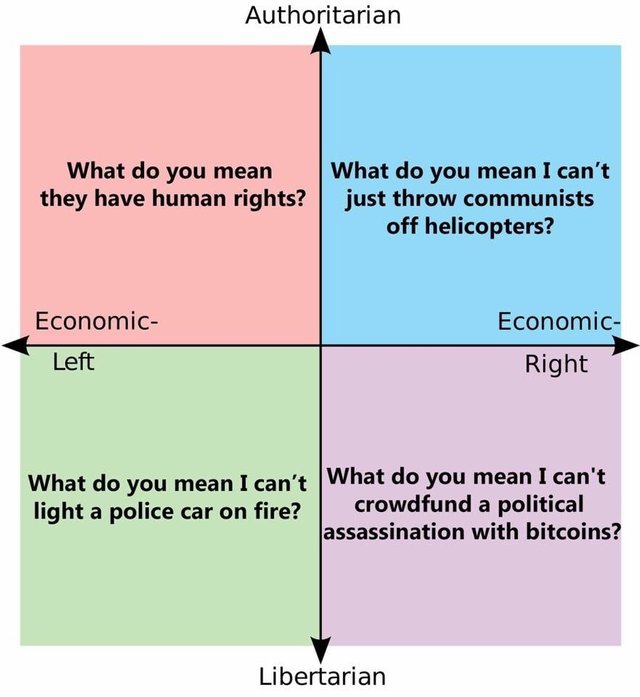 Image Source
I was trying to find just a simple right vs left and authoritarian vs anarchist graph, but this one served the purpose and is pretty entertaining too :-P
I'm not going to go into the left vs right side of things at all, I'm simply using this as an example of how often often these things are clearly just emotion/belief-charged arguments, not founded in logic or principles.
Synthesis, compassionate listening, and having an open mind
As you may know, one of my big focuses recently has been on finding synthesis (it always kind of was, but now I'm much more aware of it) between seemingly disparate concepts & approaches. I have this knowing that as the human race continues its evolution and expansion of consciousness, there will be more and more new ideas, new approaches, new models to implement. Certainly, for any individual, the responses available are always limited by experience, knowledge, understanding of the systems involved, and emotional maturity... I would hold that the same is true of any group of humans.
One of the big things that I see limiting people's ability to "try on" new ideas is a limit of potential realities experienced. As a child, I read science fiction & fantasy almost constantly, and because of that, even at a young age I had already experienced hundreds of different worlds, cultures, and socio-economic systems. Fiction, mythology, parable; these are extremely powerful tools to expand our mind, and to keep our imaginations active & smoothly functioning.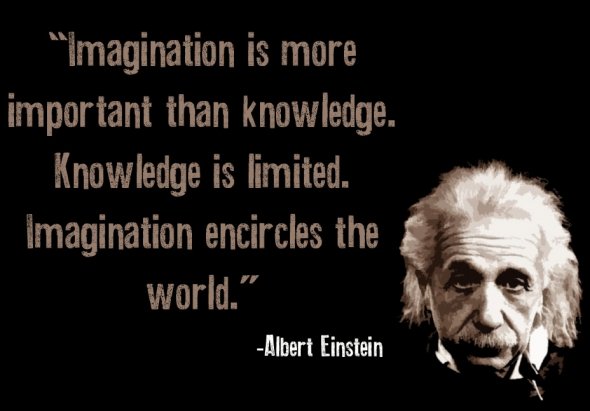 Image Source
At some point, I will be doing an extremely large post on all of the best anarchist fiction I've found, but for now I'll just recommend that everyone read Iain M. Banks absolutely mind-blowing Culture series. These science fiction books are not only excellently written and wildly entertaining, but they are a potent looking-glass into a potential anarchist future for humanity.
Here is an assortment of my other posts on these similar topics: opening our minds, disengaging from identifying ourselves with adjectives, and moving human understanding forward.
---
---