It's not everyday that a young man takes his life into his own hands and speaks up publicly in support of freedom from oppressive forces of the state.
On that day we, the folks not him/her, should give some attention to that dude.
If he is willing to speak up in a nation known for killing dissidents the least we can do is help spread his words.
Imo.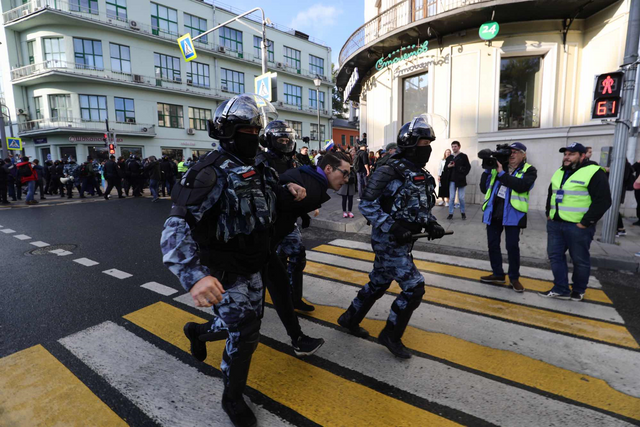 The Speech of Russian Anarchist Alexei Polikhovich in Moscow

For Which He Is Currently Imprisoned
In Moscow, at the end of August 10, plainclothes police officers arrested the anarchist Alexei Polikhovich on his way home from Russia's largest opposition demonstration since 2011.
A local Moscow court formally charged Alexei with "petty hooliganism" and sentenced him to 13 days in jail.
The arrest stemmed from a combative and passionate speech Alexei gave to thousands in Moscow that day.
You can follow updates on his legal status here.
We consider it especially important to support Russian anarchists in view of the recent slew of torture cases in Russia and the other risks that dissidents face there.
Likewise, we consider international solidarity between anti-authoritarian and anti-capitalist movements to be the only hope for humanity, in contrast to all liberals, nationalists, and supposed leftists who throw in their lot with one faction of the global ruling class or another.
The massive rally on August 10 was the culmination of weeks of both authorized and unauthorized demonstrations in Moscow and elsewhere around Russia.
The wave of demonstrations began on July 20, when 20,000 people gathered in Moscow to demand "fair" and "clean" local elections.
A slew of liberal opposition candidates have been barred from running in the Moscow elections coming up on September 8.
The July 20 demonstration was called to oppose what the opposition sees as collusion between the ruling United Russia Party, Moscow Mayor Sergei Sobyanin, President Vladimir Putin, and their allies to prevent liberal opposition candidates from running.
While July 20 was large but rather quiet, one week later, on July 27, an unauthorized protest in front of Moscow City Hall took a different turn.
Between 1000-1200 people were arrested out of a crowd of 3500, which included 700 journalists.
The heavy-handed brutality against the demonstrators by the Moscow special police forces, the OMON, was nothing particularly new.
Neither was the array of absurd charges, some carrying heavy fines and others potential jail time, that the Russian state doled out.
Surely this added to both the anxiety and resolve of those who gathered on August 3 for another unauthorized opposition protest, at which another 1000 people were detained.
Footage circulated widely on social media showing the brute force of Moscow's OMON.
Regardless of the liberal politics of the Russian opposition, these circumstances render the impetus for Alexei's speech self-evident.
Below, we present the text of Alexei's speech that he posted on the internet prior to the demonstration.
Wars are for young people.
It's just the nature of the beast.
Revolutions are for the old.
We can man the walls of the commune as well as any youngster, but when it comes to taking the fight to the enemy on their own turf, those youngsters can run faster and farther.
What we have before us is the beginning of what is coming next.
To get from here to there some sacred cows are gonna have to be slain.
Who is gonna step up and slay the rule by force paradigm?
Young people like this guy.
Speaking up as he has is an extraordinary act of courage.
Fully 7.5 billion people are not concerned with his well being.
Would you know if you hadn't found this post?
This is the first obstacle we must overcome.
Apathy is a bitch.
It enslaves us all.