One hundred percent (100%) of the earnings this post receives will be given to Kenny Palurintano (@kennyskitchen) to help him cover the remaining USD$1,500 of the original USD$2,100 cost of the July 7-14th Abraham-Hicks Alaskan Vortex of Attraction Cruise.
Read/listen on, to learn why he values Abraham-Hicks' Law of Attraction so much, and why you might want to help him get the cruise experience he desires. To show your support, please UPVOTE + SHARE this post, and/or give him some bitcoin at: 15bNwnDeT8TfgCMWjvHm4tAjaCArSyNAoN.
---
A Quick Look At The Gift Economy
According to Wikipedia: "A gift economy, gift culture, or gift exchange is a mode of exchange where valuables are not traded or sold, but rather given without an explicit agreement for immediate or future rewards. This contrasts with a barter economy or a market economy, where goods and services are primarily exchanged for value received."
Eight or nine years, ago I was introduced to the prolific work of Charles Eisenstein. He's Yale-educated in philosophy and mathematics, but seems to value much more, his direct and personal learning experiences. Charles is a genuinely brilliant person of original thought. He wrote, and freely gives away:
These lofty ideals floated in my head, and sometimes I tried them out in my life and small business. But not until I met Kenny did I see AN ENTIRE LIFE FLOW FROM these principles.
Our conversation below is about an hour. We were outside in the backyard of La Casa Creativa (one of Kenny's many manifestations), so please pardon music, airplanes and other background sounds during the chat.
You'll hear how Kenny journeyed from a life he wasn't all that excited to live, to a near-magical mindset that seems to confidently manifest whatever he needs, and very often wants.
I wonder how the practice of a gift economy, and applying the Law of Attraction, will be received by those who celebrate free markets, capitalism, reason and logic?
Living Outside The Money Matrix
In fact, I was so intrigued that Kenny lives predominantly outside the money matrix, that single question was the basis of our recorded talk, but he shared much more than impersonal theory. He talks about:
how he shifted from selling drugs, to full-time activism
how he shifted from hard core atheism, to practicing the Law of Attraction
his greatest influences: Marshall Sylver and Abraham-Hicks
how The Rainbow Family/Gathering is cashless anarchy in practice. HERE is Kenny's excellent 5-part series on it.
how he TRAVELS FOR FREE
how he cleansed his body for a year, then his mind, then his life
how he wants "to be the kind of person that I want to see raising kids to change the world."
how he stopped fearing the unknown, and also death
how he arranged for Alais Clay to perform at Anarchapulco
"If you live in fear, you're going to experience the things you fear. I just trust that everything is going to be taken care of, and it always is."
how an intense mushroom trip dissolved his identity, and exposed his false masks
how he worked as a distributor for GT's Kombucha
how he re-programmed his brain, from negative to positively manifesting
"I won't do anything for money, that I wouldn't do for free."
how he made a cannabis-infused BBQ sauce, that got him his first catering gig, which opened him to the joy of cooking for others!
how Kenny's Conscious Kitchen has evolved... to just Kenny
how logic and the brain alone, is not enough to lead to happiness
how the #1 thing we can do to change the world, is to HEAL OURSELVES
Our Chat
(Click the picture below to hear the audio. It's a YouTube video.)
Act as if...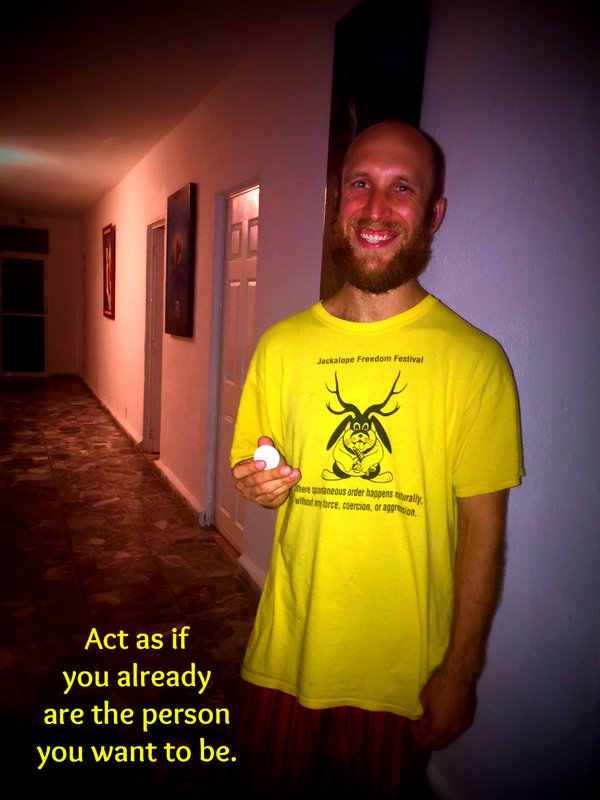 See that smooth white rock? It's a rare possession Kenny holds on to (as he seems to liquidate/give away as much as possible between his frequent travels). At one time, he carried this stone in his pocket, and ran his fingers over the colored words often enough, that they completely faded. It used to say: "Act as if you already are the person you want to be."
Everyone loves and respects Kenny a great deal. I think it's because his integrity is so high. What he SAYS, and how you see him LIVE, are aligned. You see principles in action, and I know I've been inspired and positively challenged to up my game on all levels since having met him a few months ago.
---
Two examples of agorism in action:
#1: La Casa Creativa
With the bankrolling help of Nathan and Lisa Freeman (who just gave birth to Spring Equinox baby Ira Belle yesterday!), Kenny organized special housing during Anarchapulco. It was special because of the vision it sprang from. It was special because of the unique blend of folks who stayed together under one beautiful roof, including: Sterlin Luxan, Alais Clay, Truniversal, Derrick Broze, Kurt David Robinson, Benny Wills, Starr O'Hara, an awesome traveler named Stxs, me and others... including That Guy T for one night! It was special because we each were entrusted to set our own price/offering, based on our ability and circumstance. It was special because it was voluntary, agorist and alchemical. [Note from Nathan Freeman: "Kenny paid back the money for the house in full. I'd like people to know that."]
#2: Kombucha Workshop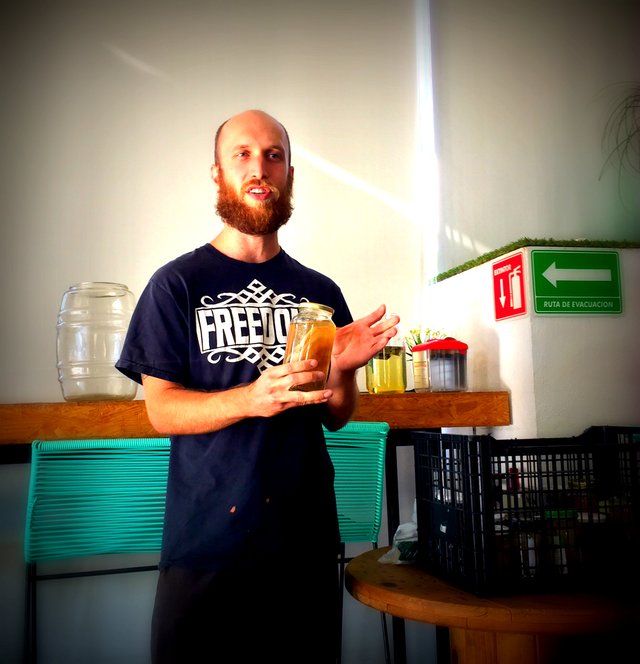 In the picture above, the black crate in the right corner had more than a dozen SCOBYs (symbiotic culture of bacteria and yeast) that Kenny gave each person who attended his FREE kombucha workshop this past Sunday at Verde Vegan. He taught us how to start brewing, gave us what we needed to start, and did not charge for the information or the SCOBY. Instead, he trusted us to each offer what we could, or thought appropriate. In his own words in a PM: "I'm doing this, as everything, on the gift economy, so there is no expectation or attachment to anything coming back, and anything that does is great.
I offered to do this post, and give him all the earnings from it. But it wasn't just to pay for the kombucha workshop...
It is mostly to thank Kenny for refreshing my heart and spirit with his insistence to do so much good in the world. It is mostly to honor the brave social choices he makes, that help him maintain such a high and positive vibration in a world that seems to prefer complaints over solutions, and grumbling over gratitude. Talking with an adult who is free of cynicism and pessimism: (1) is a rare occurrence; and (2) hydrates your soul.
In that way, Kenny Palurintano is a cool drink of coconut water. If you're inspired to, please help him reach his goal. He is happily open to Bitcoin gifts: 15bNwnDeT8TfgCMWjvHm4tAjaCArSyNAoN
---
Fancy a chat... or prefer to be listened to, lavishly? I'm available by appointment HERE.