It has been such a pleasure doing this interview series, and introducing all of these people I love to my followers (hopefully building their follower-bases as well), even if I do get a little tired of hearing my own voice sometimes. It's exciting, and also a little sad, to see it coming to an end, with just a few videos left to edit & post. Don't you worry though, I've already got a list going of new "2 minute Steemit Tips" to make, plus I've got two amazing retreats coming up this month to share about (and maybe interview people at?).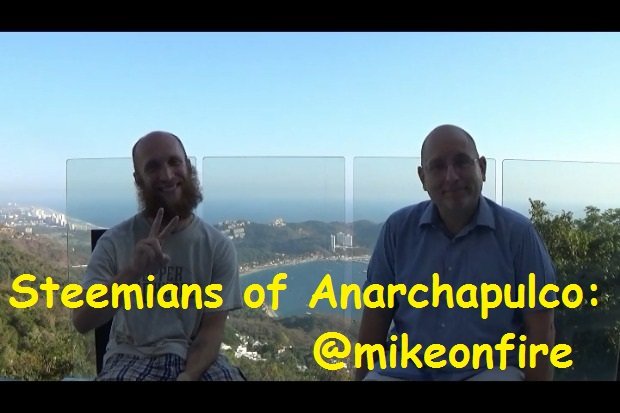 | ▶️ DTube | ▶️ IPFS |
This interview is with my good friend @mikeonfire, the creator of Anarchapulco 24/7/365, host of the annual Official-Not-Official Anarchapulco After-Party, and one of the pillars of the Acapulco community.
This man puts so much time and energy into helping build the community in Acapulco and beyond, and is one of the unsung heroes of Anarchapulco. He's also been creating great content on Steemit for almost as long as I have, and focuses just as much on building & supporting our community here as he does in the physical world!
Steemians of Anarchapulco
| #1 - @flauwy | #2 - @adamkokesh | #3 - @sovereignalien |
| #4 - @catherinebleish | #5 - @dannyshine | #6 - @sashadaygame |
| #7 - @lesliestarrohara | #8 - @erikaharris | #9 - @encryptdcouple |
| #10 - @lukestokes | #11 - @jamesc | #12 - @dbroze |
| #13 - @careywedler | #14 - @juxley | #15 - @maceytomlin |
| #16 - @truniversal | #17 - @terrybrock | #18 - @sarahkl |
| #19 - @sterlinluxan | #20 - @johnnyhurley | #21 - @broncnutz |
| #22 - @bruceb | #23 - @juansgalt | #24 - @nitego |
| #25 - @colinhoward | #26 - @dannyquest | #27 - @lily-da-vine |
| #28 - @uoslavery | #29 - @elamental | #30 - @emancipatedhuman |
| #31 - @mwolfe13 | #32 - @scottiemac | #33 - @tylerdav |
|#34 - @dollarvigilante | #35 - @tecav | #36 - @mikeonfire |
| #37 - @thepatrick |
---
---