Today's first interview coming at you from Anarchapulco with my friend @dannyquest! Danny has been hitting the Steemit scene hard for the last month or so, and is turning his years of social media content creation onto our platform, working to bring the last remnants of the alternative media who haven't already made the jump yet.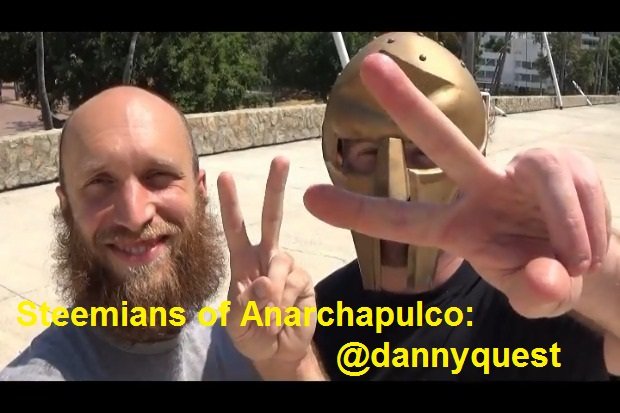 | ▶️ DTube | ▶️ IPFS |
After pestering him since before last year's conference, I took advantage of the wonderful jumps in Steemit price these last few months to bring him down. He wandered the city with @johnnyhurley, getting interviews with locals about Acapulco & the safety (or lack thereof) here.
Be sure to hop over and follow his channel to get all sorts of insight into the goings on of the world, as well as some DOPE hip-hop (yes, he's an MC as well)
Because @dannyquest (like @sovereignalien, @careywedler, @juxley, @sarahkl, @truniversal, @johnnyhurley, @bruceb, and @nitego) has not reached 1 MVest yet, I will be converting all of the SBD rewards from this post to STEEM, and powering it up in his account :-)
Steemians of Anarchapulco
| #1 - @flauwy | #2 - @adamkokesh | #3 - @sovereignalien |
| #4 - @catherinebleish | #5 - @dannyshine | #6 - @sashadaygame |
| #7 - @lesliestarrohara | #8 - @erikaharris | #9 - @encryptdcouple |
| #10 - @lukestokes | #11 - @jamesc | #12 - @dbroze |
| #13 - @careywedler | #14 - @juxley | #15 - @maceytomlin |
| #16 - @truniversal | #17 - @terrybrock | #18 - @sarahkl |
| #19 - @sterlinluxan | #20 - @johnnyhurley | #21 - @broncnutz |
| #22 - @bruceb | #23 - @juansgalt | #24 - @nitego |
| #25 - @colinhoward | #26 - @dannyquest | #27 - @lily-da-vine |
| #28 - @uoslavery | #29 - @elamental | #30 - @emancipatedhuman |
| #31 - @mwolfe13 | #32 - @scottiemac | #33 - @tylerdav |
|#34 - @dollarvigilante |
---
---