Today is the last day of La Casa Creativa, before I hand the keys back over to the home-owners, and then about 16 hours later I fly out of Mexico, heading back to cooler climes... I'm SO ready to not be sticky all the time, haha! This series has been such a beautiful way to reflect on my time at #Anarchapulco this year, and I'm really looking forward seeing all of these wonderful folks flourish here on Steemit!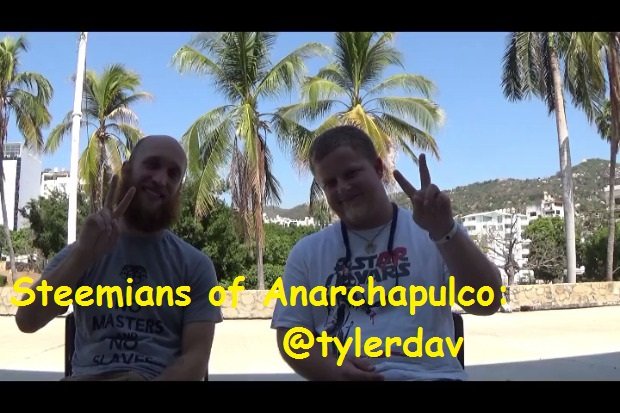 | ▶️ DTube | ▶️ IPFS |
This next interview is with @tylerdav, someone I've interacted with here and there on Steemit, and finally met in person last weekend at @anarchaforko! It's such a beautiful thing to be able to connect with folks in the physical world after having digital connection for some time, and it was definitely a highlight of the conferences for me this year.
@tylerdav is another Cascadian, has been a Steemian since 2016, and is still dipping his toes in the content creation side of things. With any luck, all of you folks hopping over and following him will help inspire more of that :-)
Steemians of Anarchapulco
| #1 - @flauwy | #2 - @adamkokesh | #3 - @sovereignalien |
| #4 - @catherinebleish | #5 - @dannyshine | #6 - @sashadaygame |
| #7 - @lesliestarrohara | #8 - @erikaharris | #9 - @encryptdcouple |
| #10 - @lukestokes | #11 - @jamesc | #12 - @dbroze |
| #13 - @careywedler | #14 - @juxley | #15 - @maceytomlin |
| #16 - @truniversal | #17 - @terrybrock | #18 - @sarahkl |
| #19 - @sterlinluxan | #20 - @johnnyhurley | #21 - @broncnutz |
| #22 - @bruceb | #23 - @juansgalt | #24 - @nitego |
| #25 - @colinhoward | #26 - @dannyquest | #27 - @lily-da-vine |
| #28 - @uoslavery | #29 - @elamental | #30 - @emancipatedhuman |
| #31 - @mwolfe13 | #32 - @scottiemac | #33 - @tylerdav |
|#34 - @dollarvigilante |
---
---