So excited to see so many friends getting on Steemit over the last couple of weeks, and really get excited for the platform! Between #Anarchapulco, @Anarchaforko, and folks living with me, a lot of friends who had never posted are now daily posters, a lot of folks who had gone dormant are back at it, and many new accounts have been made!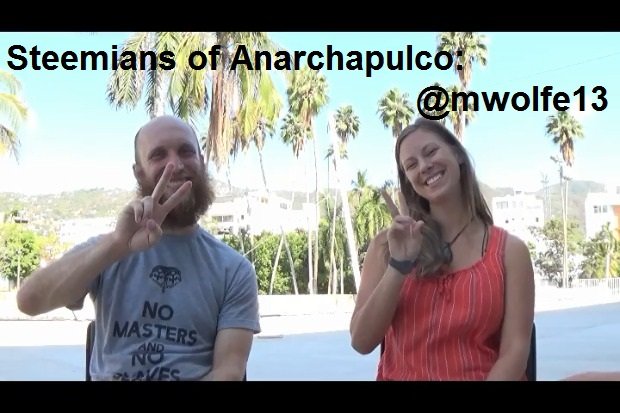 | ▶️ DTube | ▶️ IPFS |
This next interview is with one of those folks who has had an account for some time, but hadn't actually posted yet, but is now up & running: @mwolfe13! Mackenzie spoke at this year's #Anarchapulco, taught yoga classes through both that and @anarchaforko, had a table to present essential oils, and brought so much great energy to our community.
@mwolfe13 and I met last year at Anarchapulco, and she came to live at La Casa Creativa for the last couple of weeks... This year, she came down with a whole flock of hippies and set up a house just up the street from ours.
Check out her introduction here, and her recap of this year's Anarchapulco here.
Because @mwolfe13 (like @sovereignalien, @careywedler, @juxley, @sarahkl, @truniversal, @johnnyhurley, @bruceb, @nitego, @dannyquest, @uoslavery, and @elamental) has not reached 1 MVest yet, I will be converting all of the SBD rewards from this post to STEEM, and powering it up in her account :-)
Steemians of Anarchapulco
| #1 - @flauwy | #2 - @adamkokesh | #3 - @sovereignalien |
| #4 - @catherinebleish | #5 - @dannyshine | #6 - @sashadaygame |
| #7 - @lesliestarrohara | #8 - @erikaharris | #9 - @encryptdcouple |
| #10 - @lukestokes | #11 - @jamesc | #12 - @dbroze |
| #13 - @careywedler | #14 - @juxley | #15 - @maceytomlin |
| #16 - @truniversal | #17 - @terrybrock | #18 - @sarahkl |
| #19 - @sterlinluxan | #20 - @johnnyhurley | #21 - @broncnutz |
| #22 - @bruceb | #23 - @juansgalt | #24 - @nitego |
| #25 - @colinhoward | #26 - @dannyquest | #27 - @lily-da-vine |
| #28 - @uoslavery | #29 - @elamental | #30 - @emancipatedhuman |
| #31 - @mwolfe13 | #32 - @scottiemac | #33 - @tylerdav |
|#34 - @dollarvigilante |
---
---